It's popular to dismiss a hard decision by saying, "it's not personal—it's business." The implication is that these decisions don't come from you but some other, less individualized source, like a business. Its purpose is to minimize personal responsibility and accountability and to ultimately make the receiving party feel less inclined to blame you, the lowly messenger. However, at BFW/Marcum, the opposite can't be truer. We're proud to say that our business is personal; we're dedicated to the continued development of all of our clients' successes, and without a personal stake in that process, we wouldn't be where we are today.
Regardless of the industry, it's hard to have a successful enterprise without personal connections to clients. In the engineering and construction industry, relationships are necessary and pivotal to continued growth.
To build something extraordinary, one must conceptualize success before beginning the designing and planning stages. Part of this process involves forming an intimate understanding of the clients' needs.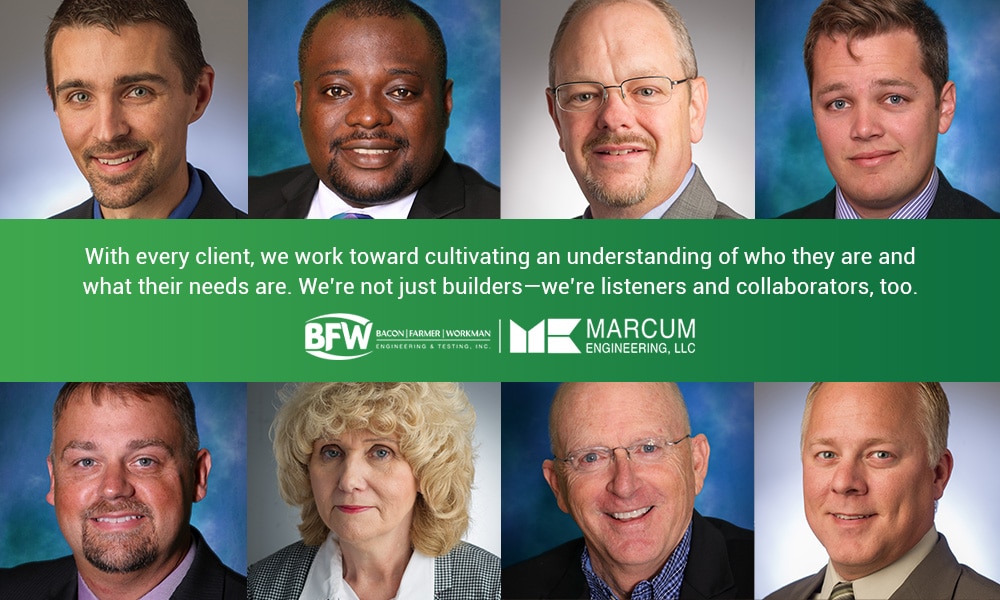 Being Close to Your Clients Means Maneuverability
In our industry, having the intuition to understand a client's requirements demonstrates that the firm is highly adaptable and flexible. Our intuition doesn't come from thin air; it's painstakingly built through our client relationships.
That intuition allows us to move quickly to help our clients. Jason Youngblood, one of our contacts at Murray State, particularly appreciates this facet of our firm.
"I like using BFW/Marcum because they are a local business, and they're available quickly any time an urgent need arises. Yet, things tend to move slowly in the world of higher education, such as the filing of paperwork. BFW/Marcum has always been understanding of that process and has always helped us in a pinch and with the understanding that it may take us a while to file the correct paperwork and to even pay an invoice.
Not to mention, we're always in need of assistance and consulting with our projects. We don't always have that level of experience on-hand, so it's nice to know that BFW/Marcum is just a phone call away and will gladly offer assistance and talk us through an idea before we're even at the official planning stages."
With every client, we work toward cultivating an understanding of who they are and what their needs are. We're not just builders—we're listeners and collaborators, too. A large source of our success comes from our ability to learn from experience, build trust, and recognize (and match) how our clients think so that we can achieve harmony.
We Have Clients Going Back Decades
One of our most longstanding clients is Murray State University. For over twenty years, we've worked alongside the university, and we've cemented ourselves as the go-to firm for many of their engineering needs. Dr. Robert Jackson, President of Murray State University, also happens to be a satisfied collaborator who has grown to know us well over the years.
"I've had the opportunity to work with BFW/Marcum Engineers for more than twenty years. The principals of the firm are talented, hardworking problem-solvers, and dedicated to the needs of our projects."
Murray State has long been one of our best relationships in the region. We didn't find great common ground through sheer chance; it was a multi-faceted effort to recognize, profoundly understand, and perfectly execute the university's needs. The truth is that engineering projects come in all sizes and budgets. It may be attractive to focus more on the larger jobs, but we always give the same amount of attention to every one of our projects and our clients understand this.
"BFW/Marcum delivers quality services. Every job, large and small, is very important to them. The people found at the firm are the key. They're all focused on the job at hand and work together to ensure that the job is handled in the most efficient and effective way.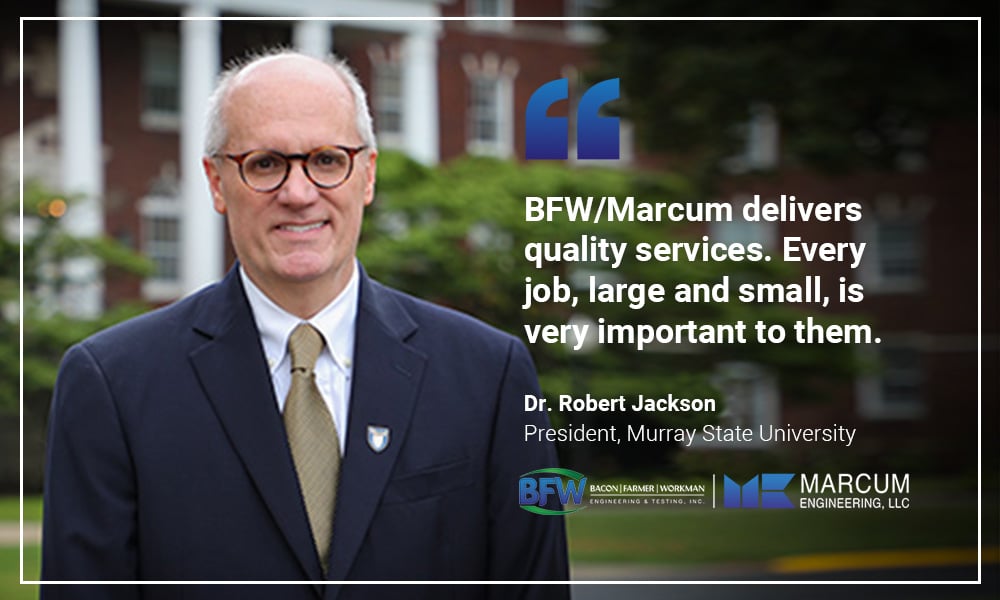 Most of all, whether it is new construction or a renovation of a residential college, academic building, or historic facility, BFW/Marcum understands the needs and complexities of every project and the importance of each to our students, faculty, and staff."
We Invest in Our Relationships Because We Know It Pays
Long ago, we realized that everything we do is personal. That's a good thing; keeping clients at a distance means it's easy to lose sight of the very thing that makes engineering an exciting industry. To innovate and break down barriers, we must have a profound level of trust and credibility with our clients.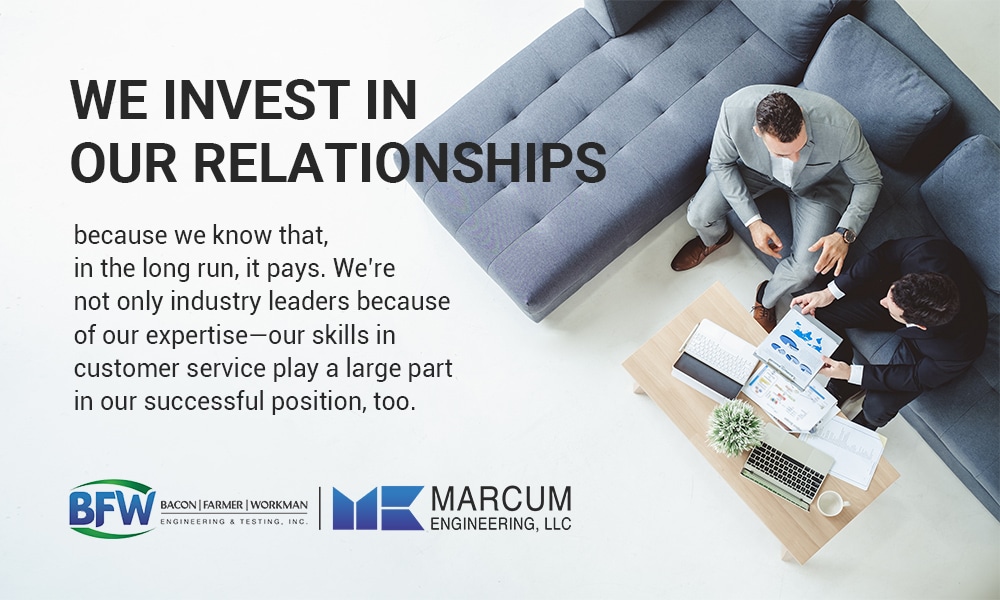 We invest in our relationships because we know that, in the long run, it pays. We're not only industry leaders because of our expertise—our skills in customer service play a large part in our successful position, too. Our clients know us just as well as we know them, which opens many more doors for bigger and better collaboration. Our goal at BFW/Marcum is to innovate in our engineering. To do that, we need a deep understanding of our clients and products.
Whether you're a new client or one we've had for two decades, we'll treat you with the same respect. We've been in this business long enough to know that you get back what you put in, so we've always had a penchant for doubling down on our customer service. It's why we're one of the best engineering firms in the region.