A lot goes into the design, planning, and building of the public roadway features we use every single day during our commutes. Many of us take these feats of infrastructure for granted, but without clever, robust engineering, they wouldn't exist. At BFW/Marcum, we know that the best roadway infrastructure is the kind the average driver doesn't notice.
Traffic flow is a huge problem in many areas. While driving habits contribute greatly to the congestion we see, roadway designs help greatly to alleviate the problem. One of the most important facets of road transport is the interchange, which is a challenging construction project that encapsulates multiple engineering disciplines and engages a multitude of agencies—and it's one of our specialties.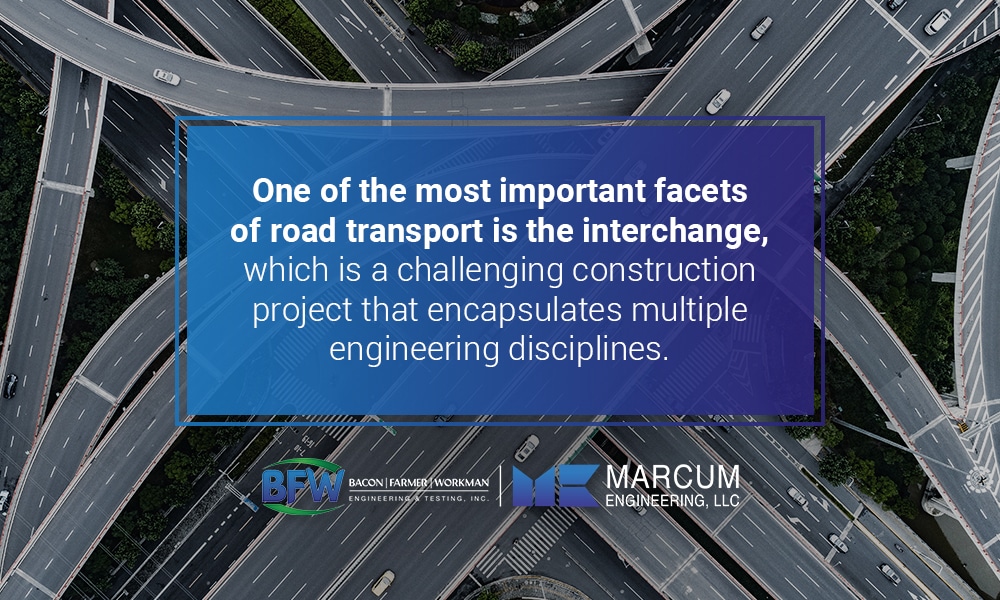 What is an Interchange?
If you've ever driven on a highway system near a large metropolitan center, then you're all-too-familiar with interchange technology, even if you haven't noticed. Wikipedia defines the concept well:
In the field of road transport, an interchange is a road junction that uses grade separation, and typically one or more ramps, to permit traffic on at least one highway to pass through the junction without interruption from other crossing traffic streams. It differs from a standard intersection, where roads cross at grade. Interchanges are almost always used when at least one road is a controlled-access highway (freeway or motorway) or a limited-access divided highway (expressway), though they are sometimes used at junctions between surface streets.
As you can see, interchanges include overpasses, underpasses, and any kind of elevated highway or junction that passes over or under another stretch of roadway. They're integral in allowing the flow of traffic in heavily driven areas to move efficiently. Because interchanges allow major stretches of roadways to overlap each other, they're a crucial component to road transport.
Like any engineering project of this magnitude, the planning, design, and building of an interchange is a complicated process that must have a clear strategy in place. It requires communication, close collaboration, and profound knowledge of not just civil engineering, but local laws and permits.
Why Are Interchanges So Important?
The interchange is more important than ever. Today, traffic looks much different than it did when a lot of our roadway architecture was conceived fifty or sixty years ago. John Negangard had over thirty-two years of experience in roadway engineering with the Illinois Department of Transportation (IDOT) before he joined our team.
John has a thorough understanding of today's tremendous need for interchange engineering:
"As far as the originally built interchanges are concerned, many of them are geometrically deficient according to current policy. Today, the acceptable design is a lot different than it was fifty or sixty years ago. For instance, many existing curves are too tight and need to be flattened out to allow higher speeds and longer acceleration and deceleration lengths.
Modern vehicles are larger, and traffic on the interstate system has grown tremendously over the past fifty years. Revised interchange configurations are necessary to accommodate access needs and to allow proper levels of service."
As engineering methodologies become obsolete, it's important to revise our thinking to fit the needs of the current day, extrapolate those needs to accommodate the future, and improve upon our predecessors' work. Engineering isn't static; it's a constantly evolving industry that should strive to become better as our understanding and technology improve.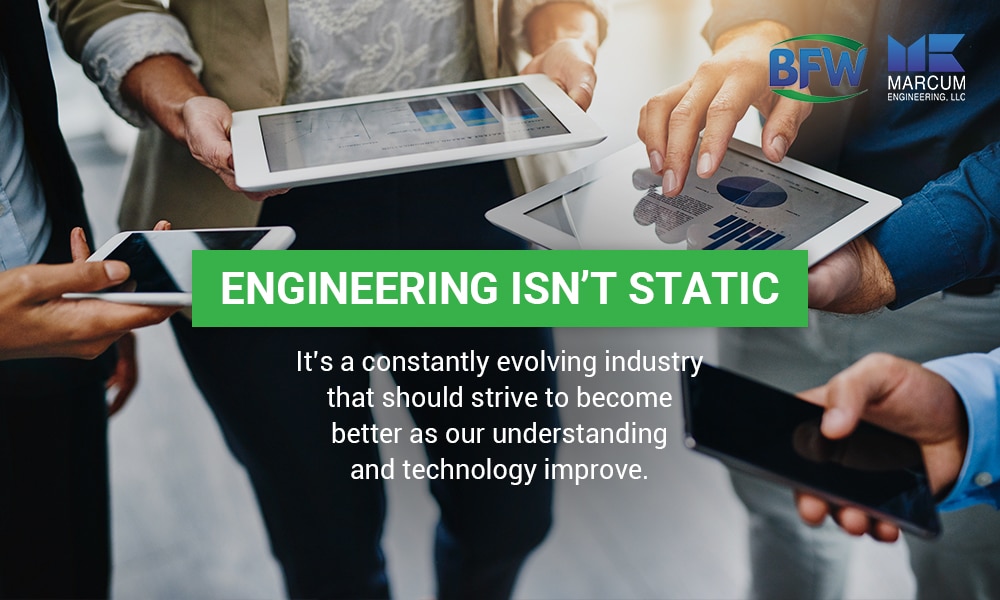 Today's interchanges may serve the same purpose as they did decades ago, but they're built using revised theories, using what we've learned over the last half-century with technology that engineers from fifty years ago could have only dreamt of. Even still, the planning of any structure still undergoes the same level of scrutiny and the same level of planning as it always has.
Understanding the Requirements of an Interchange
John has plenty of experience with the dynamics of collaborating with an agency regarding an interchange. Any time there are multiple disciplines and multiple agencies working together, there has to be clear, thoughtful communication.
"We typically start the planning phase by understanding the needs of our clients, who are usually a state transportation department, the stakeholders, the general public, and the environment. It's easier to picture all of these entities as customers that you need to represent fairly. Finding the right solution for everyone is a crucial first step toward success."
All four of those agencies have their own needs, so our goal at BFW/Marcum is to achieve satisfaction across the board. This initial process always necessitates a vast array of layouts and options. Our goal is to solve the problems with a proposed interchange layout that is efficient and multi-faceted because, ultimately, our firm is there to revise, improve, and re-think what is currently in place.
John outlines the careful process of thinking out-of-the-box and how important having options is:
"Much of the time, there are half a dozen different layouts proposed. We evaluate each one for their advantages and disadvantages. This vetting process analyzes construction cost, land acquisition cost, utility relocation cost, and environmental impact. Simultaneously, a technical committee steps in to reduce our options to a reasonable number before we present our plans to the public."
Using Innovative Solutions to Fix Existing Problems
Today's methods of engineering have evolved beyond what they once were, and our projects are exceeding what we thought was possible thanks to new data. Technology has increased our awareness of how our solutions interact, providing us with greater insight into the impact our designs have on internal and external environments. With things like automated machine control guidance, 3D modeling, and digital data logging, our ability to strategize as part of one streamlined team has increased at an exponential level.
3D modeling alone has revolutionized how we plan our projects. The BFW/Marcum design manual summarizes the importance of 3D imaging well:
Enables cost savings during construction by utilizing automated machine guidance
Improved construction documents, which provides more detailed information to the construction team
Increased efficiency when conducting construction measurement tasks
Detailed visualization for stakeholder buy-in on projects
Enhanced identification and resolution of conflicts, issues, design errors, and omissions before construction
Intuitive subsurface visualization, thereby reducing utility conflicts and delays
Optimized material usage and increased bid quantity accuracy
Greater productivity during the design and bidding phases, by relaying the information in a more efficient manner
Efficient incorporation of detailed as-built information into the asset management system
A Look into Our Interchange Ingenuity
Mike McGregor, Project Manager at BFW/Marcum, came to our firm after more than two decades with the Kentucky Transportation Cabinet (KYTC). There, his responsibilities involved the development of multiple interstate interchange projects on I-24 and the newly appointed I-69.
Mike is keenly aware of the importance of revisiting our country's interchanges, and he's bringing that firsthand experience to BFW/Marcum. More than ever, our expertise in interchange engineering is at the forefront. It's not just about revenue—it's about updating the infrastructure of America.
"For more than a decade, the KYTC has focused on upgrading its parkway system (specifically, I-69) in western Kentucky to satisfy current interstate standards as mandated by Congress. BFW/Marcum has played a major role in multiple projects along the I-69 corridor.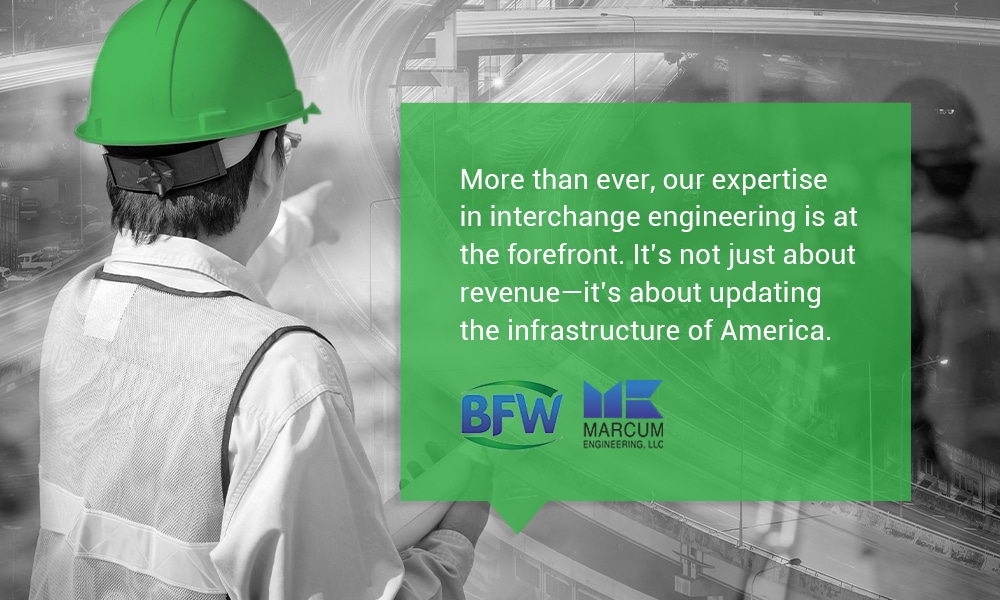 Notably, BFW/Marcum is working on the final design for upgrading twenty miles of the Julian Carroll Purchase Parkway to I-69. This project includes the reconstruction of an old toll booth style interchange into a diamond interchange with a partial cloverleaf (ParClo) in one quadrant. When BFW/Marcum was first selected for the project, I still worked for KYTC. Our district chose the company because of their previous experience with interchanges along that corridor and because of the exceptionally qualified personnel that they employ."
Alternative Thinking is the Gateway to Better Solutions
Mike goes on to explain the planning process of the Wingo Interchange project:
"BFW/Marcum developed alternatives that minimized the need for a new right-of-way while still addressing the traffic concerns at the interchange. A major challenge was in developing a design that removed the traffic weaving at the entrance and exit ramps.  The ParClo concept developed in preliminary design was the perfect solution for the interchange reconstruction.
Since starting the final design, I am now a part of the BFW/Marcum team helping to coordinate with KYTC. BFW is now developing the final design details along the corridor and, especially, the Wingo interchange."
Tim Choate, Transportation Engineer and Project Manager, also collaborated on the Wingo Interchange. He helped us devise the ParClo method, which he is particularly proud of.
"The preferred alternative (partial cloverleaf) avoided the cemetery and was 1.4 million dollars cheaper by eliminating the need for a million-dollar retaining wall."
When asked what he learned during the Wingo design process, Tim shared some sage advice:
"More than anything, I learned to better appreciate the power of data. Every interchange project is unique, but data is what drives us to find better solutions. Assumptions will only get you so far—they may even steer you in the wrong direction.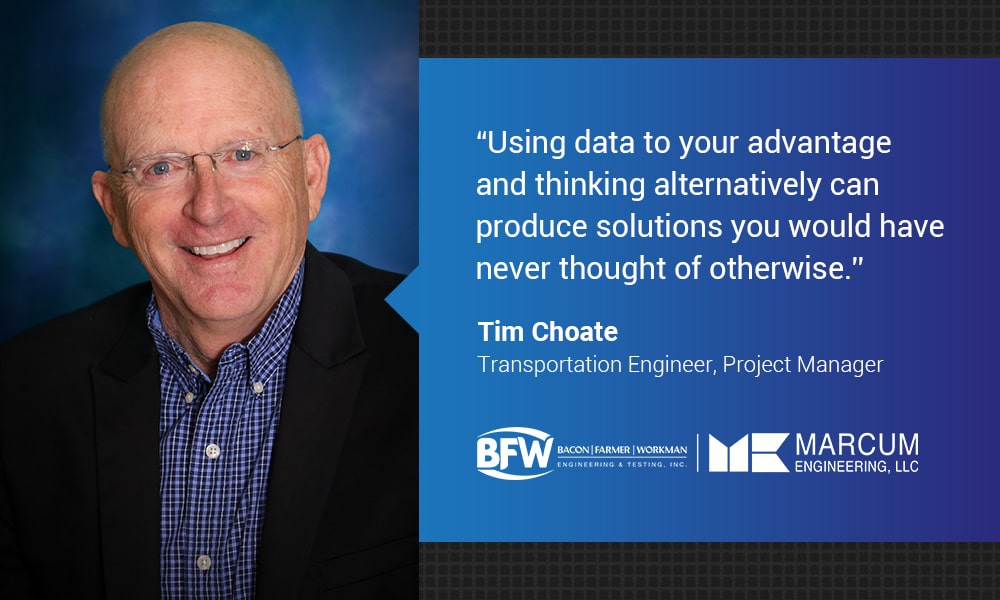 Using data to your advantage and thinking alternatively can produce solutions you would have never thought of otherwise. Anything we can do to minimize the impact on the budget, the frustration of daily drivers, and the effect on the environment, we should consider."
With our engineering expertise, modern tools to drive better analytics, and a team that specializes in customer service and communication, BFW/Marcum is helping to modernize the American landscape, one interchange at a time.