Every engineering project can be compared to a jigsaw puzzle. You may have all the pieces, but if you don't understand the larger picture, then you'll struggle to understand the greater purpose of what you're trying to accomplish. Knowing what the larger picture looks like is the best way to gauge quality, accuracy, and overall success when you are mid-project. Without that perspective, you lose both hindsight and foresight.
Construction administration is an engineering firm's way of protecting the big picture of a client's project. Contrary to what many think, an engineer's job doesn't end when their designs are stamped for approval. Any engineer will tell you that creating a design is just one fraction of their effort—making sure that their design is accurately followed is just as important.
Construction Administration is an Integral Part of the Big Picture
If the various components of engineering and construction are all pieces of a puzzle, then think of construction administration as the picture on the front of the box. Construction administrators ensure that every element of the design and construction project serves the larger purpose, which is to create a facility that is useful, functional, visually pleasing and enjoyable to occupy that meets or exceeds your client's standards.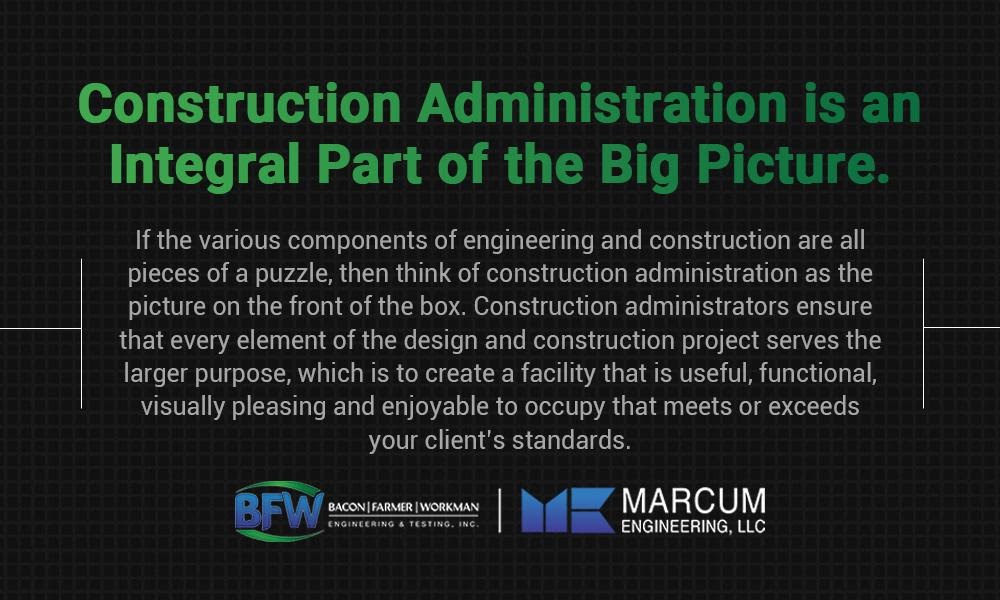 Kip Kessler, Construction Administrator at our firm, is well versed in the importance of proper administration of BFW/Marcum's designs.
"At BFW/Marcum, we utilize the team approach. Our collaborative take on construction administration protects our engineers' overall designs and ensures the best possible product for the client. Our team of construction administrators understands that this takes the cumulative and coordinated efforts of the owner, architect, engineer, construction administrator, and contractor during the construction stage, and are the means that produce the end; the completed project which is hopefully under budget, on time, and without claims."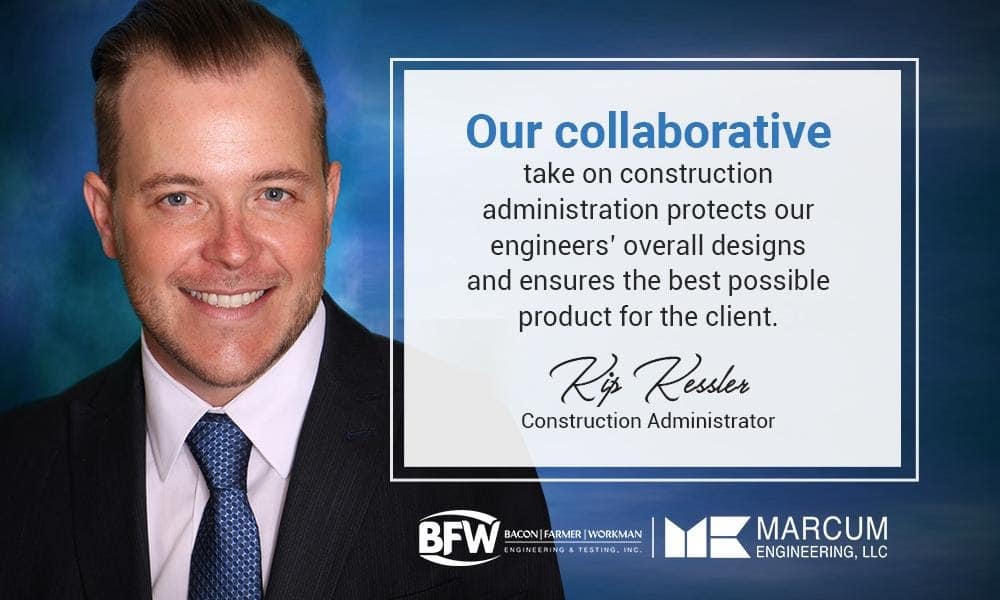 Yet, Kip is humble in his impression of the importance of a collaborative and precise approach to construction administration. To many, administrators may be seen as overseers, and, therefore, they have earned the clout to think of themselves as the most important component to the design and execution of a project. Kip doesn't exactly agree.
"Is construction administration the most important part of our process? No. But is it necessary to deliver the best possible project for our clients? Yes. Many people do not realize our design services typically don't end with the final submission of the construction documents. We recommend the construction administration be included in each of our contracts to ensure the engineer's design is properly executed starting at the pre-construction phase through final project delivery to the owner." 
"Yet, as important as I feel this component is, BFW/Marcum sets itself apart from much of the competition because we treat each of our departments and services as equals. They each offer their own set of specialized skills. Even still, we are a team; I like to think of it as a professional sports team, and when a project comes out of design, they give our construction administrator an assist to make the game-winning slam dunk!"
At BFW/Marcum, We Have a Fluid Approach to Administration
As you might have guessed, we're a fan of blueprints. However, we treat our approach to construction administration as a fluid process that shifts to meet the needs of our clients and any challenges that may arise throughout the execution phase. Kip has learned to think on his feet, hit the ground running, and make intuitive decisions at any moment. He takes a fluid approach to his duties as a construction administrator.
"Each project is unique and based on the desired project delivery plan. Some projects have their own unique set of challenges right from conception, but construction administration must take the project delivery plan and work with the owners, A/E firms, and contractors to continuously sculpt the project delivery plan. It must fit the project requirements as a living document that expands and contracts based on decisions that are made, or decisions that need to be made, through the course of the project."
The typical requirements of construction administrators are as follows:
Representing and acting on behalf of the owner

Reviewing and acting on the contractor's submittals

Making site visits to observe the work

Keeping the owner informed on the progress of the work

Certifying the contractor's applications for payment

Requiring inspections and testing as required for the specifications 

Responding to requests for information (RFI's) from the contractor

Interpreting the contract documents upon request

Issuing modifications to the contract documents 

Making decisions about technical and code issues

Attending meetings

Preparing construction change directives 

Authorizing minor changes in the work
We Let our Process Speak for Itself
Kip's been doing this a while, so he truly understands the benefit of this service for our firm's clients.
"My pitch is simple. If you have been a victim of hiring a service to perform work that did not deliver the desired result, then you can appreciate the services provided by our specialized team of construction administrators."
"Let's say you hire a contractor to build a deck onto your house. You signed a contract that you didn't really understand, then the deck was built two months later than the contractor agreed. After construction, the end product was completely different than the design you asked for. On top of that, you received a bill for 2,000 dollars more than the contract amount! You confront the contractor and hear, 'Sorry, that's just construction for ya!'"
"This same thing has happened to millions of unsuspecting clients in need of engineering and construction services. Without the protection of our knowledgeable construction administrators, this could happen to your commercial construction project but on a much larger scale. Our construction administrators review and fully understand the contracts and project specifications of each project and enforce that these are implemented throughout construction and until the owner has received the project that they have envisioned and ultimately paid for. The piece of mind to have representation with the resources to deliver your ideas and needs to fruition is why you should care what the backend looks like. We do not just provide results; we provide the best possible results."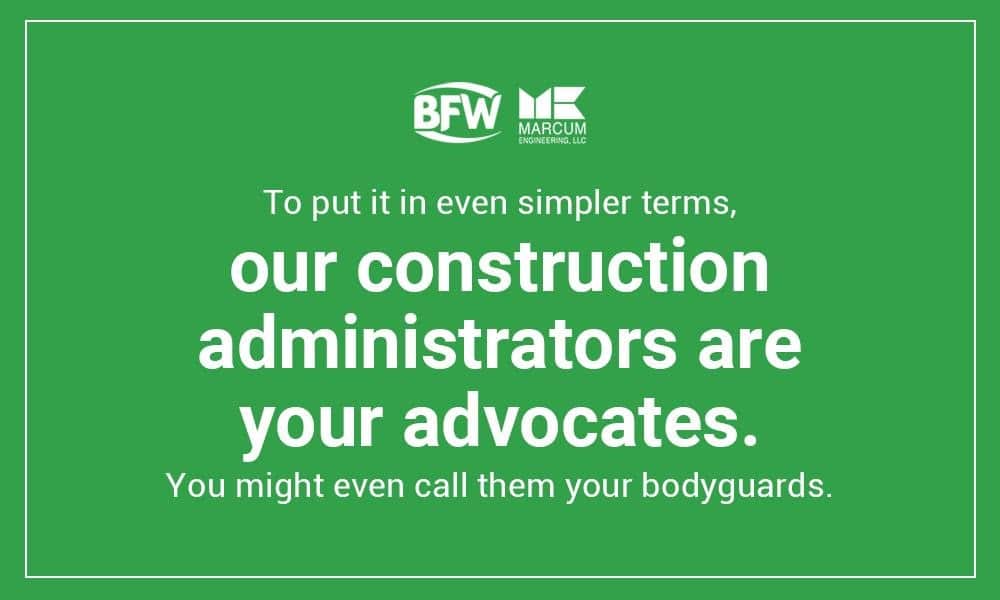 To put it in even simpler terms, our construction administrators are your advocates. You might even call them your bodyguards. They exist to ensure you're happy, and they know you're happiest when your initial vision is fully realized. At BFW/Marcum, our mission isn't over until we have assisted in turning our client's investment of their blood, sweat, and tears (and money) into reality.