Our business doesn't begin or end with our people and our clients. Instead, it ripples outward, affecting the community at large. Every decision and project has profound effects, both large and small.
We understand that, as an engineering firm, our decisions are felt and witnessed by many people, even those well outside our purview. Over the years, we've made great strides in cultivating a sense of personal responsibility at every level of our firm—from how we choose our projects, how we execute our work, and how we support our team members in their extracurricular pursuits.
At BFW/Marcum, we know that happy employees have a life outside of work. Not only do we strive to promote a healthy work/life balance, but we encourage our team to help develop a healthy, connected community whenever and however they can. Community service doesn't just look good on paper as a quota—but rather an activity that teaches valuable skills that we can use at the office or in the field.
Meet Some of Our Community Leaders
A great leader isn't just good at their job. Their work resonates outside of the workplace in the friendships they form and the people they inspire. We asked a few of our team members what community means to them and how their work outside the office resonates with their job in engineering.
Mike Lane, Civil/Transportation Designer

"To me, community means family. I'm a soccer coach, and I've found a lot of commonality between my coaching and my field in our industry. Both soccer players and my fellow employees spend a lot of time together, and you can't help but become a family in one way or another. Community is about making and fortifying connections."
Molly Eubanks, Electrical Engineer, E.I.T.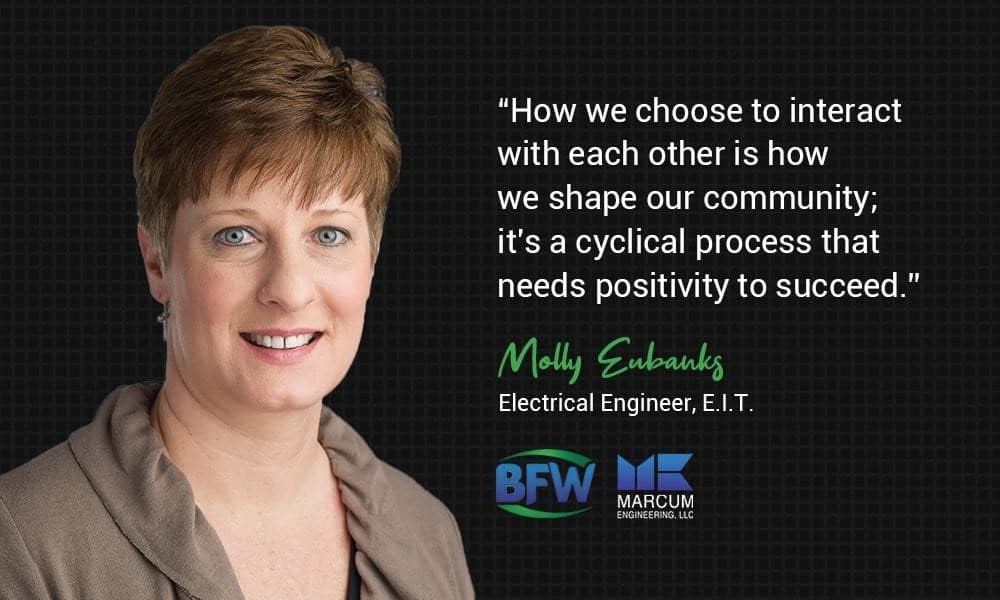 "Community is who you come into contact with on a daily basis, be it family, friends, coworkers, the general public, or anyone else. How we choose to interact with each other is how we shape our community; it's a cyclical process that needs positivity to succeed. Outside of work, I volunteer in my community of Marshall County"
Craig Guess, Business Development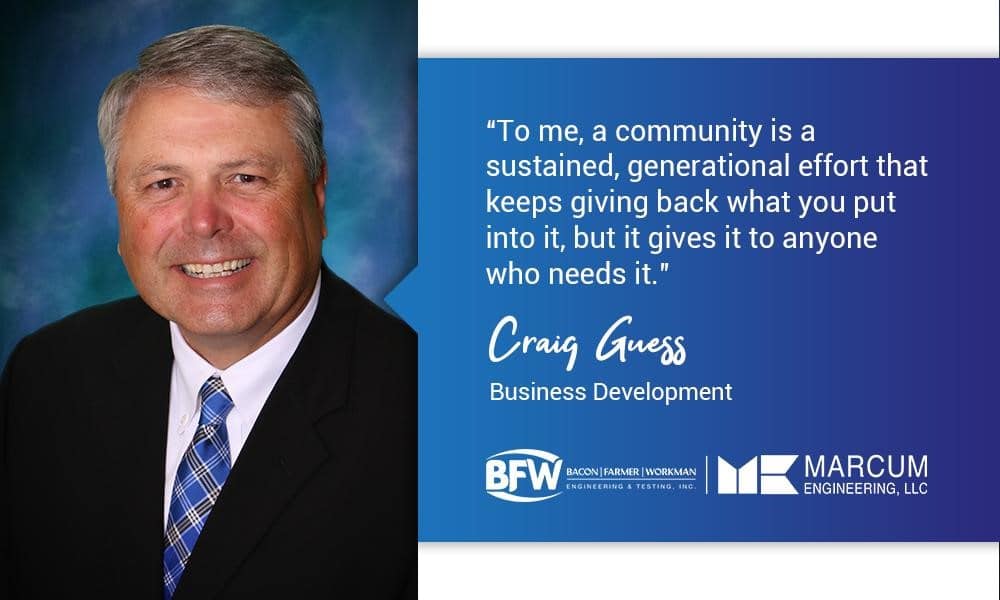 "I am proud of my community. I want others to see that we care about first impressions—that we've tried hard to cultivate something special for everyone to enjoy. At the end of the day, I want to be part of something our kids are proud to return to after college. To me, a community is a sustained, generational effort that keeps giving back what you put into it, but it gives it to anyone who needs it."
"Part of my efforts towards this was the creation of an anti-bullying foundation eight years ago. My daughter was struggling with bullies, and my wife and I told her that, when bad things happen to you, you have three choices: you can ignore the problem, you can blame others, or you can be part of positive change. We chose to be on the side of positivity."
Stephen Kirk, Civil Designer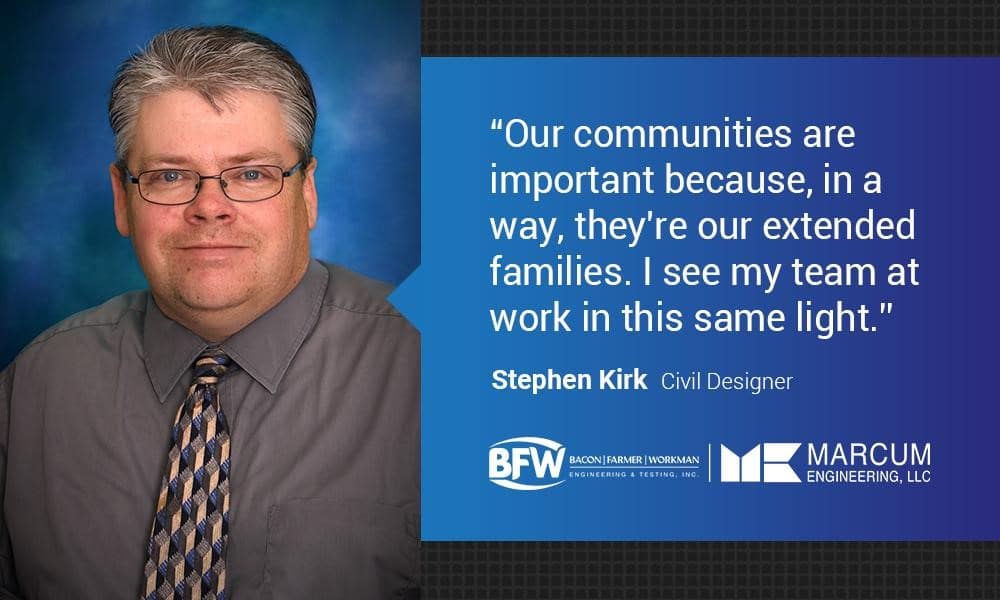 "Our communities are important because, in a way, they're our extended families. I see my team at work in this same light. I've been in the Ministry since October 1998, and I am currently the Pastor of Dycusburg Baptist Church. I bring a lot of my faith to my work; I think the two are profoundly intertwined. As a Civil Designer, I often think of a piece of scripture from the Apostle Paul:
'Servants, obey in all things your masters according to the flesh; not with eyeservice, as menpleasers; but in singleness of heart, fearing God: And whatsoever ye do, do it heartily, as to the Lord, and not unto men.'  (Col. 3:22-23)
"You can take from that what you will. For me, it means what you accomplish in this life should be authentic and meaningful."
Matt Morgan, Electrical Engineer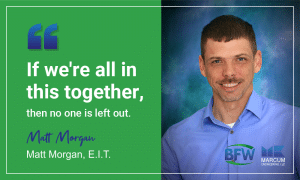 "Community is a group effort. We're all familiar with the motto, 'it takes a village,' and I believe that adage to be true. I've been a baseball coach for four years. I've followed my son's teams as he's progressed through the years back to when he was playing t-ball. I think coaching is a great way to be a special part of my son's life, but I also think it's important for those children without a solid foundation of family and parenting. If we're all in this together, then no one is left out."
Where Community and Engineering Intersect
How can engineering and community intersect? They are seemingly separate concepts with completely different meanings. However, it's important to understand that both engineering and community involve creating things that will last while also benefiting as many people as possible.
Craig believes that community and engineering intersect at almost every point:
"To put it simply, I think my job at BFW/Marcum—and the effects it has on the community at large—can be seen and felt almost everywhere. We're thoughtful engineers who build the infrastructure our friends and family use every single day. We build the roads that you travel on, the buildings that you see and use, the churches you worship in, the parks you bring your families to, and even the municipal projects that keep you safe. Good engineering is about making communities better and protecting them from harm."
Sometimes advocacy is just as important as the work itself. Engineering is a lucrative talent that creates a lot of good in the world. The more our employees connect to their communities, the more inspiration they can bring to the potential young talent in our region. Matt describes this effect:
"As engineers, we have an opportunity in our community to spread awareness of the profession. I'm not just talking about bragging about how great my job is; I'm talking about inspiring young people to consider our industry. We're always in need of great talent, so if my community understands what I do and even sees it in person, then I feel a sense of fulfillment that I'm not just doing a good job, but I'm advocating for my profession."
We Are in the Business of Building Stronger Relationships
In community and engineering, success and growth are all about creating strong bonds between the two. At BFW/Marcum, we're in the business of building stronger relationships inside and outside the firm. We encourage our employees to make time for their home life and hobbies while sharing them with their friends and neighbors.