If you're within the AEC industry, then you've more than likely heard the term "value engineering." While the term is thrown around a lot (and, unfortunately, lost some of its impact), it's still a sound methodology for creating avenues for cost-effective success.
It's no secret that some engineering projects begin on wishful thinking during their preliminary stages. Between investors, lenders, designers, engineers, and everyone else involved, even the most well-intended plans can achieve counter-intuitive results. Yet, that's where the concept of value engineering helps most.
What is Value Engineering?
To put it simply, think of any engineering job as a giant pie chart with only two sections: function and cost. Reducing one increases the proportions of the other. For any given job, the principles of value engineering scrutinize this relationship to help show a correct ratio that will result in the most value possible. However, that value is defined by the client. 
Many people in our industry misunderstand this concept by misappropriating "value engineering" and replacing "value" with "budget." They take a solid model and misinterpret it to the point of rendering it useless. Budget engineering needs no methodology; it's lest costly work—with temporary results.
On the other hand, value engineering can explore the idea of "value" as a quantifiable commodity. As a firm, how can you make value as tangible as possible to your client? There's one tried and tested way—value engineering. We can defer to the first line of Wikipedia's article on the subject since it perfectly summarizes what a credible firm explores when they invest in value engineering:
"Value Engineering (VE) is a systematic method to improve the 'value' of goods or products and services by using an examination of function."
Exploring the Relationship of Function & Cost
Wikipedia goes on to define "value" as a ratio of function to cost. As said earlier, you can think of any engineering project as a pie chart. Function and cost are the only two sections, and one inversely manipulates the other.
Baccus Oliver, Principal of Marcum Engineering, has his take on the concept, which he brings to his work at BFW/Marcum.
"The term value engineering is used by everyone and misunderstood by many. It's an easy mistake to make. Since the term has engineering in it, people assume that the idea is engineering-led. On the contrary—value engineering is a communications concept, one we've learned to handle well here." 
"To take advantage of the value engineering model, you need to work towards solutions to problems that do not compromise the client's original vision. The last thing you're meant to do is cut corners or narrow the scope. In fact, to me, value engineering is often not about finding problems or even solving the problem. It's about refining an idea so that it better encapsulates the client's idea." 
Mike McGregor, Transportation Engineer/Project Manager, understands the ratio between function and cost.
"At BFW/Marcum, we don't subscribe to value engineering for the sake of saving money, though that may be a byproduct. Instead, we look for more efficient solutions to our client's needs. Efficiency sometimes saves time and money. Yet, these solutions must function as good as or better as our original design."
Value Engineering is About Creating Value, Not Cutting Corners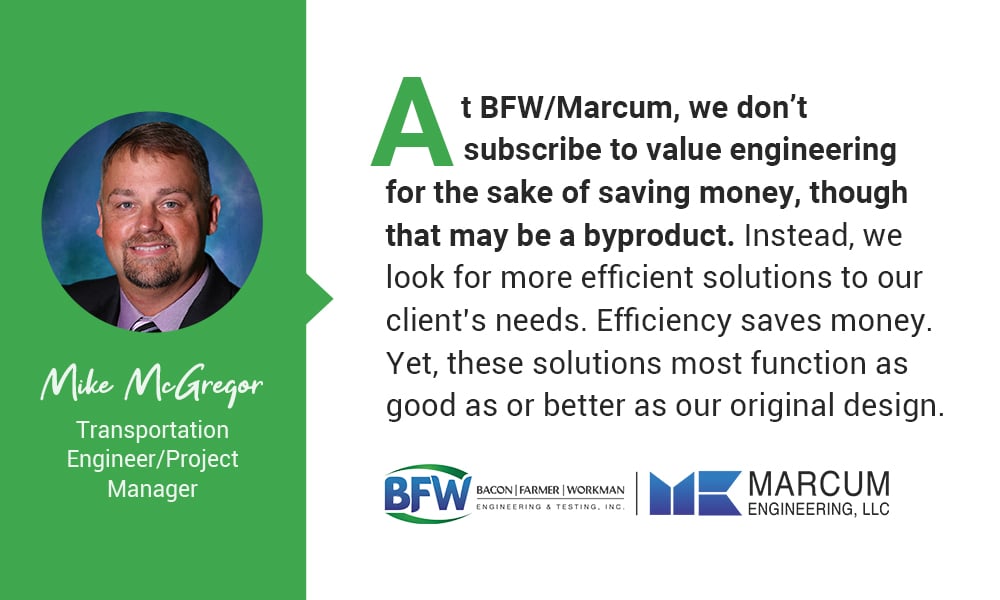 Baccus is serious about delivering results. Value engineering is just another tool in his arsenal, but one that brings him consistent and reliable results.
"I break down our value engineering efforts into three steps. 1) We identify a VE opportunity and explain it intuitively to our client. 2) We convey the potential savings and the efficiency we'd be introducing to the workflow. 3) Should there be any consequences to going in this new direction, we present that information clearly to the client."
"I've been in this business long enough to know that, above everything, communication is king. If you can communicate your reasoning to a client with facts to back it up, then you often have their confidence. Value engineering isn't just value-building, it's confidence-building because you're showing your client that you've scrutinized their project down to the smallest detail."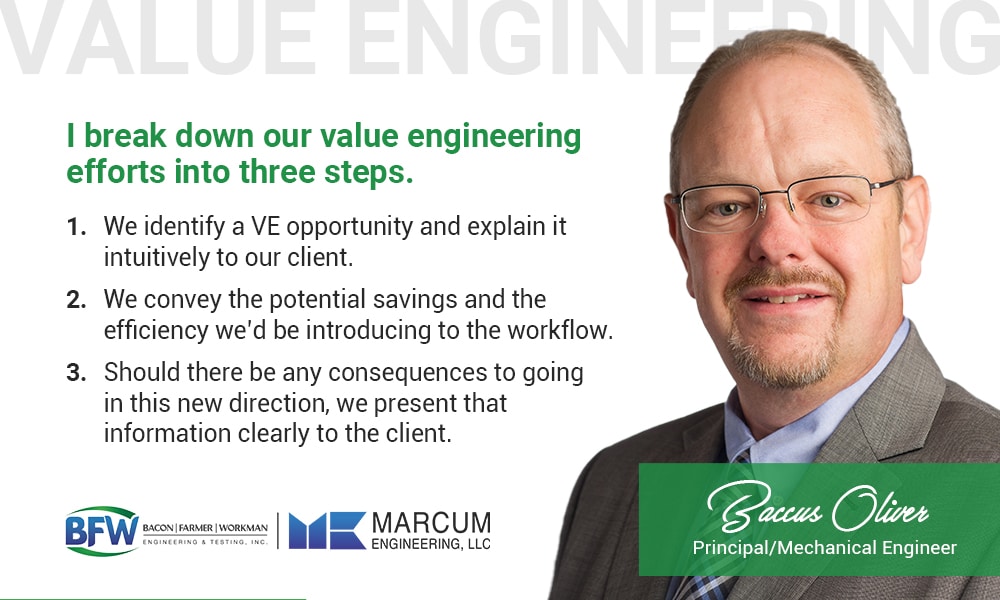 The Bottom Line is Just One Piece of the Pie
Mike has had experience with firms that misuse value engineering to confuse clients into agreeing to less.
"Many firms are only concerned with the bottom line. They see each dollar saved as a fraction of a dollar into their own pockets. At BFW/Marcum, we're most concerned with our client's best interests. Whether or not we're saving money by utilizing VE, we want our clients to feel satisfaction and pride when they see the culmination of our efforts. VE is a great way to get to that result, but it's just one avenue. However, one thing's for certain—the bottom line is a race to the bottom. If that's where your eye is, then you're missing too many other details."
VE Finds Something New in the Old
Barry Horst, Transportation Engineer/Project Manager, has plenty of experience with the Missouri Department of Transportation (MoDOT.) He's found that VE is also a great tool for projects with extremely limited budgets. It's a "ground up" approach to efficiency that'll make your dollar go further than if you went along with a standard approach.
"With very limited funding, most state departments of transportation are focusing on taking care of the system they now have. This results in most projects being fairly straightforward efforts to upgrade roadway pavements and bridges. When applying value engineering principles to these programs of system maintenance, very noticeable and valuable cost savings can be realized."
"It's easy to fall into the practice of applying 'standard' solutions to the large number of pavement rehabilitation and bridge improvement projects necessary for a state DOT to keep its system in good condition. Generally speaking, these standard solutions do a good job of achieving state DOT asset management goals. The problem lies in the instances where deeper consideration of project context could identify solutions of a lesser cost that would have achieved stated goals." 
 "It's these savings over an entire program of projects that lead to the ability of a client to direct those savings into additional projects and quicker realization of asset management goals. This is the approach BFW/Marcum engineers take with the projects they deliver for their clients. Regardless of the size of the project, a deep dive is taken into the context and function of a prospective project so that the appropriate solution is provided to our clients."
We asked Barry what he thought VE meant to him and if he could distill that feeling into something simple.
"Value engineering is accepting what you've been given, but doing the absolute most you can with it."