Revelations & Revolutions: Committing to Renewable Energy

"Believe it or not, renewable energies have already overtaken coal. No one was expecting it to happen that quickly." Adam Edelen, Founder, Edelen Renewables tells us. We picked his brain about renewable energy. We didn't want to just talk about what we're doing in that sector. Instead, we wanted Adam's input.  Edelen Renewables is a mighty boutique renewables business we frequently collaborate with. To put it simply, he has a lot to say about the past, present, and future of renewable energy.
"There's a cultural and economic element to renewable energy, specifically solar," Adam explains. "Solar has always been attractive to the people because it's a cleaner way of producing energy. Now it's cheaper, so it attracts the investors."  So far, Adam's firm is involved in 10 projects across 4 states that will, collectively, produce over a gigawatt of renewable energy and $1.3B in capital investment.
Our Values Align
When Adam and our Executive Vice-President/Owner Mark Workman first met, their collaboration was a no-brainer. "Our values matched up so well, Mark has been a tremendous help in getting our company's solar projects off the ground. My company has a motto we live by, one to which Mark immediately took to."
The motto is "To bring the promise of renewable energy to America's forgotten places." It summarizes Adam's commitment to not just developing a progressive and successful renewables business, but a commitment to ensuring his projects make the world a better place with emphasis on the underdog.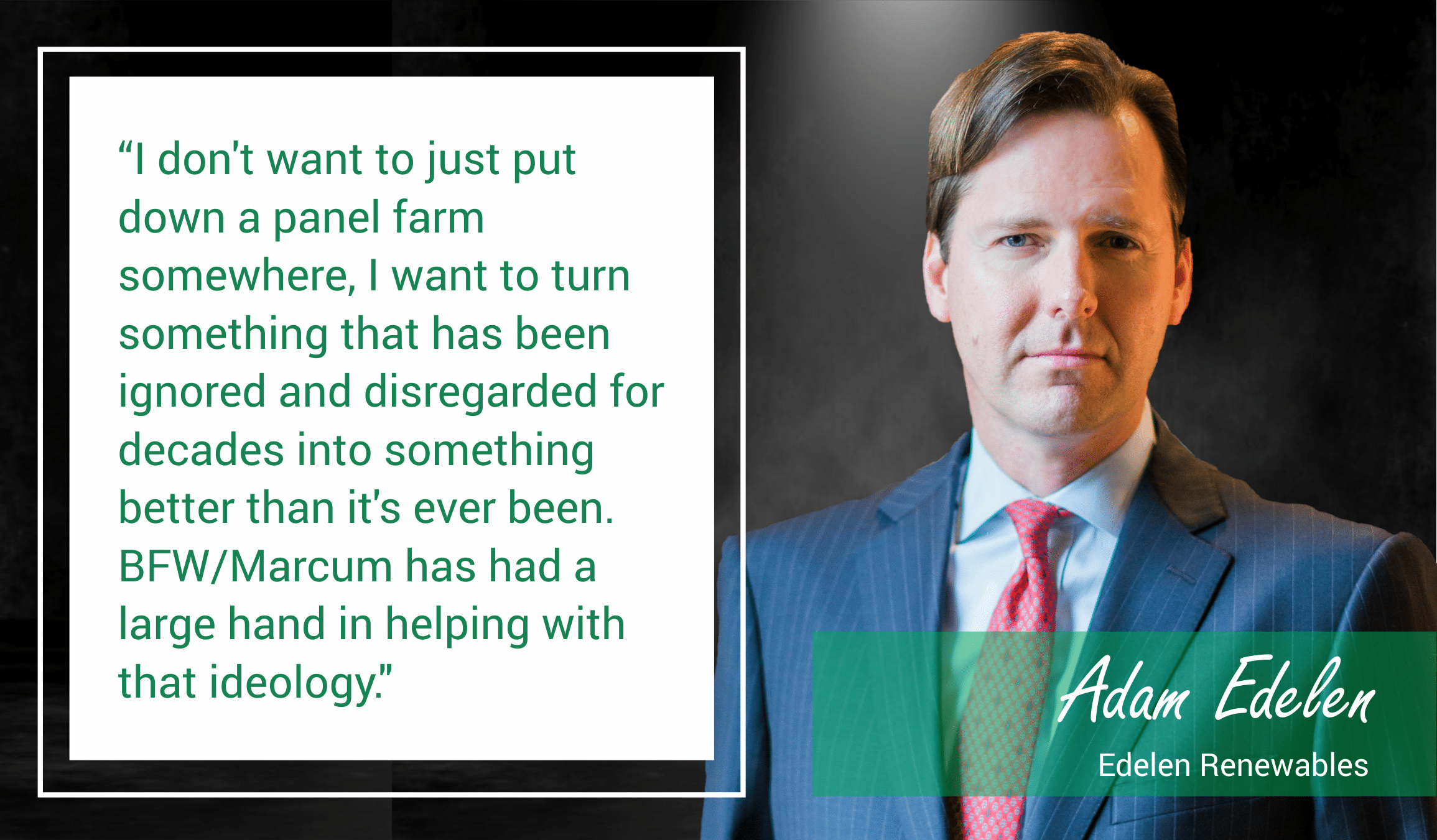 "I don't want to just put down a panel farm somewhere," Adam says. "I want to turn something that has been ignored and disregarded for decades into something better than it's ever been. BFW/Marcum has had a large hand in helping with that ideology. They've made the same commitment to their region."
How Does Our Firm Help?
A lot of what Adam does hasn't been done before. We asked two of the people most involved in our renewable energy projects what they brought to the table to make his ideas a reality.
Susannah Campbell, Environmental Manager, explains our firm's role. "There's a lot of moving parts to one of these projects. Mechanical, chemical, industrial, and electrical engineers all play crucial roles in the alternative energy field.
Civil, environmental, and geotechnical engineers aid in designing and supervising the construction of these sites. Even as the global trend moves towards renewable energy, engineering requirements will still be needed to facilitate the design, construction, and operation of these sources."
To put it simply, these kinds of projects are cutting-edge, large, and intricate; it takes all hands-on deck to get one off the ground. One such project with Edelen Renewables is what we refer to as "coal-to-solar". We worked closely with Adam to turn an old Appalachian coal mine into a solar farm. The project has brought life back to the region in a multitude of ways.
"Coal mining is an extractive practice by its very nature and the environmental impact can be serious.  Even the best efforts at coalfield reclamation result in a limited set of options for post-mining use," Edelen explains.  "Our coal-to-solar initiatives result in win/win for all involved in repurposing these sites.  For landowners, we monetize a stranded asset.  For communities, we create renewable-energy jobs while battling climate change."
Reinvigorating a Coal Ecosystem
We asked Adam to talk a bit more about this work. "There are so many benefits to these kinds of projects. Going back to the cultural and environmental impact of renewable energy; a coal-to-solar project profoundly cleans up a region while putting ex-coal miners back to work. After all, someone's got to get those panels up the mountain, put it all together, and ultimately keep it running smoothly, as simple as that last process may be."
At BFW/Marcum, we're primarily involved with the logistics of such a feat of engineering. There's geotechnical and survey work, for one. As Adam eloquently puts it, "BFW/Marcum makes what is extremely cumbersome work as efficient as possible way before anyone lifts a single panel."
Beyond that, it takes the calculations of some brilliant engineers to ensure the brilliance of the sun is hitting those panels in the best way possible. We asked Kenny McDaniel, Civil Engineer/Project Manager, what that entails.
"It doesn't matter if you're slapping a solar panel onto the roof of a house or on the top of a mountain in Appalachia—you work with a fundamental idea of utilizing the topographic information of the land and the best view of the sun."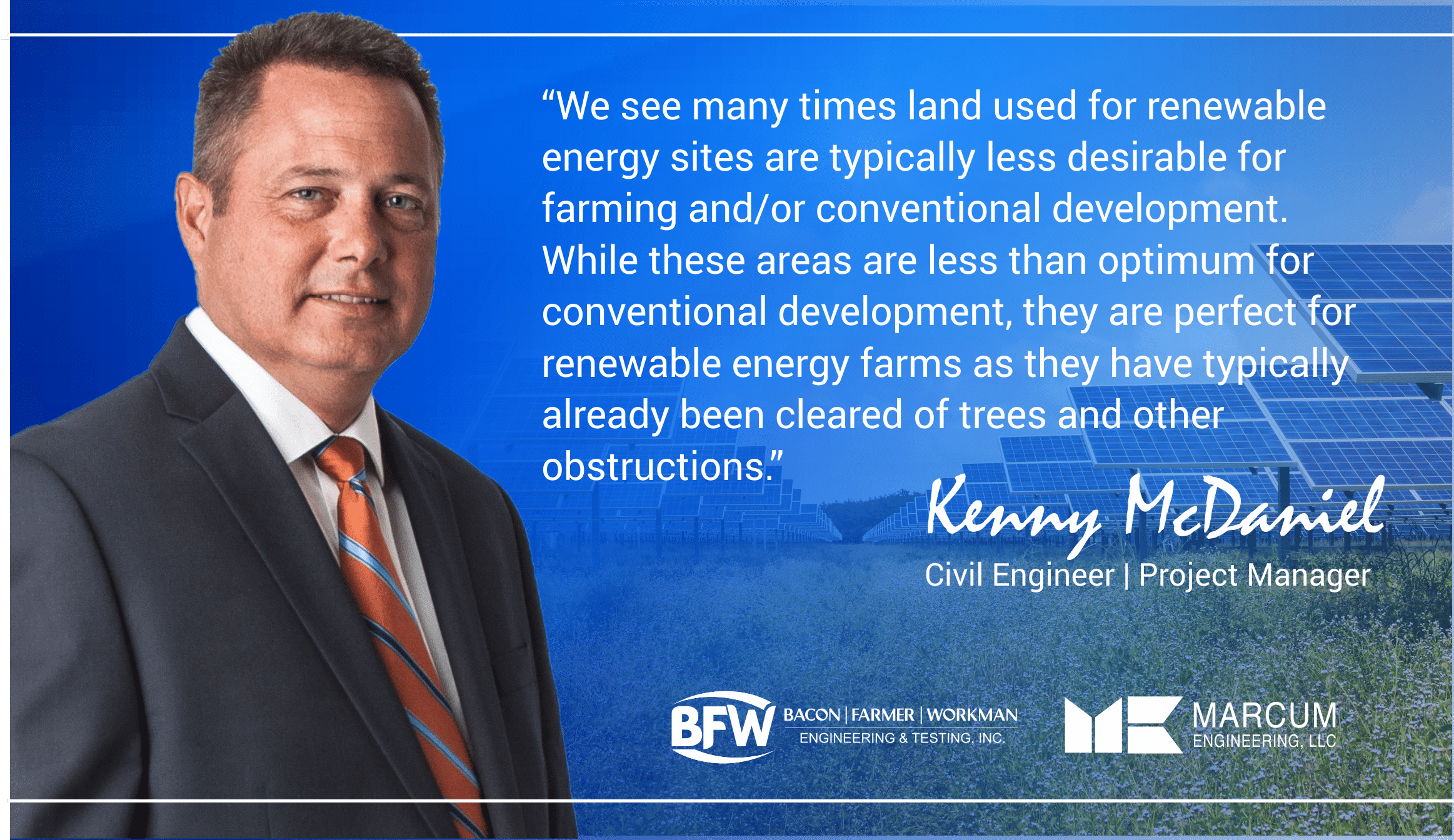 But with a coal-to-solar project visualizing the topographic features of the land and the best view of the sun via a 3-dimensional model is how we plan our positioning to give each panel a maximum view of the sun. Also, for solar, wind, and gas recovery systems the length of utilities and infrastructure to service and collect the energy must be kept at the forefront of the design to keep the initial construction as inexpensive and environmentally friendly as possible."
Making What's Old New Again
As a country, we've benefited a lot from the use of fossil fuels. Yet, the ecosystems created by mining these resources aren't sustainable. We're lucky to have the technology to give those sites a second life. Solar projects reinvigorate these ecosystems both by putting people back to work while cleaning up their community. Kenny provided us his thoughts on the matter.
"We see many times land used for renewable energy sites are typically less desirable for farming and/or conventional development. A few examples of these depleted sites are capped landfills, low lying farm ground, and in this specific case, reclaimed mine lands.
While these areas are less than optimum for conventional development, they are perfect for renewable energy farms as they have typically already been cleared of trees and other obstructions. Most importantly, once the renewable energy fields are constructed the future disturbance to these areas is usually minimal, this coupled with the clean energy being created is great for the environment."
As our Environmental Manager, Susannah is no stranger to the cost-benefit of renewable energy. It's a relatively untapped resource and it pays in spades. "Renewable energy generally requires less overall maintenance than traditional fuel sources. For one, fossil fuel sources are heavily regulated by federal and state air quality standards.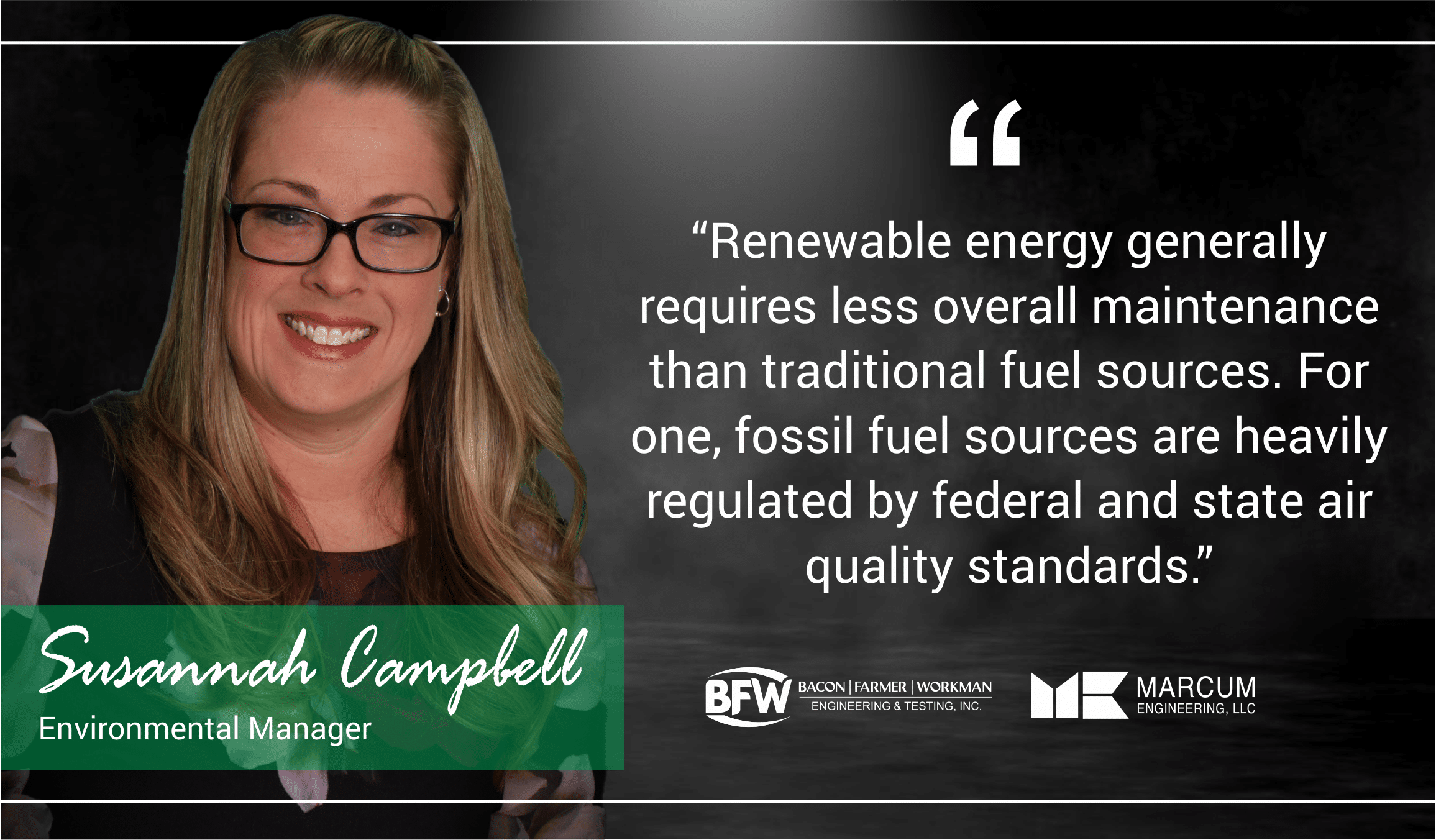 Beyond that, identifying an energy source upfront that will prevent costly and arduous air permitting requirements can allow companies to move forward in a timely manner with construction. In addition to this, designing for these renewable sources upfront can save on long term electrical costs as well as prevent additional expenses required to switch to an alternative energy source later down the line."
Great Minds Think Alike
At BFW/Marcum, we're proud to fill our firm with brilliant minds from all walks of life. We also carry that commitment to who we choose to work with, be it a collaborator and/or client. That's why we're so eager to work with people like Adam.
"I speak at least weekly with BFW/Marcum. Mark and the rest of the firm make me feel like I'm part of their team." Adam says. "As an engineering firm, I know the temptation is there to put your roots down and be the best at either A, B, or C. However, BFW/Marcum is going all the way through and mastering the alphabet, so to speak. They are way ahead of the curve. They're a relevant player in the renewables game well before many other firms even know there's a game to be played."
We're happy to work with Adam. The vision coming from Edelen Renewables encapsulates the types of ideas that excite us most. They aren't just logistical problems (which we love) but problems which carry with them solutions that, once solved, make the world a better place. As we'd said in the past, we're not just engineers, we're builders of a community, whether here in Kentucky, a mining town in Appalachia, or anywhere else in the world.