Public parks, no matter how big or small, are pivotal to communities, especially underserved ones. Everybody needs a safe outdoor space, whether it's to play or relax. They also act as the glue that binds the fabric of our community together. A good, clean park usually begets a good, clean neighborhood.
We're advocates of community-focused engineering. That takes on many shapes. For one, it means the decisions we make should serve the greater good of our community. Parks and recreation couldn't more obviously embody that, so we've turned our focus to it.
A Man with a Plan
We recently brought Mark Thompson, Business Development, onboard to expand our involvement in the development and planning of parks. While that's a tall order, Mark's got a plan.
"I hate to disappoint but I am not an engineer. Rather, I majored in Parks and Recreation Administration and was in the field for 42 years.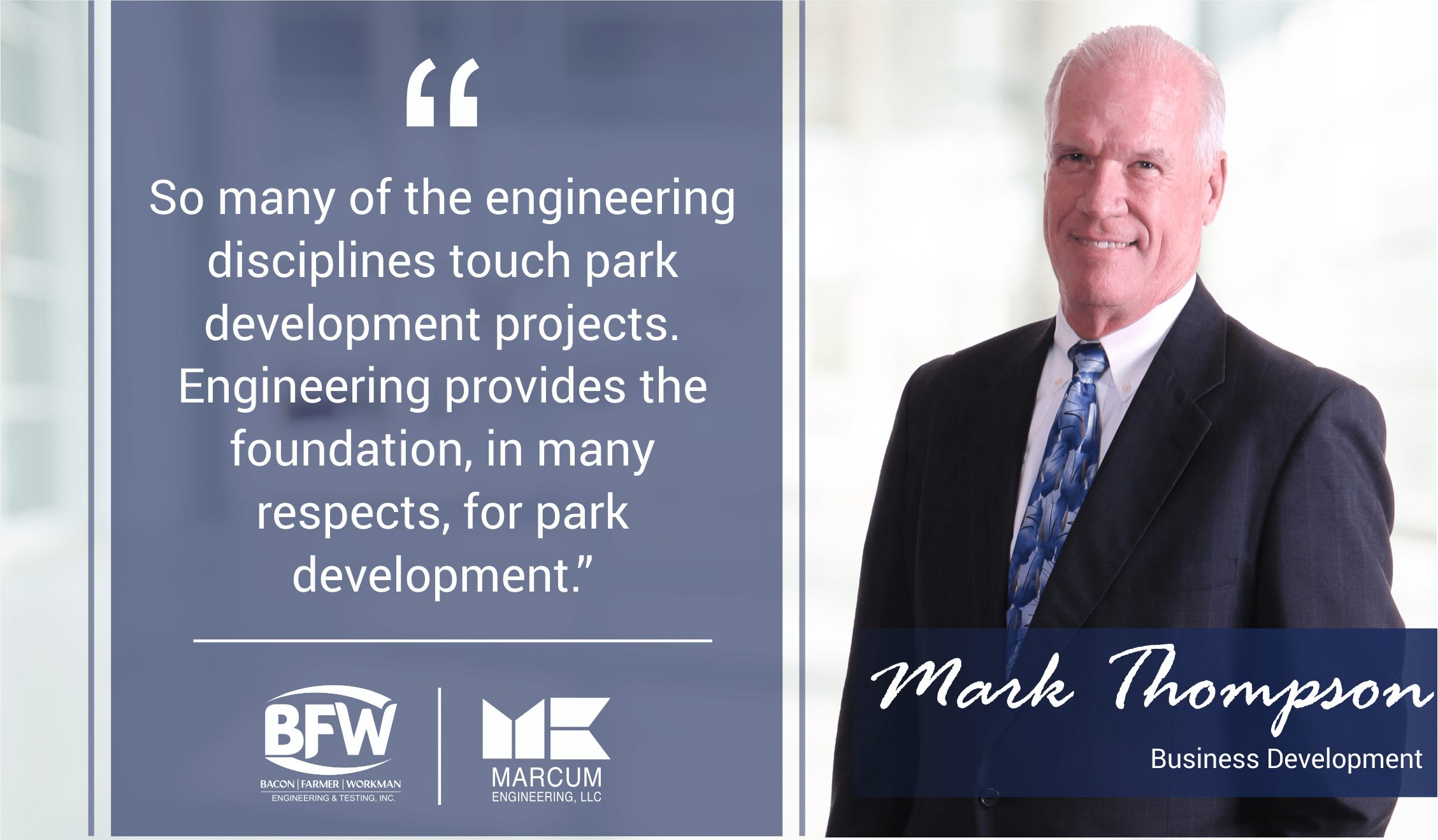 My expertise comes from that point of view. Yet, all major park improvements start with engineering. So many of the engineering disciplines touch park development projects. Engineering provides the foundation, in many respects, for park development."
Mark is well-acquainted with the relationship-building that goes into building a beautiful public space. You can't just start planting trees or build a playground. Instead, you must understand the needs of the community and appreciate the limitations of things like geography, budget, and time. No, Mark's not an engineer in the strictest sense, but that doesn't mean he doesn't work without intention.
The Devil's in the Details
We asked Mark what kind of skills are needed to even begin envisioning a park. "Working in a parks and recreation setting an engineer needs to be an interpreter of ideas and a translator of images. The devil is in the details."
Mark hit a vein of universal truth right there. Engineer or no, he understands the most basic principle of engineering; to take thoughts and ideas and commit them to reality. He goes on to explain the complicated relationship between the park department (the client) and the engineers.
"The parks and recreation staff usually have an idea of what development is needed and an impression on how things should operate. The engineer must take their input and blend it into a workable and definable project. This includes tactful explanations to the non-engineer of what can and cannot be done in a project."
Managing expectations, managing details, and managing technology are all rods we keep in the fire. Mark has his work cut out for him.
A Man on a Mission
Mark's official title is Business Development, so we asked him to clarify what that means in terms of his work with bolstering our parks and recreation work.
"Broadly, I am a member of the business development team. Specifically, I will be working on the outreach to local and regional government officials particularly those dealing with park improvements and park master planning.
Additionally, once BFW/Marcum is chosen as a provider for park developments and park master planning, I will be serving on the firm's project team."
Mark's mission embodies a bold vision. It's one we're excited about. He wants to use his 40+ years of parks and rec experience to bring those strong relationships over to the firm. From there, he puts on his manager hat and joins the fray, managing our ever-expanding parks and rec department.
The best part? Every new client means a new or renewed space we can say we had a hand in.
Something for Everyone
Lastly, we asked Mark why he's dedicated so much of his life to parks.
"So many people think of parks as a luxury, something a town or city spends money on when we have some leftover money at the end of the year. However, parks are a necessity not an afterthought. Safe exercise and fresh air opportunities help support mental health and physical activity. Parks can be spaces where you can fall deep into thought or a place you can clear your mind, intensely active or relaxingly sedentary and in singular solitude or competitive groups. Parks can be something for everyone.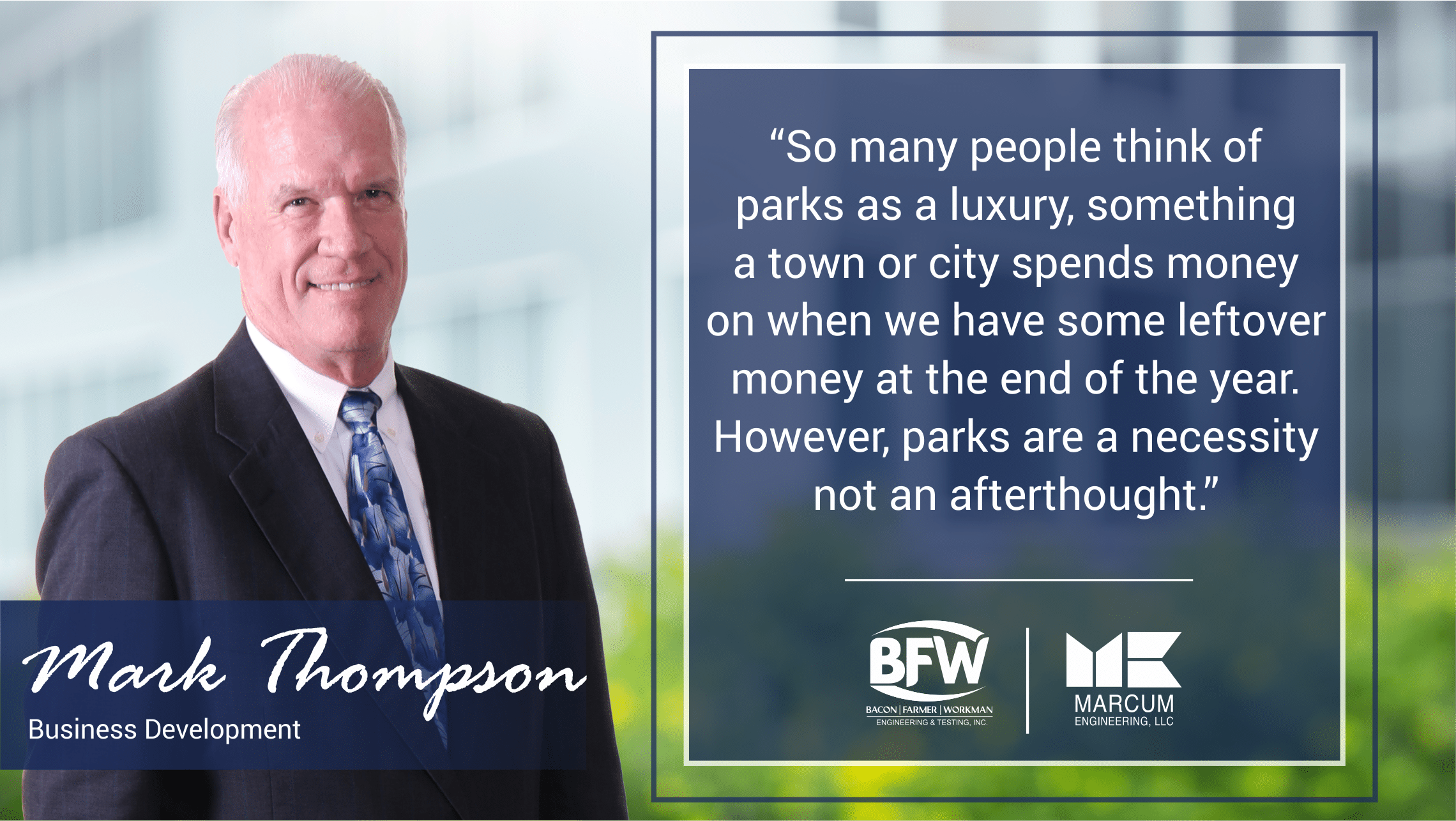 Often, in an urban setting, the park is everybody's backyard. It provides low-cost opportunities to run, play and have fun when personal space is limited. Parks often provide areas for community gardens allowing the healthy aspects of working the soil and the reward of vegetables and fruits. As an opportunity for all abilities and cultures, a community provides playground equipment, spraygrounds, pools, trails/pathways, and greenspace to provide for and improve the health, wellbeing, and quality of life of its citizens. Parks provide each citizen an opportunity to thrive and thus the community thrives."
Learn more about Mark Thompson on our latest Bridging Ideas Podcast.