It's no secret that many of engineering's most important components are often difficult to perceive once the project wraps. Geotechnical engineering is one of those components. It's a discipline that every engineering firm needs, whether they subcontract the work or complete it in-house.
At its core, geotechnical engineering involves investigating the literal ground you plan to build on. Without knowing your foundation, you won't be confident that a completed design will stay standing, or even stand at all. The geotechnical side of engineering impacts our daily lives, helps us reach great heights (literally), and is key to the existence of our firm.
Everything Starts with Geotechnical Engineering
Brad Gough, Civil Engineer/Project Manager, is an integral part of our geotechnical department. He understands that, before any ground is broken, it must first be understood.
"Whether you realize it or not, geotechnical engineering has a tremendous impact on your daily life. From the roads you drive on to the buildings you occupy, the design of every engineered structure begins with a geotechnical investigation."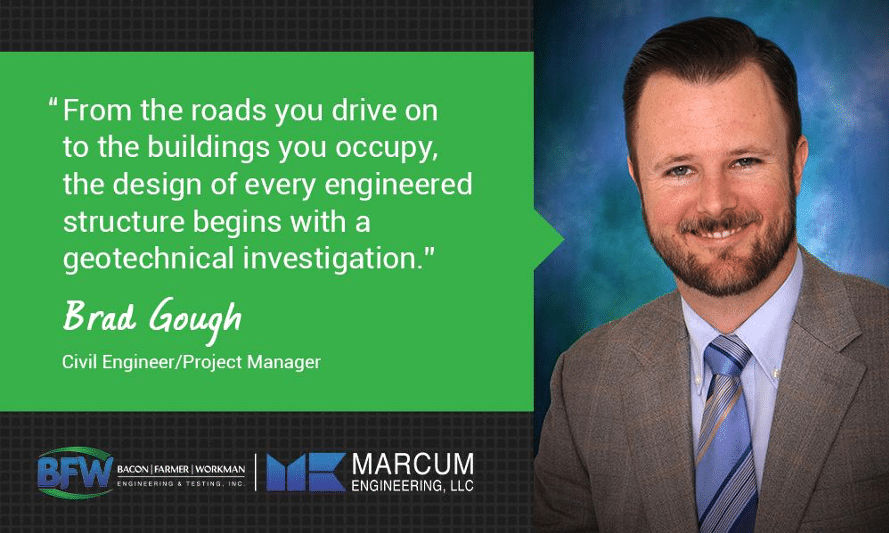 "Geotechnical engineering is more than just playing in the dirt. Over three centuries of science have gone into developing the field as we know it today. Soil has intrinsic material properties that define its strength and stability. However, since soil types can vary greatly at any particular site, so can those properties."
"A geotechnical investigation begins by boring deep below ground and collecting core samples of the soil. Several boring locations are selected to get a strong enough sample size to have confidence in making assumptions for the entire site. Once the cores have been observed and tested, the geotechnical engineer can make recommendations for building foundations, pavement thicknesses, and potential remedies to improve the strength of weak soils."
As Brad illustrates, nothing else can begin until a geotechnical investigation is complete. It's the first of many processes we employ to ensure our planning is precise.
Geotechnical Investigations get to the Bottom of Things
Brad goes on to break down the two things that factor into the start of a project.
"Every civil design project begins with two things: a topographic survey and a geotechnical investigation. The survey provides us with information on the features we see above ground, while the geotechnical investigation tells us what is below ground."
"As a site civil engineer, I rely on the report and recommendations from the geotechnical engineer to ensure the ground can support roads, parking lots, and other pavement that supports heavy loads. Similarly, structural engineers use geotechnical information to design foundations for the buildings and structures. Utilizing the recommendations of the geotechnical investigations helps to ensure that roads and pavement do not crack and crumble, and new buildings do not end up looking like the Leaning Tower of Pisa."
Susannah Campbell, Environmental Manager, also highlights the impact a geotechnical investigation has on our commitment to environmentally friendly engineering.
"Environmental assessments involve soil sampling and chemical analysis, groundwater monitoring and well installation, groundwater sampling, and site hydrogeology. Many of these tasks overlap with both physical and chemical assessments. Therefore, our geotechnical and environmental concerns complement each other. If they're properly planned and implemented, much of these geotechnical and environmental investigative field tasks can be coordinated to save time, resources, and money."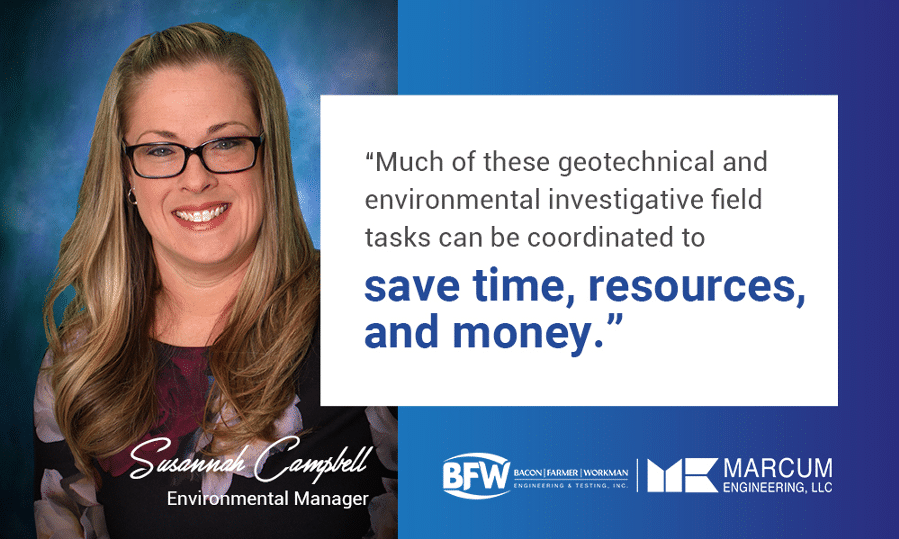 Our firm's ability to coordinate our geotechnical and environmental efforts is because these disciplines are in-house, which gives maneuverability and efficiency you cannot achieve when subcontracting.
We Come from Geotech Origins
At BFW/Marcum, we're not just geotechnical experts; it's our calling. Much of our origins are grounded (no pun intended) in geotechnical engineering, so—needless to say—we've been doing it for decades.
Brad will even tell you that geotechnical isn't just our middle name, it was once our first.
"Before we were BFW/Marcum, we were known as Geotech—named after co-founder and principal engineer Chris Farmer's discipline of geotechnical  ."
"Just like how geotechnical engineering helps establish a strong foundation for a new building, it helped inform the technical foundation of our entire firm."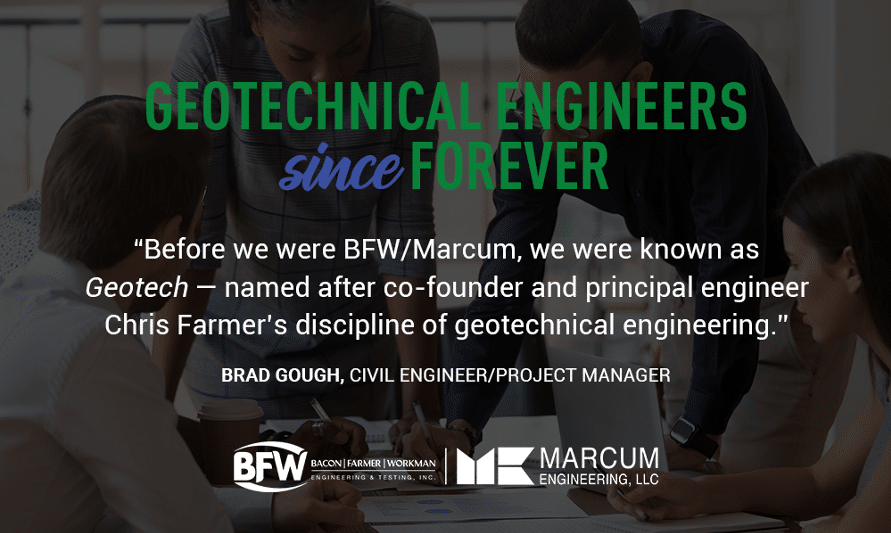 BFW/Marcum comes from a strong foundation of strong foundations. Brad is also excited about our most recent expansions in the geotechnical department.
"We have recently expanded our capabilities to better serve our customers by adding a second drill rig and crew, more technicians, Environmental Manager Susannah Campbell, and Ben Hooks, a Ph.D. Geologist."
With strong origins in geotechnical engineering and a scalable and talented in-house department, we plan to continue our tradition of being the best geotechnical engineers in the region. When it comes to our continued pursuit of geotechnical innovation, we'll leave no stone unturned.