Together We're Strong Part 5: Our Springfield Office

Building a satellite office can be challenging even at a well-established firm like ours. You have a lot to live up to and a lot of work ahead of you to get the typical wrinkles ironed out that comes with a new office and a fresh perspective.
However, we couldn't help but notice that our Springfield, Illinois office, led by Brad Rotherham, Senior Bridge Engineer/Project Manager, has hit the ground running (at a sprint). Yet, we're not proponents of growth at the firm unless it comes consistently and doesn't affect the high quality of our service. Our Springfield office, in just 3 years, has shown exactly what good growth looks like. It's focused, it's thoughtful, and it benefits everyone.
When Good Groundwork is Laid Growth is Part of the Culture
We asked Brad what he contributed to Springfield's quick success; what his secret recipe was. He gave us an engineer's answer, which we should have seen coming.
"I attribute the success and growth of the Springfield office to all the hard work that came before us. We have a great foundation from which we are growing this office. When our doors first opened in Springfield, BFW/Marcum was already an established, well-respected engineering firm known by many in the community.
Here, we have continued that same effort to create a culture of hard work, character, integrity, which will grow BFW/Marcum and the people working here. Just as important is our corporate leadership. They are passionate about the work we do and everyone with whom they work. I believe this makes a very positive impact on the individuals and organizations we work with and provide services to."
There you have it. Hard work, character, and integrity. None of these qualities come particularly easy. They have no shortcuts. Brad's thoughts reminded us of something; when one person gives their all, everyone benefits. Eventually, with enough like-minded people, the hard things become a little easier.
Springfield is All About Transportation Engineering (and Then Some)
It can be disingenuous to say that a particular office of ours has a "specialty". The truth is, we all share the work and bring our minds together any time we face a challenge. However, if Brad was pressed to say what the Springfield office was most known for, he'd give you a straight-enough answer.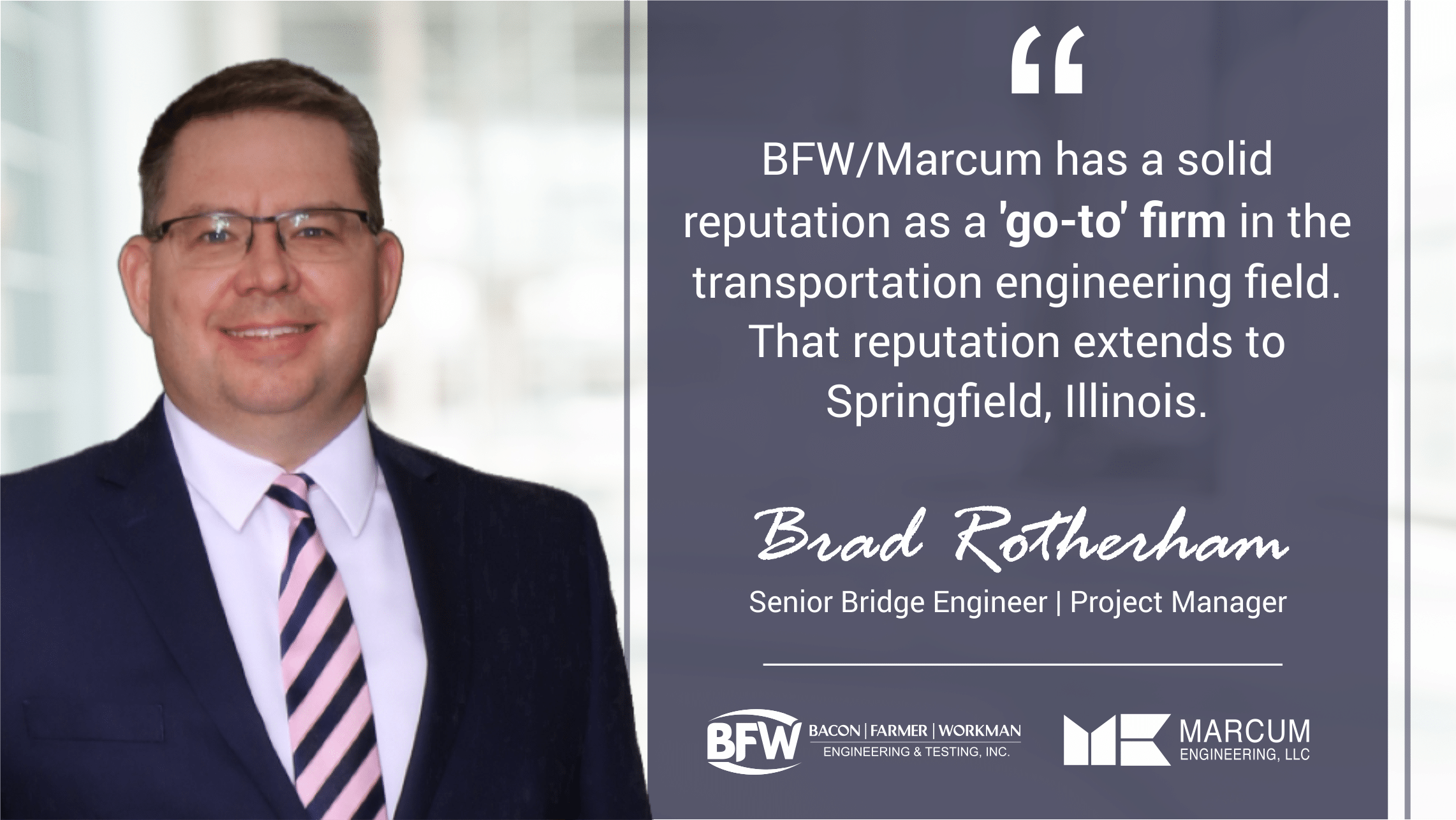 "You could say our specialty is transportation engineering. As our website says, "BFW/Marcum has a solid reputation as a 'go-to' firm in the transportation engineering field," That reputation extends to Springfield, Illinois. I am very proud and excited about the great team of engineers and technicians we have here in this office. They are experienced, hardworking, and great to work with."
Springfield has done a great job with that reputation, too. We're also fans of communication. Offices without lines of communication might as well be considered separate entities. The reason we add offices around the region is to extend our voice, not disperse it. With that said, Brad has made great strides in keeping his office connected. After all, there's a lot we can learn from each other.
"I think the best way to share our expertise is to give people access to it. Of course, we are always available to meet, talk, or discuss, but another important aspect is developing our corporate memory. Today, all of our work can be created electronically/digitally, greatly enhancing our ability to make that memory. From calculations, plans, specifications, reports, all of our work is completed and organized to be shared and used in the future and from any office."
Corporate memory is an interesting term. It also brings up an excellent point. If what you're good at stops at you, then it benefits the rest of your team very little. Learning is sharing and sharing is learning; keeping that cycle intact means everyone benefits from a shared experience.
When You Stay Client-Focused the Rest Falls into Place
What does it mean to be "client-focused"? It can be a buzzword if you let it. However, a client-focused approach to your business, when you truly strive for it, means you center your decision making around doing the best thing for the people that matter. We attribute much of Springfield's growth to this strategy. Brad explains this more.
"In the Springfield Office, the first way we grow and maintain high standards is to stay client-focused. We keep working diligently to provide our clients with exceptional service and expand our services to fit their needs. Meeting our client's needs and expectations is job one.
Secondly, we focus on our team members. We must be a place where everyone is growing professionally through their work, the training available to them, and providing them with the most up-to-date equipment, programs, and technologies. If we are successful on these two fronts, sustainable growth and maintaining high standards will naturally follow."
We've said it in the past and we'll say it again because we mean it. Our clients aren't just the people signing contracts. They are the individuals that benefit from our work. That's everyone that works for us, the people we do work for, and our community. A culture of keeping clients at the forefront is a culture that moves in the right direction for the right reasons. Positive growth is what we're after; it's the kind of growth that benefits everyone.
Springfield Has its Eye on an Ever-Expanding Skillset
We asked Brad where he sees the Springfield office in the next 5 years. The office's eyes are on improving and expanding the services they offer but Brad's biggest focus is on something we call construction observation, which is essentially having an engineer on-site at a project to be the "eyes and ears" of the project.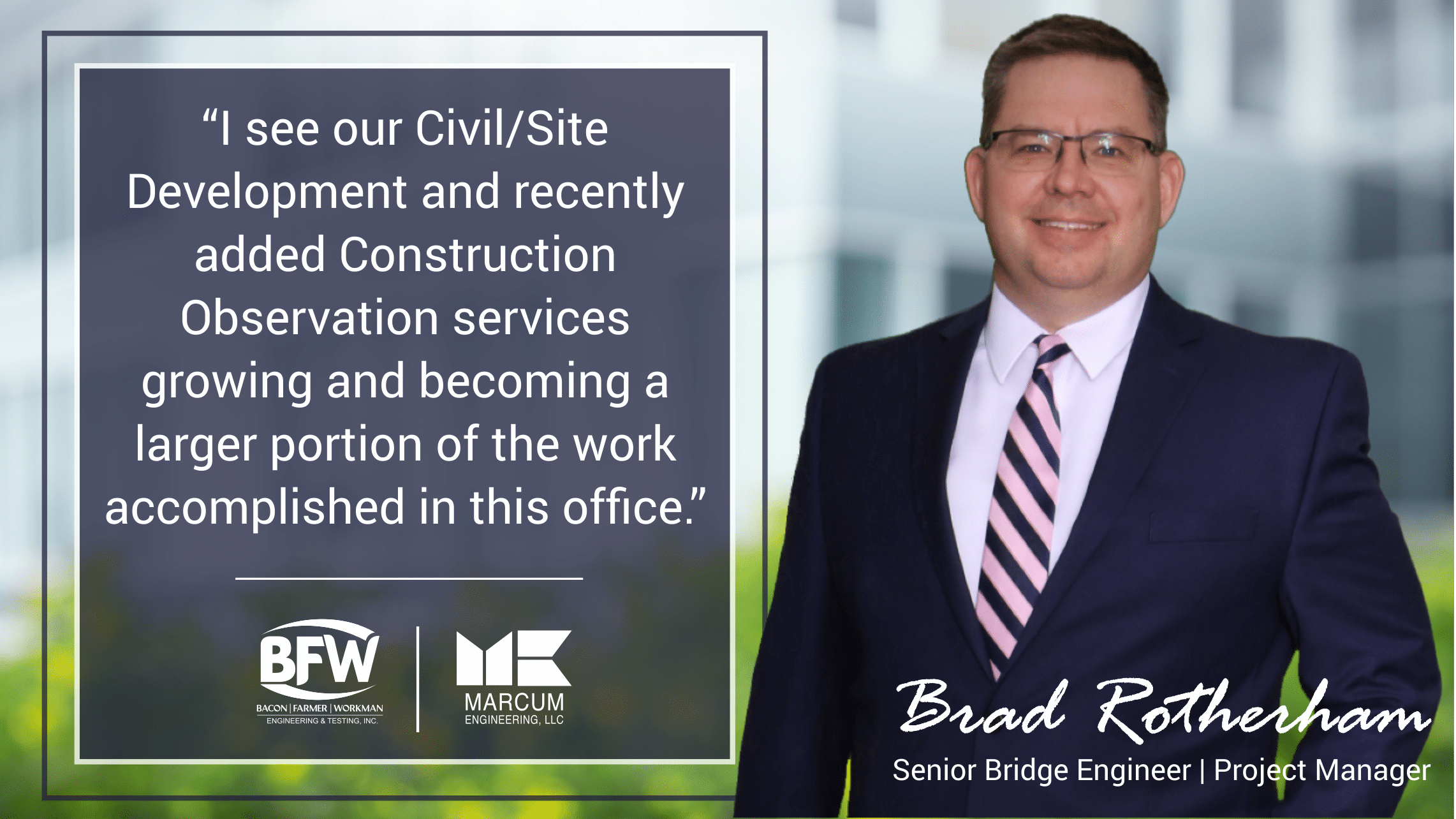 "I see our Civil/Site Development and recently added Construction Observation services growing and becoming a larger portion of the work accomplished in this office. The individuals leading those areas are good caring professionals, with each having over 30 years of experience in their respective fields. I am excited to see the growth in these areas.
I am also excited to witness the development of our recent graduates that have recently come on board and our younger professionals who just passed or are taking/preparing for the professional licensure exams. They have tremendous opportunities to learn and grow professionally over the next five years under very experienced and well-respected engineers. We will work hard to see that our knowledge and experience is afforded to them and our corporate memory is built and maintained, so they and BFW/Marcum succeed."
Brad's outlook summarizes our thoughts on our firm in a broader sense. The future is about expanding what we have, giving established employees more opportunities to shine, and bringing in new talent that will allow us to grow in ways that might even surprise us. If our Springfield office is any indicator of where we're headed as a firm, then we're happy.