We can't believe that it's been over 20 years of collaboration with one of our greatest clients, O'Reilly Auto Parts. We always say that the worth of a great engineering firm is measured by the age of its oldest clients. Clients indeed come and go, but creating a lasting relationship is vital, and without a few of those types of clients on your list, you'll find you must stop and wonder why you aren't building those long-lasting relationships of trust and cooperation.
How do we do it? For one, we treat our clients like family. We give them professionalism, respect, precision, and excellent support. You do that enough, and you quickly become the go-to. We thought we'd sit down with Bobby Deitz, Project Engineer, as well as Steve Peterie, Project Design Manager at O'Reilly Auto Parts.
We Both Value Local
Many of our clients have found us because we are a "local" firm in the sense that we serve our region, employ people from our communities, and don't act like a big, national chain that is too big. When O'Reilly Auto Parts first contacted us, it was because they were looking for a local firm to build a store in our area and one that maybe understands the Midwest and Southeast.
"I believe O'Reilly contacted us first," explains Bobby. "They were looking for a reputable, local engineering firm and reached out for a proposal. That was 20 years ago, and the rest is history."
Communication & Adaptability Are Key
"As a business, we value cultivating long-term relationships.," says Steve. "Once you get to know a firm, you start to resonate with each other, and communication becomes easier. Planning, in general, becomes both easier and more effective."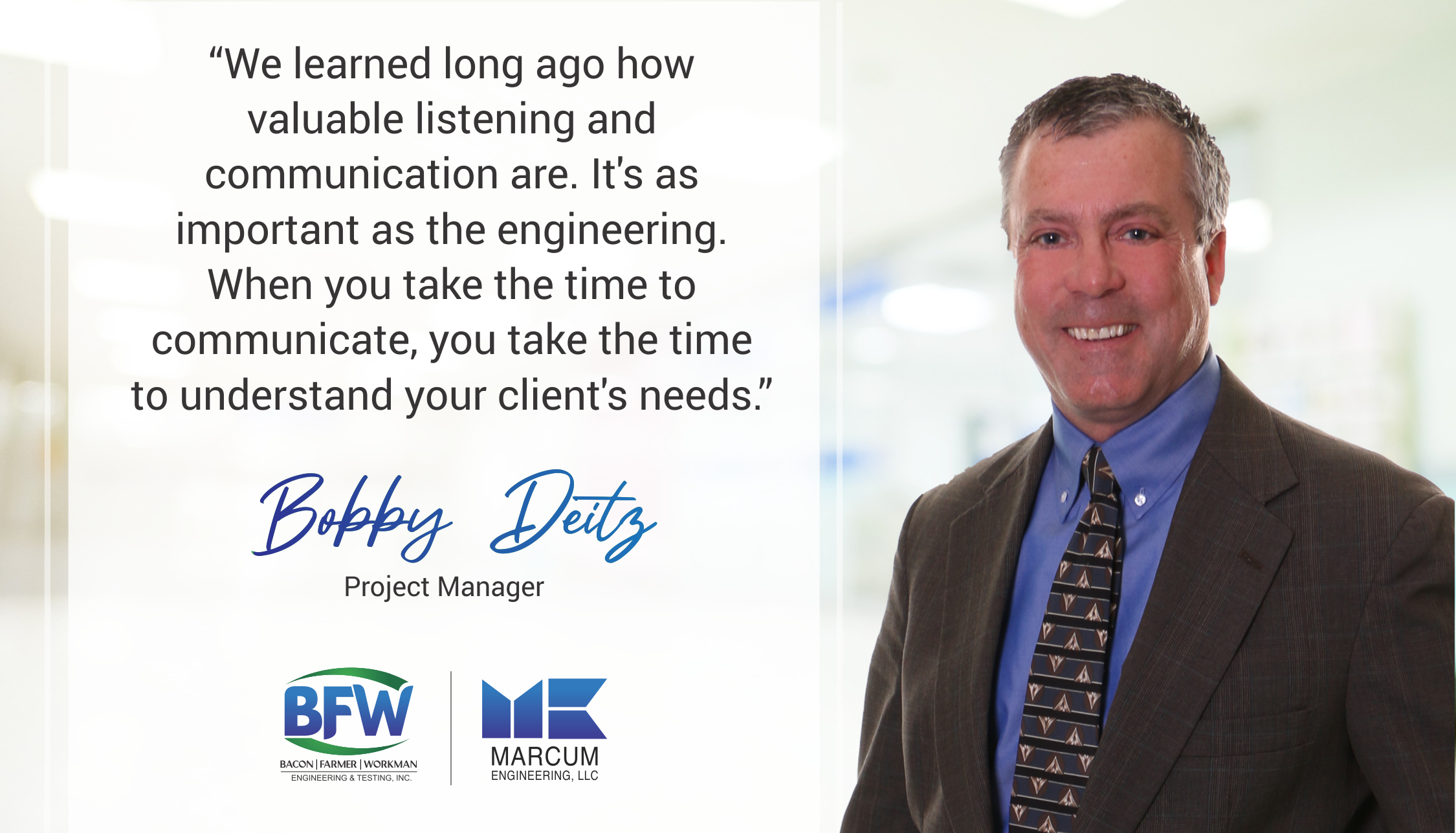 Bobby understands how much clients simply want to be heard. "We learned long ago how valuable listening and communication are. It's as important as the engineering. When you take the time to communicate, you take the time to understand your client's needs. O'Reilly Auto Parts knows us for our ability to get to the bottom of their needs—by listening and even anticipating them.
Above that? I think it's because we can adapt. No two stores are the same—they bring with them unique challenges. We're a flexible firm—we pay attention to state and city guidelines to ensure everything goes smoothly. Finally, and maybe most importantly, we hit our deadlines. Clients love it when you do what you say when you say you'll do it."
Steve agrees with Bobby in that regard. "Communication and hitting a deadline go a long, long way toward a successful conclusion."
We Share a Mutual Respect for Standing Out
"One thing we noticed early on is that O'Reilly likes their store locations to stand out—literally. They typically are not situated in plazas but instead use standalone buildings, often next to competing auto parts stores," explains Bobby.
There is a psychology to that. One that we've learned as well over the years. If you do quality work, then there is no reason to fear competition. Positioning yourself next to other auto parts stores gives consumers a choice—it's your prerogative to ensure that your store is the best one.
The same is true with engineering. We've worked hard to develop a reputation of excellence. 20 years is enough time to make or break a relationship, and the fact that O'Reilly Auto Parts stands with us is a testament to our effectiveness.
"There is definite value in good engineering," says Steve. "Meeting a schedule is one thing, but having the intuition, hard-won experience, and hospitality that we find at BFW/Marcum—that's what sets them apart. Our expansion wouldn't be possible without a solid foundation of engineering under each store. We're grateful for it."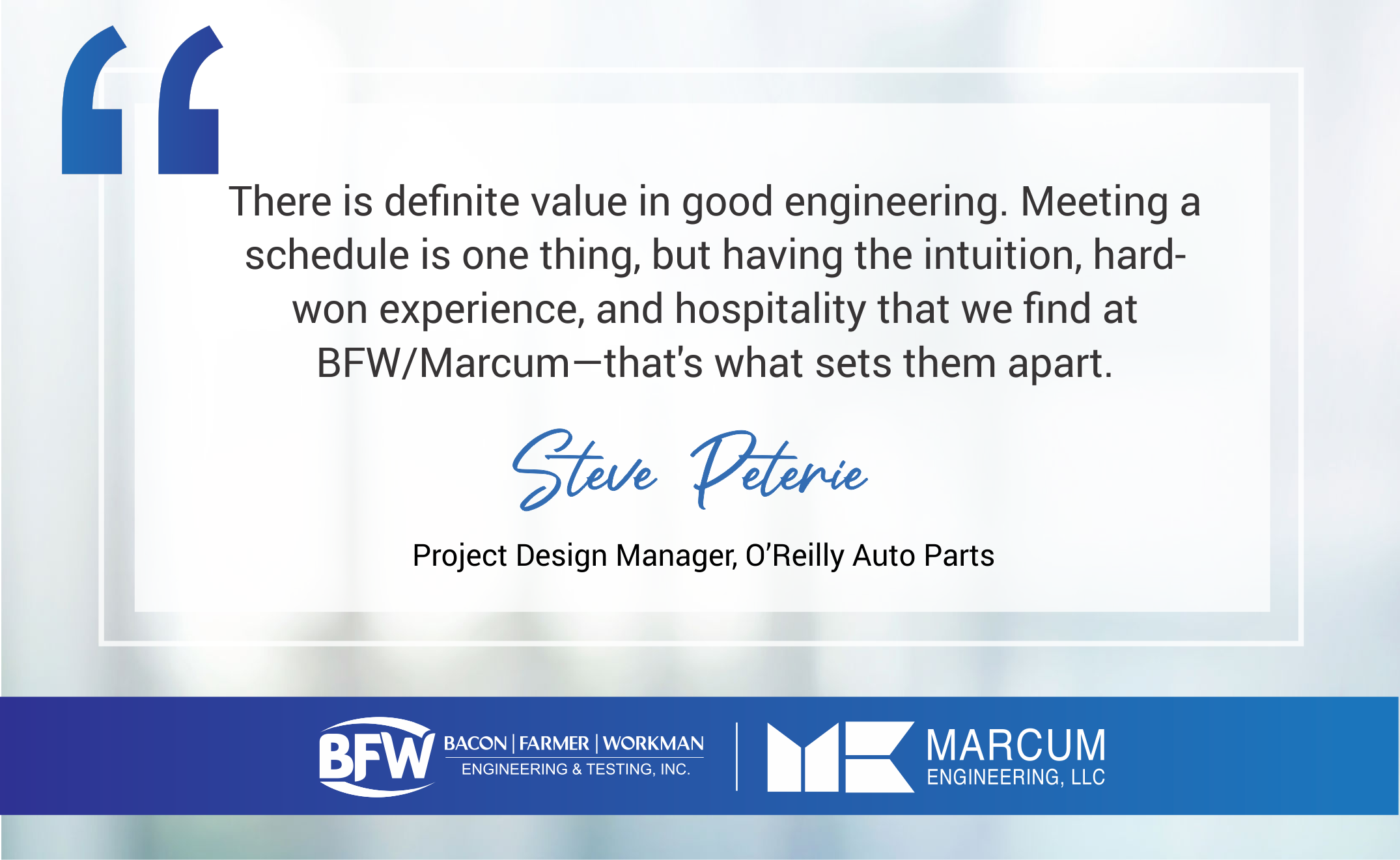 More Stores Are on the Horizon
What's in store for the auto parts giant? "COVID-19 slowed the pace of their expansion," explains Bobby. "However, the effect of the pandemic is waning, and we're already gearing up for more stores.
In the last 6 months alone, we've helped open stores in Tennessee, Illinois, and Ohio. The O'Reilly brand is strong—it can compete with the most prolific national chains out there. We're happy to be a key to its expansion."