You Call it Marketing, We Call it Empathy: How We Appear to Clients

We take great pride in our marketing. It's an important part of how we measure ourselves because our marketing is and always has been a look behind the curtain, and a comprehensive view of how we do things. It doesn't get any fancier than that.
With that said, we thought it would be interesting to get inside the head of a client for once. Would it have been easier to write an article about how we attract clients? Sure—and we've done that in the past. However, we think it's more compelling to talk more about empathy—that is, understanding a client's needs as if they were our own.
You Want to be the Visionary
Baccus Oliver, Principal/Mechanical Engineer, deeply understands his role as the engineer, which is to be an advocate for the client.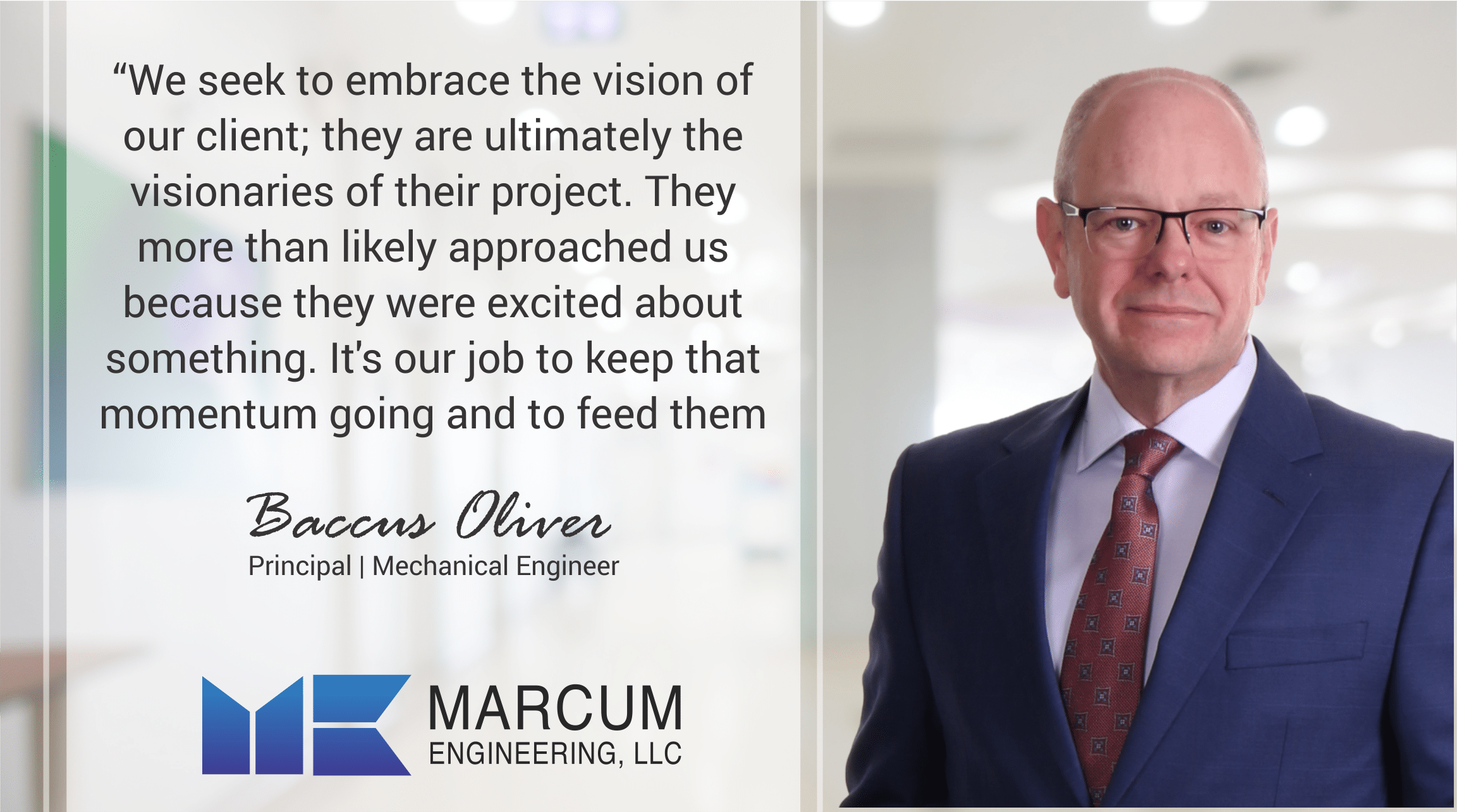 "We seek to embrace the vision of our client; they are ultimately the visionaries of their project. They more than likely approached us (or we sent a proposal) because they were excited about something. It's our job to keep that momentum going and to feed them inspiration.
The truth is, many of our clients aren't articulate in buildings and systems. Yet, they can articulate their vision. Do we immediately try to adjust expectations or do we hear them out and find a way to do it? It's a careful balance. At the end of the day, we try to be the people that make a client's dream a reality, with as few caveats as possible."
Sometimes, being an engineer means keeping the reality checks to a minimum. While it's easy to say no to something, it's more satisfying to find your way to yes. The more a client feels like they have high-level control of their project, the better the result will be.
You Want Us to See Eye to Eye (literally)
It doesn't matter who you are, one of the greatest fears anyone has when they're on the verge of investing a lot of time and money into a large project is that they'll be misunderstood.
Baccus sees it all the time, "The most common question I get right at the start of a project when everyone's learning roles, or who they may be working with is, do you understand me? The second most common question is, how much will this cost?"
While the answers to these questions can be simple, they are all too often ignored by an engineering firm. Why be transparent with a budget when you can avoid for a later surprise.  Furthermore, why would you confidently state that you understand a client's project if you don't, and want to leave room for surprises in the future?
We do it because it's the right thing to do and because we care. Is it harder to take the time to truly understand a client's wishes—to explore their vision and accommodate it before you get started? Sure—it's also harder to crunch the numbers and give a client a budget estimate, but it's the right thing to do. It leads to a greater amount of happiness and satisfaction in the end. Life's too short to do things any other way.
"Once trust is won," Baccus explains, "Everything else is easy."
Maybe that's an understatement in the world of engineering, but Baccus has a point. The hardest part of our jobs is building trust because trust requires communication, honesty, and a whole lot of expertise to be able to do both with a smile.
You Want Someone That is Comprehensive
Asona McMullen, Proposal Coordinator, is no stranger to the concept of the proposal. On any given day, her entire job is focused on anticipating the needs of the client. She's had enough proposals come across her desk that she truly understands what puts clients the most at ease; crossing your T's and dotting your I's.
"Attention to detail is the most important factor in creating proposal materials. Clients take timeliness as a top priority, and I see the two as intrinsically related. When you pay attention to details, you quickly gain an understanding of when something is expected, even if it's not said out loud or written down.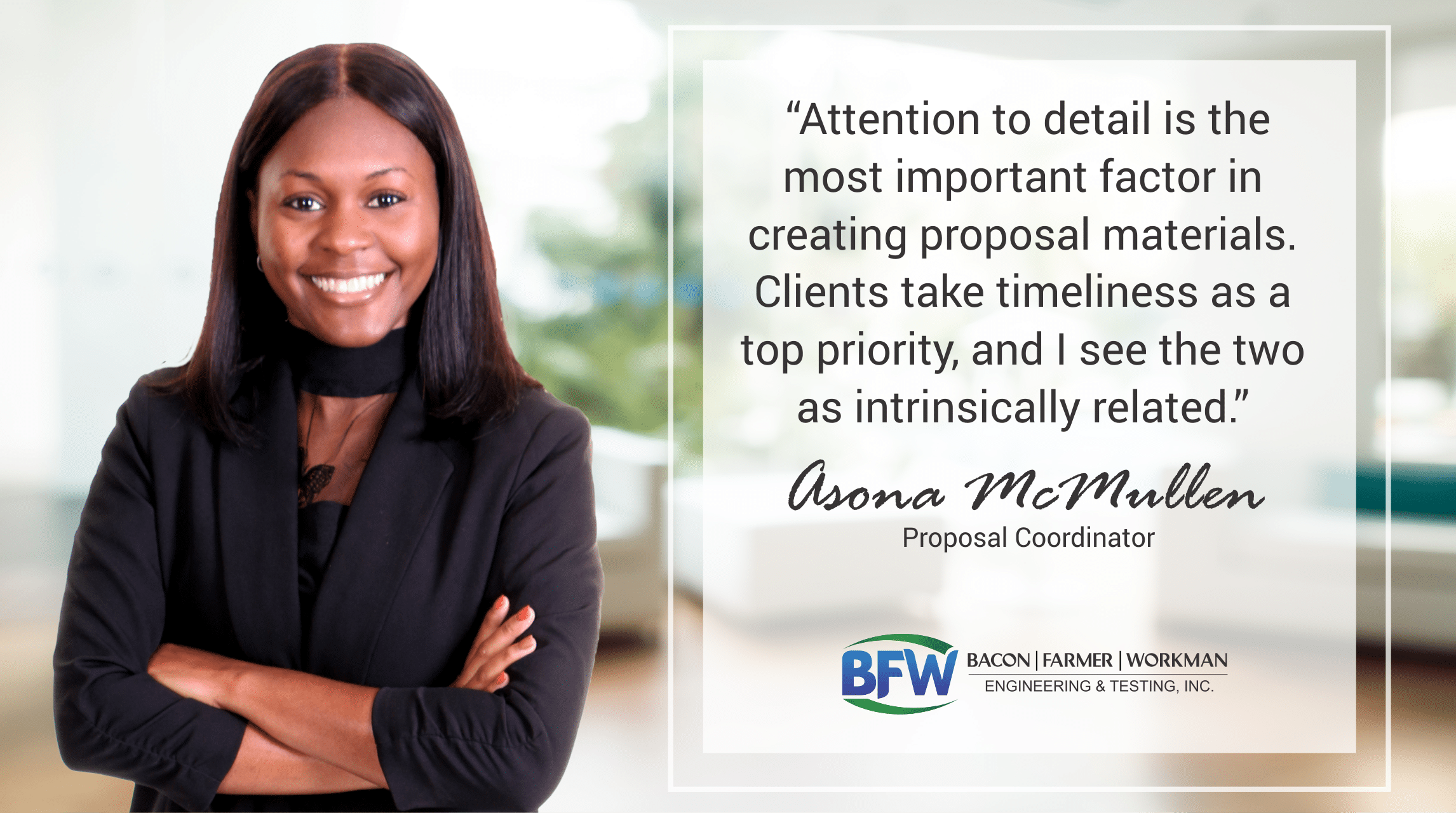 Often, client RFQs have a quick turnaround time and we need to be sure we can submit our materials to the client to meet that deadline. When submitting marketing materials for proposals, it is important to have a balance of your most recent work and the most relevant projects for the particular pursuit. When the two cross over is when you are effectively able to display the firm's ability to meet the needs of the project expectations. There is something to be said about telling a story through the projects you highlight in a proposal; a story that demonstrates a history that is both relevant, unique, and contemporary."
Inundating a client with your work is the same as sending out an overstuffed resume. Some may think it dazzles a prospect with sheer experience, but it only serves to send the message that you don't understand the value of relevance, nor of how to tell the right story.
Clients want to see our work and, as if by magic, see their project come to life in their minds. The easiest way to do that is to get to the heart of things and to do it efficiently.
Our Marketing is What Happens When You Put Our Culture in Writing
You've heard the phrase, "put it in writing."
What's that mean exactly? It's a way of telling someone that you think they might be all bark and no bite—all style, no substance. Putting it in writing means you take the steps to hold yourself accountable. It's there for anyone to see and read, and it will be there for a long time.
We think of our marketing in the same way. It drives traffic to our website, it even gets us more work, but it's ultimately our own work culture checks and balances. We do everything we do with transparency and honesty, so when we put it in writing, it could make us look bad—we wouldn't lie. Luckily, we do things the right way, and talking about ourselves is still a fresh and gratifying endeavor.
Lately, many of our clients have talked to us about our marketing and how it puts them at ease. If they follow us on Facebook, LinkedIn, Twitter, Instagram, or our website then they already know a lot about our business through our content writing. Asona has seen this phenomenon firsthand.
"The uniformity of our branding is a huge asset to our business development. Our marketing is consistent; it all stands out yet stands together. It is both memorable and eye-catching. From our website, to printed materials, social media posts, showcasing at conferences, to in-house materials – all of our branding is consistent and concise. It reads the same story on all platforms."
We're not here to tell wild tales, but we are here to tell stories. These stories happen to be of the nonfiction variety. We want to tell the kinds of stories that clients can relate to; ones about our employees, about the newest technologies that we're excited about, about industries we're excited to enter, and many more.
So, when we try to get into a client's head, we try to do so through empathy. We think empathy runs through everything we do here, and it's how we market ourselves. When you have real empathy, then you have a real stake in the solutions you provide to your clients. Doing things this way doesn't always get us the job, but it always gets us the jobs we want.