Together We're Strong Part 6: Marcum Engineering

Marcum Engineering is a side of our firm that is truly unique. It's a wholly distinct part of the business that works seamlessly in conjunction with all the rest. When collaboration is smooth you can afford to delineate your expertise in places. It's not fragmentation; it's diversification that delivers something larger than the sum of its parts.
A Fixture of Paducah Since 1978
We asked Baccus Oliver, Principal/Mechanical Engineer, what was in the name "Marcum". To be honest, if you have any familiarity with engineering in the West Kentucky region, then you probably already know.
He remembers fondly when we folded the longstanding reputation and expertise of Marcum into the BFW family. It was at the beginning of the millennium, to the day.
"Marcum Engineering has been a fixture of West Kentucky since 1978. When we took over operation January 1st, 2000, we began with the original staff.  Today, we have six times the employees located in our current location.
We took something that worked, let it breathe, and slowly built it up to fit our own specifications. As engineers, we understand more than most the fragility of an ecosystem, especially one that has worked perfectly for decades.
A Piece of the Puzzle
As the adage goes, two heads are better than one. Bringing a company like Marcum into the fold isn't about conformance; it's about amplifying what that business is already doing well. We found that balance over two decades ago and still benefit from the relationship. Baccus elaborates on this.
"We kept the name Marcum Engineering because it was already established with 22 years of history. It also allowed us to keep many of its clients. Marcum Engineering and BFW together come up with a divergence of operation philosophies and policies. Although two, we act as one company."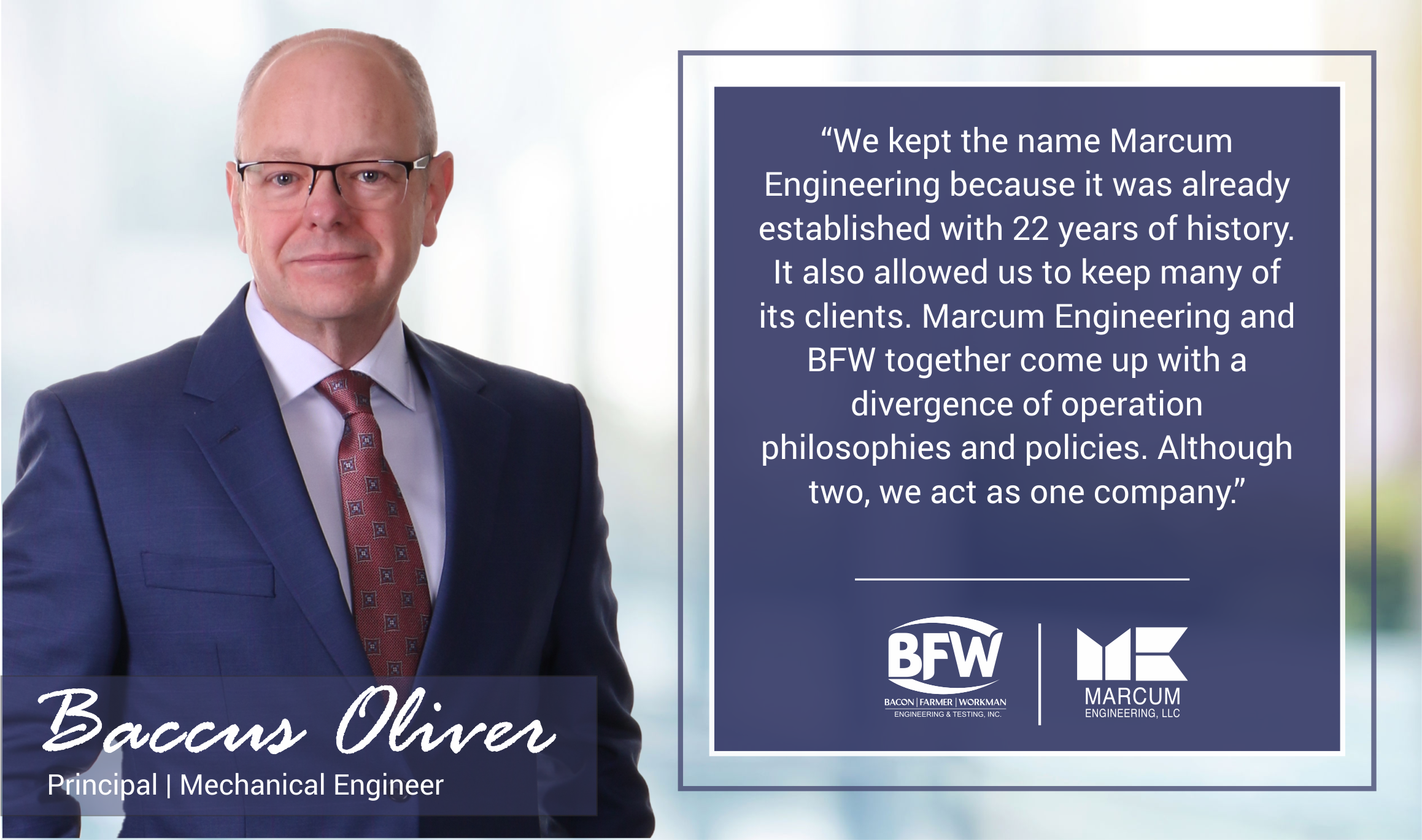 We extend this philosophy to our other offices and our people. We ask only one thing; that every decision you make is made with the representation of the entire firm in mind. Yet, at the end of the day, we find that the freedom to express your unique perspective and expertise creates those surprising moments of innovation that keep us excited about engineering. Marcum is perhaps the first large representation of that and stands as one of our greatest successes in collaboration even two decades later. In the world of business, the puzzle that is your business doesn't have the picture on the front of the box; you have to find the picture, find the pieces, and find how everything fits together.
Home is Where the Heart is
It's not as simple as getting your work done when you're a part of a large engineering firm. How do you motivate people? How do you cultivate a sense of pride and build morale? Moreover, how do you make everyone feel like they belong?
To start, it takes a genuine sense of compassion that we feel our leadership practices and passes down to the rest of the business. It's not Marcum, it's not BFW, it's BFW/Marcum. Everyone should feel like they belong to a larger family. When you know you have a place at the table you work that much harder; you're not just working for yourself but for your friends, peers, and colleagues.
Baccus considers this the greatest challenge of all. Keeping both BFW and Marcum feeling whole and giving everyone the confidence to work together no matter their title, company name, or office location. Luckily, we have a firm full of collaborative people who are all too happy to keep everyone in the loop.
Digging in & Branching Out
If Baccus had to list the "go-to" services of Marcum we would feel the urge to say, "Don't bother; your reputation precedes you." The Marcum name has been associated with electrical and mechanical engineering in Kentucky and Southern Illinois for over 40 years. They've dug into their expertise, explored every nook, and only want to do more with it. Baccus is excited about the ongoing expansion of Marcum.
"We have Logan Overturf, Project Manager/Mechanical Engineer, who has hit the ground running establishing our Marion, Illinois office. We're looking forward to increasing our presence even more."
Marcum is an example of what BFW/Marcum does best. We keep our heads down, learn what there is to learn, and not until we feel we've truly mastered something do we expand on it. We can confidently say that we're in the era of expansion with the firm; we're adding people, locations, and doing more and more with the BFW/Marcum name.
It's All in the Name
BFW would be only half as good without Marcum. Together, they are more than twice what they'd be without each other. We're lucky that the two biggest engineering names in our region both call our offices home. It's not easy to integrate a large and successful business like Marcum into an equally large and successful firm like BFW. It takes plenty of consideration, a genuine willingness, and a humbleness from everyone involved to make room for each other.