Look, we understand that our 2021 introspective article is a bit belated by this point. It's just that we've been so dang busy, it's hard to take the time to look back on the challenges and successes of the past year and put them in writing.
For one thing, the COVID-19 pandemic is a pervasive aspect of all forms of business. Not even the engineering industry is immune to its effects. In essence, the virus has changed the paradigm of what it means to live and work several times in just 2 years. Never before have we seen so many things change, and never have we been so tested by those changes.
With all that said, it was important for us to sit down for a second and truly answer the questions posed by the end of 2021 and the beginning of 2022. We asked 3 of our principals/founders for their insight.
2021: You Call It Uncertainty, We Call It Opportunity
"Challenging and rewarding." Those are the two words Mark Workman, Executive Vice-President/Founder, will conjure up when asked about the past year. Yet, he's not the kind of man that'll leave you wondering what he means by them.
"By that I mean it was a great year for the companies and our team continued to deliver great value to our clients. I think the one thing that surprised me the most this past year was the cloud of uncertainty that seemed to be floating around us all the time.
However, amid all the uncertainty I was able to watch our team deliver time and time again for our clients no matter how challenging the situation."
As we've said in the past, and as we're sure we'll say it again; necessity is the mother of invention. Never is this adage truer than in engineering. Add enough pressure and you'll get yourself a diamond.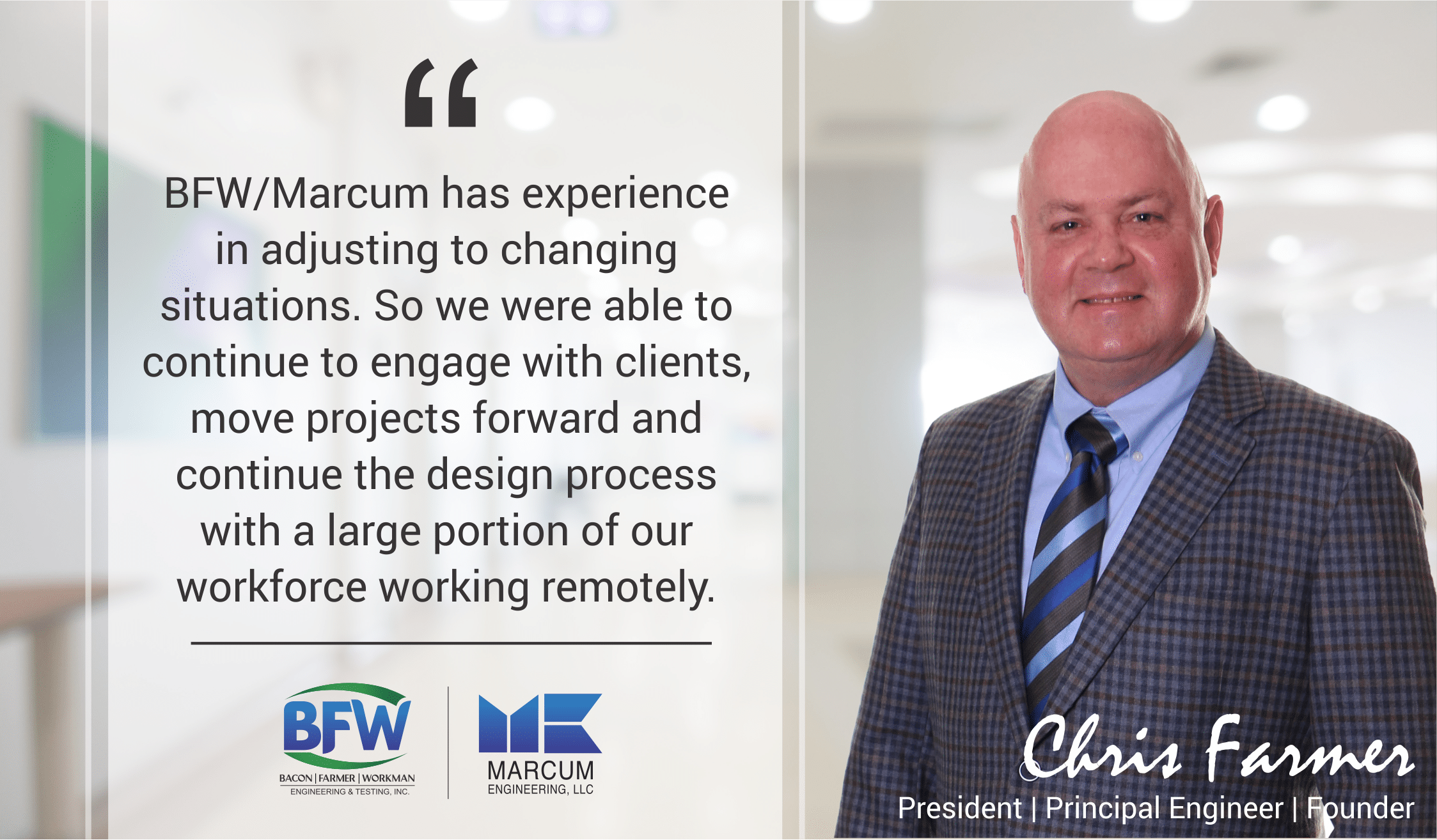 Chris Farmer, President/Principal Engineer/Founder agrees with Mark's determination. "Uncertainty is the word I'd use; 2021 was a year of unknowns, adjustments, new policies but also a year for good solid engineering. It was stressful as we worried that everyone and their families would remain healthy or have good recoveries. However, BFW/Marcum has experience in adjusting to changing situations. So we were able to continue to engage with clients, move projects forward and continue the design process with a large portion of our workforce working remotely.
COVID-19 created many logistical challenges such as delays in obtaining permit approvals or information from government entities due to office shutdowns or remote work. However, BFW/Marcum persevered and continued to keep the clients involved in the process so they would understand the logistical complexities of the projects."
COVID-19 Forced Us to Be Even Better
We can't think of an obstacle quite like COVID-19; a global problem that posed challenges both intensely personal and commercial. Yet, we're still here, and all the wiser.
Baccus Oliver, Principal/Mechanical Engineer, talks of the unique technical challenges that the virus threw at us. Namely, we had to rethink how we thought of air handling. "Every week was a new challenge. We raced to understand COVID and design our HVAC systems accordingly. Our work never slowed much, it just changed in what was important."
If there was a silver lining, it's that COVID-19 pushed us to think critically about our processes, question them, and ultimately improve them.
The Coming Year Sees Us Tested, Rested, & Ready
We asked all three gentlemen where they saw 2022 headed. Mark, his eyes at the horizon and irons in the fire, is ready to grasp whatever the future throws at us.
"I am expecting another rewarding and challenging year. We get to continue building on the strong years in 2020 and 2021, which have given us tremendous momentum. We look to be poised to capture growth opportunities even with multiple headwinds in the industry."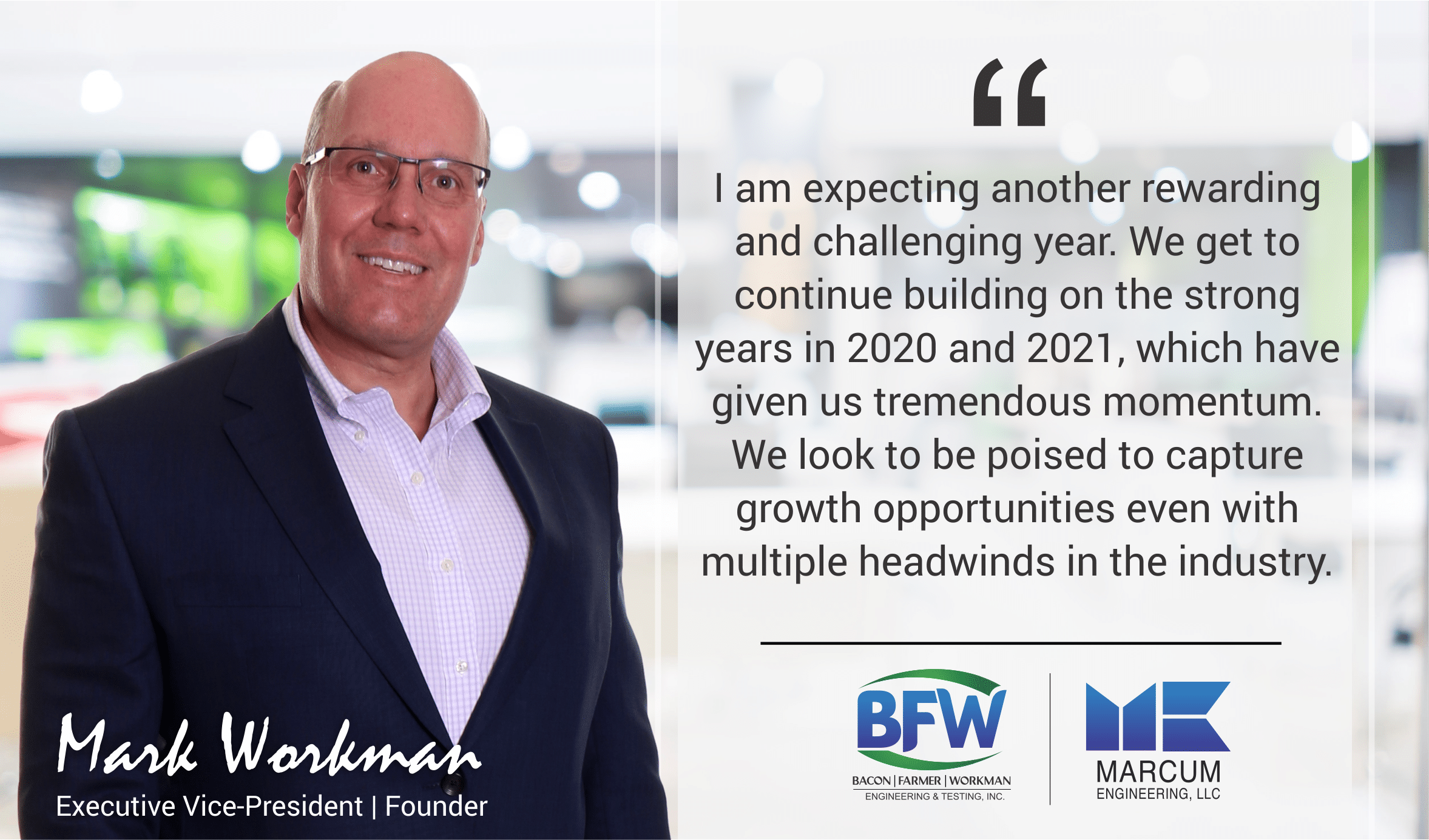 Baccus is most excited about BFW/Marcum's continued expansion.
"Like many, we are hoping 2022 will be a turning point year. We have hired two engineers already and know we need to hire a few more based on projected workload."
Chris sees greater and greater stability; a steady influx of established and new.
"2022 looks very promising on many fronts. BFW/Marcum continues to win transportation contracts such as with Illinois, Tennessee, and Missouri departments of transportation. Our structural and civil departments continue to pull in quality projects with old and new clients and our geotechnical, environmental, and testing departments continue to expand with new opportunities and new clients. Several new faces have been or will be added.
The geotechnical department has added new faces with our new geotechnical engineer/project manager, Chris Matthews in our new Belleville, Illinois office as well as Sarah Finley as our new business development manager. We are excited to see the potential in new markets and well as aiding our department in the Paducah Office."
The Last 2 Years Remind Us of What It Takes to Persevere
We won't lie, the last 2 years have been challenging. Not merely from a business standpoint; our firm has had steady work, even if the particulars of that work have changed due to the pandemic.
However, the pandemic has simply been hard on everyone, both physically and mentally. Health has never been so heavily at the forefront and never has it affected our business so much. We asked everyone what they felt most grateful for.
Chris is appreciative of the tenacity his team has had. "COVID-19 was/is challenging on many fronts. The hardest has been the loss of family and friends due to COVID-19 and the emotional toll it has taken on most of us. I am most grateful for everyone in the BFW/Marcum family and the perseverance and the tenacity they have shown throughout these difficult times."
Baccus takes a broader view. He believes, all said and done, that our community banded together, and he's grateful. "I am most grateful for humanity. Everyone stepped up from our clients to our employees. The spirit of cooperation in 2021 was unlike what I have witnessed before. It reminded me of what the wartime effort must have been like. In a very small way."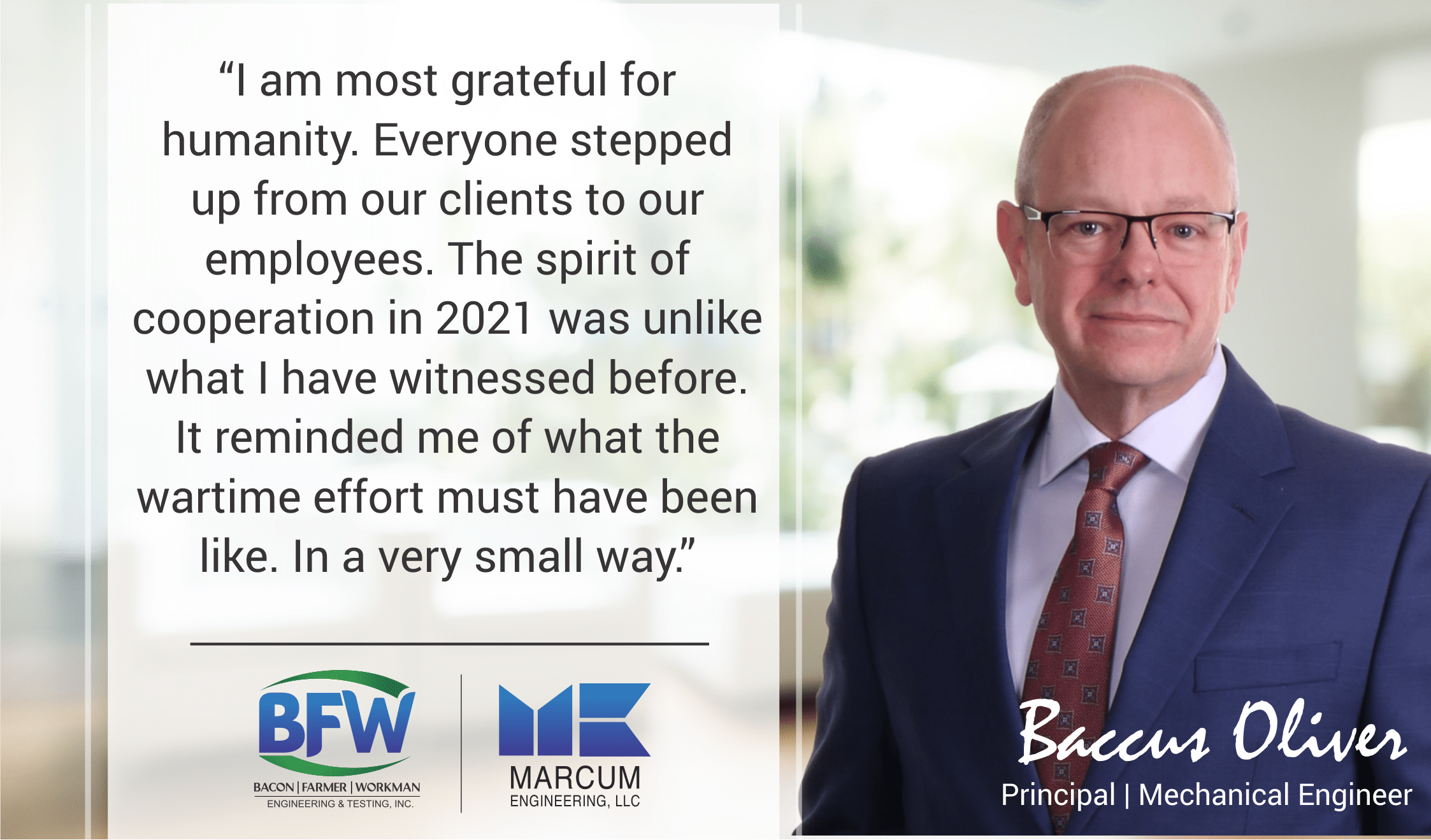 Mark is grateful that our team is so good at improvising and adapting. Without it, who knows where we'd be. "I am so grateful for our team's ability to think without limits and embrace new ideas and the continued confidence our clients have in choosing BFW/Marcum to deliver their projects. Our team continued in 2021 to deliver value to our clients and find solutions to their challenges. Our innovation and value that we brought to our clients are due to empowering our people to adapt, innovate and carry forward new ideas."
When You Are Family, You Protect One Another
Yes, we're an engineering firm. At the end of the day, we don't all go home to the same house. Some of us might even argue with one another from time to time; it's a normal part of our high-pressure industry. Yet, there is one thing no one at our firm is confused about. We are family.
When you are a family, you protect one another. The strength of one person pales in comparison to the strength of many. Without that loyalty to one another, we can honestly say that the last 2 years would have been much harder and much less fruitful. Here's to 2022, but let's not forget how we'll get there.