Together We're Strong Part 7: Our Lexington KY Office

We started our Lexington, Kentucky office back in 2018 as a means of expanding our reach across the state. As part of our series on our satellite branches, we sat down to ask Diana Radcliffe, Transportation Engineer/Project Manager, and Pete Szak, Transportation Engineer/Project Manager what makes their office so special.
In Pursuit of a Golden Opportunity
Diana's been at the center of the Lexington office in more than one way. Not only has she been there since its conception, but she emphasizes that the office itself was a strategic move when it comes to our coverage of Kentucky.
"The Lexington office was opened in 2018 to supplement our offices in West Kentucky, Illinois, Tennessee, and Missouri. BFW/Marcum had successfully designed projects from Hazard to Paducah, Kentucky for 25 years already. Through our growth and development research, it was revealed that we should physically grow our footprint into the Central KY area.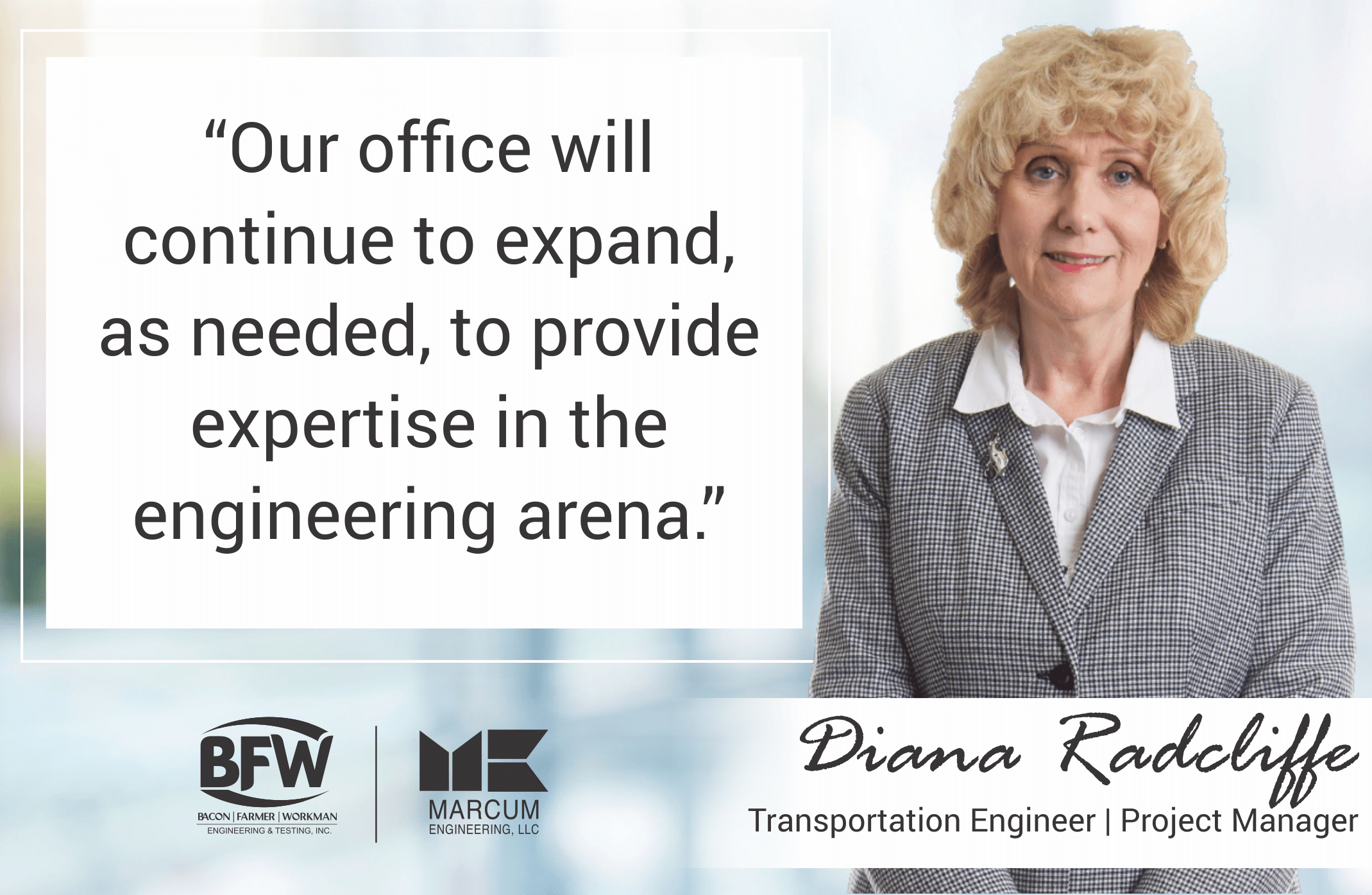 Three years later commerce trends continue to show that sustained growth in engineering projects will continue in the Kentucky area affectionately known as the 'Golden Triangle'. As per an article on the Kentucky League of Cities website, 'The Golden Triangle is the area around and between Louisville, Lexington, and Northern Kentucky which continues to grow in greater amounts than most cities in the rest of the state.' It was an opportunity that we wanted to get ahead of."
Heading into 2021, we know we made the right decision to establish ourselves front and center in Kentucky. Not only have we amplified our reach, but we're right where the work is.
Thriving in the Heart of Downtown Lexington
Diana is great at getting the most out of her resources. Today, our Lexington office is thriving, but it's a lean and mean component of downtown, where space is in demand.
"Because our current office space is limited, we've adjusted the space to establish a good office area for everyone while maintaining a productive work environment."
As engineers, we understand the value of a square foot. Maximizing your space is something we bring to our clients because we do it for ourselves. When everything is where it should be, it doesn't matter if you have 9,000 square feet or 900.
A Focus on Proposals & Transportation
Both Pete and Diana are, at their hearts, transportation engineers. They bring that expertise to Lexington, where they work with the other components of our firm. Pete dives deeper into the kind of knowledge coming out of Lexington.
"Our staff consists of transportation structural engineers.  We do bridges, culverts, and retaining walls for roadway projects.  Bridges range from simple span concrete bridges to curved steel plate girders for multi-level highway interchanges.  We are responsible for structures in Kentucky, Missouri, and Tennessee.
We work directly with our roadway engineers at the Paducah office on initial alignment studies to the final span arrangements for the bridges."
Diana is excited to being on Asona McMullen, Proposal Coordinator, whose experience in proposal writing will help the Lexington office branch out even further, and help the firm generate new contracts.
"Our office will continue to expand, as needed, to provide expertise in the engineering arena. We just brought on Asona McMullen, who has expertise in proposal preparation. She will prepare project proposals for all aspects of the company in cooperation with Samantha Dennee"
Matt Williams is a junior bridge engineer who will be designing structures in collaboration with Pete Szak, our senior bridge engineer in the Lexington office.
"There is a diverse and consistent demand for engineering in Central and Eastern Kentucky. The Lexington office is committed to expanding the services we offer to meet that demand. We keep working diligently to provide our clients with exceptional service and expand our services to fit their needs."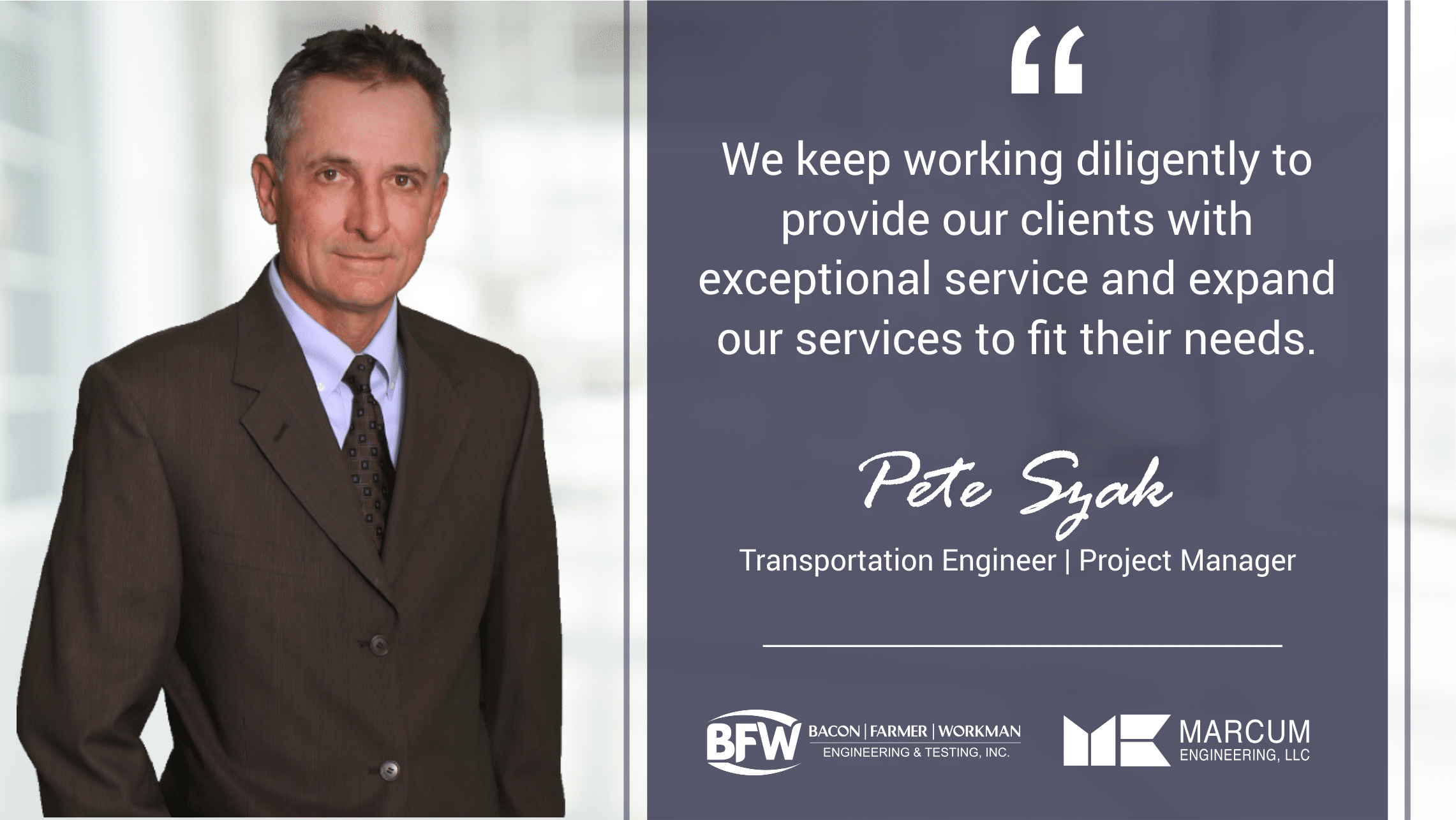 Pete also introduced Alex Colburn, structural intern in training for the Lexington office. "Alex, and Matt  were both hired to assist with the increased structural design workload that BFW/Marcum has accumulated recently.  These hires will allow us to take on additional projects and complete all structures in a timely manner."
An Office Has to Start with Outstanding Management
As project managers, both Diana and Pete are most responsible for the heartbeat of their office. They both agree that they should lead by example. Whether it's transportation engineering, structural design, or proposal writing, there is a universal truth to be found among each; compassionate leadership from the top down means compassionate leadership from the bottom up.
It doesn't matter who you are or what you do—someone is looking to you as an example. With an office like Lexington Kentucky, you need a diverse group of people with one thing in common; an obsession with high standards.