Together We're Strong Part 3: Our Champaign, IL Office

What does a case of homesickness and structural engineering have in common? Our Champaign, Illinois started with these two factors at play. Today, the office houses some of our most skilled structural engineers and acts as a keystone satellite office in our structural engineering efforts.
However, the Champaign office started as a simple question posed by Phillip Holthaus, Structural Engineer/Project Manager. Originally Phillip worked in our Marion office where he was valued for his structural expertise. While things were going great, he couldn't pretend he didn't feel an impulse to return to where he started.
Phillip didn't think the question would fly but when he asked the firm if he could head a new office near his hometown in Champaign, IL he was surprised when they said yes. From there, Phillip has turned an inkling of an idea into a structural engineering powerhouse and one of our proudest achievements.
Champaign, IL: A Homecoming
We asked Phillip how it all started, "Looking back, I believe our other satellite offices were started by someone who was already living and working in the city when hired by BFW/Marcum to join our company and run a satellite office. Working in our Marion office at the time, I had inquired about the possibility of moving back "home" with my wife and starting a Champaign, IL office.
While neither myself nor my wife is from Champaign, we are both from towns 30 – 60 minutes away from Champaign, so it was close to home for both of us. I imagine that our other office locations were probably on ownerships radar for years while they strategically planned to make the right moves and hires to introduce BFW/Marcum into new markets. I think Springfield was always a plan, but Champaign likely was not on the radar until I proposed the idea. It turned out that Champaign needed a structural engineering presence, so the move has been successful and has the potential to continue to grow."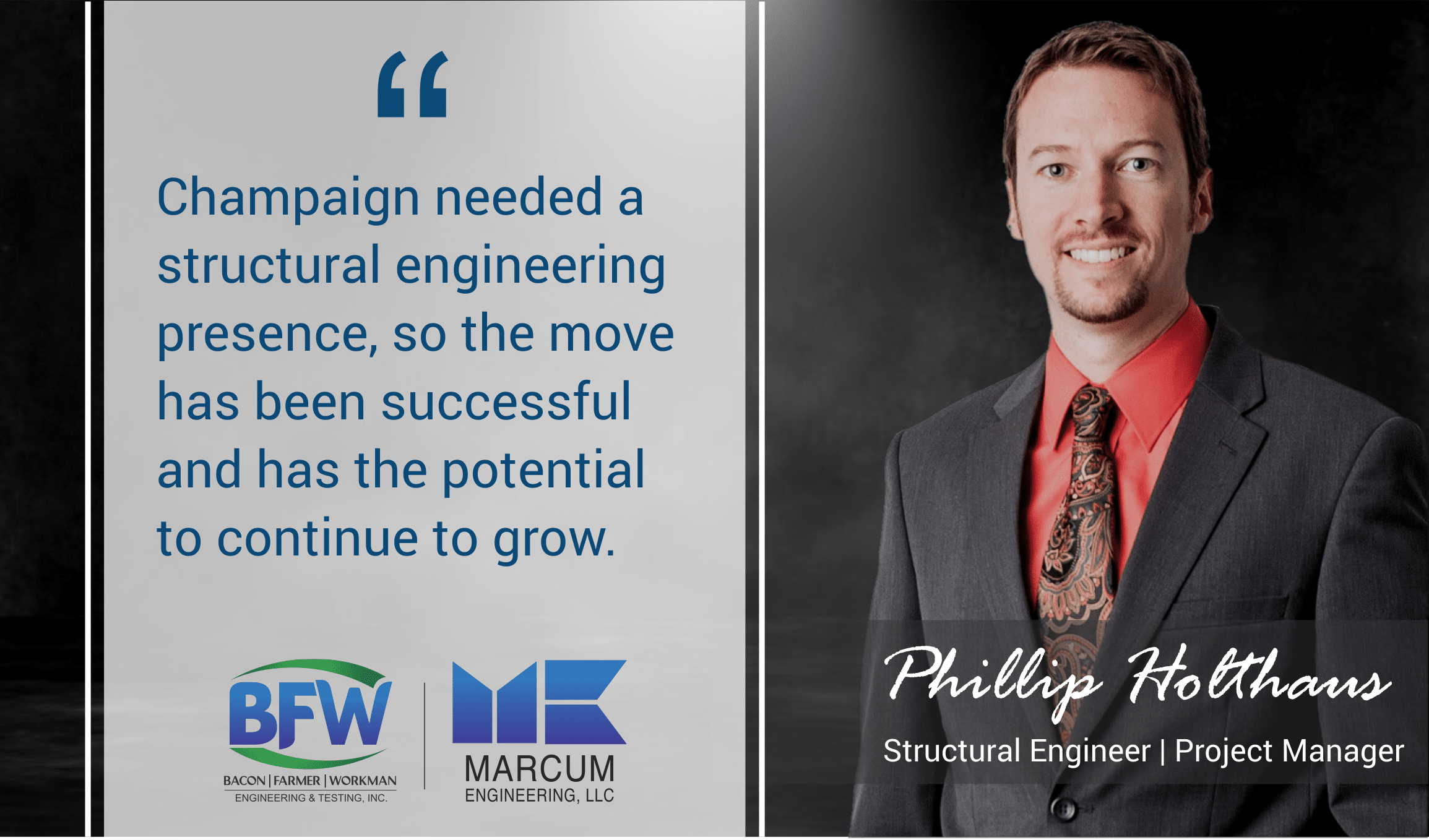 At BFW/Marcum, we don't discount a good idea just because we didn't think of it ourselves. When Phillip brought up the prospect we quickly realized that a satellite office in Champaign wasn't just a good idea, it was downright strategic.
An Office of Structure & Collaborative Spirit
The name of the game in any successful engineering firm is structure. It's no secret that our organizational and collaborative skills lend a hand in making us leaders in the field of structural engineering. Our Champaign takes that tenet to the extreme, as Phillip explains.
"95% percent of the time we work on our own local projects with local clients. However, since there is a structural department in two other offices (Marion, IL & Paducah,KY), we stay in connection to share the workload as needed when other offices get too busy or can lend a hand. Luckily, we have technology set up to work concurrently with other offices in the same programs without delay."
Through the use of cloud-based engineering software, Phillip and his team can seamlessly work with other offices as if they were sitting right next to each other. Multiple offices are a great asset. However, if they're unable to overlap one another, then you risk a fractured and uneven experience. While the software we use is a great tool for collaboration, it eventually boils down to our engineers' abilities to listen and communicate. Without those soft skills, there wouldn't be a software tool in the world to save us from inconsistency.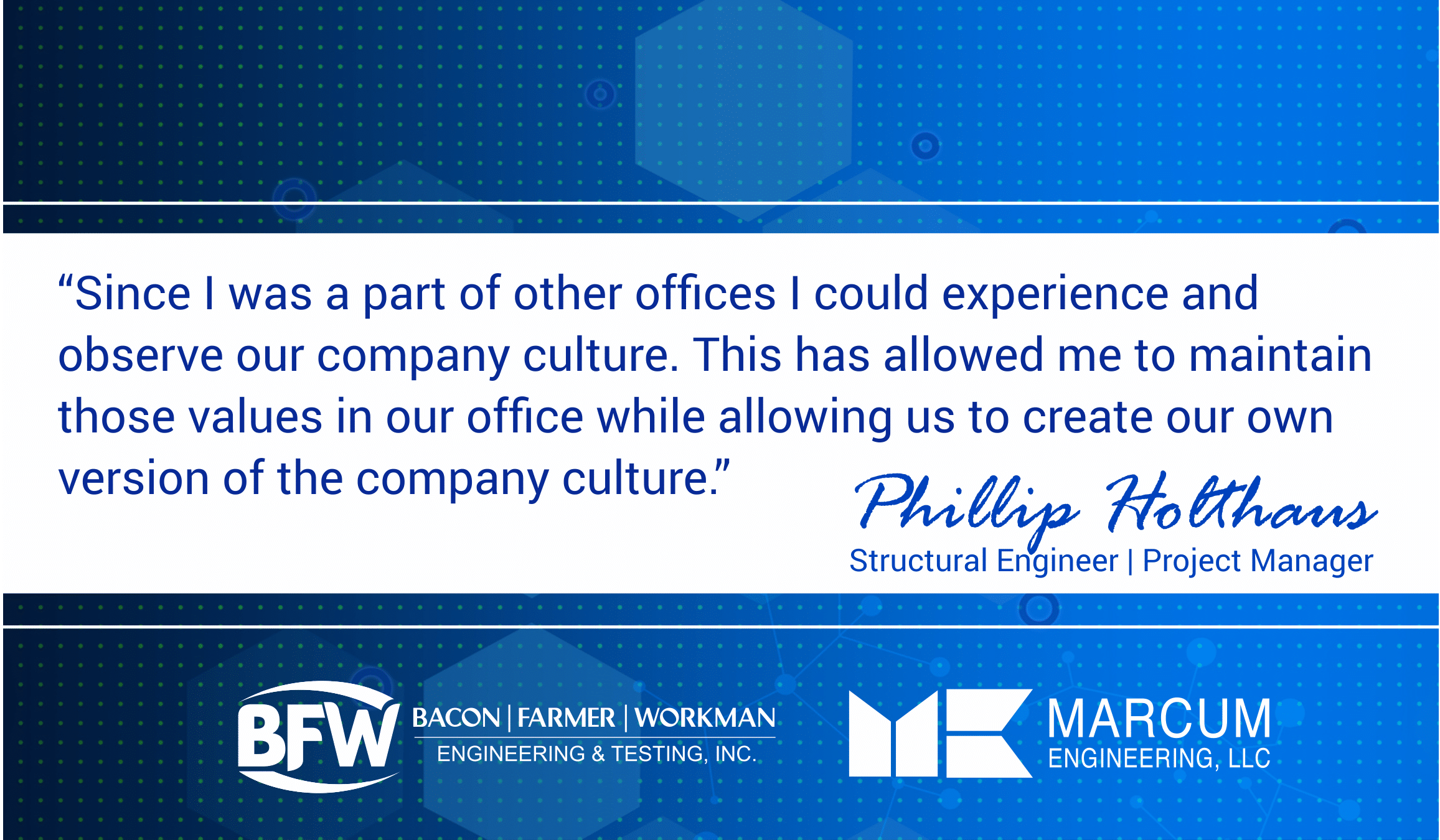 Phillip goes on to explain how important each member of the firm is even when they're miles and miles away. "We lean on other members of the company for expert second opinions and advice. The structural team gets together 1 to 2 times a year to have full structural team meetings to discuss what is changing and how we can become more efficient as a team. We have found these to be valuable and enjoyable. Since I was a part of other offices before I opened this office, I could experience and observe our company culture. This has allowed me to more easily try to maintain those values in our office while allowing us to create our own version of the company culture."
To put it simply; it doesn't matter who you are or where you're from. If you're a part of our firm, you're a part of our family. Phillip's deep understanding of this culture is one of the reasons his office has been so successful. Yet, when everyone likes each other, it's that much easier to find the same rhythm.
Designing with Community & Connection in Mind
We've said it in the past many times but our greatest source of satisfaction as an engineering firm is our ability to bolster the communities we live in. Satellite offices help us amplify that process by bringing our ethics, our hard work, and our plans to more and more places. We asked Phillip to provide us with some of his most-loved community-oriented projects that came out of the Champaign office.
"Two major projects come to mind because of the immediate impact they had on the community. Dr. Howard Elementary is the first one. We designed a brand new K-12 school that fully replaced an existing school. Structurally, it contained a gymnasium that doubles as a storm shelter designed to withstand an EF-5 tornado. Most importantly, it's a new space that will inspire confidence in every K-12 student that walks through its doors. Our children deserve the best and we're happy to bring it to them.
The second one was for UI Vet Med LINAC. We designed a concrete bunker with 4ft – 6ft thick concrete walls and roof to contain radiation for medical equipment used inside the building. This unique building addition will allow the University of Illinois to provide state of the art medical service to animals and help set their program apart from other top ranked Universities."
It's Not Just About What You Do at Work
Engineering is a demanding job. It's easy to burn out on the amount of critical problem solving that is demanded of your day-to-day. Phillip finds that a healthy involvement in his community helps to reset that fatigue.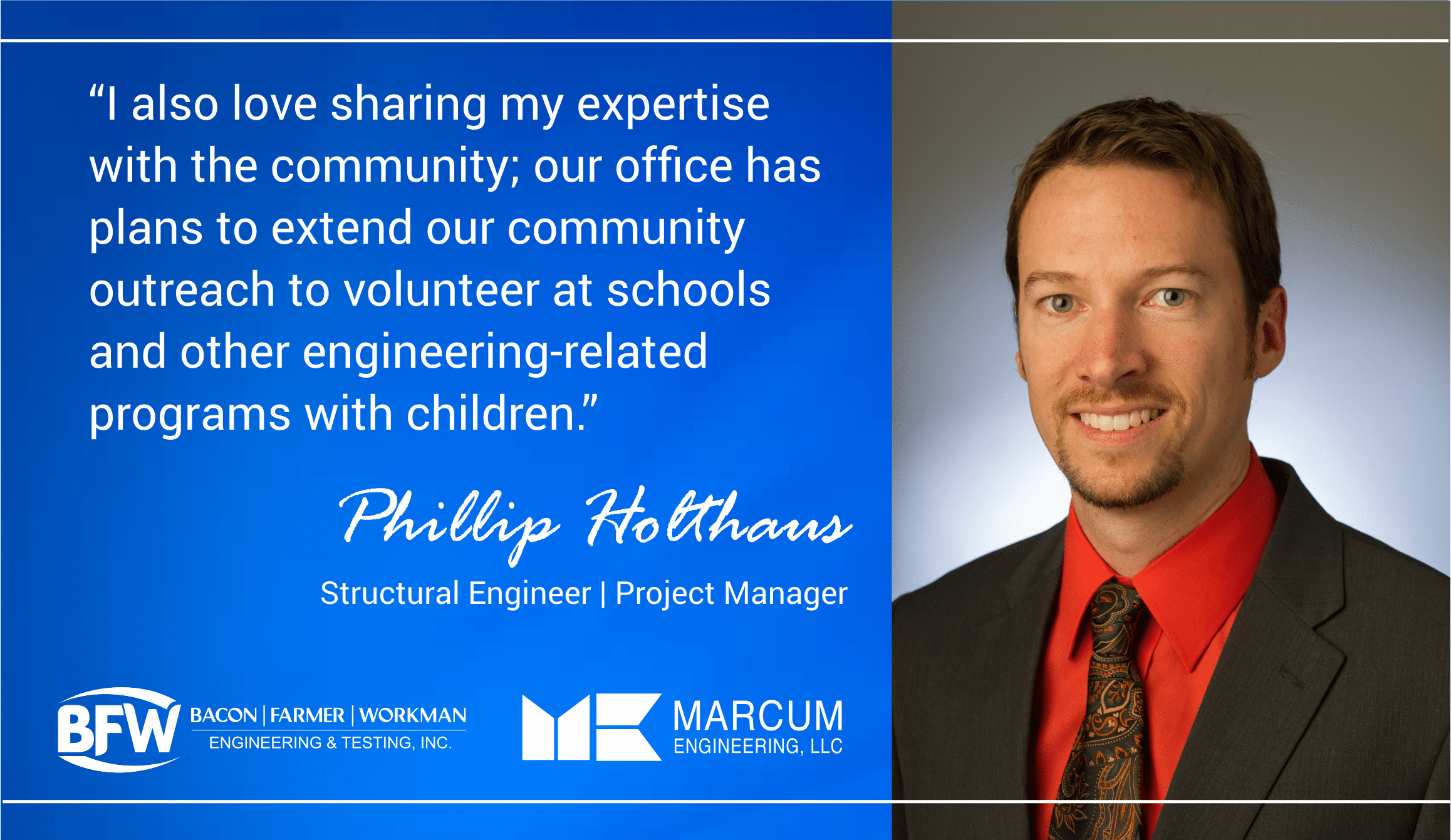 "I have been an active member of a rotary club here in Champaign, IL, and my office mates and I are actively involved in community service like volunteering for the Eastern Illinois Foodbank. I also love sharing my expertise with the community; our office has plans to extend our community outreach to volunteer at schools and other engineering-related programs with children."
Phillip and the Champaign Office embodies the BFW/Marcum personality. That is, finding the right balance between work and life yet ensuring the two intuitively overlap. After all, you should care about your career and your community, so why not bring the two together? Our Champaign, Illinois office is a shining example of that balance.