Say Hello to Brentwood, Tennessee

Home to more musicians than you can shake a stick at, Brentwood is a Nashville-adjacent town that has been on our radar for some time. We have many clients that call it home as well as a few employees. It was natural, then, that we considered it as our next office location.
With that said, say hello to our Brentwood office spearheaded by Matt Bullard. We asked him and Mark Workman, Executive Vice-President/Owner, to give us a lowdown on the new space.
We Go Where We're Needed
"To put it bluntly," Matt explains, "we go where the market asks us to go. There are regions that we realize bring in a ton of engagement and work, so it becomes advantageous to put an office there for easier face-to-face; something we value a lot.
The Middle Tennessee market was the next logical step for BFW geographically.  We have been working in Tennessee for a long time and felt like our market share had increased to the point where we needed a physical presence in the region to meet the expanding needs of our clients."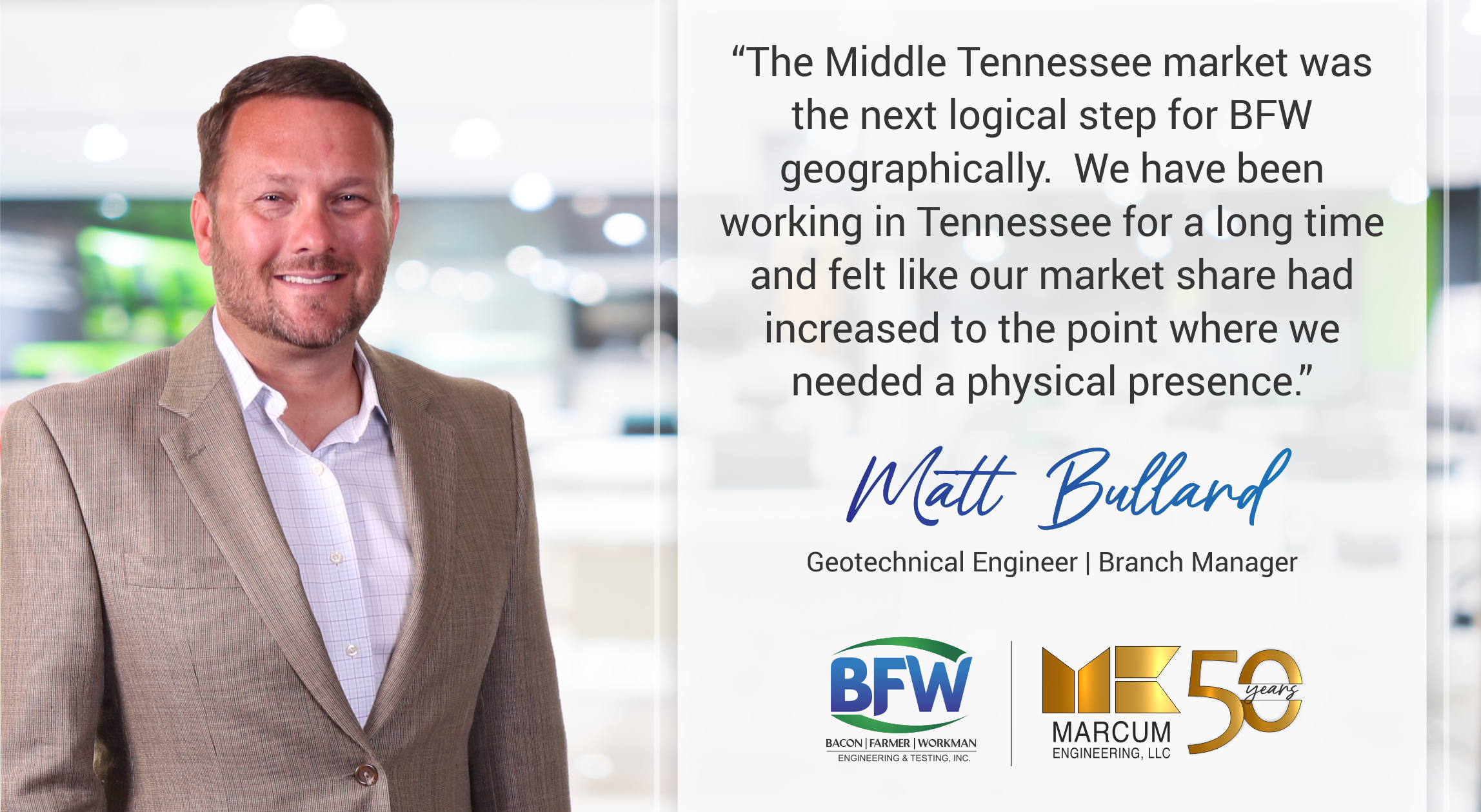 "We follow the work," adds Mark. "Matt Bullard is from the area, as well, so we listened to his insight as to the best location. Brentwood was chosen based on our client's needs and his knowledge of the region."
40-Miles Distance, What We Value is No Different
We asked Matt if there were any cultural differences between Paducah and Brentwood. "For those not in the know, BFW/Marcum was founded in Paducah, Kentucky, which is less than 40 miles from the Tennessee state line and closer to Nashville than Memphis.
We have always been on the border of the Nashville region and like our geography, our values don't just align; they are the same. We appreciate courtesy, hospitality, and good work.
It's hard to bring anything new to an engineering market as large and diverse as Nashville's, but we do see opportunities for positive impact.  BFW/Marcum's culture is centered around having a lasting and constructive impact in every community we work in, so I'm positive we'll thrive here."
We're No Strangers to Tennessee Roads
"We have a lot of geotechnical expertise in this office from the onset." Explains Matt. "However, several key people in the office have great relationships with the Tennessee Department of Transportation (TDOT.)
Len Oliver retired from a 33-year career at TDOT where he managed the geotechnical engineering department statewide.  His institutional knowledge and technical abilities enable BFW/Marcum to provide TDOT with a level of service, unlike any other consultant in the region.
Additionally, David Barker recently joined our team after 39 years at TDOT.  David retired as the manager of TDOT's Region 1 Geotechnical Engineering Section.  Their combined experience makes BFW/Marcum uniquely qualified to serve as a leading consultant to TDOT.
We plan to focus our attention on Tennessee road and bridge projects using our insight and knowledge while doing what we've always done; providing excellent, multi-disciplinary work."
Great People, Great Clients
The Brentwood office isn't the drywall or even the framing or the roof. It's just a building, as much as the engineer in us hates to relegate it to that. We can do our work anywhere. Our offices are for the people that inhabit them. We are excited about the people we'll bring into the fold in our Brentwood location, some new and some already at our firm.
Matt agrees. "Brentwood has one simple goal, to bring our talent to a region that is already asking for it. I'm excited to be able to better serve the region by offering more face-to-face meetings with our clients, and letting Len and David introduce their knowledge, expertise, and carefully cultivated network of people allowing us to open more doors to clients like TDOT, who have such a positive impact on the region."