We recently inaugurated our Belleville, Illinois office. We're always thrilled when we can announce that we've opened a new branch. Why is that? It means that all of our years of planning—of careful and thoughtful expansion, is creating results.
As we extend our reach, we broaden our capabilities while honing our skills. We're not a franchise intent on spreading our brand to every corner of the region. Our expansion takes time and effort—we must understand a regional need and have a collection of people with the right skill sets to fill that need. We were able to achieve this with our new Belleville, Illinois location and we're excited to share its significance with you.
A Plan Years in the Making
We first asked Mark Workman, Executive Vice President, how it is that he and his team choose a new office location as well as its timing.
"About 5 years ago an internal group of current and future leaders participated in a strategic planning workshop. The intent was to start the transition by relaying information from team to team and to be more transparent within the operational aspects of our companies to prepare a road map for our future growth. What you see today is a result of those efforts. In all actuality, it's about time to set the plan for the next 5 years."
Mark brings up an interesting point. One of the reasons BFW/Marcum has been able to expand is due to its transparency among team members. Having an open-door policy means everyone has their finger on the pulse of the company and, when everyone has a stake in the operations, there is a higher amount of accountability among everyone. These are all keys to success and, in the end, expansion.
We also asked Mark how he and the leadership team know it's time to open a new office.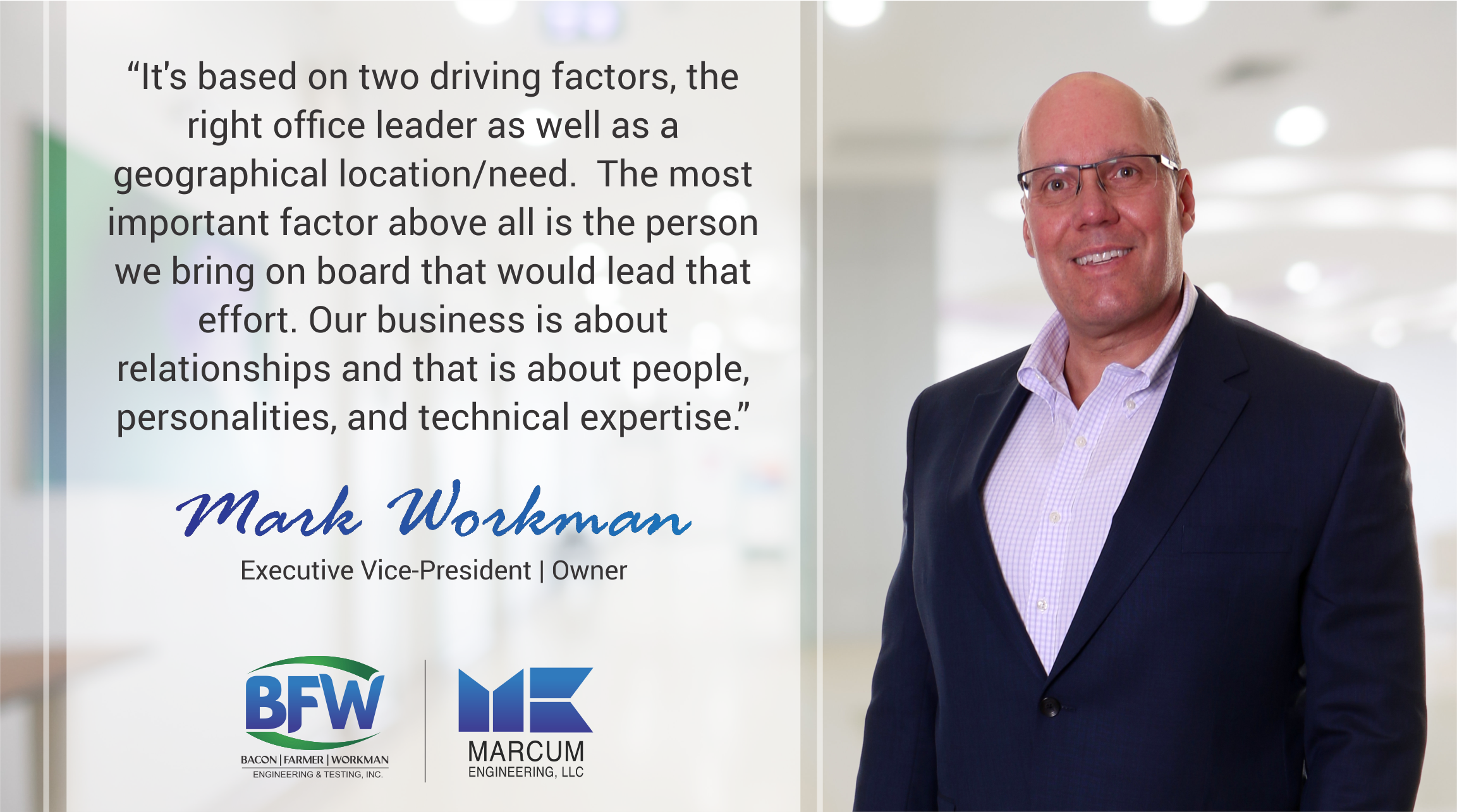 "It's based on two driving factors, the right office leader as well as a geographical location/need.  The most important factor above all is the person we bring on board that would lead that effort. Our business is about relationships and that is about people, personalities, and technical expertise.  As Jim Collins's book, Good to Great, puts it; you have to have the right person on the bus in the right seat." For us, Chris Mathews fit the bill by being in the right seat to lead our Belleville expansion.
Managing Means Cultivating Culture
Chris Mathews, Geotechnical Engineer, is the manager in charge of our new office in Belleville. We asked him what that entails.
"My role in the Belleville office is to serve as the branch manager. I oversee the Belleville office, work on establishing an office culture, develop business in what is a new market for us, recruit new employees, and make sure our staff is delivering the level of service expected by clients. I also manage the day-to-day operations of the geotechnical group throughout each of our offices."
Chris wears more than a couple of hats. Yet, he's happy to lead by example in Belleville. One of the most important aspects of having multiple offices is to maintain the culture that makes our firm so successful. Most intriguing of all though is how that culture evolves to fit the region and the people. We think Belleville is in good hands with Chris.
Our Mission is Rooted in Community
Mark loves to discuss how he lives to serve his community. We asked him how expanding the reach of the firm can help with that goal.
"We believe one of our core missions is to help grow the communities we serve. We just happen to do it through engineering. However, we bring so much more to our clients and communities that expands far beyond engineering and we do this by constantly expanding our scope and our reach. If we didn't try to reach further and further, we'd fall short of that mission.
What do we do beyond textbook engineering? We are trusted advisors, strategists, and friends. We help drive positive outcomes for our clients' missions whatever they may be, and we do it in a way that provides a positive outcome to everyone.
For our firm to succeed in a specific geographical area and as a business, the communities we serve have to be wholly successful—that means ensuring our design decisions have a positive effect on everyone.  One of our jobs is to help push client missions forward and do it in a way that puts them in the good graces of their community.
One of our Senior Project Managers, Bobby Dietz, told me once that his job is to make our clients look good thus, their mission is our mission. When our clients are successful, we are successful. It's that simple. Expansion brings forth more perspectives, more skills, and a greater reach; it makes sense that it serves that mission."
Let Our Reputation Precede Us
As a leading engineering firm, we're known for the great work we do. A new office needs to serve this cause as well; to cultivate a sense of trust, reliability, and high-quality work in a new region. We asked Chris what he'd like his office to be known for.
"First and foremost, I want our office to be known as a great group of people who excel at working collaboratively across the company and, while doing that, bring exceptional value to our clients. I also want to establish our office as a technical leader in the St. Louis geotechnical market. We have brought in great people to our group who have awesome depth and breadth of experience and I want to capitalize on that."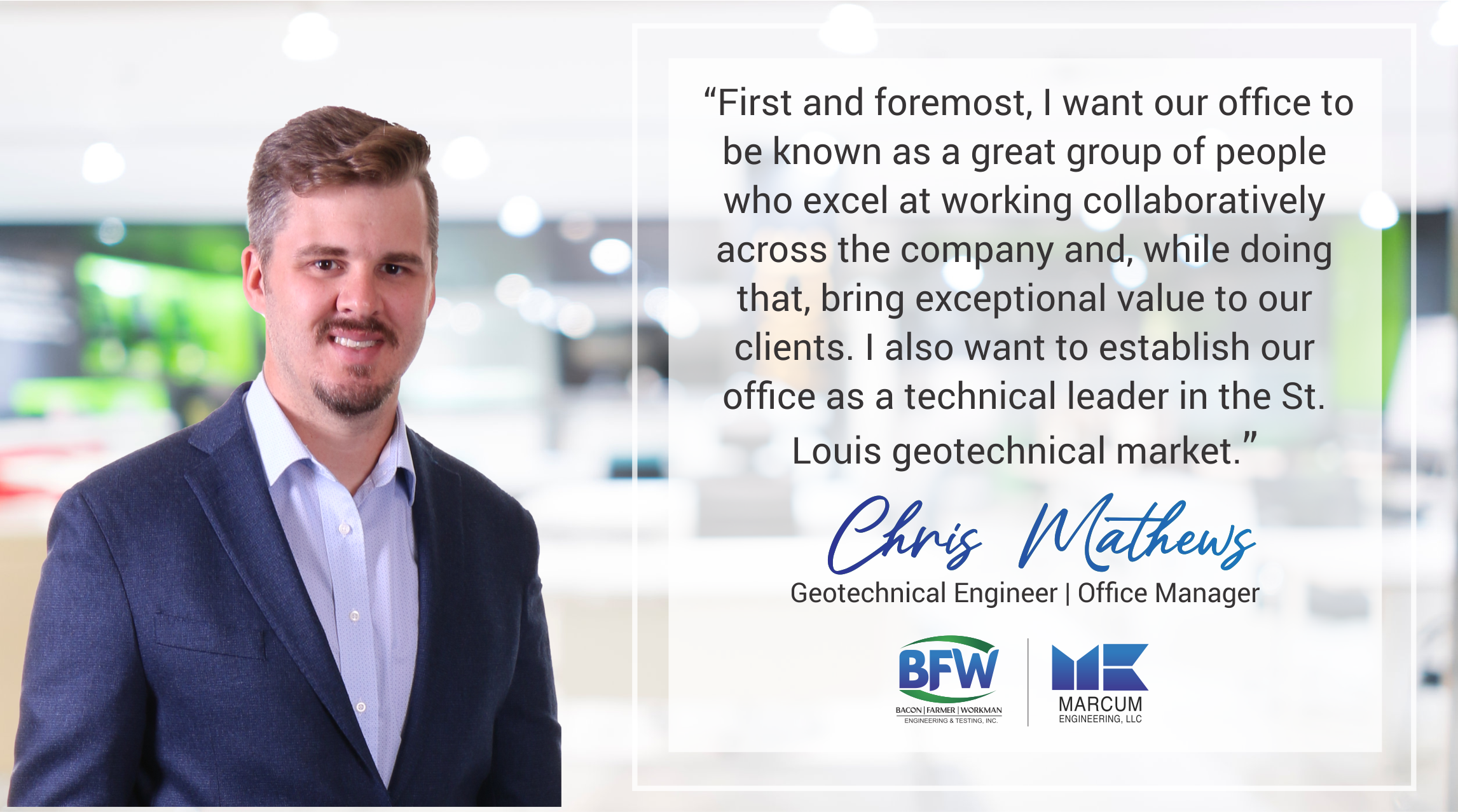 Chris exemplifies the very thing we strive for company-wide. No matter who you're working with, we want you to feel our collaborative energy. Then, we want to wow you with our niche skills that you can't find elsewhere.
Finding the Right Space at the Right Time
It's one thing to want to expand—it's another thing entirely to do it. In most cases, the decision to expand is simple compared to the logistics and timing. We asked Chris how it all came together.
"For the Belleville office, we first engaged a commercial real estate agent to help us find a space to lease. I knew I wanted the office to be in Belleville since it's my hometown and I jumped at the chance to bring a new business there. The agent located a handful of spaces to go look at and then Mark and I toured each of them.
We made an easy decision as the office we picked was ready to go and did not need any modifications. It really is a nice space and a few of the walls were even already painted BFW blue! We have been bringing in a handful of employees to the Belleville office in the year or so it's been open and there are four of us here now.
As far as who is here already, it's a small but mighty team. Boston Fodor is our Senior Geophysicist and Swiss army knife. He manages our geophysics projects and helps the geotechnical group with whatever else we throw at him.  Matt Kaufman is our Senior Geologist. He manages our field crews, does geotechnical fieldwork, and helps with preparing proposals and reports. Sarah Finley handles business development and marketing for the Belleville office, so she is the one that finds us all the good attention."
Finally, we asked Chris what he thought made his office unique. If you couldn't guess, he celebrated the immense geotechnical expertise within the office.
"Our office is unique in it's the first location outside of Paducah that handles geotechnical services. Additionally, since I have been here, we have brought on board Boston to pioneer our geophysics capabilities, which is an entirely new service line for the company."
To put it simply, the Belleville office is a geotechnical and geophysical powerhouse. It's the first of its kind both in the region and as an office here at BFW/Marcum.
We Are Our Community
Our commitment is to go wherever anyone needs us. However, many of us call the Midwest and, more specifically, the Southeast home. We asked Mark for his parting words, and to talk about his commitment to the region.
"I am drawn to the Midwest and Southeast simply because this is where I grew up and have lived my entire life. This is where I call home." Mark pauses and laughs. "I also follow all the sports teams! Yet, the thing that I like most about the regions we serve is the people and their communities.  Each has a different name and location but always feels similar with similar challenges."
What Mark is getting at is something we think is at the core of our success. We understand the people. We understand their unique problems. Most of all, we share their cultural and geographical perspectives. We're problem solvers no matter where we are, but we'll always call the Southeast and Midwest our home.