A Look Back at 2020

We can't think of a year that changed so much about how we operate than 2020. Sure, we're used to challenges and we're always evolving our business as well as our perspective. However, the past year has seen us shift to an entirely new paradigm almost in an instant.
To be perfectly honest, we couldn't be any happier. When a flood comes charging in the people who've built their homes on higher ground have the least to worry about. As a firm, we've always put ourselves high above the rest; from our culture, our expertise, and to our people.
2020 Made us Stronger
We asked Mark Workman, Executive Vice President/Owner, to try and quantify the year 2020 for us. How did we face its challenges? What were those challenges? His answer was uplifting, to say the least.
"If nothing else, the pandemic has taught us that there is another way of working and that when done properly it offers many possibilities. 2021 is the time to apply what we learned in 2020, optimize it and think seriously about how we want to work in the future.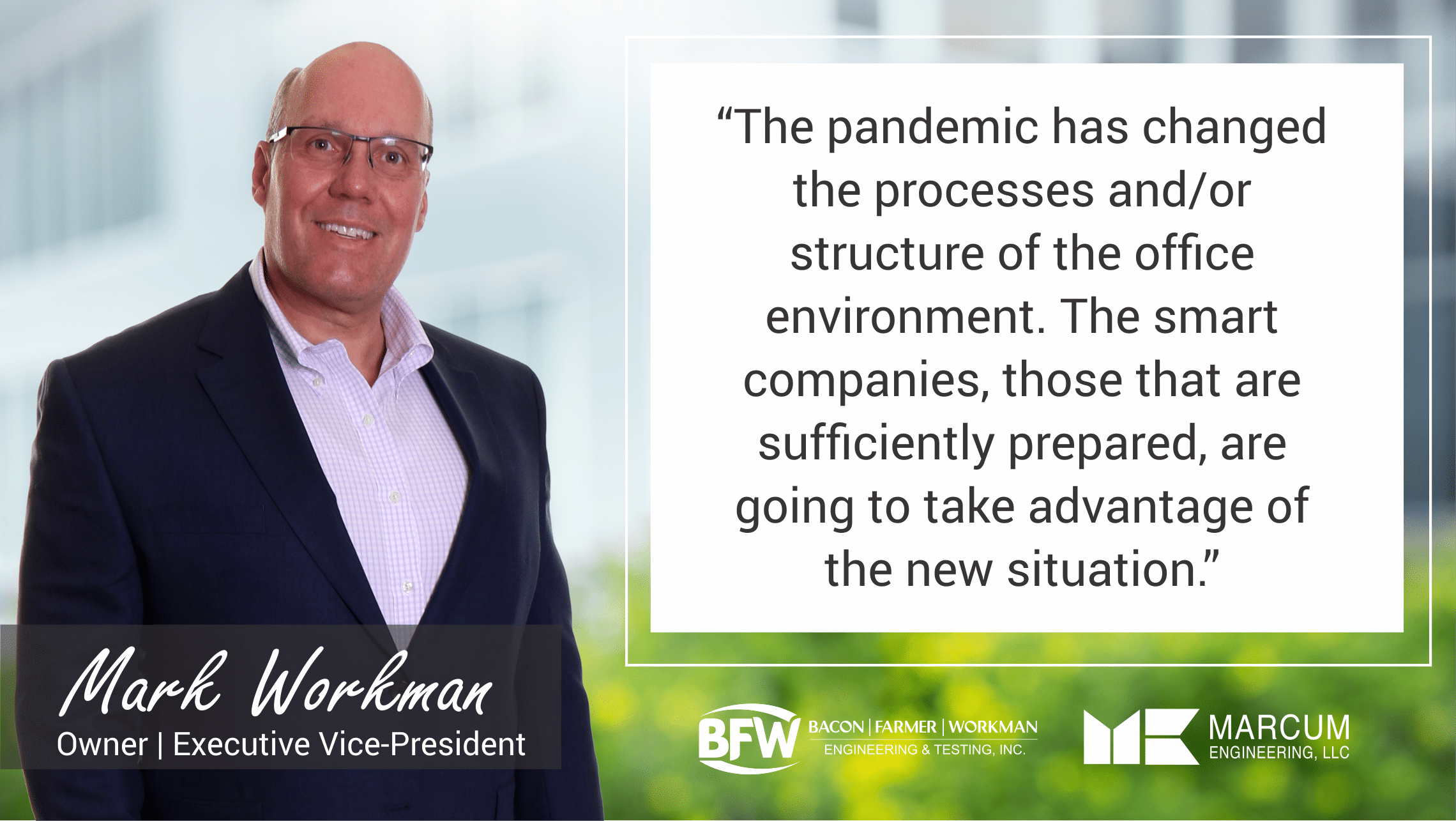 The pandemic has changed the processes and/or structure of the office environment, in which the vast majority of offices and workplaces were very similar to each other. The smart companies, those that are sufficiently prepared, are going to take advantage of the new situation. In my opinion, there is no going back and expect big things over the next year concerning remote working environments."
A New Way of Working Means a New Way of Succeeding
Mark went on the explain how we adapted to the "new normal" of a pandemic and post-pandemic work-life. "The BFW/Marcum leaders/managers had to learn to manage hybrid teams, to do so without micromanagement while maintaining contact to avoid disengagement and to keep people who are working remotely motivated and tied into the company culture.
Employee Relationship Management (ERM) has become crucial and a key for our company's success. Thus the major success for our firm (which we had many) is the professional growth and leadership of everyone in our firm and how they have each taken on their role in ERM. This alone is the foundation for future success."
Best, Best, & Best
When asked about the company's growth, Mark had a simple answer we think embodies the modus operandi of the firm: when you do things the best way, the results are always predictable and steady.
"I am extremely happy with the new team members we have added in 2020 and early 2021. Historically we have had an incredibly low turnover rate within BFW/Marcum and that is because of the type of people we hire. We hire the best and the best always delivers the best client experience. Our growth in 2020 was predictable and steady, it followed our revenue growth and business model. So, yes we are pleased with 2020 but I am extremely excited about what 2021 and beyond has to offer for our firm."
What We Started On and Where We're Going
We asked Baccus Oliver, Principal/Mechanical Engineer, to highlight some of our most ambitious projects in 2020, whether they were just started or wrapped up. He was all-too-happy to oblige.
"As a whole, I am pleased with our continued growth into 3D design, increased efforts on improving client experiences, and our recent hires who bring more ideas and skills to our team. I am also pleased with how we figured out to continue our mission in a Pandemic. Everyone here is to be commended on a job well done."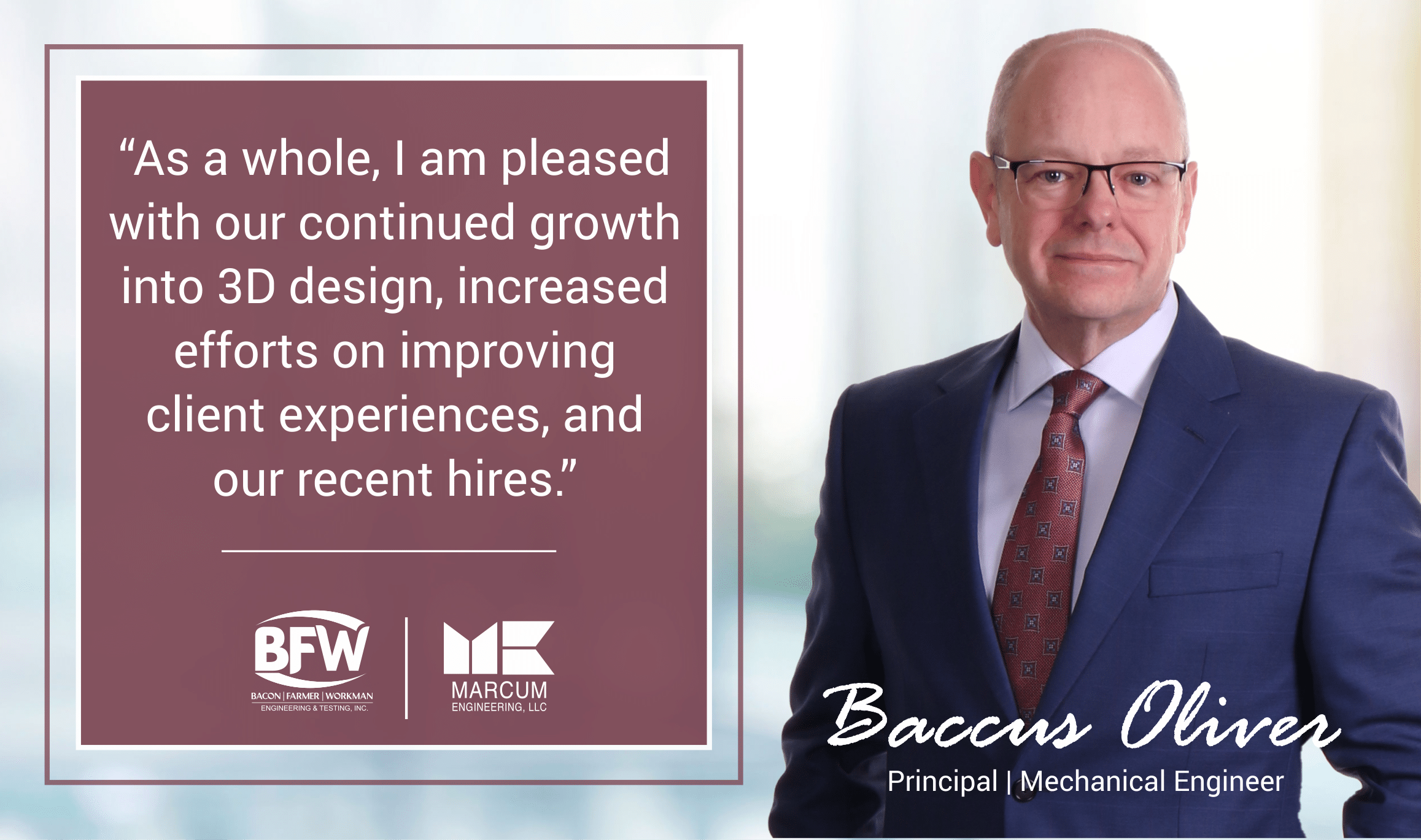 A Job Well Done
Baccus then went into more detail about one of the most ambitious projects we had the satisfaction of completing in 2020. "We opened the Paducah Innovation Hub, which houses the region's technology center for our community schools, Paducah Tilghman High School's STEM and arts programs, a maker space for engaging young students into the much-needed trades, and new district central offices.  The facility is super-efficient and safe and is focused on educating students in career path alternatives rather than college/universities."
The Fruits of Our Labor
As one large project comes to a close (or at least slows down upon its completion) another starts up. Baccus was equally proud of the brand new Hanson Elementary School that we designed, which broke ground in 2020. "This 600 student elementary school located in nearby Hopkins County is our safest school design yet. The building is constructed of concrete perimeter walls making a super-efficient and quiet learning space. The safety features are a 9,600 sq ft tornado shelter capable of holding 1,400 occupants and the building has different HVAC operational modes such as (Shelter-in-Place Mode, Virus Mode, and Tornado Mode)."
Hitting the Ground Running
Finally, we started the design phase of two large projects that directly improve the resources afforded to our community-at-large. "We began designing the new passenger terminal located in the Barkley Regional Airport. Estimated at over $17,000,000; this new passenger terminal, site, and amenities will start construction this summer and will change the passenger's experience of Paducah.
The 29,000 sq ft facility will be open, bright, comfortable, and efficient with all spaces larger and modern for today's traveler. Barkley Regional is expecting the new passenger terminal to be a catalyst for the economic development of our communities and help with the overall growth of this region. Barkley Regional is the 5th busiest airport in Kentucky with 19 weekly regional jet flights per week."
Last but not least, a new cancer center at Murray Calloway County Hospital is in the pipeline; we just started designing this project. "Estimated at nearly $10,000,000; this 17,900 sq ft renovated space will provide cancer care for the communities in and surrounding Murray. The project will have expanded capabilities with 8 exam rooms, 16 infusion therapy chairs, a new C.T. scanner, and a new linear accelerator. We are proud to be involved with health care for our region."
We're happy with what we see when we look back and look forward despite all the challenging situations that 2020 and the first quarter (we hope!) of 2021 have given us.
A Good Foundation Will Weather Even the Worst Instability
We're not the kind of firm that likes to throw revenue numbers around. We think that our outward success speaks for itself; we have a large, healthy, experienced team of people willing to work under our name and a large and diverse list of clients eager to do business with us. What more could you ask for? However, we asked David Belt, Chief Financial Officer, to weigh in on 2020, since it was such a strange year for many businesses around the world. He had straightforward answers for all of our questions; it all boils down to stability, confidence, and diversity.
Diverse, Determined, & Good at Their Job
David attributed much of our ability to weather 2020's uncertainty to our employees, who man multiple satellite offices yet come together as a solid core of expertise. When collaboration is already easy, then changing your work situation isn't as big of an upset as it could be.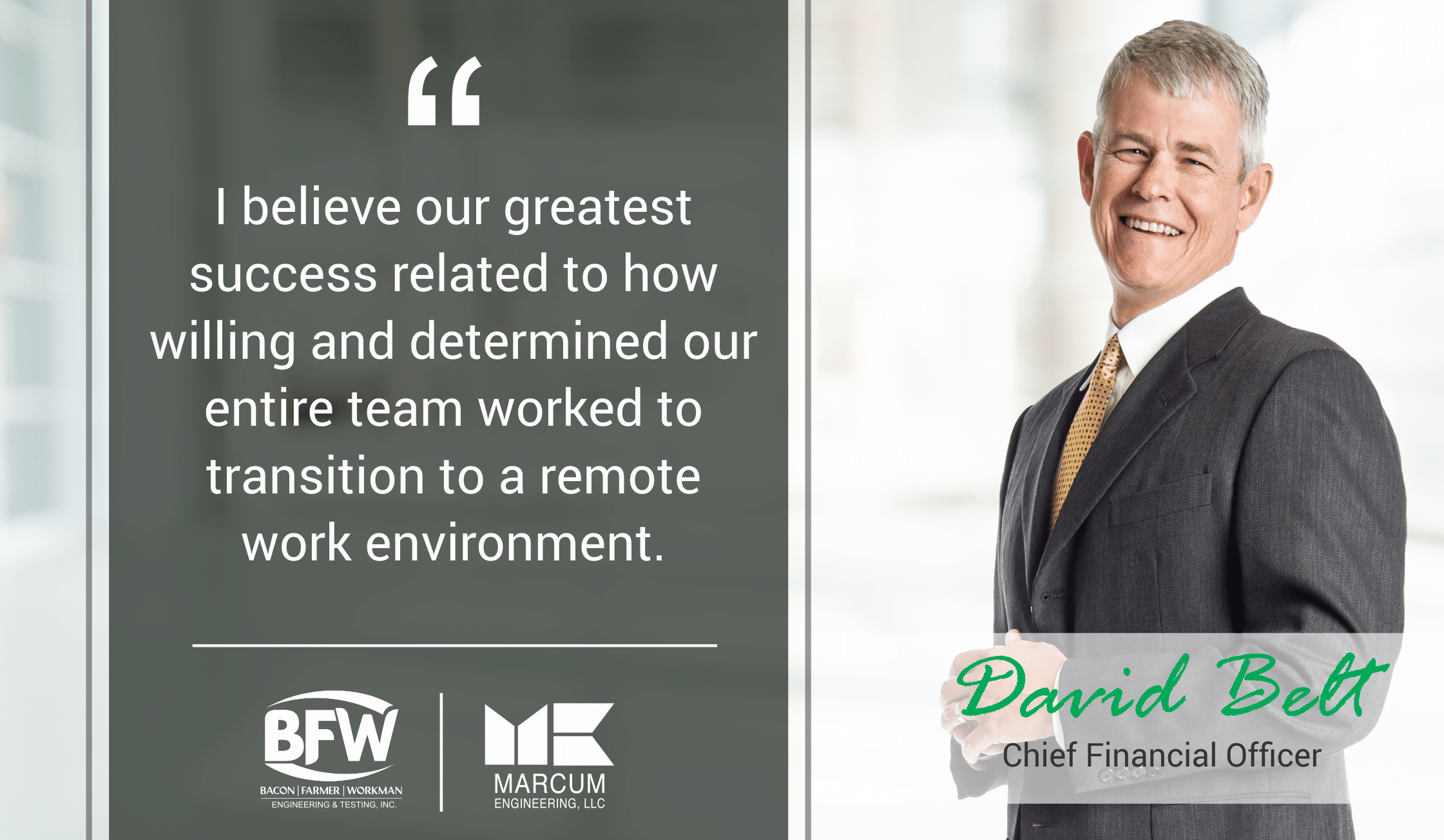 "With over 120 team members working from 8 offices, I believe our greatest success related to how willing and determined our entire team worked to transition to a remote work environment while always keeping focused on delivering an exceptional client experience.
Many of our project responsibilities and administrative responsibilities are performed collaboratively with staff from more than a single office. At one point most everyone from every office was remotely working while there continuously seemed to be someone quarantined. Regardless, we stayed on schedule adapting to change and adopting implemented technology to aid with our remote working environment.
In my area, we've continued to build on the communication and process improvements gained during the past year."
Everything & Nothing Has Changed
When we asked David what has or hasn't profoundly changed, he gave us an interesting answer.
"I'm proud of our team's ability to adapt. What didn't waver was a commitment to deliver. Whether it be a schematic design for a client or internally exceeding the expectations of our team members, we focused on delivering results."
In 2021 We'll Be Doing the Same Old Thing, Just Better
There is always room for improvement and growth. We don't rest once the hard stuff is over. On the contrary—once we've climbed a hill we run all-the-harder using the forward momentum earned from our struggles.
We enter 2021 feeling lighter. While many might take that as an opportunity to slow down, we're planning on using it to run even faster—to accomplish more than ever—and to keep pushing beyond the boundaries we think we've set for ourselves.