BFW/Marcum 2022 Introspective: Looking Back & Moving Forward

Just like that, another year is over. While it seems time is flying, looking back on the year shows us that we've accomplished an abundance in a short time frame. In 2022, we completed the final goals of our 2018 strategic plan, which puts us at a crossroads once again. We wanted to take a moment to pause and reflect on the last year and look forward to 2023 and beyond.
We sat down with Mark Workman, Chris Farmer, Baccus Oliver, and David Ury to get their insight, and allow them the opportunity to appreciate all that BFW/Marcum has accomplished.
Plan, Meet Execution
"It was five years ago, we had a cross section of leadership in a room together and created a 5-year strategic plan," explains Mark. "We put our heads together and thought not just about how to grow the company, but how to grow and mature our values, one at a time. We're happy to say in 2022 we completed that plan on schedule.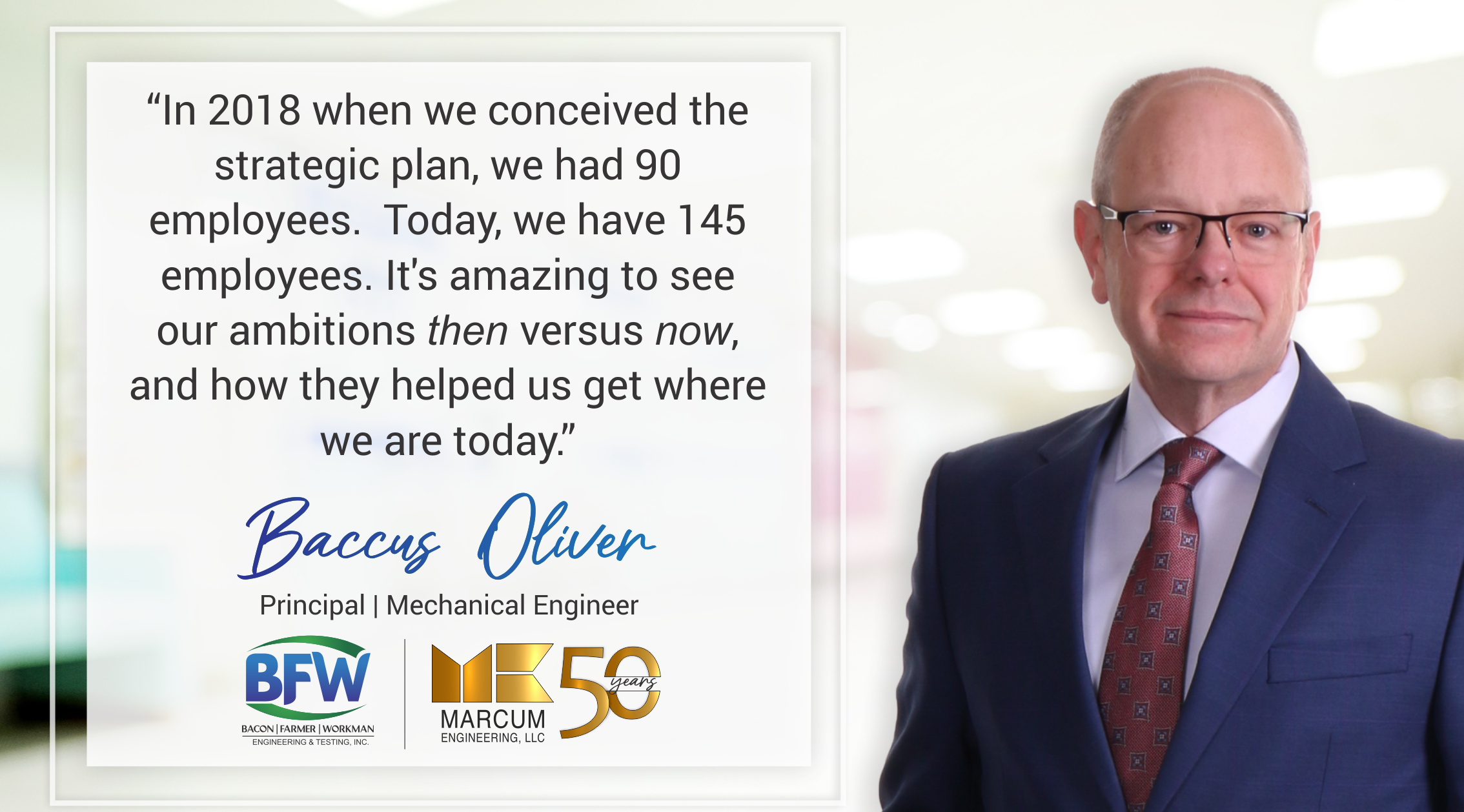 "In 2018 when we conceived the strategic plan, we had 90 employees," adds Baccus. "Today we have 145 employees. It's amazing to see our ambitions then versus now, and how they helped us get where we are today."
In engineering, a plan is only as good as the people behind it, yet even the greatest minds need a good blueprint. This illustrates the importance of intention and invention; both complement each other. It's when they work in unison that you accomplish the great things.
People Over Process
Mark has a saying, and, if you work around him, then you're probably familiar with it. "People over process." He explains, "That's the best way I can summarize the culture of our company. I think it covers all our bases in one broad stroke."
We asked Mark if he could elaborate on that philosophy.
"Employee experience and client experience are intrinsically related. A great employee experience drives a great client experience. You can't sacrifice either one. The way we do things; that's great. However, the people doing the thing is what matters most. If you put your heart into the people involved in a process, then the process can't help but fulfill its purpose."
"This philosophy drives our new mission statement," explains Chris, "…to provide the best client experience by empowering our team of committed passionate professionals to deliver creative, forward-thinking solutions to the engineering challenges faced by our clients."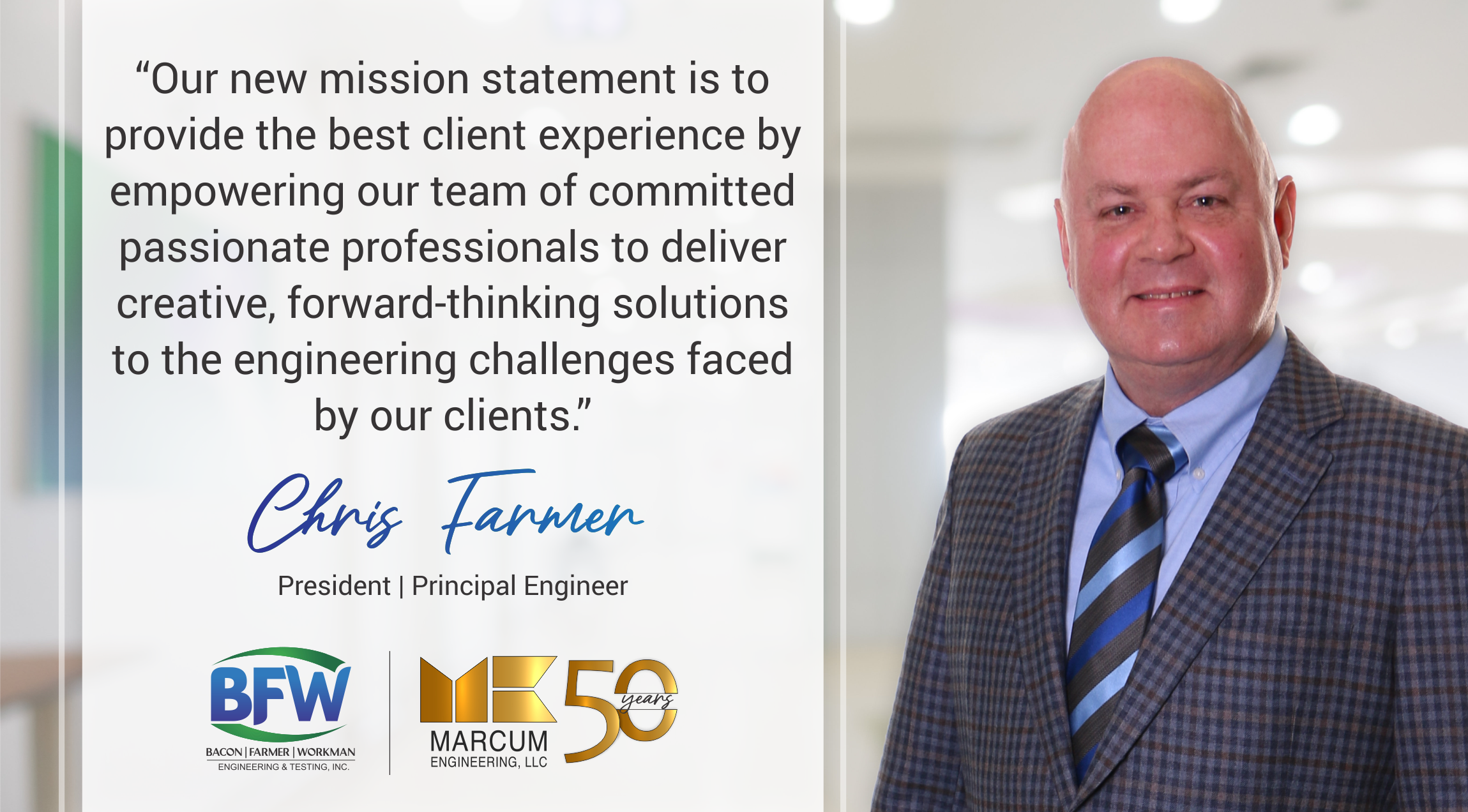 The keyword there is empowerment. When you empower and give agency to a team that you picked because they are talented, then you give them the breathing room to make mistakes, overcome challenges, and find truly innovative solutions that are one of a kind.
Baccus is never one to understate the value of a relationship. "One of the most impactful moments for me as an engineer occurred in 2022. I was in a meeting with a client and someone we provided services for in the past, someone we knew well. The client turned to his oversight board and explained very succinctly that we were friends, not just simply a client and engineer. He went on to say that because of our relationship, he knew the results of the upcoming project would be outstanding. This drove home just how valuable client friendships are."
Driven & Collaborative
We asked our leadership to define 2022 in one word. They agreed on two. "Drive," says Baccus. "We are driven; driven in the way we work together, in our need to push the threshold of our accomplishments, and in what we do for our clients."
There is no "walking in place" in our world. Engineering isn't a treadmill; you can't just go through the motions. You need to have drive to continue to succeed.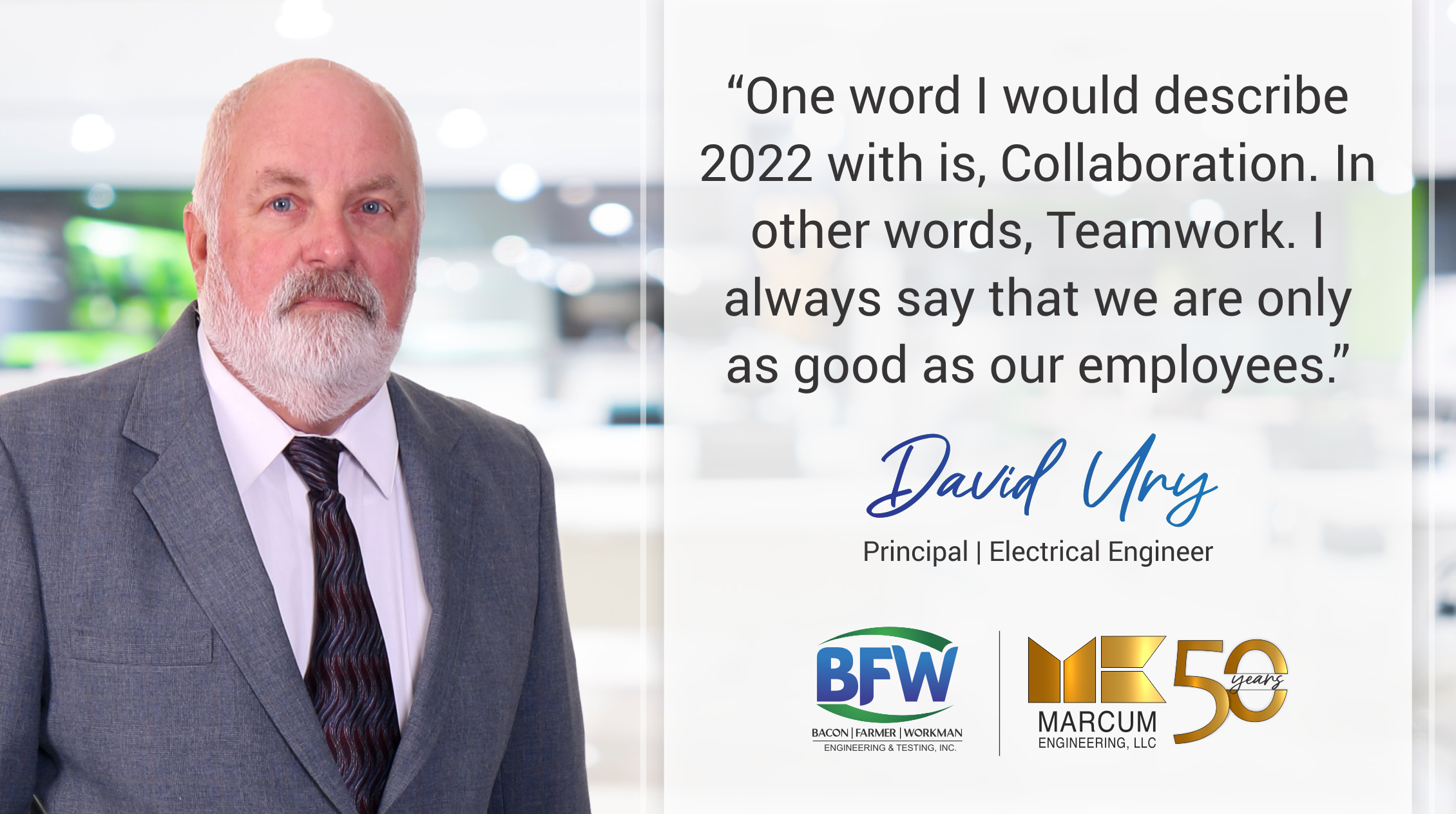 David had another word for 2022. "Collaboration is what comes to my mind. In other words, Teamwork. I always say that we are only as good as our employees. Yet, it also means your job only gets easier when you have a strong team. All we have are our employees, and all they have is us. We support each other."
David hits on something important in any company. Collaboration is a kind of alchemy. It takes the raw materials you could otherwise take at face value and turns them into something far more valuable.
2022 Was About Growth
In 2022, it was a year of growth in more ways than one. We welcomed new faces, opened new offices, and began the process of looking ahead.
Mark looks fondly into the past so he can appreciate the present and future. "It's funny to think about how BFW/Marcum started with just two employees. That would be me and Chris, and our offices were located on the second floor of my home. We couldn't afford much else."
"Today we have 145 employees, 11 offices, and boast work in 14 states. If I could go back and tell that young version of me about this, I certainly wouldn't, I wouldn't want that guy resting on his laurels. It took a lot of late nights and shots in the dark to get where we are today."
"Growth isn't just about numbers," Chris adds. "We're all familiar with what they say about quality over quantity. Expertise is no different. We're not looking to fill seats. Growth is about developing new and innovative ways to contribute. You can't do that without different perspectives. That's what growth brings you. Furthermore, we empower our office locations to grow within their communities in their own ways. What that does is cultivate something unique but familiar to the BFW/Marcum family."
"I also wanted to emphasize our growth isn't just about hiring innovators or solely due to the accomplishments of our team. Not everyone here is an engineer, but everyone on our team brings ferocity and a distinct talent to the company. Our Team drives our forward momentum."
Excellence, Passion, Courage, Community, Relationships
"Moving forward, we thought we'd write down our newly adapted values. The entire company put their heads together to come up with 5 simple words that encapsulated the complex culture we adhere to. It was no easy feat to put the positive energy we thrive on into words, but we managed to do it," explains Baccus. "We realized the process of this exercise was a monumental collaboration in and of itself. What we inadvertently did was empower ourselves, specifically non-leadership team members, to put into words what they care for most and what motivates them."
"The beauty of these words means something different to everyone, yet the vein that is their value runs deeply through the company."
What did we choose?
Excellence: to have an obsession over quality and an unwavering focus
Passion: to be persistent in the face of challenges, to reinvent and innovate for the sake of it
Courage: to encourage humility and relish the moments where we don't know but will find out
Community: to have our work serve a greater purpose and to have accountability for its effect, work with empathy, and encourage collaboration
Relationships: to have a healthy relationship with our work, our Team, and our Clients
Looking Ahead
Mark explains the outlook for 2023. "Heading into 2023, we are in the middle of creating a new 5-year strategic plan. We want the plan to represent all 145 employees. Most of all, we want these goals to be smart and sustainable."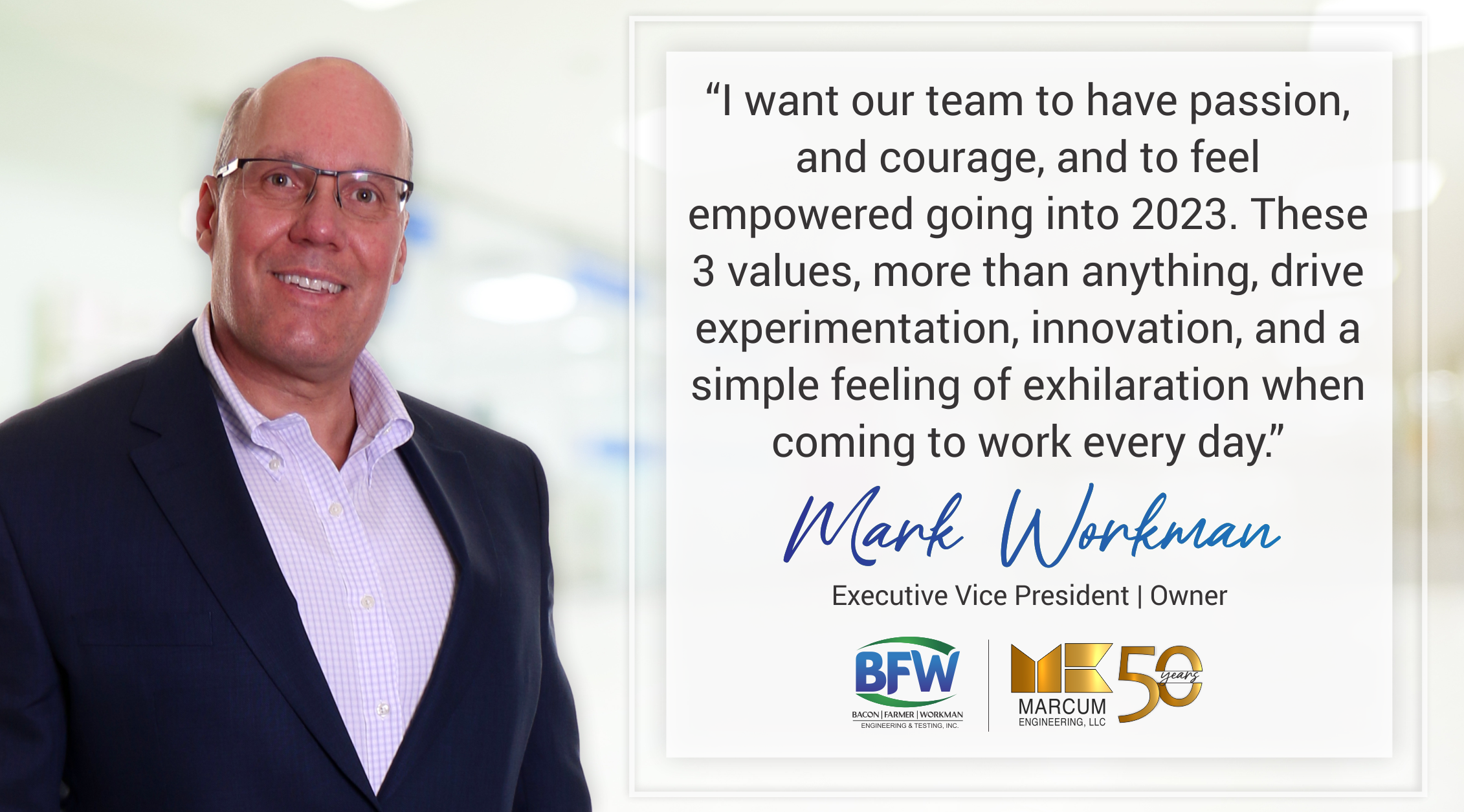 "I want our team to have passion, and courage, and to feel empowered going into 2023. These 3 values, more than anything, drive experimentation, innovation, and a simple feeling of exhilaration when coming to work every day. I always say work isn't work if it's fun. We have a lot of fun here.
I also implore both teammates and clients to be courageous. That is, to fearlessly give feedback whether it's positive or negative. We send out surveys to our clients to gage our work and when we get a piece of critical feedback, while it still stings a little, I have an undeniable appreciation for a client's forthrightness; it means they're comfortable with us and, most of all, truly value us and want us to succeed."
Baccus is all about Teamwork. "2023 is a time I want to focus on further collaboration. What we accomplish alone is finite. When we work together, there's no discernible limit."
"I agree with Baccus." Explains David. "All we have is each other. The better we work together, the better we can be."
Chris has some profound insight to cap off 2022. "I'm an advocate of timelessness. Integrity will never go out of style. Always do the right thing, especially when no one's watching. That is my mantra going into 2023."