Do the Right Thing: Why We Have a Safety Director

"While I'm not a statistics kind of guy. I do understand the value of quantifying safety with statistics, dollars, etc., when necessary, especially when working with owners, customers, managers, and engineers".
However, ultimately safety to me is about people and relationships.  Safety is the right thing to do and if you value people and relationships as much as I do, it's a no-brainer."
This is Eric Watts, Safety Director, in a nutshell. He can tell you exactly why you should do something a certain way (or why not), but he'd rather you trust his expertise and, above all, his respect and care for his coworkers. You see, when Eric speaks up, it's because he has our backs. That's precisely why he's our Safety Director, but there's more to his position that we'd like to explore.
Eric Shares Our Philosophy
What led Eric to the position of Safety Director at our firm? He's had plenty of experience; he could work pretty much anywhere. Yet, his values and the values of BFW/Marcum seemed to align perfectly, so the decision was easy.
"I have 23 years of safety and risk management experience, primarily in construction.  I worked 19+ years in safety and risk management for a general contractor and another 3 ½ years in safety and risk management working for a specialty subcontractor.
I have extensive experience working on Department of Defense (DOD) and Department of Energy (DOE) projects, as well as industrial sites and commercial construction projects. I have a Master of Science in Occupational Safety & Health from Murray State University and I have a Certified Safety Professional (CSP) certification.
I was led to this specific position with BFW/Marcum Engineering because of my personal and professional relationships with several of the current employees. Beyond that, I gravitated towards the commitment and passion the companies have for enhancing our local communities; and the emphasis put on enriching employees' lives through wellness programs, work/life balance, flexible schedules, encouraging community involvement, etc. It was simple; the work they do is the work that I believe in."
We Want to Make Safety Personal
"The concept of safety is about identifying potential hazards and establishing controls to eliminate or minimize the hazards.  Simply put, safety is about protecting people.  Therefore, I try to make safety personal for every employee.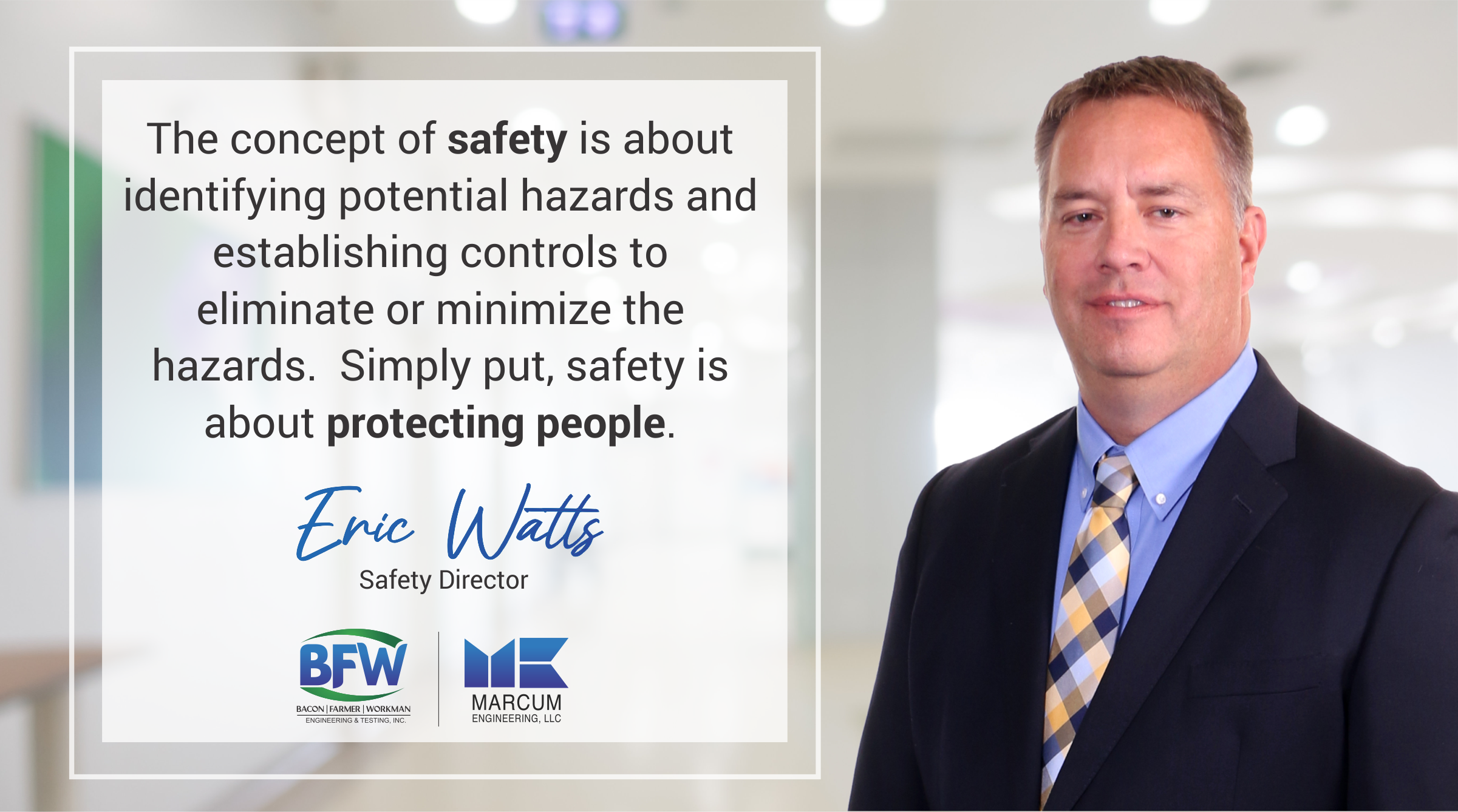 Every employee has someone or something that depends on them and their safety (spouse, child, parent, coworkers, pet, etc.).  People must work safely to not only protect themselves and those around them, but also so that they can remain dependable to those that depend on them."
Eric brings up a great point that is often overlooked. Your safety isn't just about you. Safety, at its core, is about respecting the people that matter to you on and off the clock.
What Eric Has in Store
Eric is relatively new to the firm, so he has some great ideas for moving forward.
"I came into this position to find a firm that is already well-versed in safety. We have a culture here that is like a family, so we naturally look out for each other. However, I want to get some of these inferred values on paper, or if they're already written, I want to take the opportunity as the new guy to reset, reorganize, and reinvigorate.
I'm already working to breathe new life into our training programs, and to refine our risk management processes to encourage richer participation by our employees. Most of all, I want all of this stuff to be proactive in the sense that we can see a problem on the horizon before it becomes a problem. To do this, you simply need a cohesive and highly engaging safety culture.
One tool I'm using is something we call an employee-focused program. This gets away from compliance-based programs, which obscure the why behind many of the things we do for safety's sake. When you keep things personal and explain the logic behind them, then you encourage continual learning and improvement."
Employee-Focused Safety Means Richer Accountability
Eric's plans as Safety Director make a lot of sense to us. He's following a tested approach to accountability. By creating context (the why), making safety personal (the who), and clearly spelling out objectives (the what), Eric creates a culture of positive accountability.
Accountability isn't just about knowing where the "buck" stops. It's about looking out for your colleagues and coworkers and treating each other with respect by ensuring we're all cultivating the safest environment possible. With all that said, we welcome Eric with open arms and we are excited to see what he has in store!