We Are One Big Family, No, Literally (Part 1)

You've heard us say in the past that we treat our team as family. It's true; we're all in this together, and we've learned long ago that you can't go nearly as far as an individual as you can on the shoulders of your team. Yet, we're a close-knit bunch in more than figurative terms. Many of us, due to our closeness to our community and the attention to work culture can't help but bring our real family into the fold. We hire based on excellence, and it's been great to see excellence and family intersect when the position is right.
Why not? BFW/Marcum is a great place to work. Many of us are friends in and out of the office. It only makes sense to share the love. We thought we'd sit down with a few of the families that work among us and see what they have to say.
Tim & Shelby – Father & Daughter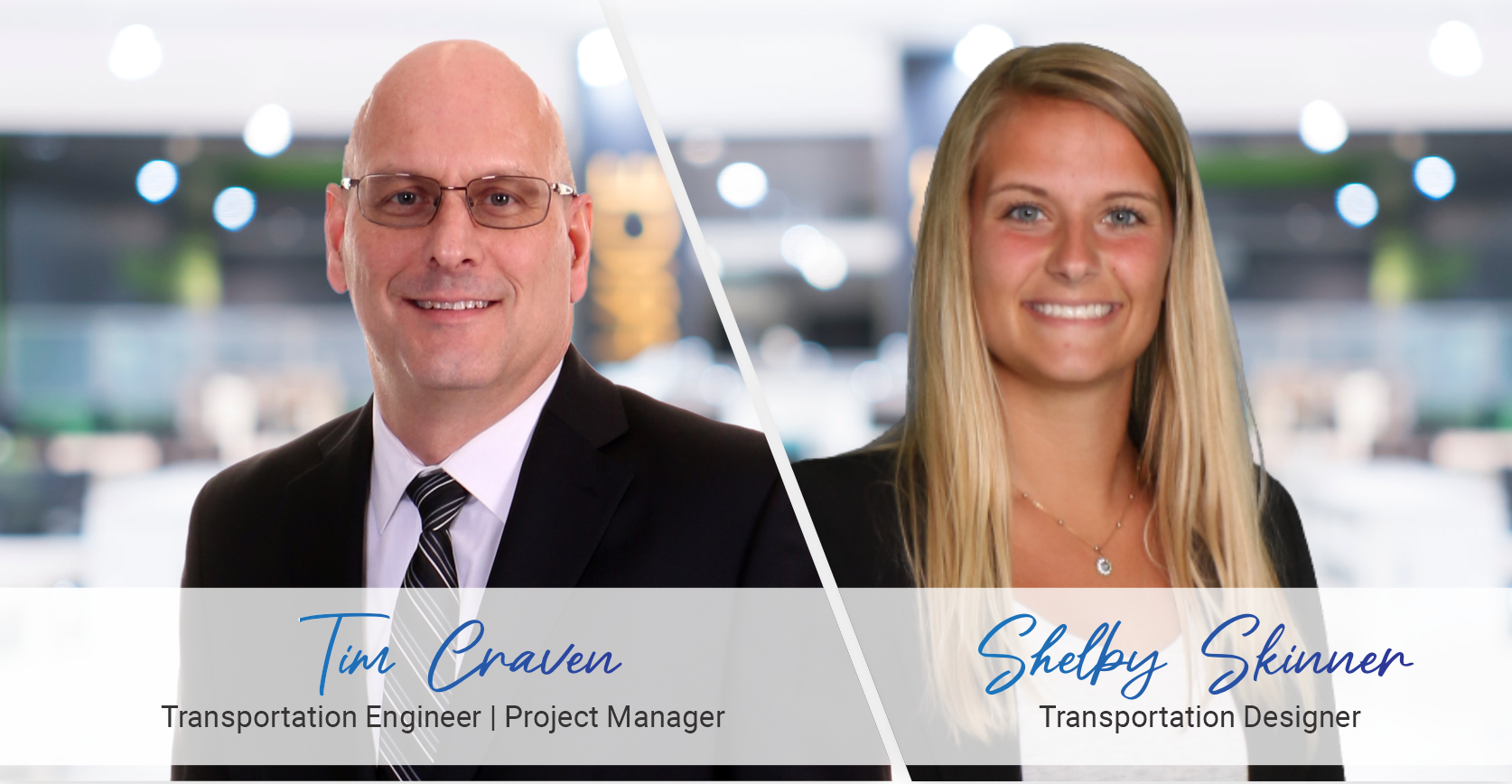 Being the daughter, you'd think Shelby was encouraged to work at BFW/Marcum by her father. Well, good guess, but you'd be wrong!
"Contrary to what many might assume, I was at BFW/Marcum first! I'm currently a Civil Transportation Designer. I work on the design and plan preparation for Illinois Department of Transportation roadway projects."
The Apple Doesn't Fall Far from the Tree
We asked Shelby what inspired her to "follow" her father into the field of engineering.
"My dad has always had a love for bridges and would occasionally plan a family vacation detour to see famous bridges. So, I grew up with an appreciation for what engineers do in transportation.
My siblings and I remember sitting in the car and would let him know when we were approaching a bridge. He would look in awe at the bridge as if that moment was the first time he had ever seen it (even though he knew everything about the planning and construction of the bridge very well.)
So, there was never a specific time that I knew I wanted to follow in his footsteps. I grew up thinking every American family vacation would incorporate looking at bridges. Eventually, I started asking more questions and became more interested in all the details of transportation. 
I would assist him in all sorts of projects around the house and we became quiet the duo when fixing things together. Our minds just think alike in that engineering way and it's great to bounce ideas off each other, just like in an engineering office!"
Like Daughter, Like Father
Tim agrees with Shelby—he's a bridge guy, through and through. His obsession with them has led him down the career path he's currently on. "I'm a Project Manager/Engineer in the transportation/structural division of BFW.  Typically, I work as a bridge engineer responsible for the early planning aspects of bridge projects."
We asked him how he felt when Shelby first expressed interest in the field of engineering. "She's always had the knowledge, both spatial intuition as well as the diligence needed to excel in engineering projects.  I wasn't surprised that she went into the engineering field, but I was very excited."
Some Wisdom to Live By
We wanted to play by the rules and flip the script. Of course, we asked Tim, the more storied and experienced of the two, what his advice to Shelby was. Yet, we couldn't help but see what advice Shelby could impart to her father as well. Let's hear Tim first.
"Search for the work that you like to do.  It's much more gratifying to accomplish tasks that you enjoy.  A career lasts a long time, so it's fine if it takes a while to find your niche.  Just remember to keep searching and enjoy life."
Shelby shared words of encouragement to a father that's acted as an inspiration to her. "Keep it up! Your work ethic is apparent in our family and in your work life. You've been the best role model and I look up to everything you have accomplished and grown into through your career.
It's amazing to see this whole other side of you while at work. I grew up knowing you were an amazing father, but now I can also see how you use that same work ethic in the professional world. You may be an 'older' dog, but you most certainly can still learn new tricks!"­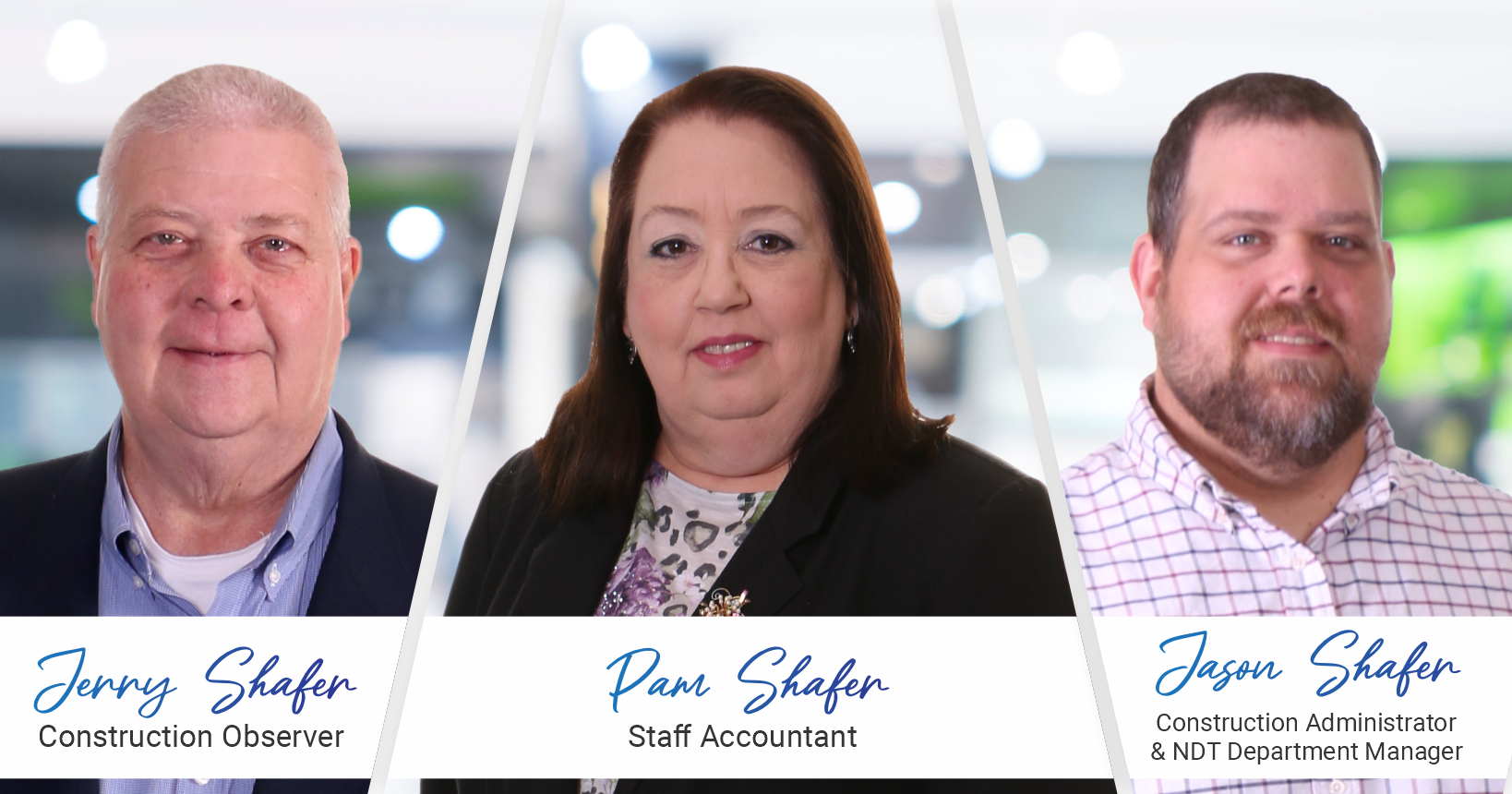 It's not often that you get three family members all working together. Do they call that a turkey, or is that just in bowling? Either way, we think it's amazing that Pam, Jerry, and Jason can all work under the same roof. It embodies the kind of hospitality and warmness we want to put into the world. We asked them the same questions.
A Family Trifecta
We talked to Pam first, and simply asked her what it was she did at BFW/Marcum. "I'm a staff accountant. My primary duties include accounts payable, credit card maintenance, employee expense payables, and payroll."
We extended the same questions to Jerry and Jason. Jerry is a contract administrator/observer on the projects engineered by the firm. Basically, he oversees that things progress the way they were originally laid out, or that, when deviations are needed, they are understood by everyone and still up to spec.
Jason is a manager of our non-destructive testing (NDT) department and a construction inspector. His main job duties include structural inspections and management of our NDT program.
NDT engineers carry out inspections using different techniques such as ultrasonic testing, radiography, magnetic particle testing, liquid penetrant testing, eddy current testing, visual inspection, and others. They operate specialized equipment and tools to examine materials and components for defects, discontinuities, cracks, or any other abnormalities.
Happy to Follow in Their Footsteps
Jason is excited to follow in his parents' footsteps. We asked Pam and Jerry how they felt about their son's pursuit of engineering.
Pam is proud that Jason brings something new to the firm. "I was excited that Jason was interested in working for BFW/Marcum. I feel it is a great opportunity for him and for the firm. I think Jason brings something to the table that broadens the services we offer our clients. I feel like it has been a good match and he is very happy in his job."
Jerry is happy to see that Jason is tapping into his potential. "Of course, as an engineer myself I was happy when Jason came into the firm. Engineering is a great field as a career. Even thought he's my son, Jason has the intelligence and logical thinking skills to be very successful."
We're All in This Together
Pam shares her simple formula for success with Jason. "Be honest and trustworthy; both in your job and within yourself. Do this and do your best and you will be happy and rewarded."
Jason is proud of his parents as they are. "My advice would be to enjoy the remainder of their careers.  I'm proud of the examples that my parents made of themselves, both in their personal lives and in their careers.  Both have shown me what it is like to have a strong work ethic and be responsible.  As they get closer to retirement, I want them to enjoy that time, because they have earned it."
Jerry's words of wisdom have a profound meaning to them, "Treat people with respect. Remember who you work for, and that the company's success is your success. Help or assist any way you can to achieve a goal." Jerry can't help but bring his family philosophy to work. We're all in this together. If we treat each other with family—and treat each other the way we want to be treated—we can't help but work well together.