Our Marketing Committee MVPs

We wrote previously (
Marketing Our Engineering
) about how much our outreach has succeeded thanks to how we've re-thought our marketing. While many engineering firms focus on their work, we keep our eye on the entire picture, from our clients, our employees, our projects, and how we communicate these principles.
To skip a couple of steps, that led to our marketing committee, which is composed of a diverse group of people. Each brings their unique perspective, honest feedback, and an eagerness to collaborate. What we've accomplished together is something wholly unique. Our committee are the MVPs of MVP (Marketing Values & People).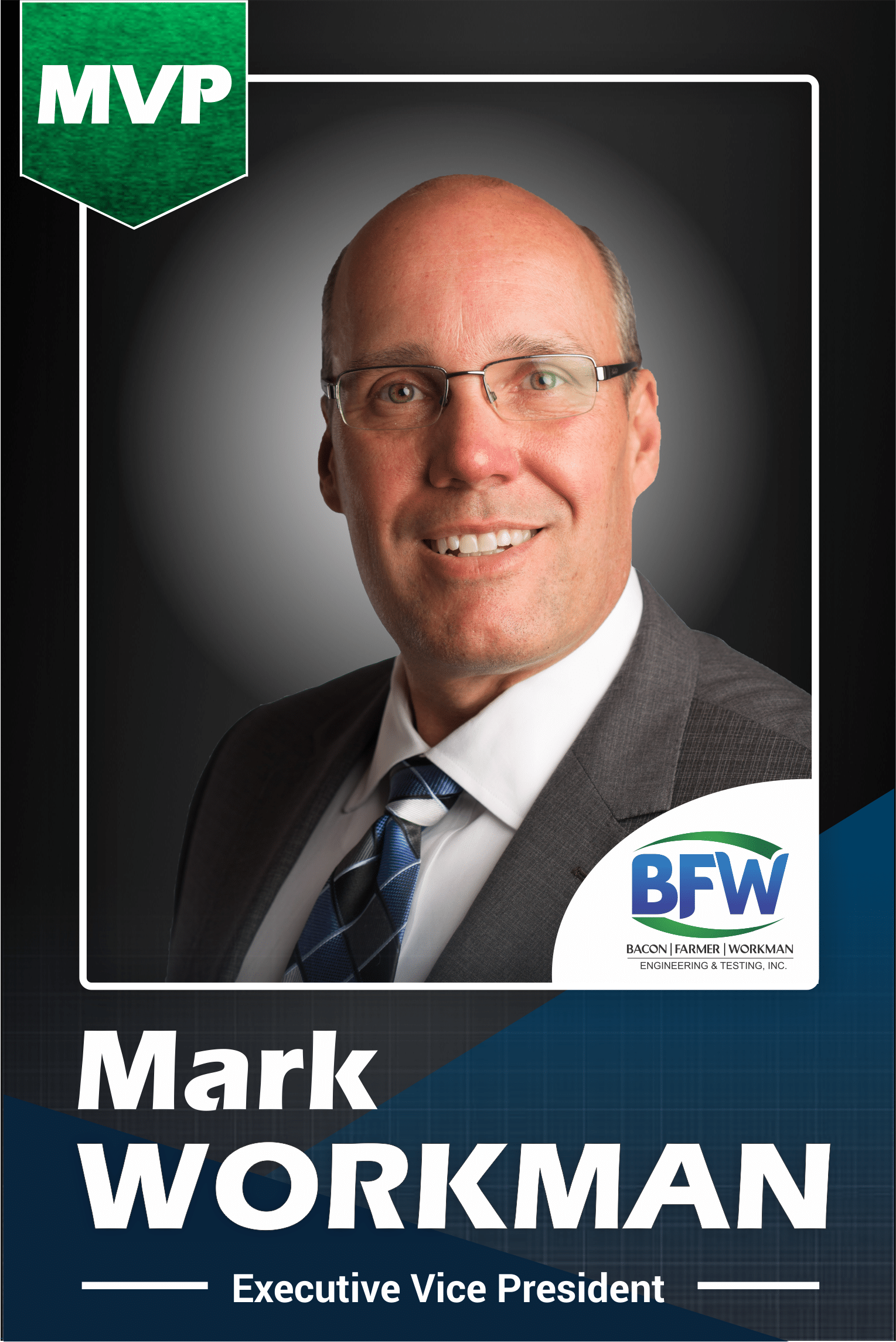 Mark Workman
Executive Vice President
What He Brings to the Committee:
My perspective is a little different than most as one of the founders of the firm and the managing partner. One aspect of my committee duties is to provide a "road map" for the vision of the future and most importantly is to "flush" out all the facts, opinions, and in the end come to a great decision.  Everyone on this committee brings valuable expertise, ideas, and opinions to the conversation.  They are passionate about our companies and our clients.  Another aspect of my committee duties is to make sure the decisions are made clear, concise, and accountability is assigned along with timelines.  I will say that you must have "thick skin" and you better be prepared in our meetings or you will be left behind.   This is an extremely talented group of professionals who push each other's limits.
The final aspect I bring to the table is unobtrusive leadership. In the end, I have a great deal of faith in our marketing staff and our engineering staff to meet the challenge. They do time and time again.  It's amazing to me they can take little fragments of information and run with it, thus achieving our goals and exceeding our clients' expectations.  I believe our success as a firm is due to the complex and meaningful relationships we build through our business.
How He Got Here:
I am one of the founding partners, so I've been here since day 1.
A Quote He Lives by:
"Treat every day like it's the first day on the job." – Anonymous
David Belt
Chief Financial Officer
What He Brings to the Committee:
While not an engineer, as CFO, I am a numbers person with many years of experience in the accounting and consulting services as well as the construction industry. I think differently than everyone else, not smarter, not better…simply different.
How He Got Here:
After several years as a partner in a CPA and consulting firm, I was CFO for a sizable construction and materials company for 14 more years. A friendship gave rise to the opportunity to draw from my professional services experience as well as my construction experience to join the BFW/Marcum engineering leadership team.
A Quote He Lives by:
"Your attitude, not your aptitude, will determine your altitude." – Zig Ziglar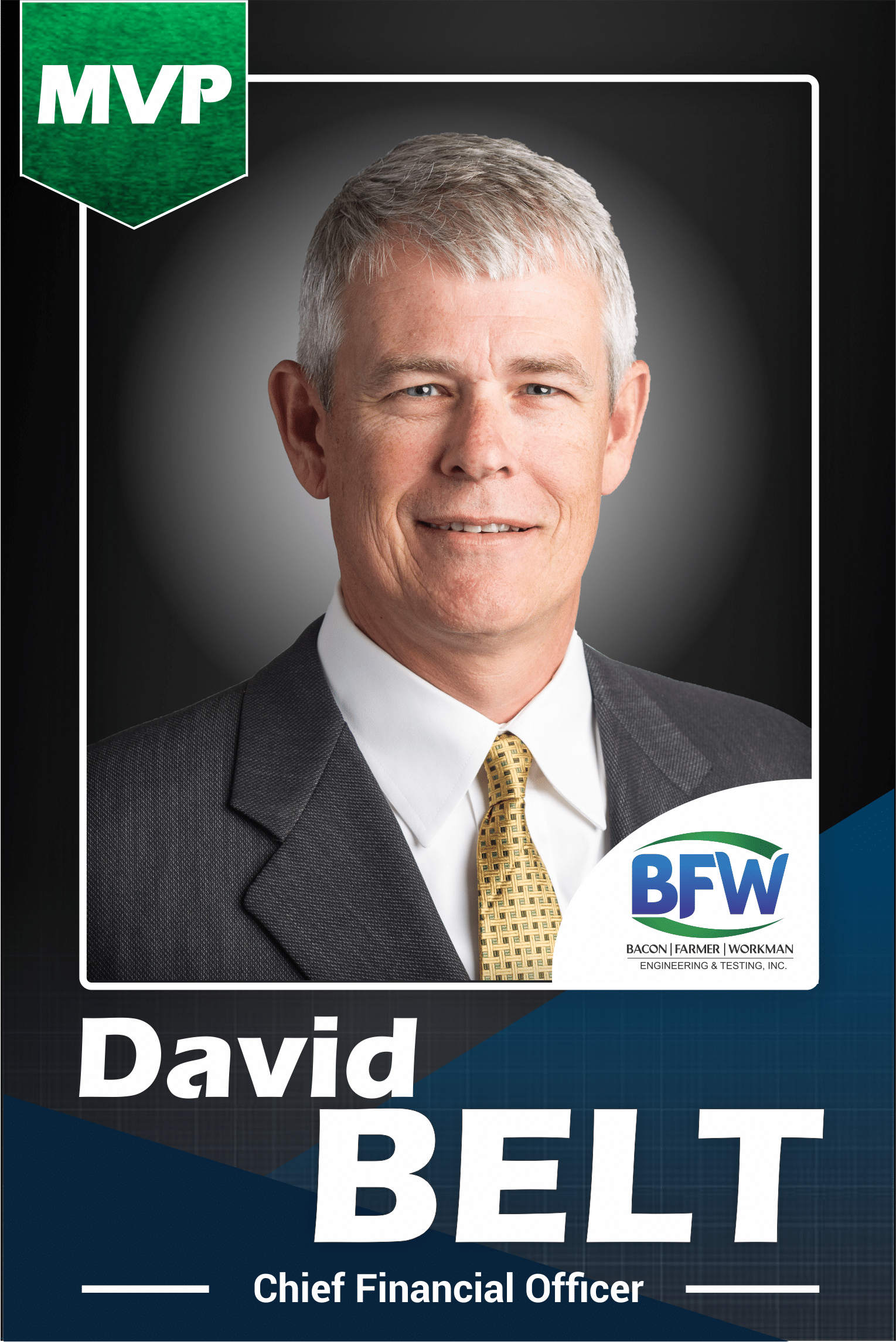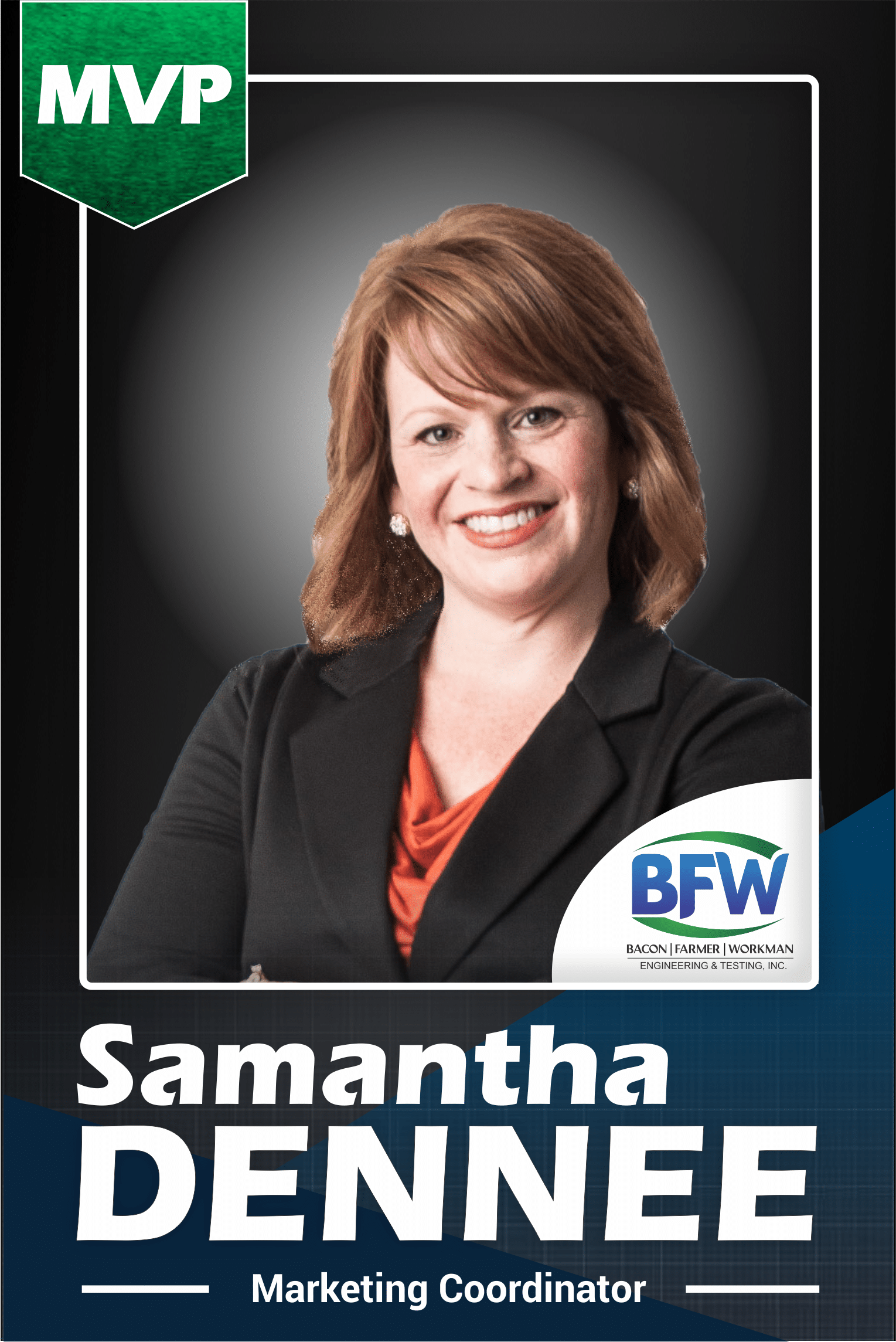 Samantha Dennee
Marketing/Proposal Development
What She Brings to the Committee:
My experience is unique in that I know about upcoming projects on the front end when we are first pursuing them through the RFQ process. When we pursue a project through the RFQ process, there is a whole lot of thought and effort put into how to best position our submittals to set ourselves apart from our competition. Whether it be through creative graphics, charts, and tables, or strategically written project approaches, every proposal we submit is hand-tailored to the client and end-user. It's exciting to be on the front lines of a project and extremely gratifying when we get the project awarded to us, knowing that all of the hard work in the proposal submission process has paid off. After working in this area for almost 20 years, no 2 days are alike. No two proposal submissions have ever been the same and that keeps things fresh and challenging at the same time. I think the marketing committee would all agree that I make the strangest faces during our meetings!
How She Got Here:
I was new to Paducah and I answered a help wanted ad in the newspaper—yes, the newspaper! That was nearly 20 years ago and that is how it was done back then, lol. I interviewed with both Mark and Chris but did not hear anything back immediately. I was pretty unhappy in the job I was in so I just picked up the phone and called to follow up and the rest is history. There has been a longstanding joke between Mark and myself in that I am not the person he thought he was hiring, lol. That when I showed up on my first day he was expecting someone else!
A Quote She Lives by:
"Believe you can and you are halfway there." – Teddy Roosevelt
Lance Allison
Business Development
What He Brings to the Committee:
I'm always looking for new and innovative ways to promote the company. Relationship building and making connections are one of the skill sets I have that translates very well into content marketing. My background in association management through my years as the president/ceo of two chambers of commerce give me a unique view on how to market to clients and to the general public.  Marketing an engineering firm is no easy task due to the technical nature of the industry. Engineering is, on its surface, very foundational and not so flashy. It takes a unique and persistent group of people to highlight our services and our minds in a way that make us stand out from other firms.  But most of all, I bring charm to the table.
How He Got Here:
I have a Master's Degree in Organizational Communication. An opportunity to build upon a new position in business development opened up with the firm and I felt I'd make a great fit. Over the years I have developed the ability to build relationships and retain clients in both small business and the chamber of commerce. The challenge of bringing my skill set into an industry I was unfamiliar with intrigued me. Over the last 4 years, additional PR/Social Media duties have been incorporated into the job.
A Quote He Lives by:
"If you just communicate you can get by. But if you communicate skillfully, you can work miracles." – Jim Rohn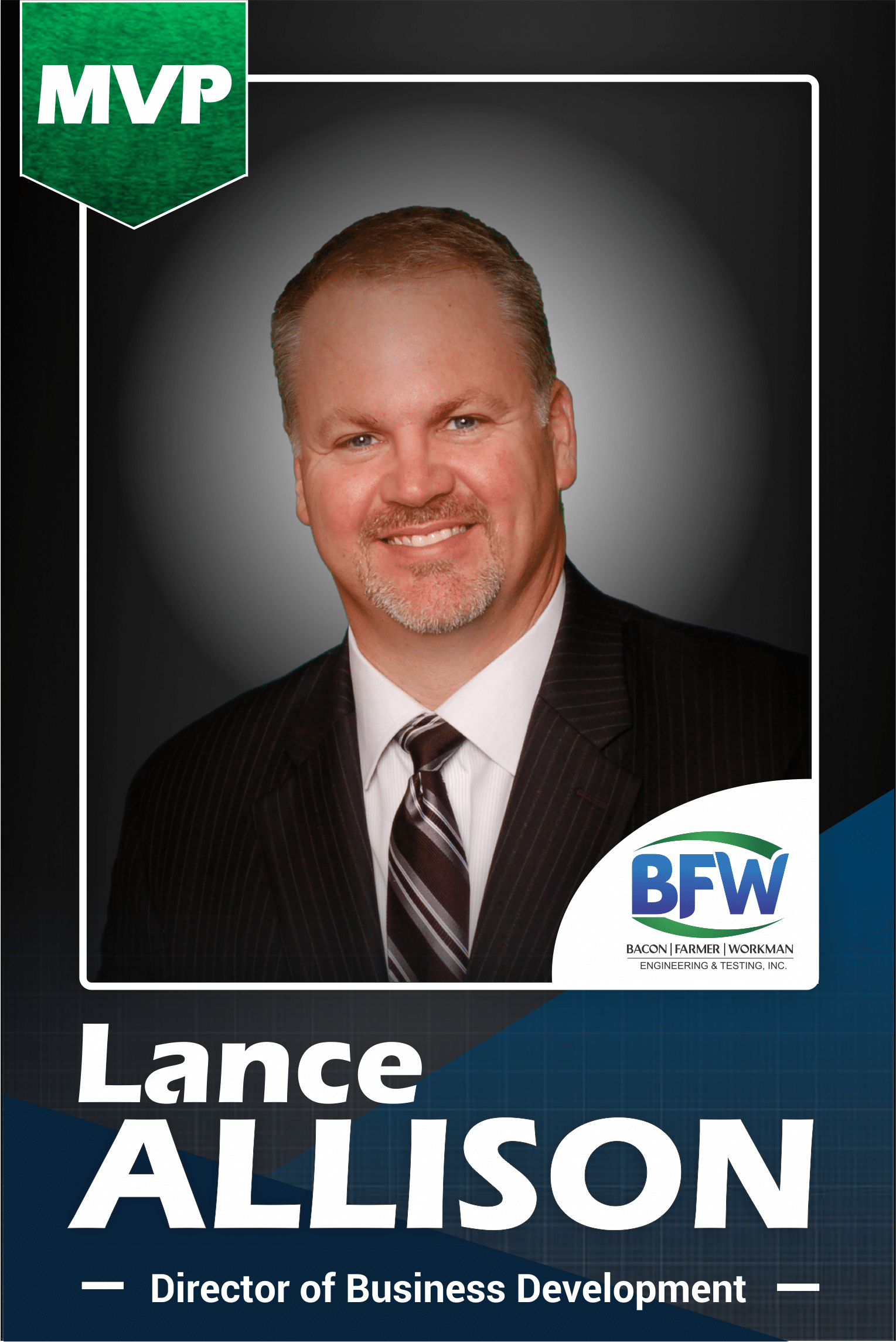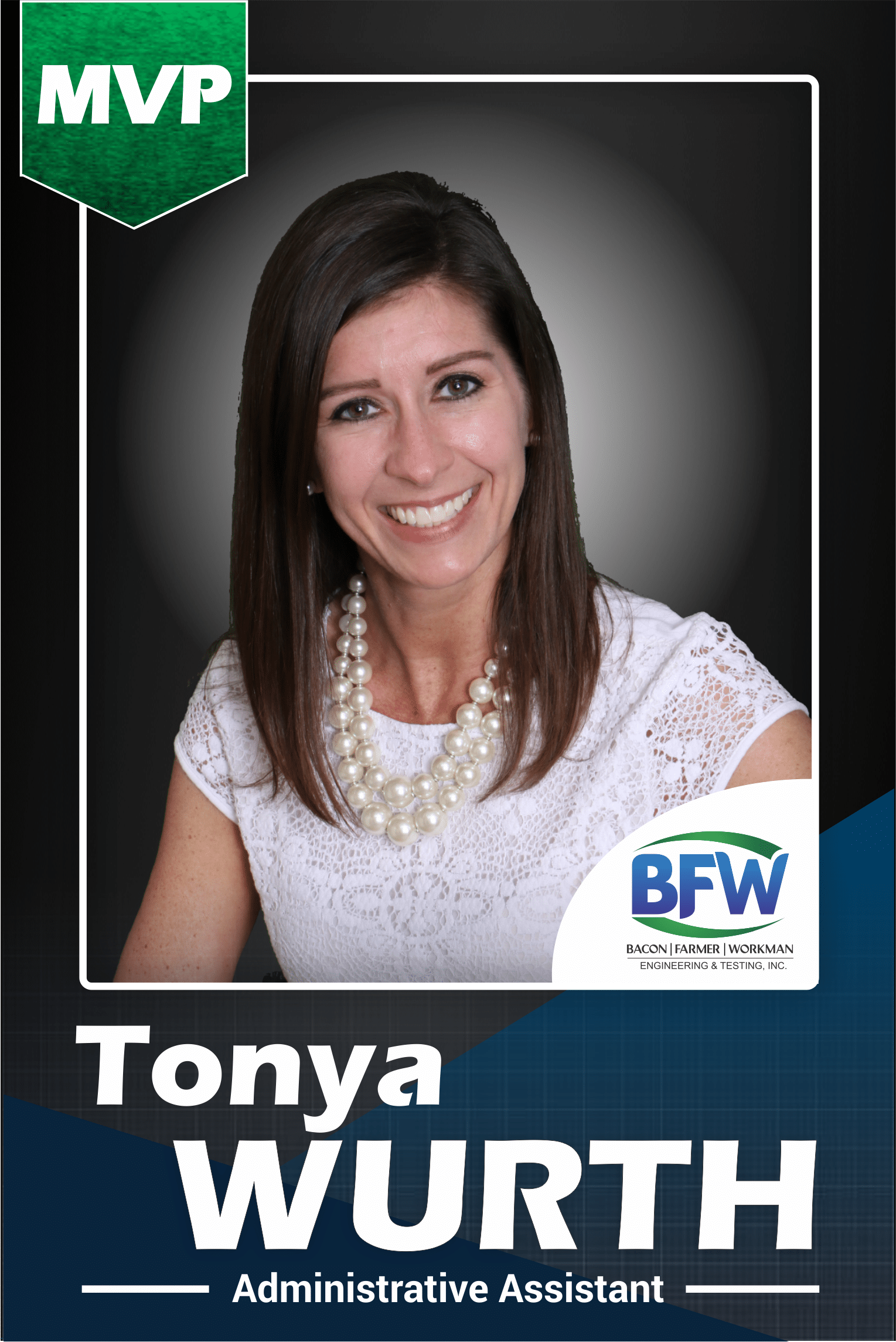 Tonya Wurth
Administrative Assistant
What She Brings to the Table:
The unique perspective I bring to the committee is my creativity, vision, and attention to detail.
How She Got Here:
Previously, I had worked for a company for 19 ½ years until they closed the local distribution center. I was on the search for a new company to work for. A friend of mine told me about the administrative assistant position at BFW. I applied, got the job, and will be with the company for 3 years come this September.
A Quote She Lives by:
"Our attitude is the primary force that will determine whether we succeed or fail." – John Maxwell
Craig Guess
Business Development
What He Brings to the Table:
I am always willing to try something new and take on a unique perspective. I love to press the boundaries of my comfort zone. After all, the worst thing that can happen is you get told "no".
How He Got Here:
I saw BFW/Marcum as an opportunity to be part of a great team and grow my expertise into new markets. I was inspired by the leadership, which has such a clear vision of the future. The rest is history.
A Quote He Lives by:
"If you love your work, you'll be out there every day trying to do it the best you possibly can, and pretty soon everyone around will catch the passion from you – like a fever." – Sam Walton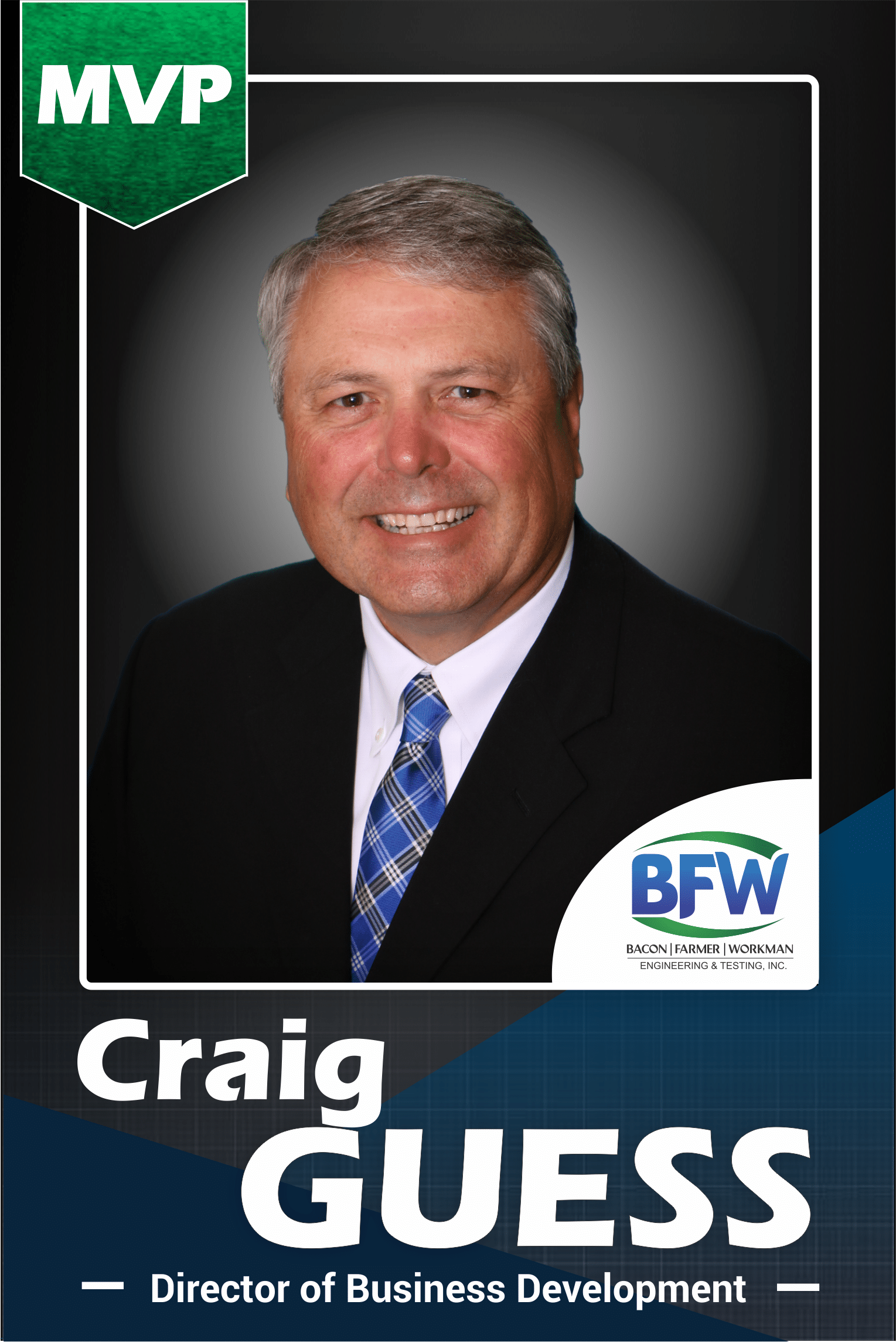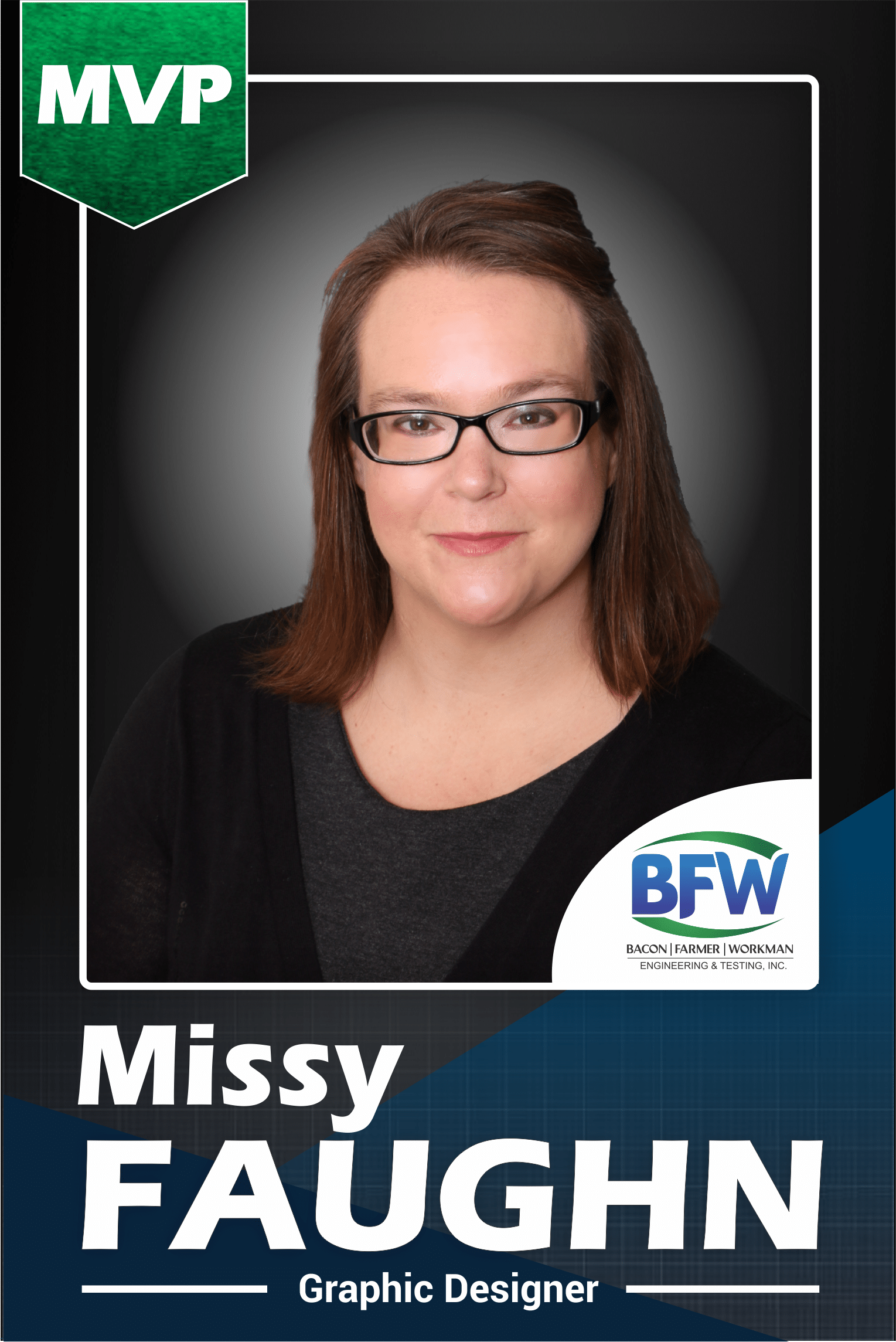 Melissa Faughn
Graphic Designer
What She Brings to the Table:
I bring my personality first and foremost—I'm the loud and creative member that enjoys playing in art programs and bringing conceptual ideas to life artistically. In a conservative engineering world, I am always looking for new ways to innovate through design. I like to innovate in my kitchen, too; I love to find new ways to create healthy versions of classic comfort foods.
How She Got Here:
I was looking for full-time work and a change of pace after becoming a mother. I had ten years experience in advertising but was hired at BFW/Marcum as an Administrative Assistant. I saw an opportunity where the firm could benefit from my creative skills and made mention that I could create our marketing pieces. Fast forward a year later, a new Administrative Assistant was hired, and graphics became my sole responsibility.
A Quote She Lives by:
"Be someone who makes everybody feel like a somebody." – Anonymous
Scott Heavrin
IT Manager
What He Brings to the Table:
My technical background is valued more than I would have guessed concerning our marketing efforts. From our portable touch screen display to market our services, to our website, and other efforts involving the internet or technology in general, I've been able to recommend direction or clarify capability for our team. In a previous job, I designed logos and signage for customers providing me an insight into graphic appeal and presentation.
How He Got Here:
I gained tremendous experience in IT from my previous employer making service calls to our customers all over the region. I began to desire to take my skill set and experience to a company I could help grow through IT operations. BFW/Marcum was growing, needed someone of my experience, and it was a great transition for me. I've greatly enjoyed seeing this company excel and satisfy its clients.
A Quote He Lives by:
"Success is not final, failure is not fatal: it is the courage to continue that counts." – Winston Churchill