"Diversity: the act of thinking independently together."
This quote is from the famous entrepreneur and Forbes magazine founder, Malcolm Forbes. It's a clever and paradoxical play on words but a concept that rings true in any workplace. Diversity isn't just a notion or a quota; it's a necessary component to a highly adaptable team.
Without diverse backgrounds and different perspectives, you lose the ability to step outside of the standard circle of thinking. As a company, that loss is felt deeply even if its sting may feel subtle at first. BFW/Marcum understands that there is a place for everyone from every background. Our employees and their histories are one of the pillars of our success. We'd like to introduce a few of them and how they got their start in the industry.
Diana Radcliffe, Project Manager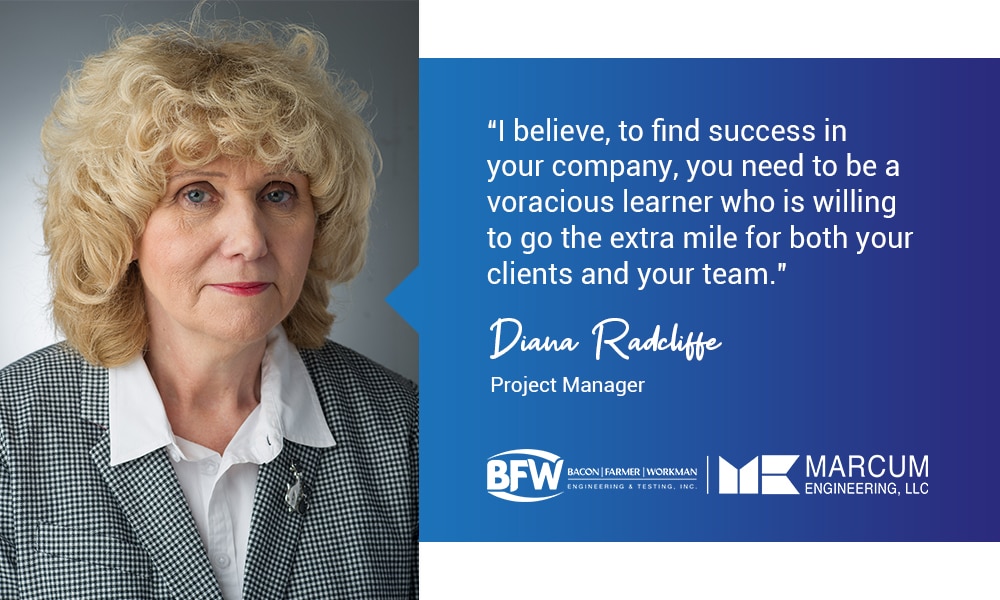 My history in the industry begins in Eastern Kentucky at the University of Kentucky where I received my Civil Engineering degree. After graduation, I spent twenty-eight years with the Kentucky Transportation Cabinet in the Division of Maintenance. I can proudly claim to have worked in almost every county in the state, from Paducah to Pikeville. With this experience, I bring an appreciation of the variances and complexities found in the state of Kentucky, from the mountainous eastern terrain to the farmlands of the west, and the urbanized regions of central and north Kentucky.
While in that role, I bumped elbows with both Tim Choate and Mike McGregor many times on roadway rehabilitation and maintenance projects. Tim eventually joined BFW/Marcum, and I continued to collaborate with him across various teams in the western Kentucky region. I couldn't help but observe the outstanding culture over at his new firm.
I retired from KYTC and around nine months later BFW/Marcum approached me with a job offer, and I was flattered that they appreciated the experience I could bring, so I accepted the position.
When I first started, it was common to hear "woman" as a qualifier next to my title as an engineer. In the 1980s, there were very few females in my field. Even then, my response to my peers was the same, "I am an engineer who happens to be a woman." Throughout my career, I've worked hard, provided great service to my clients, and dedicated myself to lifelong learning. I've fought for respect in my field and bring all of these qualities to my profession.
My focus is primarily on construction contracts, contract administration, construction estimates, and proposal preparation. I was the Director of Construction Procurement for the Kentucky Transportation Cabinet where I oversaw all aspects of statewide construction bidding, totaling over a billion dollars a year. I also managed contract maintenance projects involving slide repair, concrete (JPC) pavement, preventative maintenance, traffic striping, traffic signs, replacement guardrail, and emergency projects funded by FEMA and ER. Each year, more than 200 proposals were prepared for the construction bid letting. These projects included construction cost estimates, drawings, special notes, specifications, maintenance of traffic, proposal documents, and the QA/QC.
I believe, to find success in your company, you need to be a voracious learner who is willing to go the extra mile for both your clients and your team. In our industry, it's all about collaboration—The transportation team has to work seamlessly with the Civil/Site, Structures, Geotechnical and other departments to share and collaborate during all stages of a project from design to construction. Having great internal teamwork provides a more efficient project development process which benefits our clients daily.
BFW/Marcum makes it easy for me to inspire confidence in myself and my colleagues. We're a diverse team of knowledgeable people, all with our perspectives that we can lend to every situation. Our company recognizes our success, and it really does feel like a family. We're always growing but we still feel close.
Josh Alstat, Project Engineer II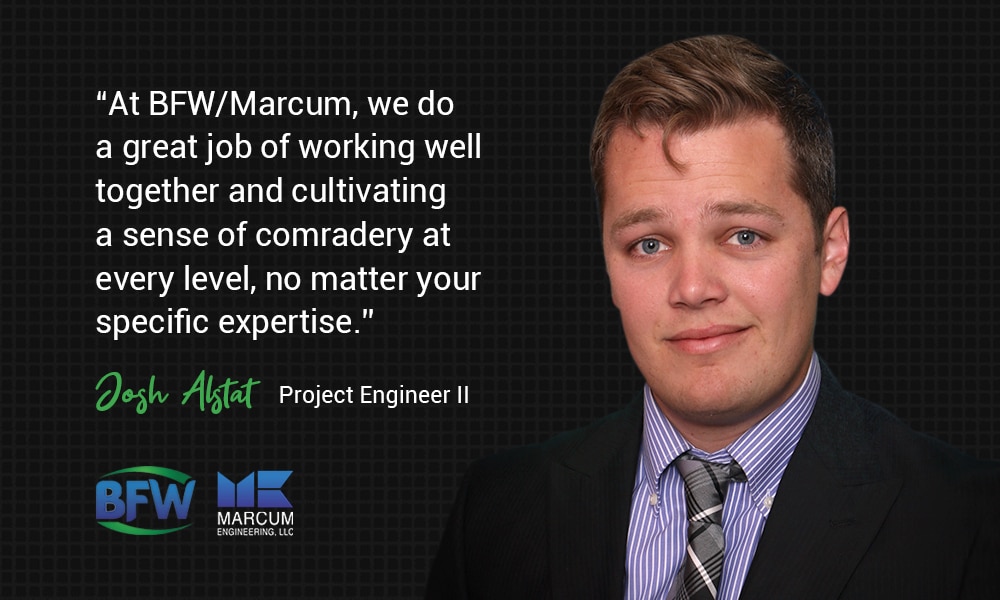 My introduction to the engineering industry was at Southern Illinois University-Carbondale, where I received my Bachelors in Civil Engineering. While working toward my degree, I was awarded an internship with the Illinois Department of Transportation (IDOT) as well as the Missouri Department of Transportation (MoDOT) where my focus was in bridge and highway engineering.
From there, I received a research assistant position as a junior in college, where I worked alongside my engineering professors on engineering research. It was shortly after that that I first heard of BFW/Marcum. They were at a job fair at my school, and I couldn't help but notice that the firm was one of the few in the region with a structural engineering department, which is my specialty.
As a senior, I was offered a co-op position through BFW/Marcum where I worked on real-world engineering projects across multiple states. The experience was priceless; I graduated from college with more experience than most of my classmates, and after graduation, I was offered a full-time position with the firm. I've been with the company for four years now.
I've found success through the company through willingness—the willingness to learn, work hard, and collaborate with others. Most of all, you need to have a willingness to listen. I quickly learned after graduation that what I thought I knew paled in comparison to the knowledge of my colleagues. Their real-world experience helped me immensely in the field. All I had to do was be receptive to their advice.
Our company is one that rewards people who aren't afraid to stick their necks out. Often, I've found that the best practice is to "dive in." That doesn't mean making rash decisions. It means following your teammates into challenging situations and learning from the results and then guiding each other with our individual perspectives.
At our firm, you need to work hard but smart. Part of that equation is your ability to collaborate with others. Engineering and construction is a multi-faceted industry. Often, multiple disciplines under the same company need to work together, pooling their different skillsets together to achieve a common goal. Methodologies may vary greatly, but we need to understand that we're all in this together. At BFW/Marcum, we do a great job of working well together and cultivating a sense of comradery at every level, no matter your specific expertise.
It's hard to believe it all started at a job fair. Today, I'm a Project Engineer II and on-track for Project Manager. I'm also currently working toward my Professional Engineering License as well as my Structural Engineering License.
Frederick Mensah, Bridge Engineer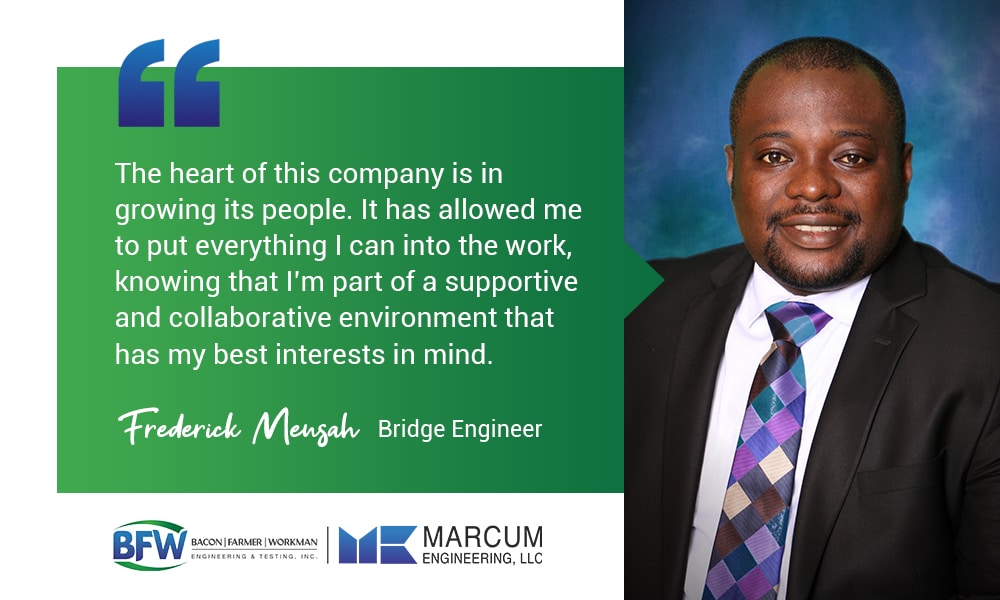 My interest in the industry began long ago, but it first started to feel real in 2008 when I obtained my Bachelor of Science Degree in Civil Engineering from Kwame Nkrumah University of Science and Technology in Ghana. Since then, I've received my Master of Science Degree in Civil Engineering from Southern Illinois University-Carbondale (SIUC).
I can proudly say I've been involved in the construction of 170-miles of roadway, more than eighteen bridges, twenty buildings, and over 13,000 square yards of parking facility in my eleven years in the engineering and construction industry. I spent the first ten years of my career in Africa, leading the design and construction of regional roads, bridges, buildings, and parking lots.
My passion has always been in construction. I've always wanted to make the world a better place through infrastructure enhancement—it's a childhood dream of mine. Every day I wake up excited to come to work and continue that dream.
After my graduation from SIUC, I was offered a position at BFW/Marcum. Since then, I've been working in the Springfield office as a Project Bridge Engineer. In that role, I design regional bridges of all types as well as box culverts and retaining walls. My career with the firm has been as exciting as it is educational. I am currently designing the main dual structure of I-74 over I-57. The project is two-span plate girder bridge with back-to-back abutment length of 275-feet. The out-to-out deck width varies from 70-feet to 75-feet. The bridge has two flared girders at different angles. It is a challenging project, and I am having a lot of fun designing this bridge.
To find success at BFW/Marcum, you need to understand how to work as a team. Beyond that, you need a "can-do" attitude—the type of demeanor that motivates you to seek out challenges every single day. Our goal at the company is to identify and meet our clients' needs, which are stipulated by their budget and time constraints. It's a never-ending yet rewarding challenge.
"All for one, one for all." I always think of those words, from Alexandre Dumas's book, The Three Musketeers. If anything summarizes the culture at BFW/Marcum, it's that—we're all in this together, so we're always helping each other. It's that simple.
In our industry and our region, you're seen as fortunate by your peers if you're offered a job at BFW/Marcum. It's a great firm that cares about its people and their families. I'm still learning about all of the programs I have access to.
Most of all, I feel that I have plenty of opportunity at the company to grow. I'm not just referring to promotions and raises within the company—many of my colleagues have more than twenty years of experience in the industry, and they're more than happy to share their knowledge. A typical day on the job is one where I learn one or two things you'd never learn in a classroom.
Initially, I was worried about the differences between the industry I was used to in Africa and the American industry—things like the metric system were obvious—but even the approach to design differed. However, the in-house training I received helped me immensely, not just in teaching me the fundamentals of the American engineering methodology, but in giving me the confidence that I was adaptable to those differences with just a little bit of work.
I've found that the heart of this company is in growing its people. It has allowed me to put everything I can into the work, knowing that I'm part of a supportive and collaborative environment that has my best interests in mind. The firm even helped me in acquiring an American Project Engineering License, which can be tedious for someone who was educated outside the American system. That support alone made me feel at ease and as a part of the family.