Infrastructure: How it All Fits Together

There's a lot of talk in the media about infrastructure. It's a hot-button issue and one that's important to  American people because every single one of us depend on it in some way. Whether we're commuting to our work in a car, bus, train, or even by plane, infrastructure informs the way we live.
The truth is, much of the American infrastructure hasn't been updated for a half-century or more. Yet, the pace at which we're improving the landscape is increasing. We're ready to help. We sat down with a few of our engineers most ingrained in our infrastructure projects and picked their brains.
It's the Beehive and We're the Bees
Mike McGregor, Transportation Engineer/Project Manager, understands the core of infrastructure. He puts it well. "In my mind, infrastructure is like the honeycomb in a beehive. For a bee colony to be successful, it must have a hive, but it must also have an intricate comb that makes the hive a functional place to produce honey.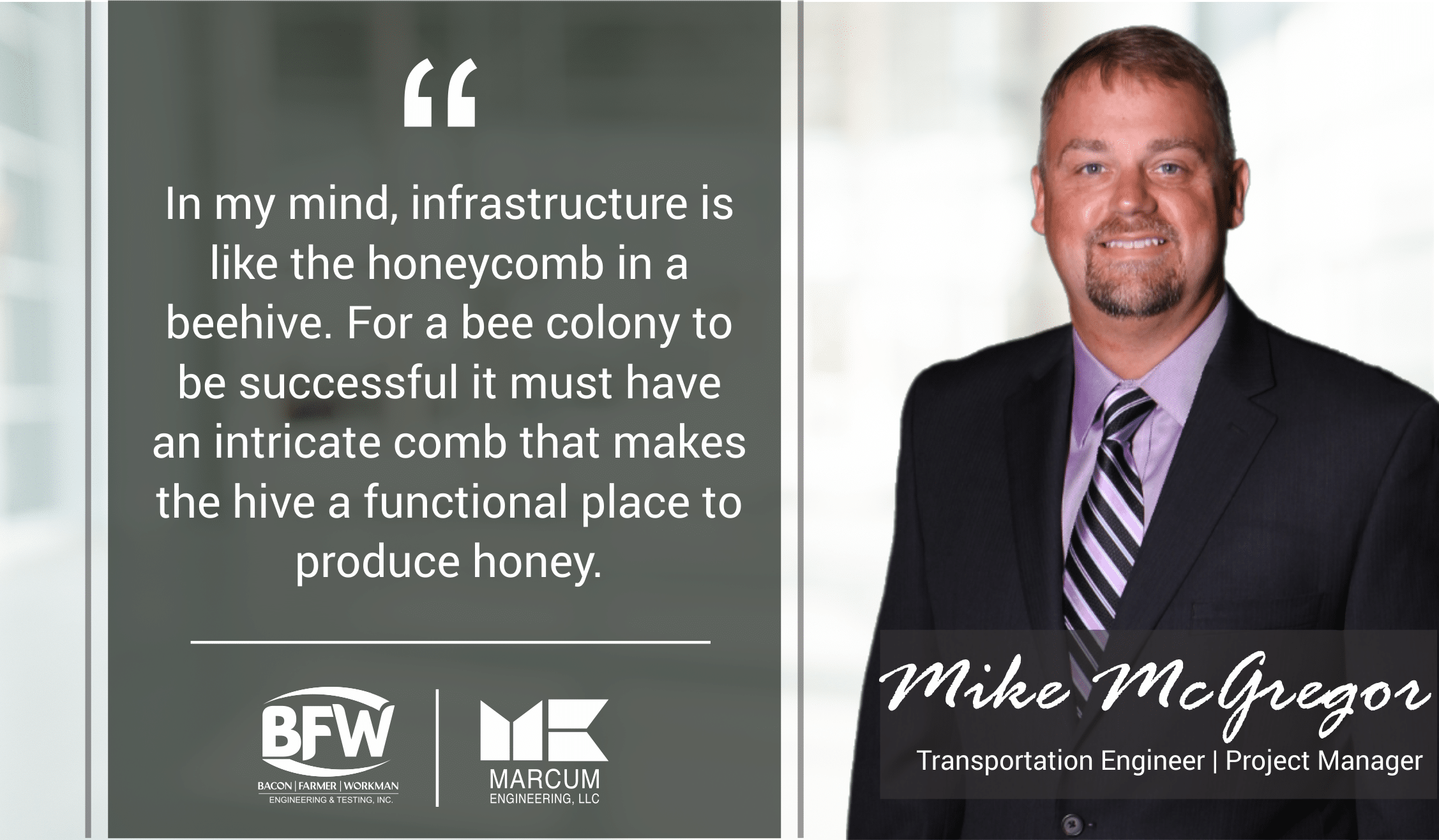 Our world could not function to its full extent without robust and varied infrastructure through which goods and services are created and consumed."
Movement is at the heart of a successful society. Infrastructure facilitates that movement. Without it, you won't get from A to B, C, or anywhere else.
We Love Transportation
If you're a blog reader, then you know that we love transportation engineering. We also love to talk about it. Infrastructure and transportation engineering go hand-in-hand, so it's especially relevant to the expertise of our firm.
Mike defines infrastructure as it pertains to transportation engineering like so, "transportation infrastructure encompasses, roads, bridges, airports, rail lines, river, and blue water ports, as well as, subways, buses and other forms of public transit. The movement of people and goods from one place to another by any means requires transportation infrastructure."
With so many things on the line, it's important to have a firm handle on things (pun intended).
Greg Smothers, Project Manager/Phase III Manager, says that our region in particular has unique needs when it comes to planning its infrastructure. "Probably the biggest thing in this area that is different to most parts within the U.S. is our proximity to the New Madrid fault, which results in increased requirements primarily for the design of bridges, as well as roadway and other structures due to the likelihood of severe earthquakes. Here at BFW/Marcum, we have several extremely well-versed licensed structural engineers that take that into account as they design projects in this region. It is so important to ensure the public's safety should an event such as an earthquake occur, whether it be on a major highway bridge, on campus, or at a high school in the area."
We asked Greg how he keeps a project running smoothly, even with all of these challenges. "It comes down to doing the hard work to get the project done properly and as timely as possible. I also keep open communication with the clients we serve to make every effort to meet all their needs. In the end, if they come away pleased with the work we have done, everyone wins!"
Transportation Infrastructure is Not One-Size-Fits-All, but it Has to Work for Everyone
Barry Horst, Transportation Engineer/Project Manager loves the thrill of a good challenge. He sees every client, every roadway, and every bridgeway as an opportunity.
"My focus is to do my best to have our clients feel like they are the only persons we're working for. This can be difficult because of all the varied projects we have going on, but when things are trying to pull me in many different directions, I try to fall back on this, because our ultimate goal is to satisfy all the clients we work with.
Every client has different needs and expectations, but their primary focus is successful completion of the job we are collaborating on. My approach to each is tailored to those needs and expectations."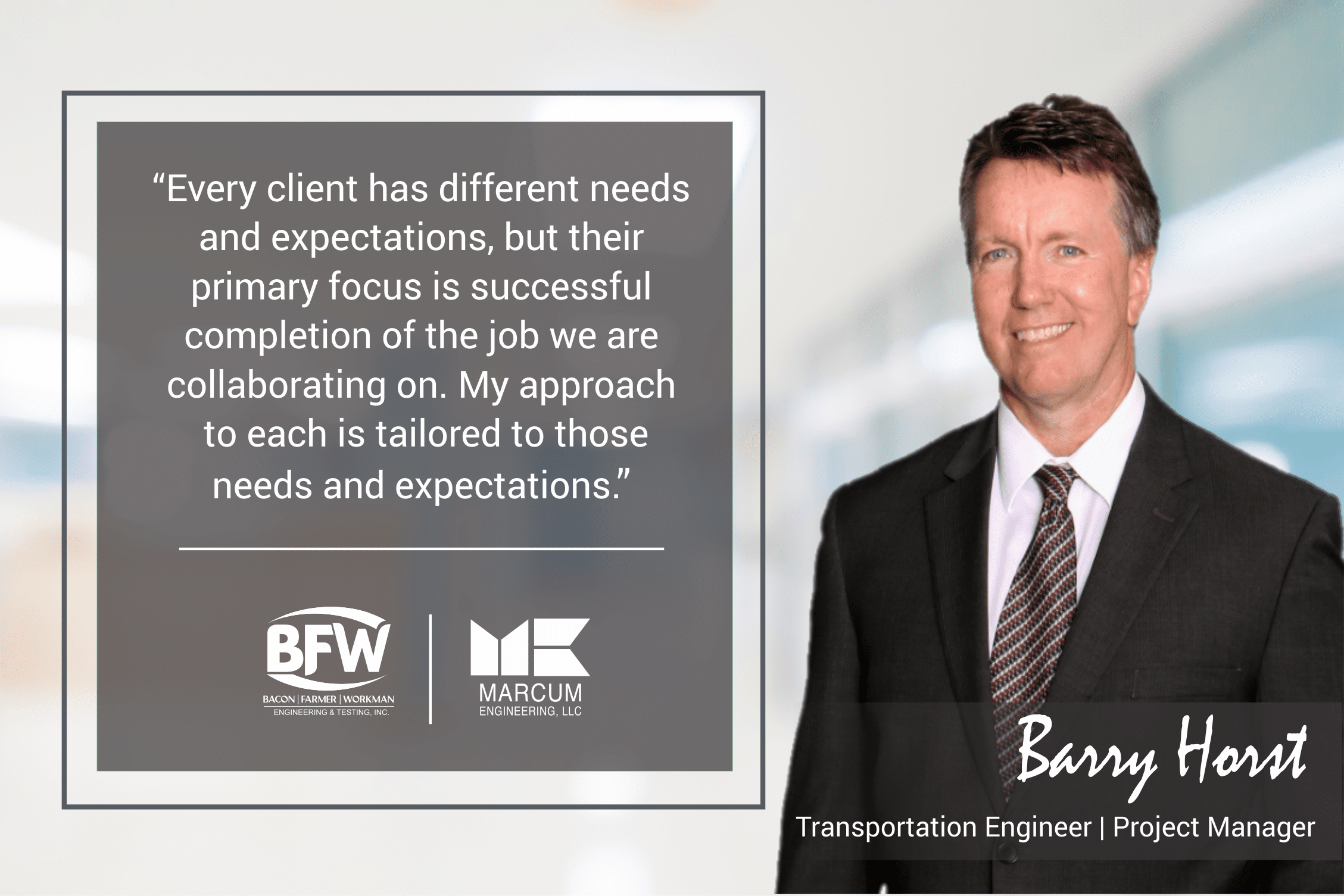 Barry understands his clients, first and foremost. He listens to their needs and works with them on their level. "There are unique challenges ranging from the expectations of the client to the environment in which the project exists, to timelines expected for project delivery. Some clients are very "hands-on" and want to play a role in many project decisions, while others rely on us to just get things done and not bothering them with the details. Most clients are somewhere in between.
Diagnosing those expectations early on is important in assuring client satisfaction. In terms of the project itself, it would seem that a structure built just about anywhere in this part of the country would be like any other. While the building blocks (concrete and steel) are the same, the way the blocks are arranged is very important so that we can provide a safe and usable facility, while being mindful of its impact and effect on the surrounding environment and users."
For our safety and yours, transportation engineering requires a heightened ability to listen, communicate, and strategize.
Success, Failure; It's All a Bridge to Somewhere
You learn from your successes and your challenges. That's something we live by at BFW/Marcum. We asked Greg how he felt about the pressures and challenges of transportation infrastructure projects. They're often big, complicated, and full of caveats.
"I look at it from the vantage point of success is what we are here to do for our clients. I do not necessarily celebrate success as much as I strive to make it a matter of practice. When someone seeks our firm out specifically, I want them to know that things are going to go well and they can rest easy knowing we will get their project ready smoothly and successfully for them.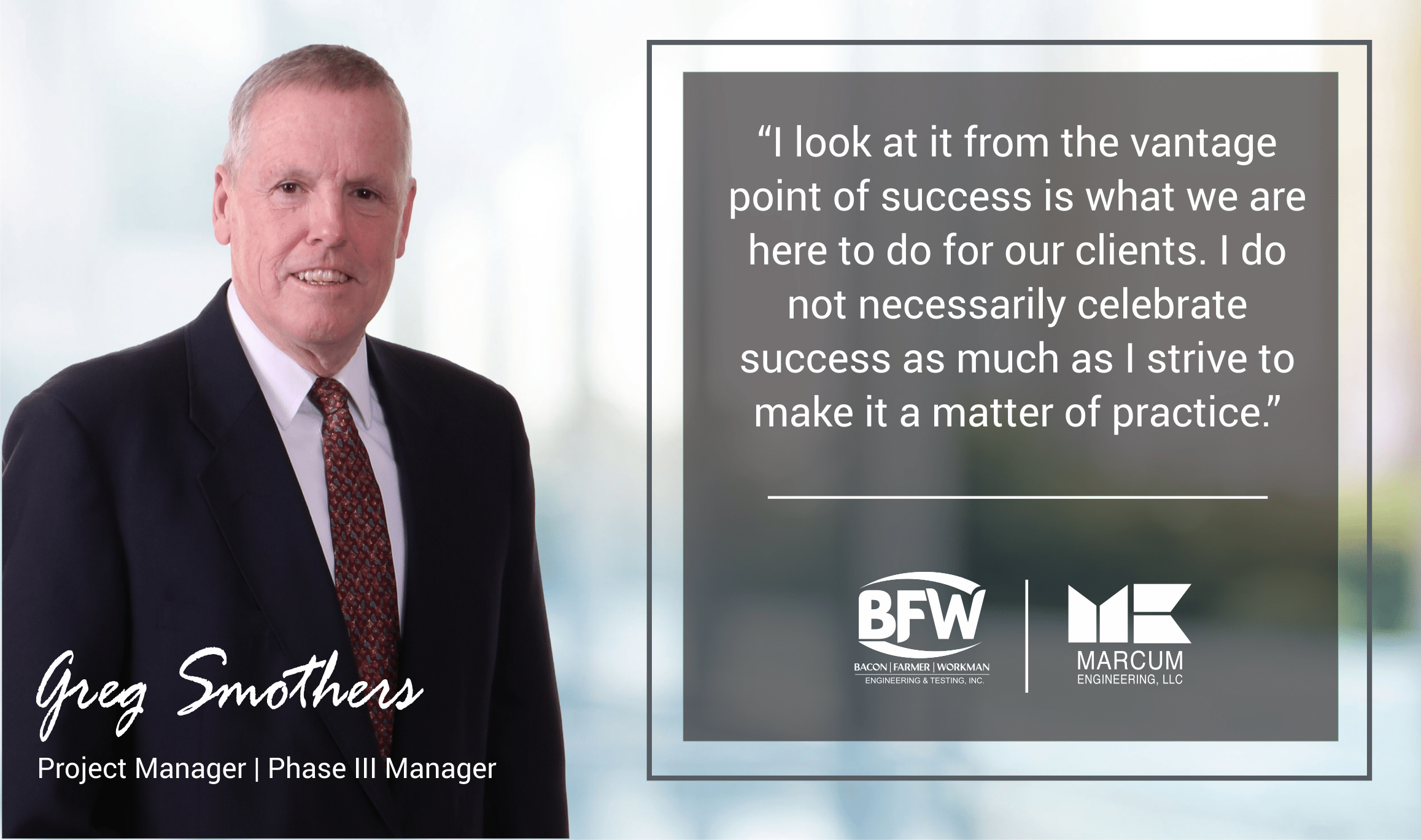 As a project manager, I think most engineers are as hard on themselves as anyone because they understand the responsibility that comes with this role. That said, anytime any type of issue comes up on a project, we go thru a process that looks at how things unfolded, what could have been changed to mitigate the issue, and then lastly resolve yourself to be more aware next time. You do have to move on, but as we all know most things do provide something we can learn from and grow as engineers!"
We'll Build That
Mike is quick to point out that there is no project too complicated or too pedestrian (our second and final pun, also intended).
"BFW/Marcum is highly qualified to provide engineering services for designing many forms of transportation infrastructure. We provide conventional surveys, mobile LiDAR survey, hydraulic/hydrologic engineering, traffic engineering, structural engineering, urban and rural roadway design, and bicycle & pedestrian path design.
BFW has designed substantial award-winning transportation projects in Kentucky, Tennessee, Illinois, and Missouri."
We might win awards, but our focus is on what we build for our community. You might not even notice our work as you drive your car over a bridge we planned. If not, then it's working by design.