Exploring the Lighter Side of Engineering

With any engineering process, you start with what we call an "MEP plan", which stands for "mechanical, electrical, and plumbing plan". These are, in a simplified way, a summarization of the three primary components that make a building's operating systems.
We wanted to sit down with Greg McCord, Senior Electrical Designer, and talk to him about the "E" in our "MEP" process. Specifically, we wanted to explore Marcum's use of intelligence already embedded within Autodesk Revit as pertains to lighting and 3D rendering. This use has offered a valuable, visual tool for communicating design intent with the client and architect via presentation quality graphical representations of what a space might look like with – "the lights turned on".
It All Starts with a Plan
Our first question to Greg was when does lighting factor into the design? To many, it might seem like the polish at the end of a project. Greg was quick to explain that lightning is something engineers plan for from the very beginning.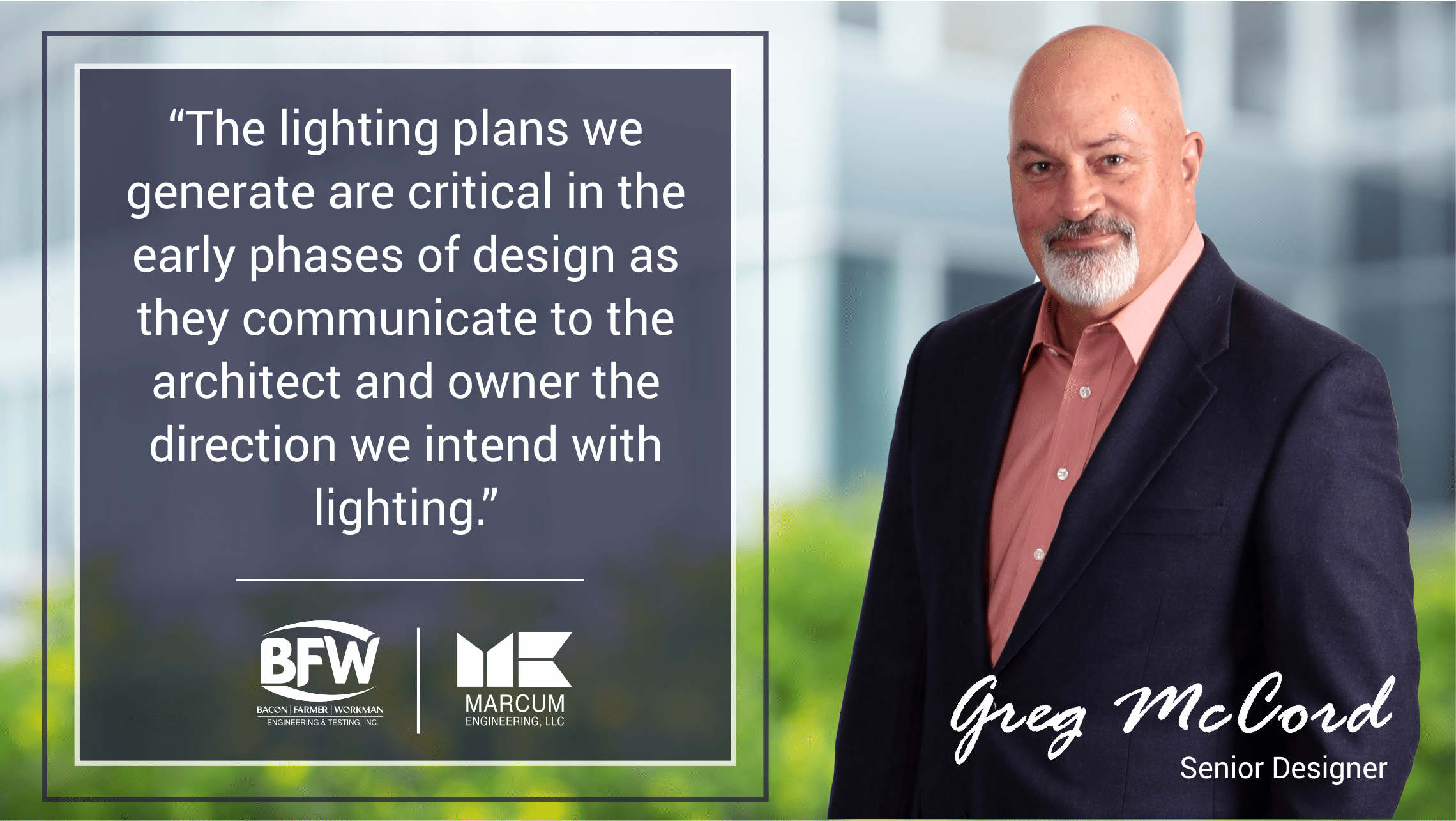 "The lighting plans we generate are critical in the early phases of design as they communicate to the architect and owner the direction we intend with lighting. The early phases are very common in the industry and are identified as SD (Schematic Design) and DD (Design Development).
These two stages are the programming phases of the design process where collaboration and feedback occur between architect, owner and engineer and a clear scope of work is developed."
To put it simply, lighting is an integral part of not just the infrastructure of a building, but a pivotal collaborative feature between us (the engineers), the architects, and the clients. These early-stage conversations don't simply establish the where and what of lighting a building, but set expectations and standards for the entire project.
What You See is What You Get
It used to be that lighting was a feature of a blueprint. While blueprints are still in use, BFW/Marcum takes its planning a step further through the use of Autodesk Revit. Using this software, we can render a client's lighting in 3 dimensions, right down to the fixtures and finish; what you see is what you get. Greg explores the benefits of this technology.
"Because Revit is a 3D rendering tool, our offerings to the architect and owner can expand with an ability to communicate design intent on a higher, more visual level. It's a simpler and more visceral collaborative tool.
During the programming phases (the aforementioned SDP and DDP) where critical decisions are being made, we not only can present plans but now have an additional tool where the architect/owner can see what an actual room may look like with the proposed lights turned on and exactly how they should look in the finished building.
We flip the building into a 3D view, and with the intelligence embedded in the 3D fixture models, flip the light switch on. This view would be converted into a JPEG file and can be presented along with a set of plans. To be cliché, a picture is worth a thousand words, and Revit offers this additional tool that can help solidify decisions in the early stages of design.
This ability to render photo-realistic lighting offers the engineer another tool with which to make decisions. Viewing the real-time 3D-rendered lighting helps to determine the placement or count of lights that will offer the best distribution.
BFW/Marcum has taken this process a step further, investing further in a third-party tool that enhances these Revit renderings. Once the Revit file is processed by this other tool, it renders an even more photorealistic image of the space. To the layman, the rendering could be a photograph of the finished product."
Bringing 3D Architecture to Life
Greg is quick to explain that, while 3D tools are nice to have, it's more about how you use them. A firm like BFW/Marcum still uses its intuition and expertise, built over decades, to make practical, real-life decisions concerning lighting. However, even we can't deny that a 3D rendering translates best when communication between client and architect. He thinks of Revit as a communicational bridge that doesn't require as much technical experience to cross.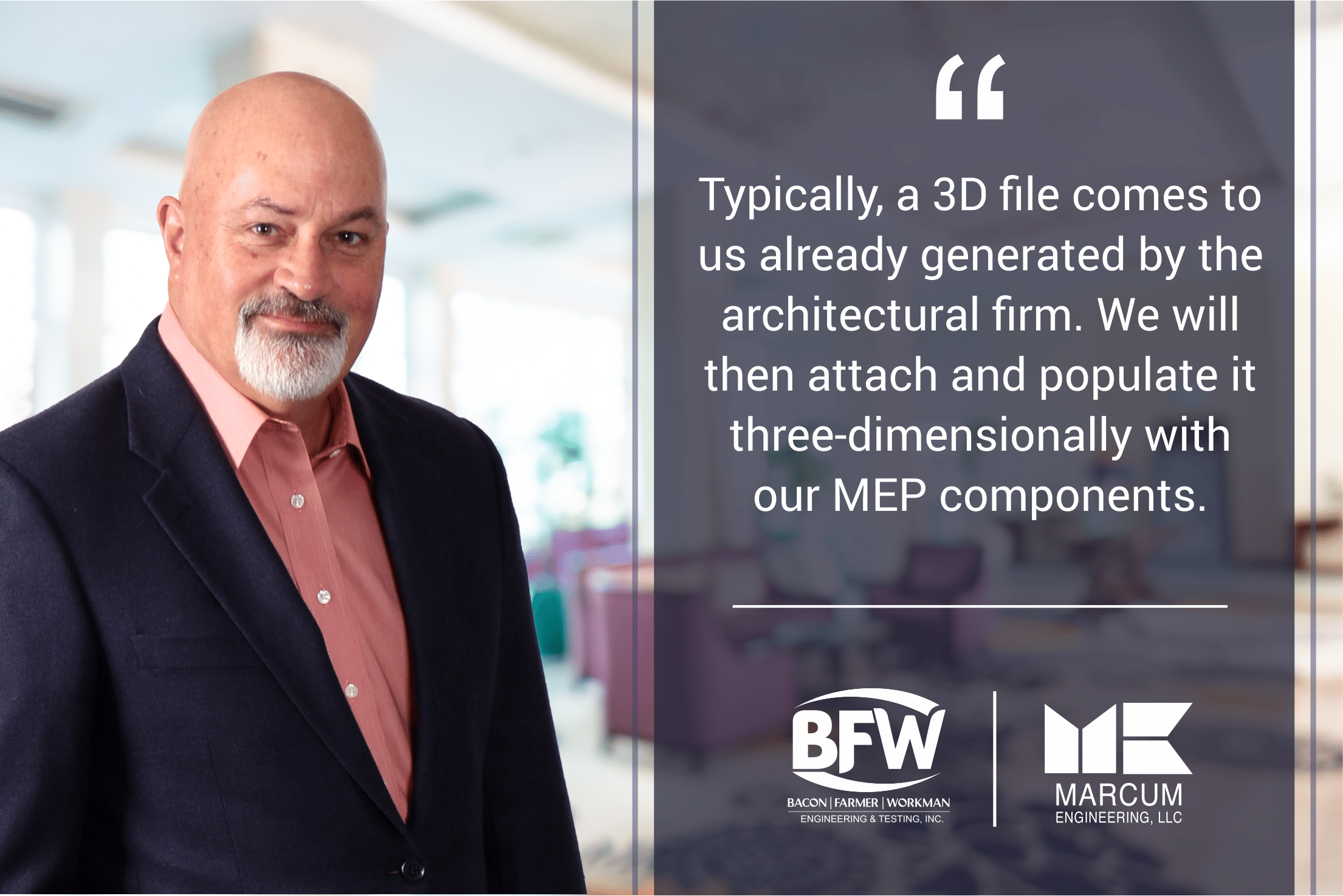 "Typically, a 3D file comes to us already generated by the architectural firm. We will then attach and populate it three-dimensionally with our MEP components.  For example, we add in the aforementioned lightning fixtures. We fill the hollow spaces with real-world components that have real-world implications on the design and construction.
The personal touch of this process, however, shows more in the selection of the light fixtures themselves than anything to do with the software. We combine our design and engineering intuition with Revit's ease-of-use to explore lightning options that we can directly convey back to a client. This way creates less of a chance of misunderstanding or not fully realizing the design of a space."
Revit Modeling is the Start of the Future
With Revit, the future is here. However, there's much more we can do with the technology that hasn't yet been fully implemented. While most 3D renderings reach our clients as flat JPEG image files, no different than a photograph, Greg and the rest of his team dream of a day where we can easily render fully realized 3D spaces that our clients can walk through.
Imagine sharing a simulated dry-run with an architect, the client, and the team of engineers involved in the project. You can walk with each other side-by-side or wander off into your own corner. You can feel the walls and even feel the fixtures. Most of all, the calculated eye of an engineer can point out potential pitfalls, or make on-the-fly suggestions while everyone is present. These are the kinds of innovations that we are making right now, even if they haven't become mainstream.
Software like Revit might feel like the future, but they're just the start. At BFW/Marcum, we're always trying to shed light on newer and easier ways to communicate. That's what we believe technology is, at its, core; an ever-evolving way of sharing ideas.