As much as we'd love to make the pun, you can't exactly "hit the ground running" (there, we did it anyway) when it comes to pavement management. It's a discipline all its own. You need to have a few people in your wheelhouse that specialize in inspecting a site before the design stage. Through their insight, we make decisions on the materials we should use in the construction phase. This includes pavement, too.
Yet, the work doesn't stop after the last construction vehicle leaves and the tenants begin moving in. Pavement, like every other component of a structure, is seen by engineers as a system. That system needs continual maintenance or it will fail before its time.
Why Be Reactive When You Can Be Proactive?
Pavement management, when executed well, is about being proactive in your approach to maintenance. Maegan Mansfield, Civil Engineer/Project Manager, explains this thinking.
"It is important for Directors of Facilities, Infrastructure Managers, Municipalities, and Airports to have a pavement management program in place for user safety, quality, and cost management. In today's budgeting world, the goal is to optimize infrastructure as much as possible due to the increasing expenses of labor and materials.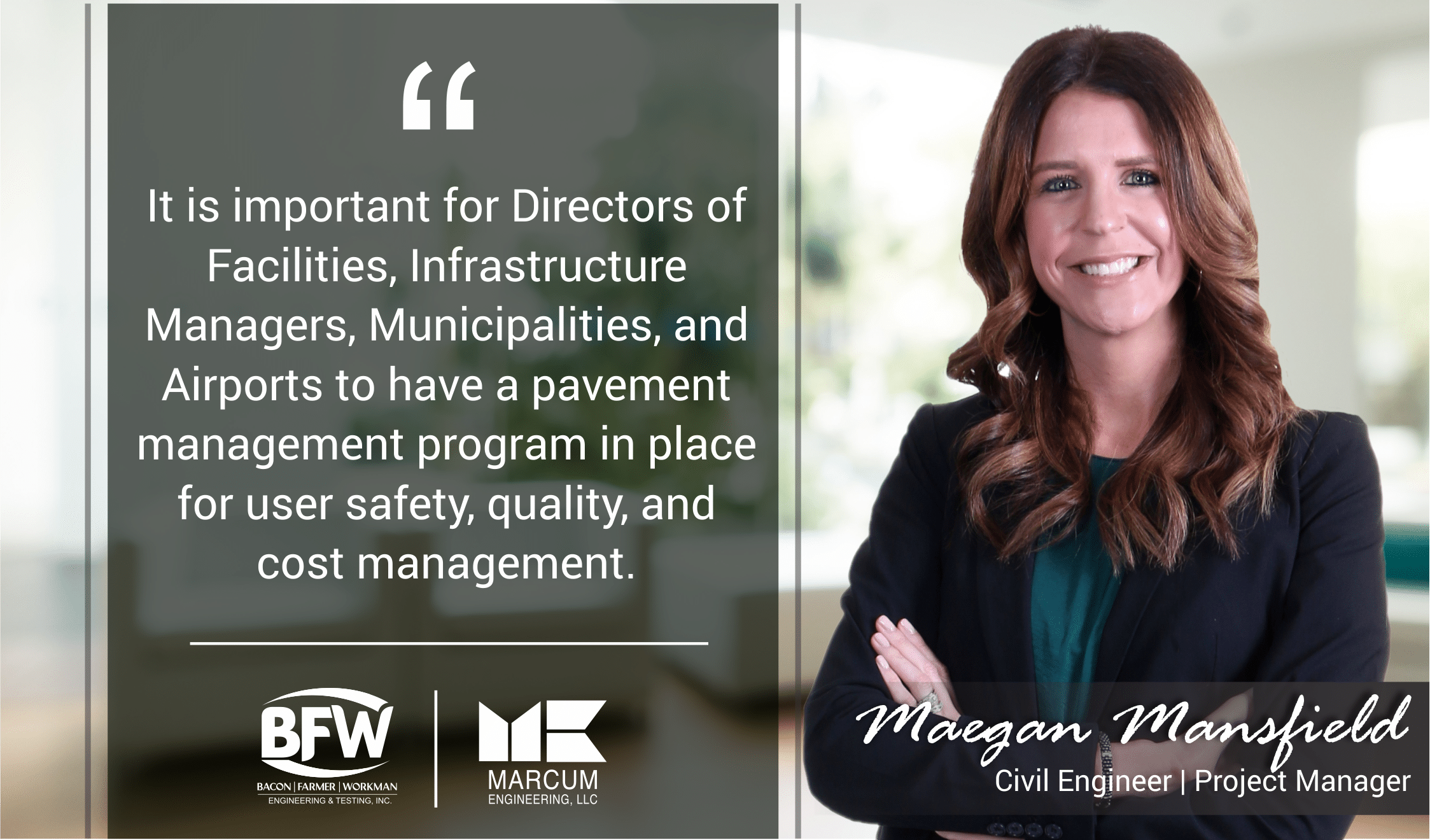 Whether it's asphalt, concrete, or another permeable material, all pavements wear over time. The life of pavement can be greatly extended by performing localized repairs on problems that often go unnoticed by the users. The traditional pavement management model has been to reactively repair based on complaints or drivability. Once the pavement is in poor to failed condition (the conditions you and I can feel as we drive) the repair costs quadruple compared to localized repairs that could have been completed, while the pavement was in fair to good condition."
From 0 to 100, How'd You Rate Your Pavement?
In comes PAVER, a piece of software first developed for the Department of Defense (DoD) to manage pavement maintenance on military bases. PAVER isn't just a scheduling system (like that pesky oil change light on your car) but instead, uses a multitude of measurement data produced by a team of inspectors.  Stephanie Sharp, Staff Engineer, is well-acquainted with this program.
"PAVER uses ASTM standards as a basis for data collection, to recommend interventional repairs that could prolong pavement life at a reduced cost.
For example, The ASTM D6433-20 Standard includes a procedure that details how pavement conditions should be inspected and uses formulas to produce an overall Pavement Condition Index (PCI), which is rated on a scale of 0-100 (0 being "Failure", and 100 being "Good"). The procedure includes segmenting an network of a facility's pavement. An entire hospital's network of roadways and parking areas, for example – are reduced to smaller branches, then sections, which to help narrow focus to specific areas of pavement to allow for more accurate data collection and division of recommended repairs or maintenance.
From these sub-sections, samples are selected, at random, for inspection so that we can gain an overall impression of a particular section. These samples are inspected for 20 specific pavement deficiencies, including alligator cracking, potholes, weathering, and many others, which are then calculated against the overall PCI for the sample. Once PAVER calculates the PCI of the individual samples, it then extrapolates an overall PCI for each Section which can then be used to determine if maintenance or repairs are necessary for that area.
When PCI values are returned in ranges of 70-100, the pavement is probably in suitable shape for another few years and should be simply monitored. When PCI values come back lower than 55, the conditions are more concerning and probably warrant repairs that could be costly to the clients. The ideal time for maintenance and where PAVER can produce information yielding the most cost savings is when PCI ranges from 70-55 – the "Fair" rating. Here, maintenance efforts can be made to prolong the life of the existing pavement, in the most cost-effective way for clients."
One Part PAVER, Three Parts Expertise
We asked both Maegan and Stephanie how easy it is to manage and maintain pavement thanks to PAVER. After all, it seems like software algorithms have replaced a lot of manual calculations. Their answer wasn't surprising. As with all things engineers, tools are great, but expertise is greater. Maegan shared her insight first.
"The pavement management program we implement at BFW/Marcum uses software as a tool in the decision-making process, but ultimately our trained engineers and inspection crews are what sets us apart. The quality of the data is only as good as the input, and that is where we rely on inspectors who have been trained on the PCI system.
Harrison Kelly, Geologist/GIS Specialist, and Keaton Wooley, Testing and Inspections Technician, are two of our lead field personnel who take the time to ensure detailed inspections are performed, and input into the system, ensuring the accuracy and integrity of the data."
Stephanie's answer is similar and reminds us of one important facet of any technology. While it's one thing to have a lot of data displayed on your screen, you gotta know what you're looking at.
"PAVER is sophisticated software that takes a lot of the leg-work of calculations out of the process. However, in both the inspection process and in making recommendations from the data, the interpretation of the information still requires some engineering intuition. You still need to have an inherent understanding of pavement systems and how the degradation of pavement occurs over time.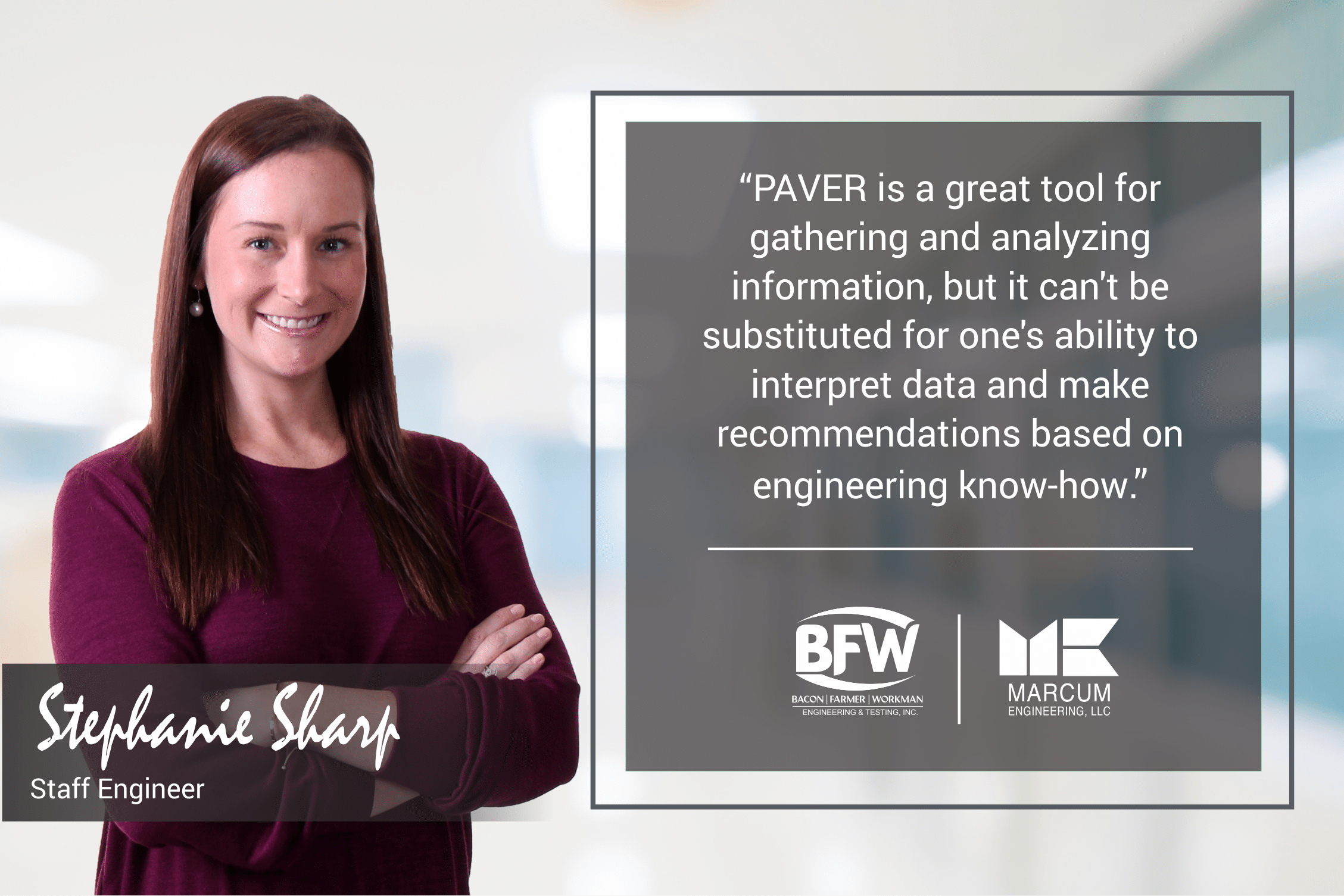 When reviewing a pavement section's deficiencies, it's more than just noting what the current conditions look like. To make effective recommendations, we have to understand how those deficiencies might have occurred. For example, could the pavement's issues be due to a poor asphalt mix? Could there be a settlement of pavement due to poor subgrade conditions in an area with unsuitable soils? It could be that the area of pavement wasn't graded correctly and stormwater runoff is creating localized settlement and ponding in areas. PAVER is a great tool for gathering and analyzing information, but it can't be substituted for one's ability to interpret data and make recommendations based on engineering know-how."
Our Pavement Management Program Works, Just Ask Our Clients
If our pavement management program didn't work as designed, we wouldn't offer it to clients. Maegan explains the program well.
"Our program is broken into three phases: assessments, solutions, and infrastructure management. After the initial data is inputted into the program, findings are presented to our client. From there we engage in an iterative process with the stakeholders to plan immediate project needs, and multi-year projections, setting a path forward for a robust pavement system based on budgetary needs.
After the initial phase, we move our clients into the Infrastructure Management portion of our services, which allows for yearly inspections, construction management of projects, and ultimately a maintenance program allowing for increased oversight on their assets. Clients that use our pavement management services will see extended life of pavement, lower repair costs, and can better forecast their budgets for quantifiable repair needs. Our passion is to make the process objective with data-backed solutions, and we can coordinate the construction of pavement projects in multiple states and regions."
She leaves us with one example of how PAVER lead the way to a huge improvement to a client of ours.
"I want to take a moment to highlight one of our clients in terms of pavement management, Bon Secours Mercy Health. Mercy Health Lourdes Hospital is local to our home office in Paducah, Kentucky. Their local facilities leadership, Neil Reynolds, approached us regarding pavement assessment needs. From there, we were able to evolve their pavement program by using PAVER and provide them with both immediate solutions and multi-year projections to update their pavement infrastructure.
We met with the local leadership, as well as their corporate Director of Infrastructure, Design and Construction, Jonathan Hunley, on several occasions to customize our report of findings and budgetary cost estimates to meet their goals. Their detail-oriented and forward thinking has begun to shape their pavement management program system wide, which will ultimately provide them with significant cost savings in the future."
Ultimately, that's what we want to do; to make our clients happy and maintain the safety and integrity of our regional infrastructure while we're doing it. PAVER is just one tool of many that we use. What matters, at the end of the day, is how those tools are used.
Check out our latest Podcast featuring Maegan Mansfield.