Historic Preservation: A Surprising Component to Engineering

A lot of engineering is about forward momentum. You're both looking forward and moving forward. After all, as engineers, we design things out of thin air, which means much of our work doesn't exist until we will it to happen with our minds, tools, and blueprints.
However, we thought we'd share our love of history by highlighting our efforts in the region's historic preservation. We love Kentucky and the surrounding region, which means we want to honor it. We're all the happier to be able to honor that history and culture through our work, which takes the shape of grant-powered preservation. To do this you need to love what you're doing and even love navigating all the red tape between you and the thing you're trying to keep around.
Much of this work is accomplished by Melinda Winchester, Grants Coordinator/Historic Preservation Specialist. We asked her to dive into our firm's efforts in historic preservation; what are we doing and what does it take to do it?
Engineering Memories: Why Historic Preservation Matters
There is a lot of love in historic preservation. However, the way you express that admiration is not exactly romantic. Instead, you typically find yourself navigating bureaucracy, trying to scrounge for money in the form of grants, and trying to untangle the technical engineering challenges that come two-for-one with almost all of these old buildings. We asked Melinda what our firm specializes in.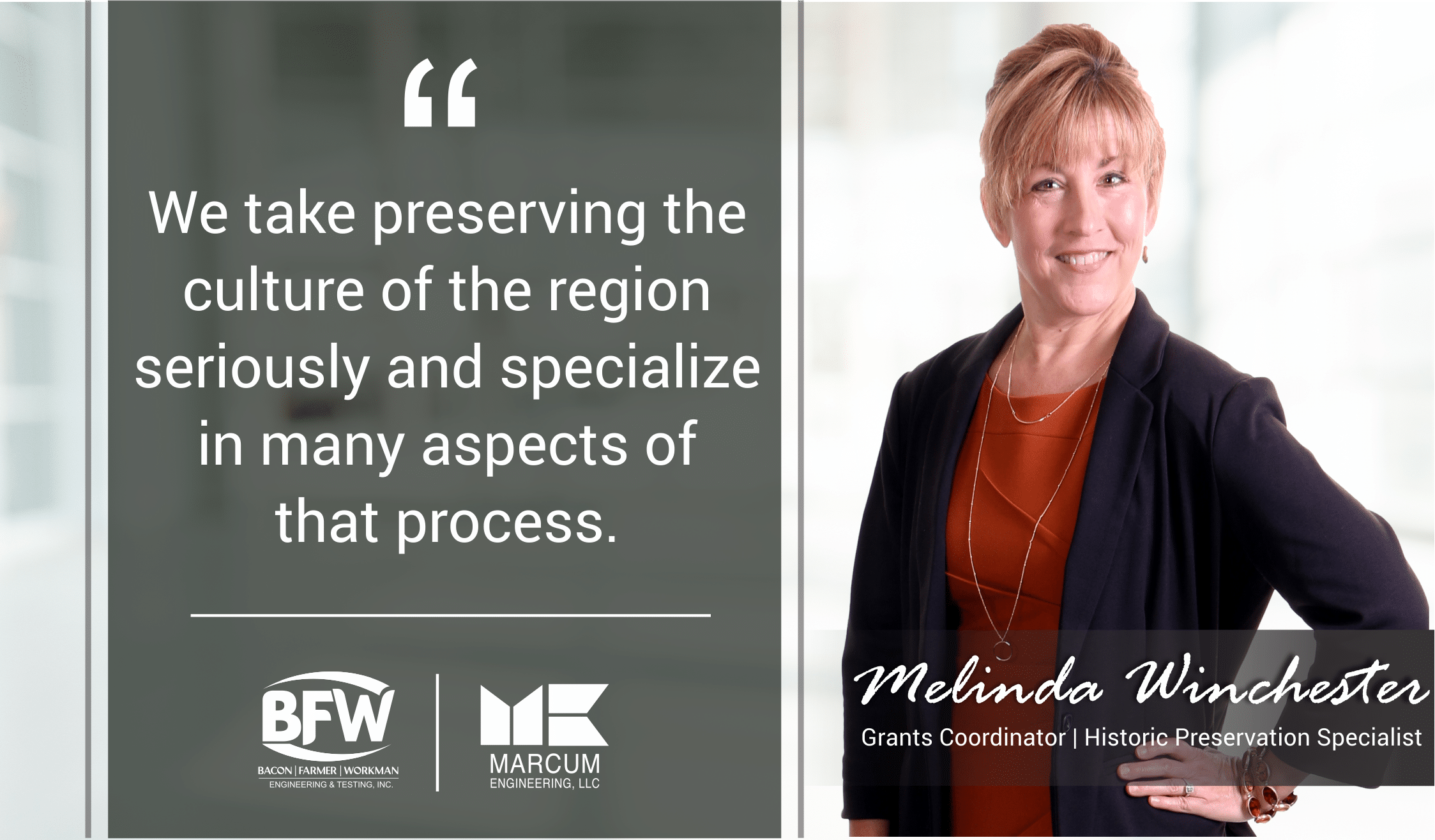 "We do almost all of it. We take preserving the culture of the region seriously and specialize in many aspects of that process. Here's a list of our primary focuses:
National Register Nominations to Historic Places
Architectural Surveys
Photography Studies
Creative Funding Incentives such as the State and Federal Historic Tax Credits
Historic Design Guideline Plans
Cultural Resource Assessments
Section 106 Review
Cultural Resource Assessments and provide preservation guidance to communities and architectural review boards
To put it simply, preservation isn't a singular concept. It has many arms, many functions, and many things you have to do and understand to do it right. We're trying to do it right."
Historic Preservation Should Not Be an Afterthought
Historic preservation should not be an afterthought in the planning process but a central community development practice. As you begin your strategy these are key questions to ask-
How many of our city projects included historic preservation? Reuse of older structures? How many projects could have involved historic preservation? But didn't?
Does my project or surrounding area contain historic property?
Does the area contain neighborhoods or buildings in danger of deterioration? School buildings, commercial or industrial buildings that are vacant or abandoned?
Do we think of these as historic? Could their reuse be beneficial to economic growth?
Have I encouraged a concerted effort to rehabilitate these properties and convert them to a new economic use?
Could the community link and encourage private efforts to our goals for community improvement and economic development?
Would additional rehab in concentrated areas promote more economic development? More jobs? Improved tax base? Enhance community pride?
Do I regard Historic Preservation as a nuisance? Not relevant to my community? A potential basis for community revitalization?
Is preservation an object of our planning? If not, why not?
Do we have a historic commission? If not, is one feasible?
Should we be surveying our community to identify historic properties and the potential for making good use of them?
Do we have local financial incentives to encourage development?
Grants Are a Powerful Tool for Preservation
It's powerful for an entire engineering firm to lend its voice to historic preservation. However, Melinda has long understood that the voice that speaks loudest is money. To preserve these buildings and institutions you need to have the funds to do repairs, maintenance, and to bring them back into the community in a way that can be appreciated.
There are no half measures with preservation. You either tackle the whole thing or you leave it be. Part of Melinda's job is in tracking down those funds, which often means applying for grants. We asked her to talk a little about the grant writing process.
"Writing a grant is one thing, but before you even start you have to do a lot of work and research to simply find grants that align with the culture of your firm as well as the mission. We don't want just anyone's money; we want to raise funds from places that have a horse in the race, so to speak. We want their values to align with ours and for their intentions to align as well. This discovery process takes a lot of my time and that's before I write a single word!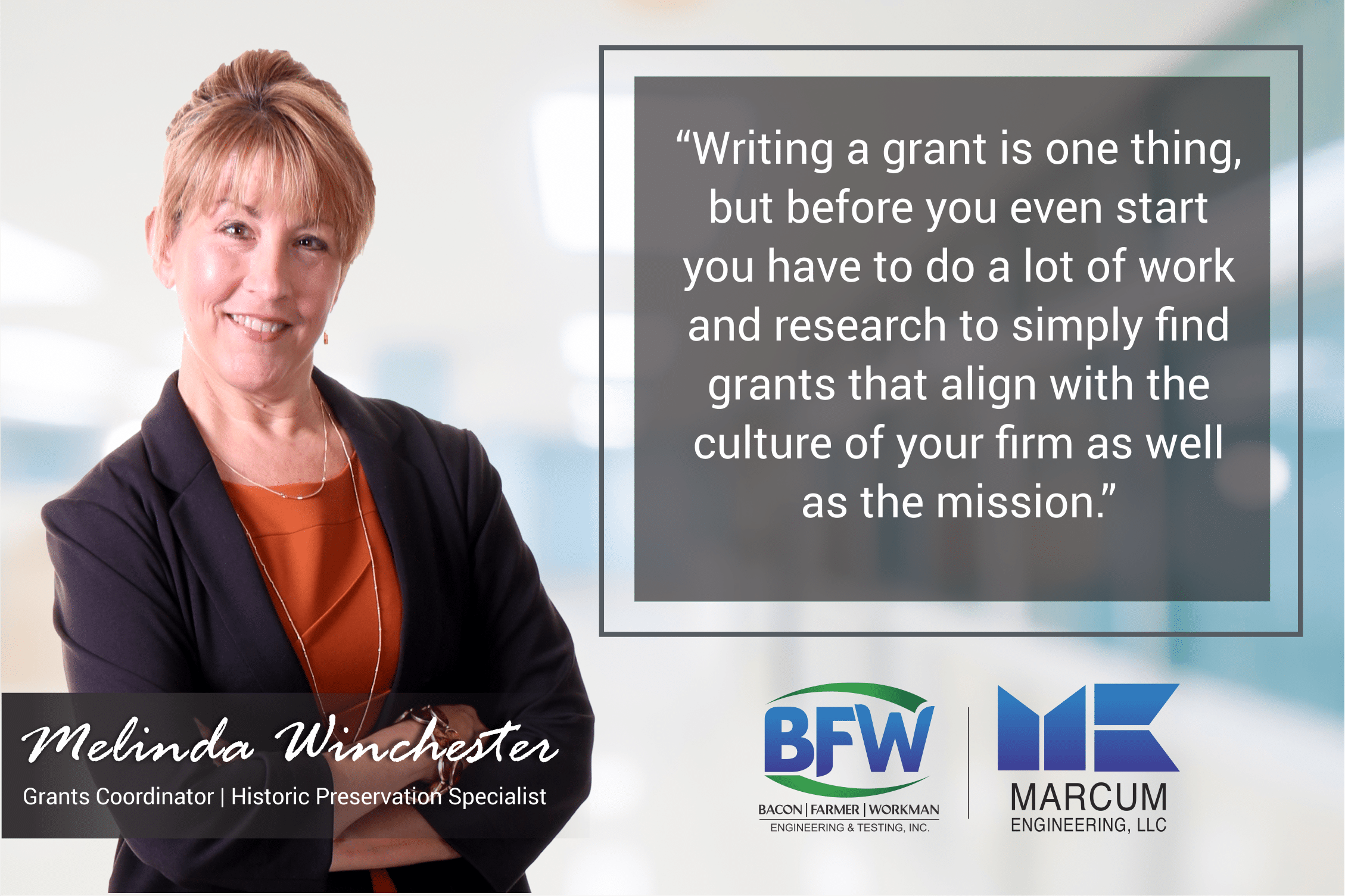 Once we find a grant that we think aligns we then have to do our own research, fact-finding, and data collection so we can come to these funding sources from an informed place. To put it simply, I want to be able to understand what the actual narrative is behind the preservation. I also want that narrative to be interesting to the funders. If they think we have a strong reason to ask for this money, then we've got our foot in the door.
Lastly, you need to build strong relationships in the grant writing world. That means finding and maintaining personal relationships with funding agencies so, when you need their help in the future, they're eager to work with you again. We want people to not only know who BFW/Marcum is in the historic preservation world but to know that we approach projects from an honest and well-intentioned place."
Place, Community, & Heritage
We asked Melinda what drew her to this industry, and why she ended up at BFW/Marcum.
"My first experience of working with BFW/Marcum was with the Paducah City Hall Project. I was the Historic Preservation Consultant responsible for acquiring the National Register Designation of Historic Places and preparing the Historic Tax Credit applications.
BFW/Marcum was part of our design team for the project, and it was evident that they had a true understanding of the importance of preserving our historic architectural treasures. My addition to the BFW/Marcum team has opened a whole new realm of value-added services for our clients in the historic preservation and grants fields. I love being a part of a company that has the ability and vision to think about preserving our historic resources for future generations and has a primary commitment to provide excellent service and new opportunities to our clients.
We don't only build and design roads and bridges. BFW/Marcum understands that place, community, and heritage are essential parts of a community's roots, identity, and social and economic well-being. When a historic project is completed, we can step back and say, we were a part of connecting people to their past and saving these architectural gems that many have forgotten."
We sat down with Melinda to discuss our new services in more depth on the latest version of our Bridging Ideas Podcast. You can listen HERE.