Phase III Engineering: A Great Plan Needs Great Follow Through

The term "engineering" isn't a great descriptor of anything. Not only are there many varieties of engineering in the world, but there are a multitude of phases to engineering in and of itself. It helps to think of something so complicated as a modular concept—it has multiple pieces that, when planned well, fit together both backward and forward.
Phase III engineering is a term you may hear thrown around without truly understanding what it is. While it can mean many things, we like to think of it as the follow-through. We talked to Greg Mishler, Resident Engineer/Project Manager, and asked him to shed some light on what goes into Phase III.
What is Phase III Engineering?
"Representation." Greg answers. It might be an over-simplification of the concept but in our world, the simpler you can describe something, the better you probably understand it. Greg goes onto describe Phase III with more detail.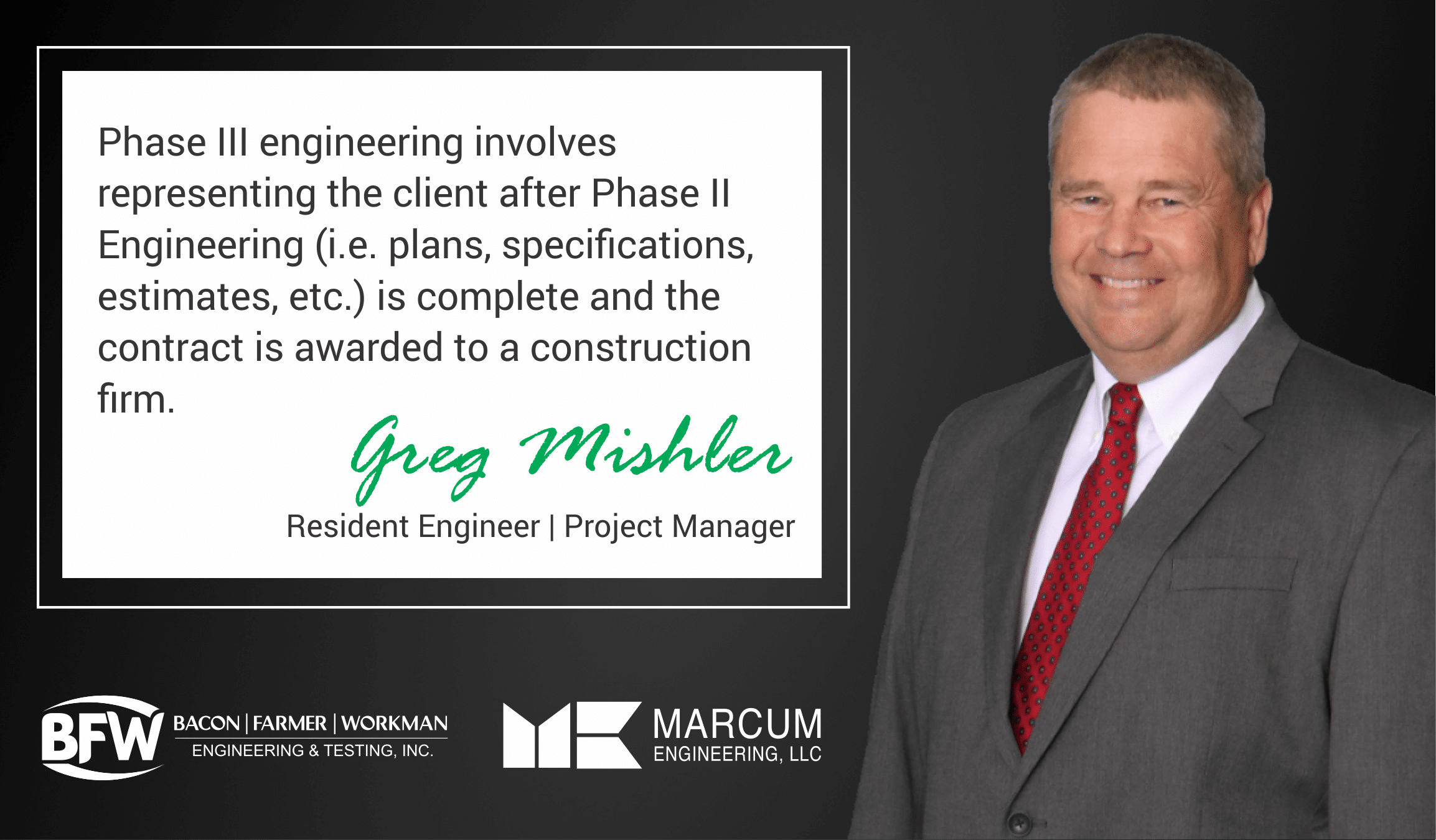 "Phase III engineering involves representing the client after Phase II Engineering (i.e. plans, specifications, estimates, etc.) is complete and the contract is awarded to a construction firm. Phase II engineering produces a set of detailed documents describing the where, what, and when of items of work included in the project.
On the other hand, Phase III engineering is the implementation of the plan for the project as described by the Phase II engineering documents and administering the contract."
While golf and engineering don't have too much in common, we can compare the two in this way: to play the game well you need to keep your eye on the ball and have good follow-through. We think of Phase III engineering as a formal method of supporting the follow-through.
Greg Brings with Him a Watchful Eye & Informed Oversight
We were more than happy to have Greg join our team. He's led the efforts we've made in May of this year to expand our in-house capabilities in construction inspection.  Already, thanks to Greg's help, we're pre-qualified by the Illinois Department of Transportation (IDOT) to provide them with construction inspection services. Greg is happy to be part of such a multi-faceted effort.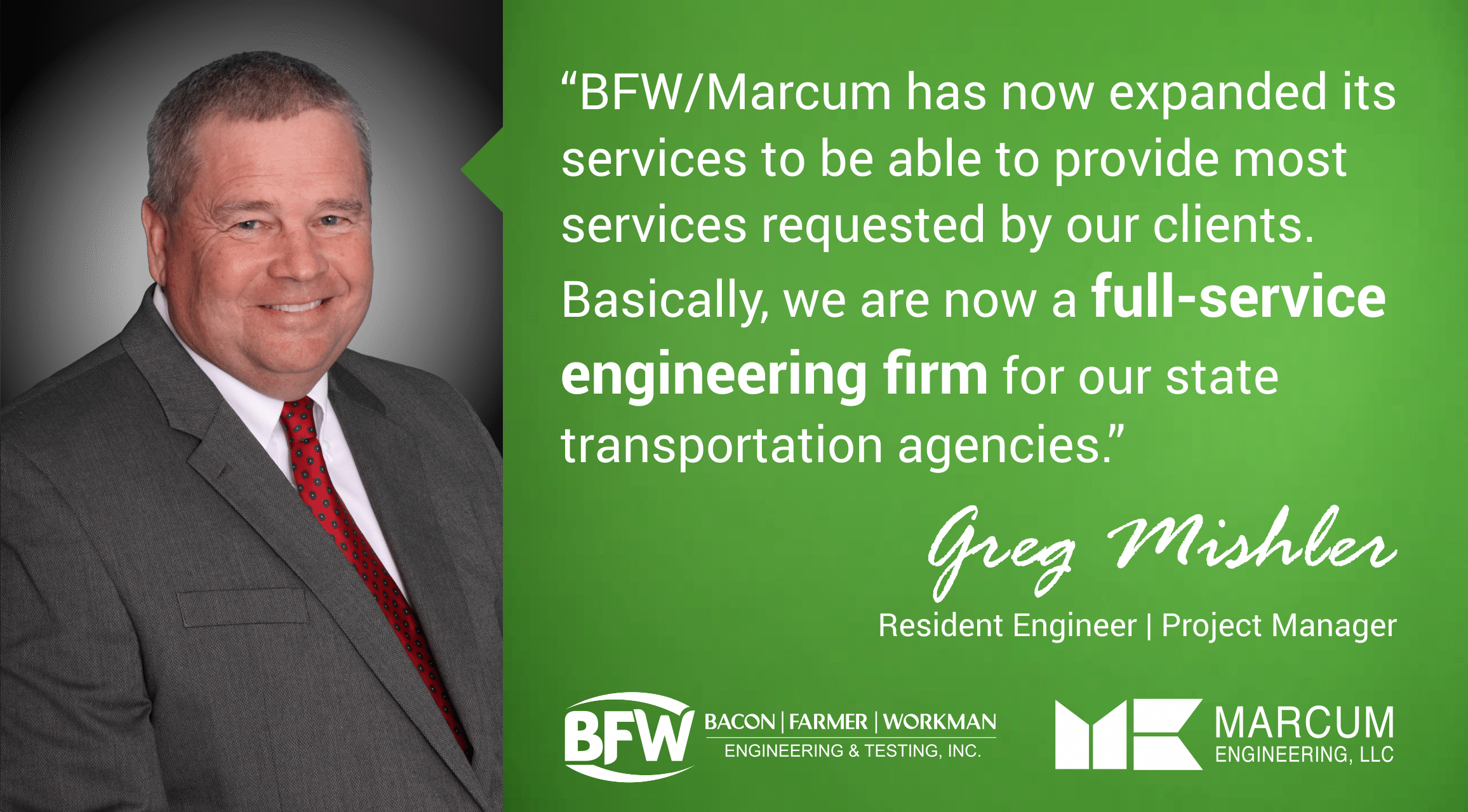 "BFW/Marcum has now expanded its services to be able to provide most services requested by our clients. Basically, we are now a full-service engineering firm for our state transportation agencies, especially IDOT. BFW/Marcum will not just be able to make sure projects are planned and designed properly for our clients, but will also help ensure they are built correctly to last for their intended design."
Phase III is about Representing the Client & Protecting the Project
We asked Greg to break down the various moving parts of Phase III engineering. While not all projects are alike, much of the administrative oversight and representation overlap.
Greg explains further, "Contract administration (construction layout, construction inspection, material testing, measurement & documentation of contract quantities, pay estimates, etc.) is a large part of Phase III engineering. State and federally funded projects require these items to be completed in prescribed procedures before the construction costs will be reimbursed.
Additionally, Phase III personnel are representatives of the project owners. They receive the questions and/or comments from the adjacent landowners, the traveling public, the contractors, the utility owners, units of government, and others with a stake in the project."
Phase III representatives are crossing Ts, dotting Is, and advocating for the client all at the same time. It's a balancing act of bookkeeping and communication that not many can do, which is why it's often outsourced.
DOTs Have High Standards, We'll be Happy to Meet Them
We asked Greg why he thought Phase III engineering was such an important expertise to cultivate in-house. As an IDOT/D6 engineer for 32 years, he knows well enough what it takes to be tapped by any state department. With that said, standards and needs only increase, so it's important to be ahead of the curve when it comes to what you can offer a state agency in-house.
Greg has plenty of firsthand experience, "Most of my 32 years with IDOT were spent in District Six Construction. I was a D6 construction inspector/assistant Resident Engineer from 1986-1988, a D6 Resident Engineer from 1989-2015, and a D6 Construction Field Engineer during 2016.  After leaving IDOT at the end of 2016, I continued to work part-time in the same field."
He talks a little more about what it takes to keep abreast of DOT engineering standards. "For one, IDOT has recently started to advertise requested engineering services on certain items to include Phase III engineering alongside Phases I and II. Thanks to our Phase III efforts in May, BFW/Marcum is now prepared and able to offer these services in-house.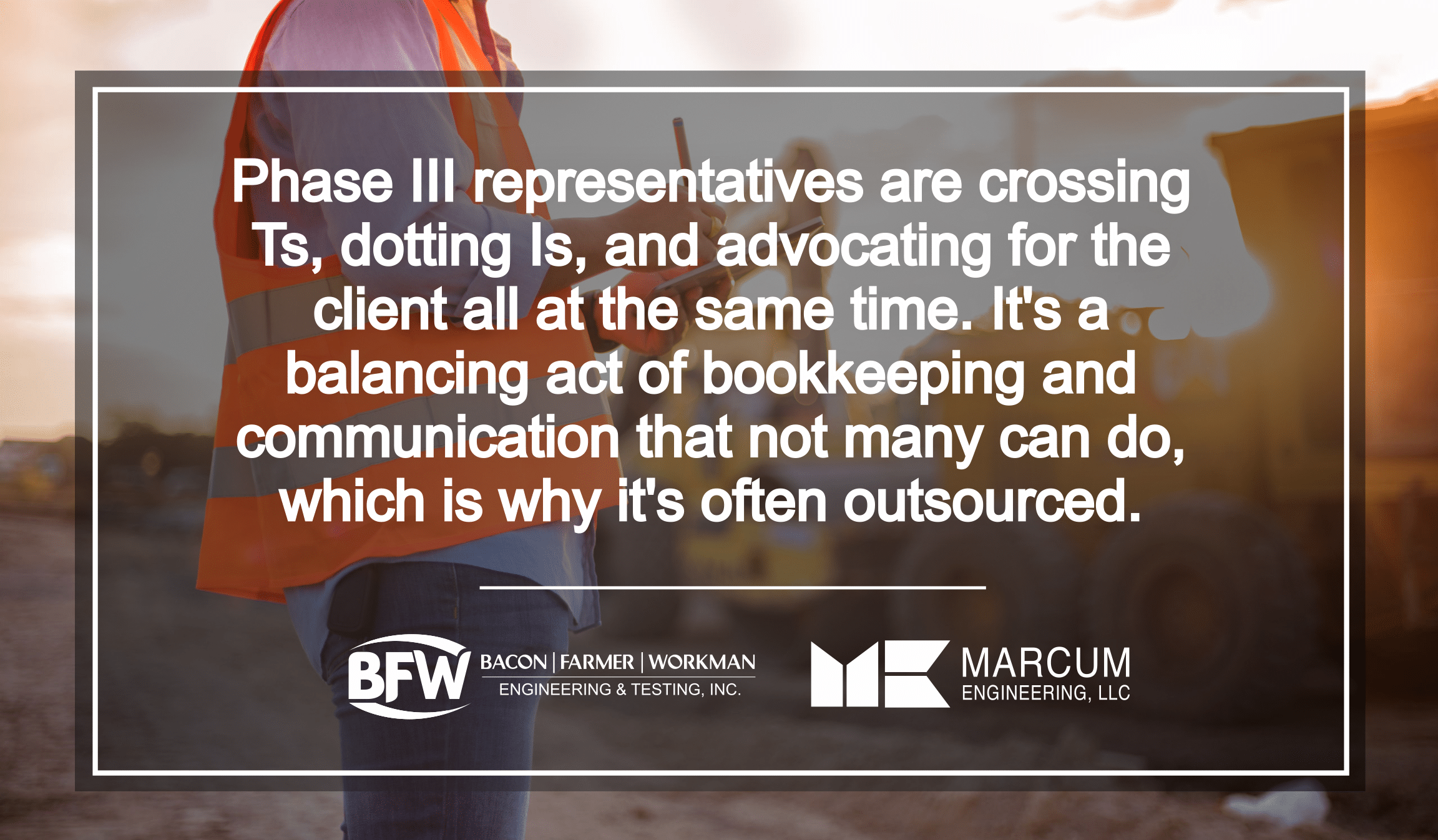 The forecast for IDOT includes a large amount of Phase III Engineering. BFW/Marcum is always working to aid our clients in the best way possible as a full engineering service firm.  It has been a proven route for success now for over 25 years."
We're Not Just Engineers, We're Forecasters
Greg mentions something that has always been important to us—forecasting the needs of our community and clients. It's not as simple as providing great service if that service doesn't evolve. To survive in this industry, you need to understand where the wind is blowing.
At BFW/Marcum, we like to stay a few steps ahead of the forecast. That way, when our service is needed, we have a tested methodology in place to sustain our success and support our clients. Greg is one of the many people at our firm making that happen.