Founded on Principles: Our Work with the Kentucky Administrative Office of the Courts (AOC)

We are an engineering firm founded on principles, all of which still drive our directions some decades after the fact. President John Quincy Adams describes the unalienable rights of man as a self-evident truth, and we too, believe that everyone deserves an opportunity to do the best they can.
One of the things we do as engineers is design the spaces in which these truths are represented and understood. Our pursuit is one of healthy buildings, communities, and people, which we believe are all connected. To put it simply, we want to do things the right way for everyone, and we believe our frequent collaboration with the AOC shows that.
We Have a History of Success with the AOC
In our most recent meeting, we asked Mark Workman, Executive Vice President, how he would summarize his impression of the staff at the Administrative Office of the Courts.
"Their level of sophistication and professionalism is incredible. Anytime we sit down and explain a design, or even a design decision, they're always on the same page with us."   Mark should know, he's a founding member of BFW/Marcum and has seen over 30 AOC projects come through our doors from all over the state of Kentucky. You can't work with a client for that long without developing a sixth sense for what they hold in high esteem. To us, you could break those values into three ideas; safety, security, and efficiency.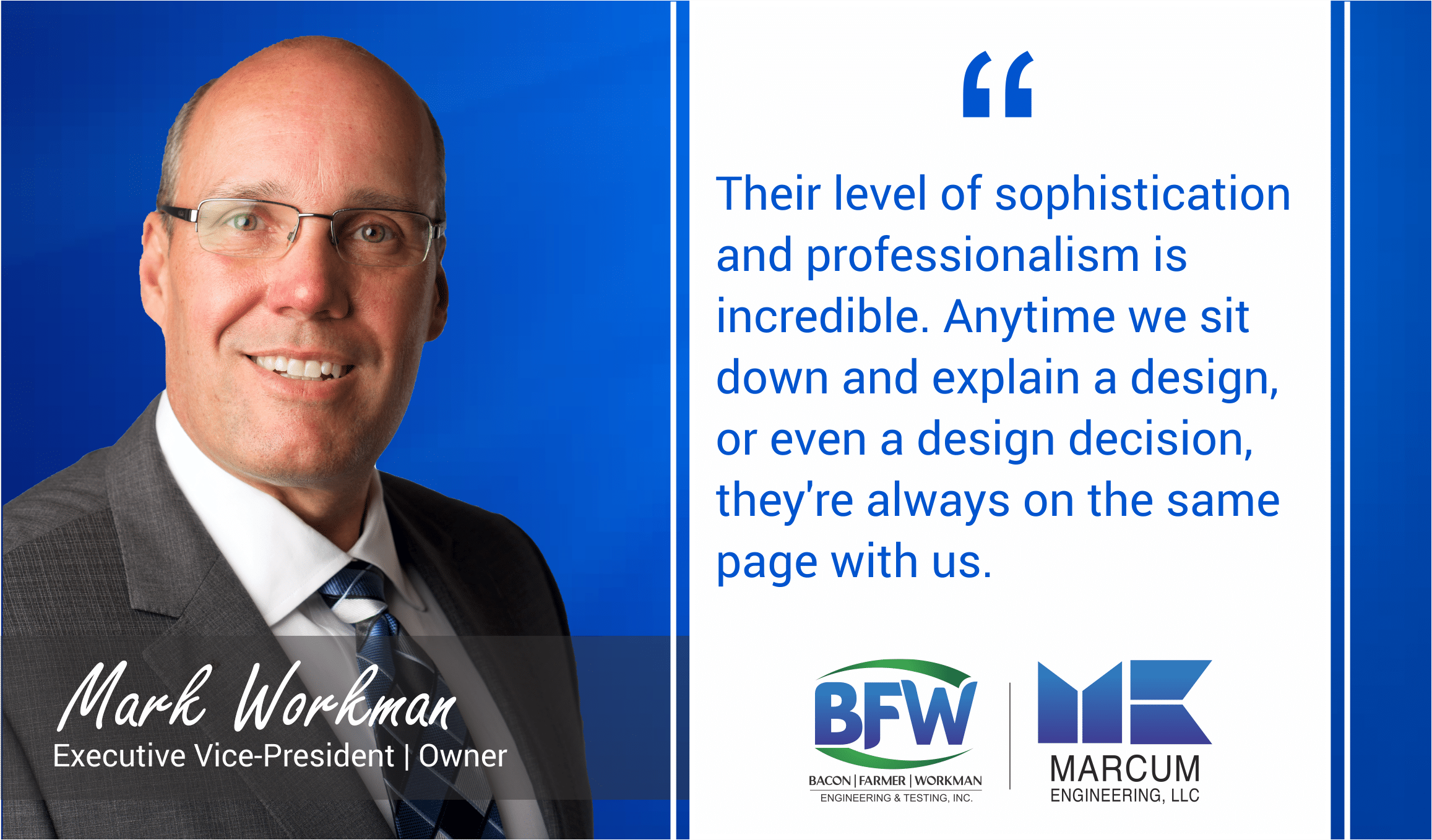 However, the proportion of those 3 principles is fluid. Today due in part to the COVID pandemic, it's more important than ever to focus on occupancy safety. Thankfully, BFW/Marcum is a leader in indoor air quality and healthy buildings. As we've said in the past,
our firm has always committed to healthy air
.
Our Expertise Blends the Traditional with the Innovative
"There is nothing we haven't seen." Says Baccus Oliver, Principal/Mechanical Engineer.
Yet, he understands that experience and expertise aren't static concepts. As construction and requirements evolve, so too does our engineering process. We blend the traditional with the innovative in our problem-solving. Knowing the rules by heart means you can improvise a little.
One of our favorite new construction methods is known as "insulated concrete form" or ICF, which is a construction process especially valuable to a judicial center due to its energy efficiency, excellent sound absorption, and promotion of healthy indoor air.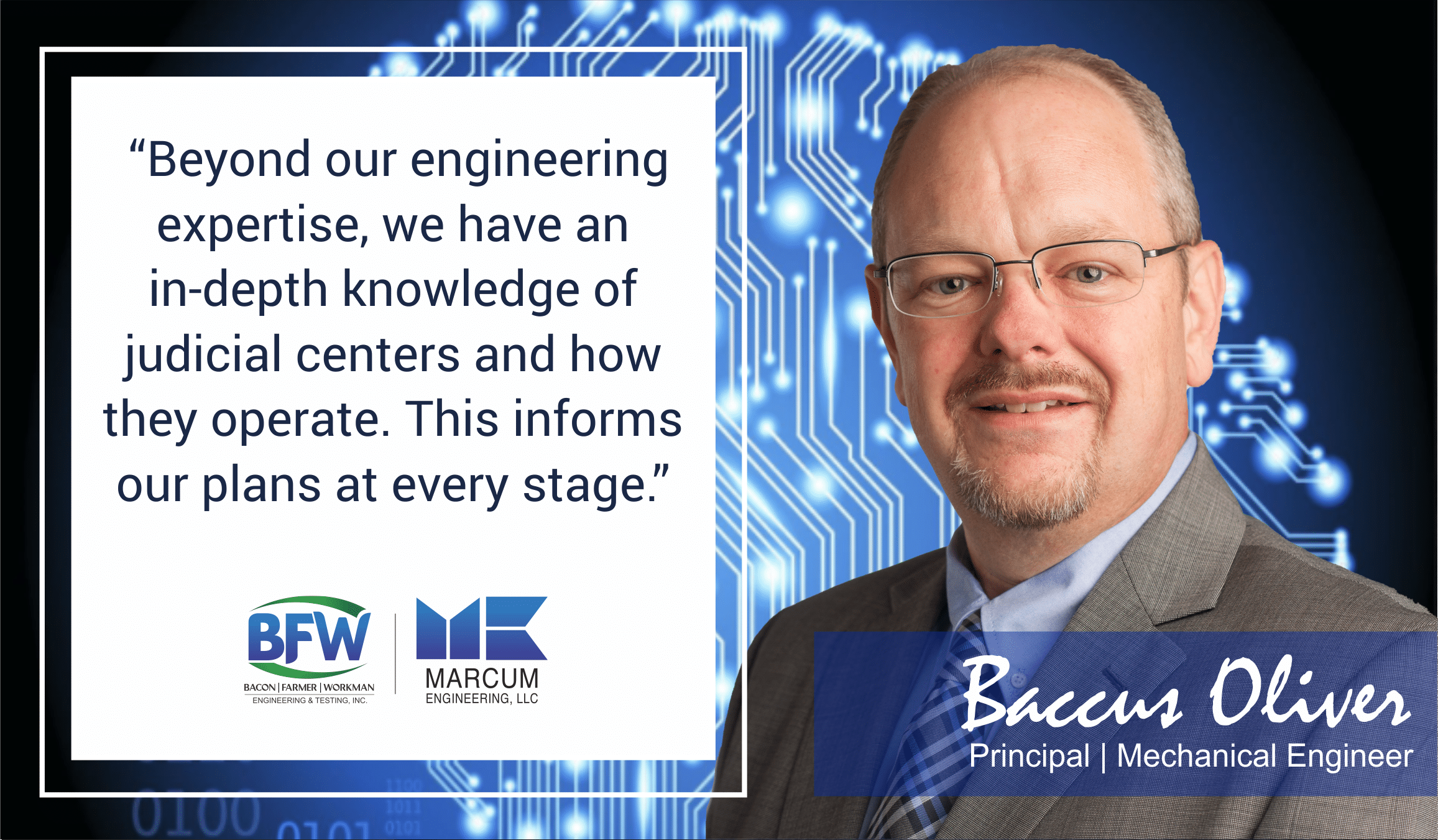 Beyond our engineering expertise, we have an in-depth knowledge of judicial centers and how they operate. This informs our plans at every stage. The people using these buildings, from the judges, circuit court clerks, and citizens, all have certain unalienable rights; clean air, an intuitive building that respects the critical judicial processes happening within, and a space that will serve the public for generations.
Our Value is Unassailable
What is value? The term can be hard to pin down. While it might not sit well to try and put it into words it can be easily represented through one's actions. As an engineering firm, we believe there are a variety of areas that converge to make us a valuable collaborator to the AOC.
Knowledge
Not only do we have an expansive knowledge of the AOC and how to design a judicial center but we're intimately familiar with the state of Kentucky from a construction and engineering perspective. We know where to build and understand the processes that work best for each region.
Most of all, we understand how to navigate the state and its regulations. We have our ducks in a row by default. To put it another way, we've supported the assessments of 12 judicial centers in the last 7 years and the construction of over a dozen new centers in the last decade. We're already trusted and have proven our expertise.
Expertise
We call it form, fit, and function; there are few firms in the state of Kentucky that can claim they keep all of their engineering disciplines in-house. At BFW/Marcum, we can. Beyond that, our expertise within each department is fine-tuned. However, having the best engineers would mean nothing without the ability to combine their expertise.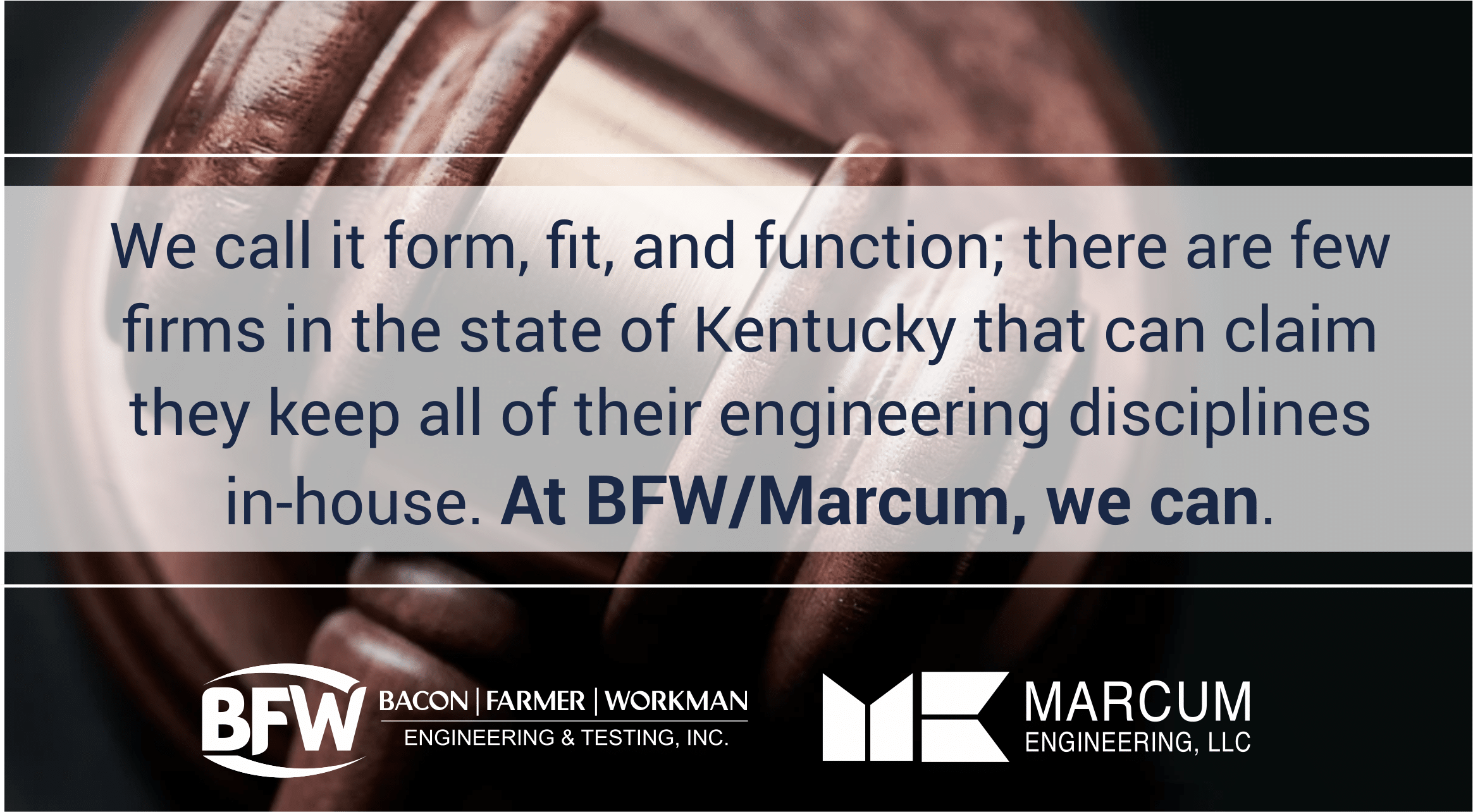 That's why we've invested in cutting-edge tools to ensure our engineering teams can work together seamlessly. Using Autodesk Revit allows us to collaborate in the cloud, which means the best minds in Kentucky can work together as one, even from a tablet or phone in the field.
Cost Efficiency
When collaboration is at the forefront costs will always be reduced. When everyone is on the same page costly errors are avoided. Most of all, knowledge is exponential when it's coming from a convergence of perspectives, disciplines, and personalities. If they say two heads are better than one, then what about 5 or 6 of the finest engineers in Kentucky?
Yet, at the end of the day, the bottom dollar is one of the biggest drivers of any engineering project, especially in the judicial sector where tax dollars are at work. That's why we commit to communicating expectations not just upfront, but during and after. We've found in most cases budgets are exceeded due to a communication breakdown. In other words, every hurdle can be jumped over as long as you know it's coming.
When Our Values Align It Makes Our Job Easy
There's nothing easy about engineering. Yet, when the values of our firm align with the values of our client, it makes the path ahead one that is easy to anticipate. Our work with the AOC is just that; a path so well-traveled that it lets us innovate in ways most firms wouldn't have time for.
There's a quote by Benjamin Franklin that we feel summarizes our approach to engineering, which we'd like to close on.
"The U. S. Constitution doesn't guarantee happiness, only the pursuit of it. You have to catch up with it yourself."
A blueprint on its own isn't a guarantee of anything. It's the pursuit that matters; the ideas, the oversight, and the challenges. Those are our pursuits and they are the ones that made us into what we are; a Kentucky engineering firm with tenacity, first-hand knowledge of the AOC system, and the belief that thoughtfully built judicial centers are an American right.