What do the Indy 500, Purdue University, and BFW/Marcum all have in common? Finally, we have an answer for that one! We'd like to introduce our new Evansville, Indiana office, one which we think will become a distinct and integral part of our team, and the first BFW/Marcum office in the state of Indiana.
We sat down with Mark Workman, Executive Vice President as well as Theresa Davies, Structural Engineer/Office Manager so they could provide their thoughts on the strategy, culture, and future behind moving into Indiana.
Indiana, Nice to Meet You
We are always excited to branch out into new territory. Evansville was an easy choice; it gives us a longer reach by connecting our existing infrastructure while putting us in a regional space that is opportunistic for new client relationships.
"Evansville, Indiana was a natural fit for BFW/Marcum. It's centrally located between the other office locations and is the first office in Indiana." Explains Theresa.
Mark agrees with Theresa's sentiment. There's something enticingly unique but familiar about Evansville and the surrounding region. "Indiana is its own state with its own people, et cetera, but it's a great fit between our Kentucky and Illinois markets.
We found that the Evansville community (and beyond) is like the communities we already serve; it's full of progressive folks who are just as excited as we are to get their hands dirty and get some work done."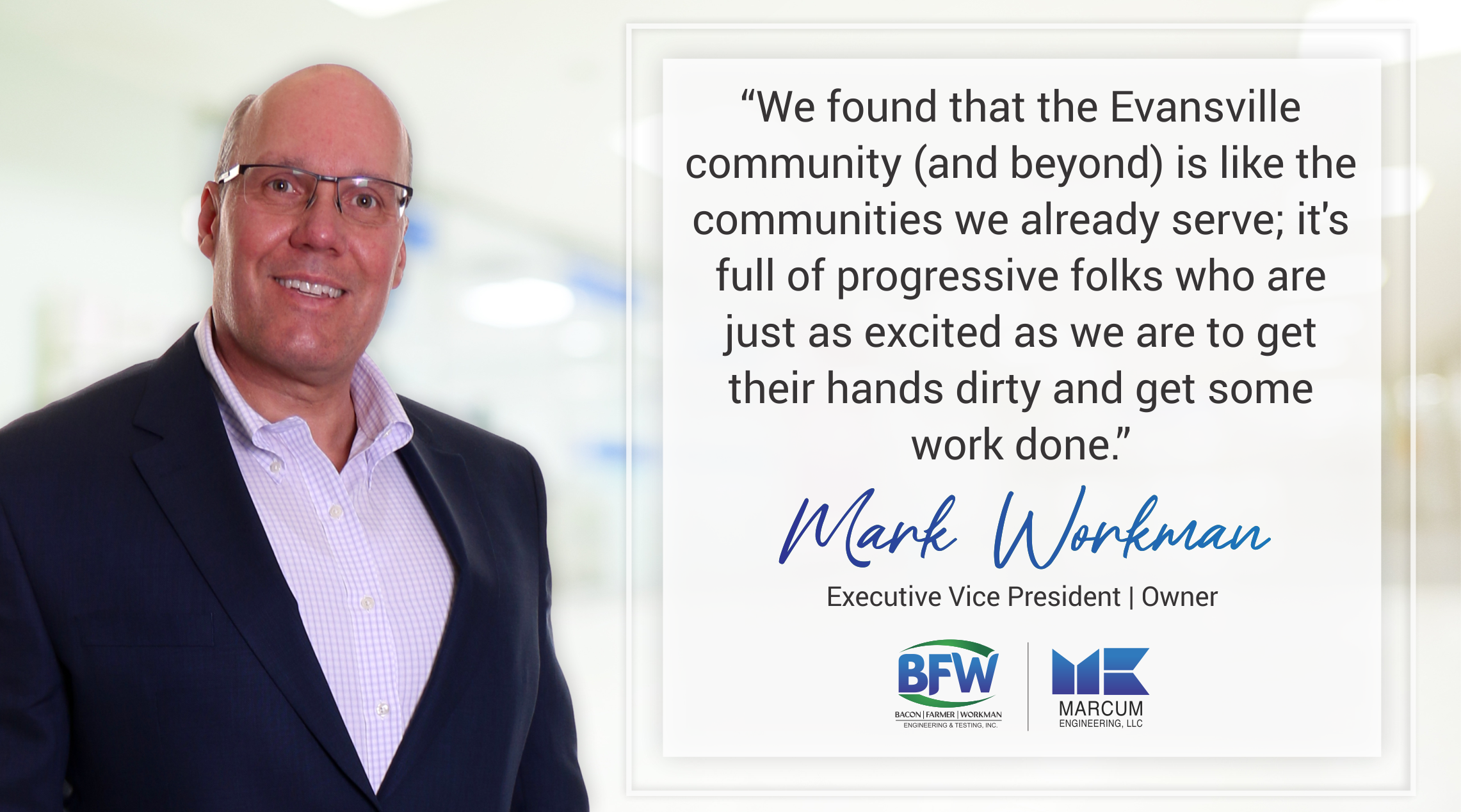 Two (or Three, or Ten) Heads Are Better Than One
We asked Mark, if you could snap your fingers and make the main office in Paducah larger as the need arises, would you opt for that, or is there an inherent value to branching out?
"The simple and easy answer is each office grows based on the opportunities in the geographical area  they serve. Specifically, market conditions play a big part in driving growth. However, that is just one data point. The personnel at each office provides specific expertise that is utilized companywide to bring the best value to our clients. Thus, having only one single office really would not serve our client's best interest and part of our mission to provide the best client experience."
To put it simply, when you spread your key people out, you create a ripple effect of talent that reaches further and inspires more people in the process. 10 offices give you 10 different environments to cultivate unique, shareable talent, versus 1.
We Want Our Evansville Office to be Welcoming
Theresa is a proponent of a warm and welcoming environment, so much she hopes that's what Evansville will be most known for.
"It has been my experience that creating, cultivating, and maintaining relationships is one of the most important aspects of the human experience. I do not believe relationships are limited to just family and friends. We have relationships with our co-workers, our clients, and our community.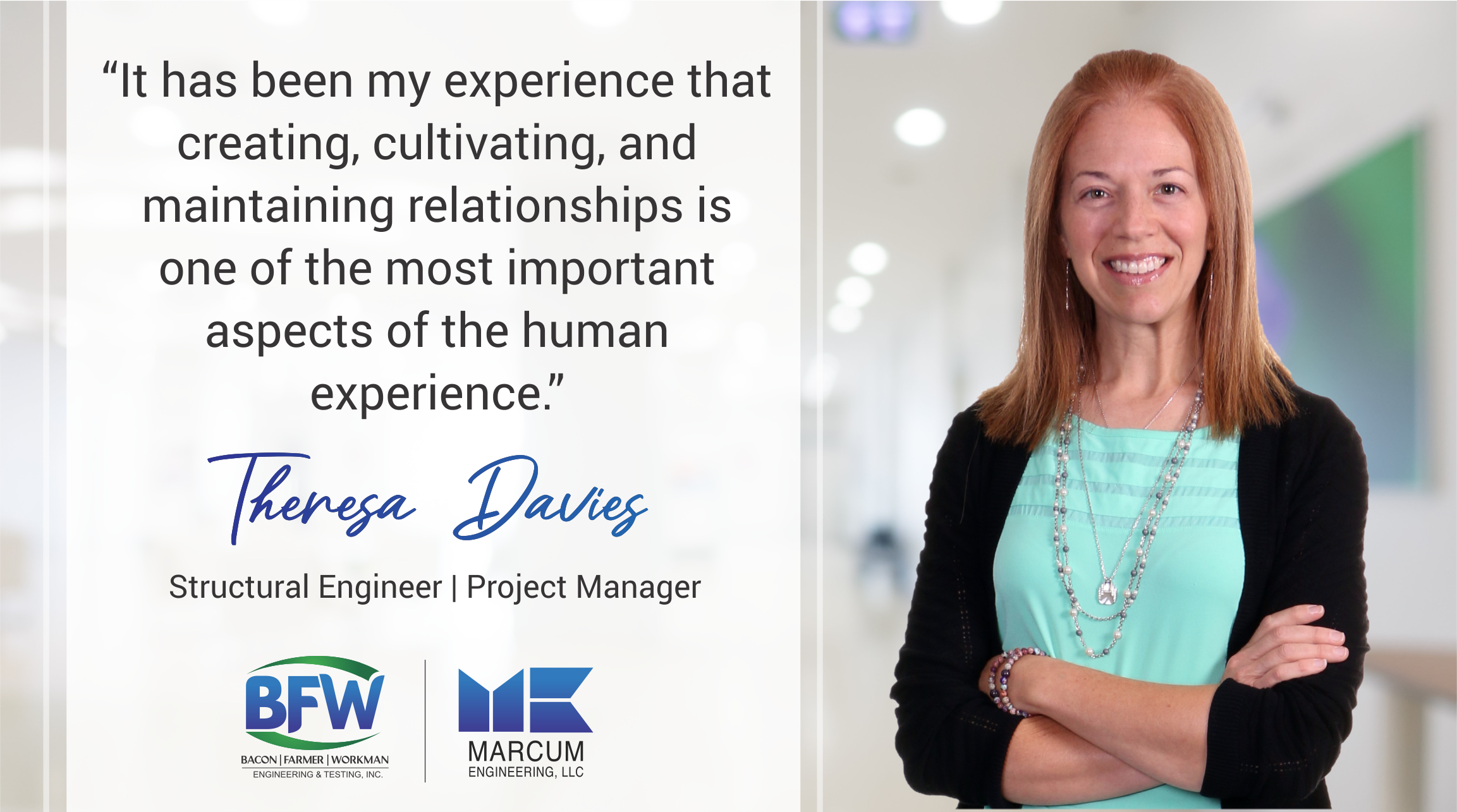 I would like the Evansville branch to be a firm which is not only known for providing outstanding engineering services, but also for caring about cultivating and maintaining the relationship that is created with every project!"
When you work with earnestness, approach every situation with a certain level of courtesy and grace, and do the work right, your reputation makes itself.
Evansville is in Good Hands
Why Theresa? If you know her, you wouldn't ask that question. However, for those that aren't familiar, Mark has the answer.
"Theresa is unique; she is an incredibly intelligent and forward-thinking engineer who naturally embodies the exact values of BFW/Marcum. Theresa is a passionate, courageous, and selfless person. She is honest and demonstrates great judgment.
Most importantly, Theresa always does the right thing for the client and others in her life. We are lucky to have Theresa leading our Evansville office and we cannot wait to see what she accomplishes in 2023!"
Theresa is dedicated to her job and thinks her dedication will serve her well. "I have the very fortunate privilege of loving the work that I do," explains Theresa, "on vacation to Boston one year (and let's be real, every new city we visit), my poor kids had to listen to me go on and on about the buildings, bridges, and even the construction sites we saw along the way! I love the work I do! I feel like that enthusiasm and genuine love for the work we get to do is what led to me being chosen as the office manager in Evansville."
We'll Take All of the Above
Lastly, we asked Theresa what she wanted from the Evansville office. Was she looking to make it a profound collaborative hub, a standalone branch that works uniquely on its own, possibly even an office that paves the way for others?
"All of the above! HAHA! I would love to be the first firm that everyone (city planners, community innovators, architects, contractors) would like to work with when they are considering their new project. I would love to be an integral part of bettering the Evansville community."
There you have it—that's the heart of why we chose Evansville. We want to be a part of the betterment of their community. We want to bring our culture, talent, and work ethic to Indiana, and put our stamp on it in our own way.