Why STEM Matters: Creating Something for Someone Else

It's no secret that the engineering industry is facing a workforce shortage. According to a recent survey from Deloitte and SEMI, 82% of executives reported a shortage of qualified technical candidates in the engineering industry.
Furthermore, some 60% of companies say that electrical engineering jobs are the most difficult to fill, followed by computer sciences/software engineering (35%), mechanical engineering (35%), computer systems/engineering (30%), and materials sciences/chemical engineering (30%).
This is precisely why STEM (science, technology, engineering, and mathematics) education in high school is so important; it brings awareness to our industry, finds young students who have an interest (and the talent) to earn a STEM degree at the university level, and brings their talent to our work pool. At BFW/Marcum, we're doing our part to educate our community about the benefits of a career in our industry.
STEM Education: Creating Opportunities for the Future Now
Baccus Oliver, Principle of Marcum Engineering, remembers a time when the term "STEM" wasn't even in the public vernacular. Today, he hears about it constantly, which brings him a sense of pride.
"STEM wasn't even a thing when I was in High School (1982-86). A decade ago it was being pushed by schools and teachers, now it's an interest shared by entire families. I believe this to be because it is more widely known and consider almost necessary if that is your trajectory into college."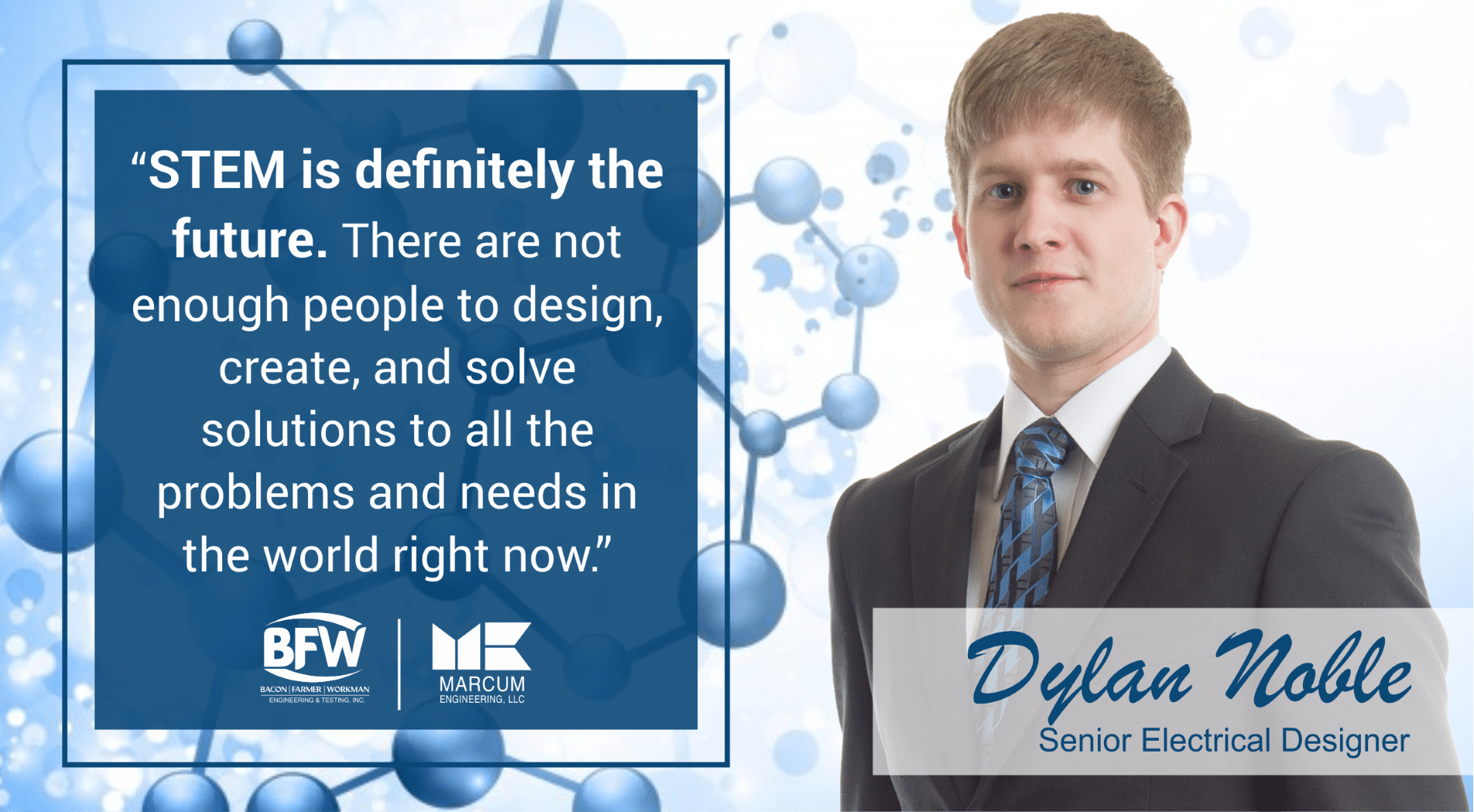 Dylan Noble, Senior Electrical Designer, agrees with Baccus and adds that, as the future becomes more technologically complex, the demand for a more complex workforce increases. "STEM is definitely the future. There are not enough people to design, create, and solve solutions to all the problems and needs in the world right now. As humans make more discoveries in the world the demand for more problem solvers goes up.
Occupations in the various STEM fields are not only for those who love science and math. There is a place for every type of person. Those that want to help people are creating new vaccines, designing schools, or even developing the next advancement in life-saving medical equipment.
Every science fiction fan is capable of thinking up the next communication device, new ways to travel, and ways to explore the unexplored. The common component across science, technology, engineering, and math is the human component. These things don't exist without a person to explore and communicate their ideas with the world."
Planting a Tree Whose Shade They Shall Never Sit In
There's an old Greek proverb about how a society can only grow when great men and women plant trees whose shade they know they shall never sit in. As engineers, we understand this adage better than most. Much of what we work on has implications that reach much further into the future than our own lives can. At BFW/Marcum, every decision we make is meant to benefit the future of our community just as much as it benefits it in the moment.
As pioneers of STEM, we also feel like it's our responsibility to impart our knowledge to those that are still learning. Better yet, we want to inspire, motivate, and offer opportunities to anyone willing to put in the effort. Baccus explains this moral responsibility more.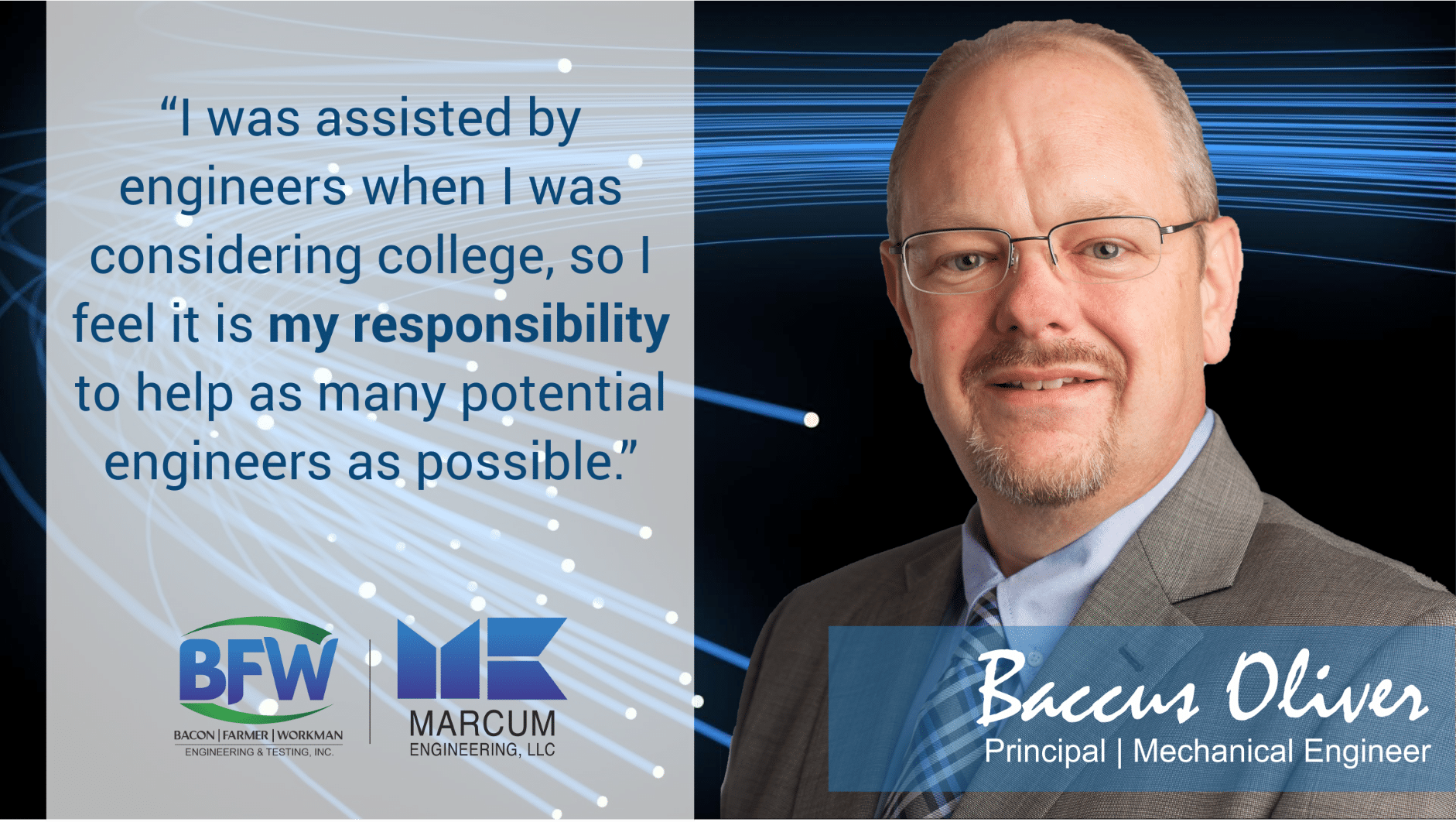 "I was assisted by engineers when I was considering college, so I feel it is my responsibility to help as many potential engineers as possible to navigate the confusing accreditations, schools, and opportunities that this industry will throw at you.
A commitment to education is a commitment to our profession; the two directly correlate. It is synergistic that this obligation supports our local economy. I have had past students come back as engineers and they thank me for what I did during those pivotal years. We have even hired a couple. That is huge when it comes full circle."
Bringing Trebuchets & Breadboards to Southern Illinois High Schools
Dylan has collaborated with local high schools on two separate occasions and plans to do more.
"My first collaboration was a trebuchet project. It was meant to demonstrate some simple mechanical engineering and physics practices with a real-life model. We explored the trajectory of the sling, rotation, and acceleration of the fulcrum/lever, and the potential energy with various weights. All trebuchets were disassembled except the base. The students were divided up into groups of 4 random people.
The goal was to work with some new people to find the best combination and placement of the mechanical parts given to launch a ping pong ball as far as possible, competing against other groups. "
Dylan, being an electrical engineer by trade, was excited to bring his expertise to regional students as well. "We had a 'breadboard' project that was set up to introduce students to electrical engineering. Everyone was split up into groups, preferably with others you didn't know, and were asked to follow a schematic to build a working telephone ringing circuit.
The goal was to introduce students to electronics and circuits and really show them how the components interact with each other to form a complete system. There was a prize for the team to complete the circuit first to help keep the group focused and moving.
These projects being team-based with new people and competitive reinforces the idea that STEM, particularly engineering, is not all about math and science. So much of engineering is about communicating with people, collaborating ideas, and exploring new possibilities. It's the people working together on a goal to improve something to make it go faster, farther, and be more efficient."
Robotics: The Future of Engineering
Logan Overturf, Mechanical Engineer, loves robotics. What he grew up reading as science fiction is now a reality that can even be introduced to classrooms. His fondest STEM high school collaboration was when he invited the Trigg County High School robotics class to come to BFW/Marcum for a day to demonstrate their robotics knowledge.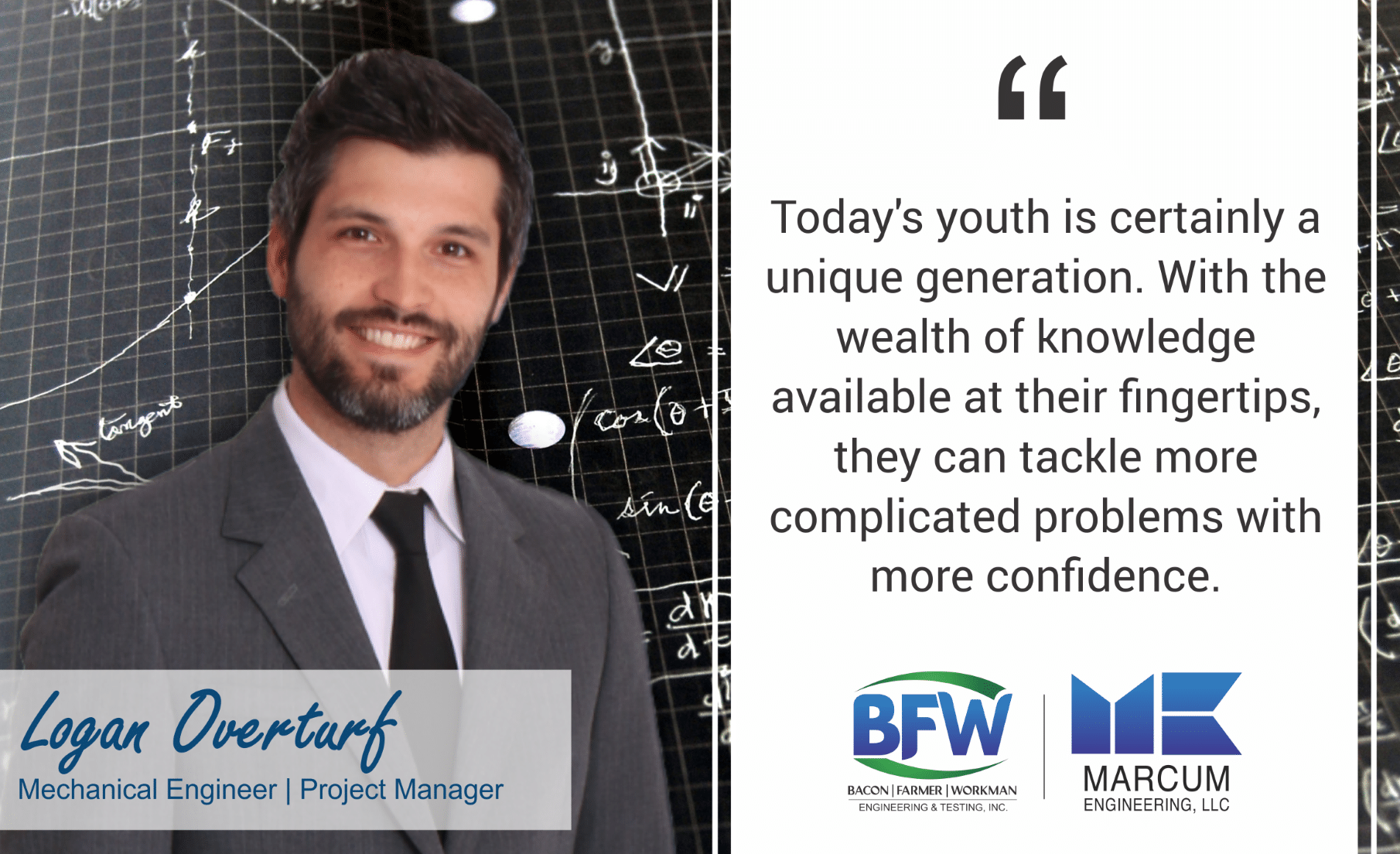 "Today's youth is certainly a unique generation. With the wealth of knowledge available at their fingertips, they can tackle more complicated problems with more confidence. They can quickly solve problems and find solutions that would have taken previous generations considerably longer to research and verify. They really have the opportunity to grow into whatever they want to be, and whatever they set their mind to.
During their demonstration, the students gave a presentation on their robot, including their list of goals and constraints. With five students on the team, they demonstrated collaboration and delegation skills. With two individuals needed to control the robot, they demonstrated good communication and unity in completing the task at hand. They demonstrated confidence and communication skills as each student had to talk about their job on the team. Whether they knew it or not, these aren't just robotics skills, but skills that will allow them to be an important part of an engineering firm."
STEM isn't Just About the Sciences
Both Logan and Dylan agree; STEM education isn't just about knowledge of the sciences. It's about imparting wisdom, humility, and promoting a collaborative environment. These are all components of what makes an engineer outstanding.
At BFW/Marcum, we feel the same way. The skills we reinforce in our future engineering workforce aren't just in the sciences. They're the soft skills that make a firm special; a commitment to one's principles, a commitment to their community, and compassion for future generations. Together, these principles will stand the test of time and ultimately embody the longevity and quality we strive for as an engineering firm.