What it Means to be a Professional Engineer (PE)

It stands to reason that anyone who graduates college with an engineering degree is on equal footing with their colleagues, right? While it is mostly true, the industry has a myriad of certifications one can get that allow one to continue their pursuit of engineering. The professional engineering license is one such thing; it tests your prior knowledge of engineering in an applied setting and gives you some credentials that are required in certain settings.
Being a PE means you can use a PE seal, which requires a few things first:
Have a 4-year, accredited degree in engineering
Pass the Fundamentals of Engineering exam
Complete four years of mentorship under an existing PE
Pass the PE exam
We're happy to announce two of our engineers just recently completed their PE certification. We sat down to talk to Rudy Lee, Project Engineer/Mechanical Engineer, and Josh Alstat, Structural Project Engineer, to gain some insight into their journey towards getting their PE license.
The Journey Begins with a College Degree
Both Rudy and Josh knew they wanted to be engineers in college, so they took the steps to get a degree in their industry straight out of the gate. Rudy earned a degree in Business Administration Marketing from the University of Kentucky, Lexington, and then went on to get a degree in Mechanical Engineering from the University of Kentucky, Paducah.
Josh honed in on a BA of Science in Civil Engineering from Southern Illinois University-Carbondale with a specialty in Structural Engineering.
What's the Difference between an Engineering Degree & a PE?
Rudy and Josh both agree this question is hard to answer. It depends on who you ask, where you ask it, and many other things. Rudy chimed in,
"At times, there isn't a huge difference between the two.  I know there are a lot of people way more intelligent than I am that are not PEs. To me, a PE is a continuation of the engineering journey, but in a specialized area versus the broad scope required to obtain a college degree.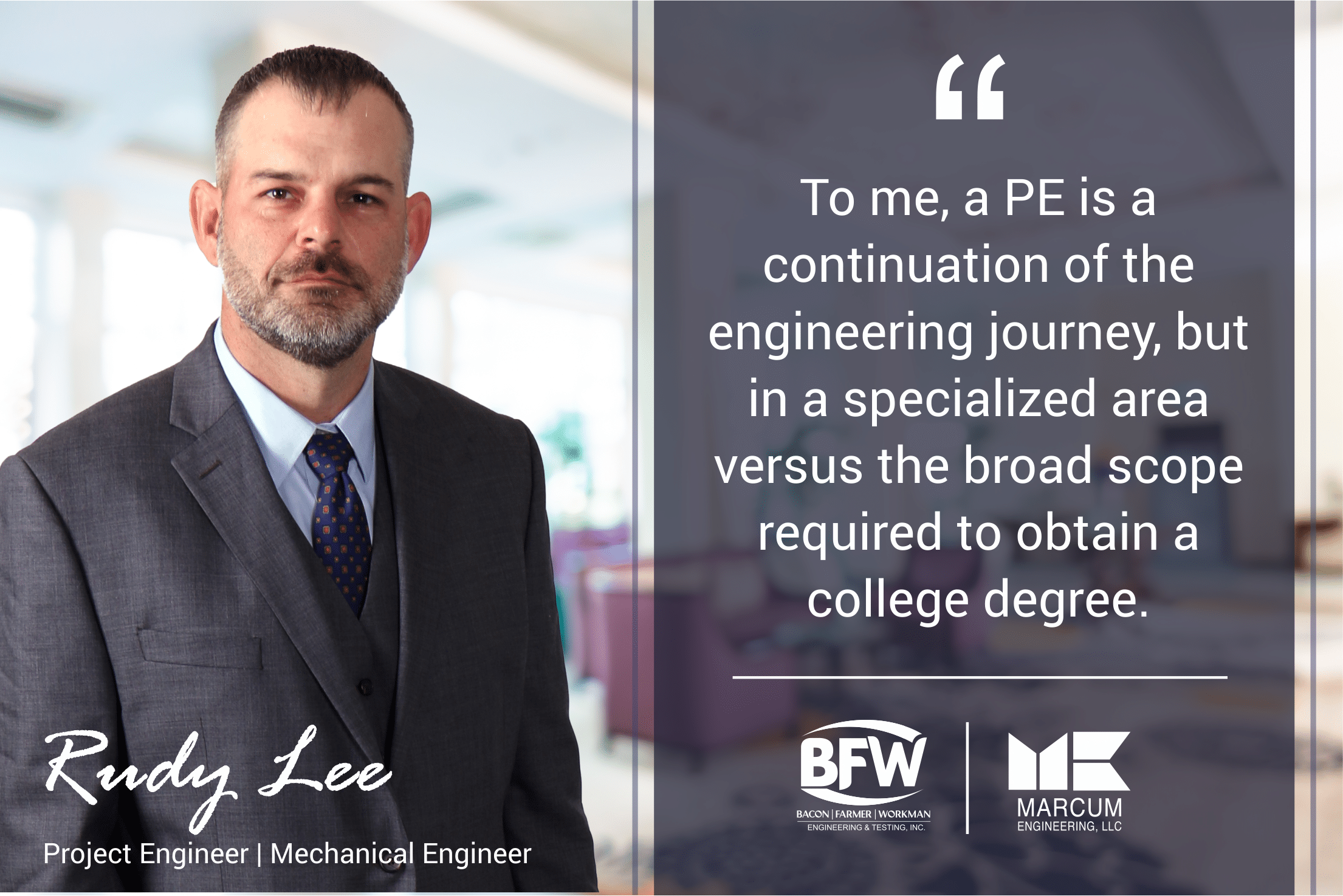 What I can attest to is that the PE does take a bit of discipline since you are working and have other obligations (life) that are going on while you are trying to study for the exams which are required. I think to many, a PE shows you are persistent in following through on tasks even if it is not the easiest path."
To put it simply, Rudy puts value on what a PE says about your work ethic; he thinks engineers and PEs are equally brilliant. Josh's opinion about getting your PE is a way of going back to the books after you'd had some real-life experience. It allows you to apply what you learned to what you found, making you not just an academic or self-taught, but a combination of both.
"After I received my engineering degree, I thought that I knew just about everything I needed to know to go out into the world and start designing buildings on my own.  However, that was far from the case.  Getting your engineering degree provides you with a good amount of tools and knowledge to complete some difficult design problems.  I found after college there are certain aspects of civil engineering that you can only truly learn while working.  This is why becoming a Professional Engineer (PE) requires an extra 4 years of additional education after you graduate from an accredited university, so you can get your feet wet and learn features of the trade that aren't necessarily taught in school."
PEs Give You Leadership Chops
We asked Rudy and Josh why they chose to pursue a PE license and they had similar answers. In short, they wanted to grow into project managers and felt being a PE would give them the skills and the clout. Rudy dives in further,
"I went into engineering later in life than a lot of folks, and to me obtaining the PE helped me compete with others that had more experience just because they had obtained their college degree earlier in life. I also wanted to pursue project management and be able to stamp the final design documents.
Maybe it's silly, but I also hated the title EIT (Engineer in Training) after my name in my documentation. I am not sure who came up with the title EIT, but to me it makes you sound insignificant. I mean, you could have worked in a field for twenty years and then gain the title EIT. Maybe they call it that to shame you into taking the PE exam!"
Josh agrees having a PE unlocks a few more doors, one of which is the ability to manage projects through your ability to put your PE seal on finished documentation.
"Long story short, I wanted to become a project manager that leads a team. To become a project manager, it is usually a requirement to have a PE license. A license proves you have the knowledge and skill to complete projects that meet code regulations."
Whether you want the stamp of EIT removed from your name or the stamp of approval added to it, a PE license is how you get there.
What's Next?
The beauty of engineering is there are a multitude of career paths. Both Rudy and Josh share one thing in common; they're not done. They hope to bolster their leadership skills now that they are project managers and, from there, the sky's the limit. Josh, however, has his eye on a Structural Engineering License.
"To legally stamp structural drawings in Illinois you're required to have a Structural Engineering License (SE). I am currently working on getting this license for both states.
I have passed the first part of the test and waiting on results for the second part. So, fingers crossed!"
At BFW/Marcum, we do everything we can to find people who aren't just career engineers, but people who have a natural curiosity. When you find people like this, you just know they'll never stop improving themselves. As a firm, we want our teammates to embody our own beliefs, which we hold dear. Never stop asking questions, and never think you've got it all figured out. When you think this way, you hold yourself to a higher standard and can't help but exceed your own expectations. Above all else, getting your PE license embodies those two things perfectly.