We Are One Big Family, No, Literally (Part 3)

In part 3 of "We Are One Big Family. No, Literally." We conclude our series that celebrates the familial connections we share at BFW/Marcum.
Baccus & Faith – Father & Daughter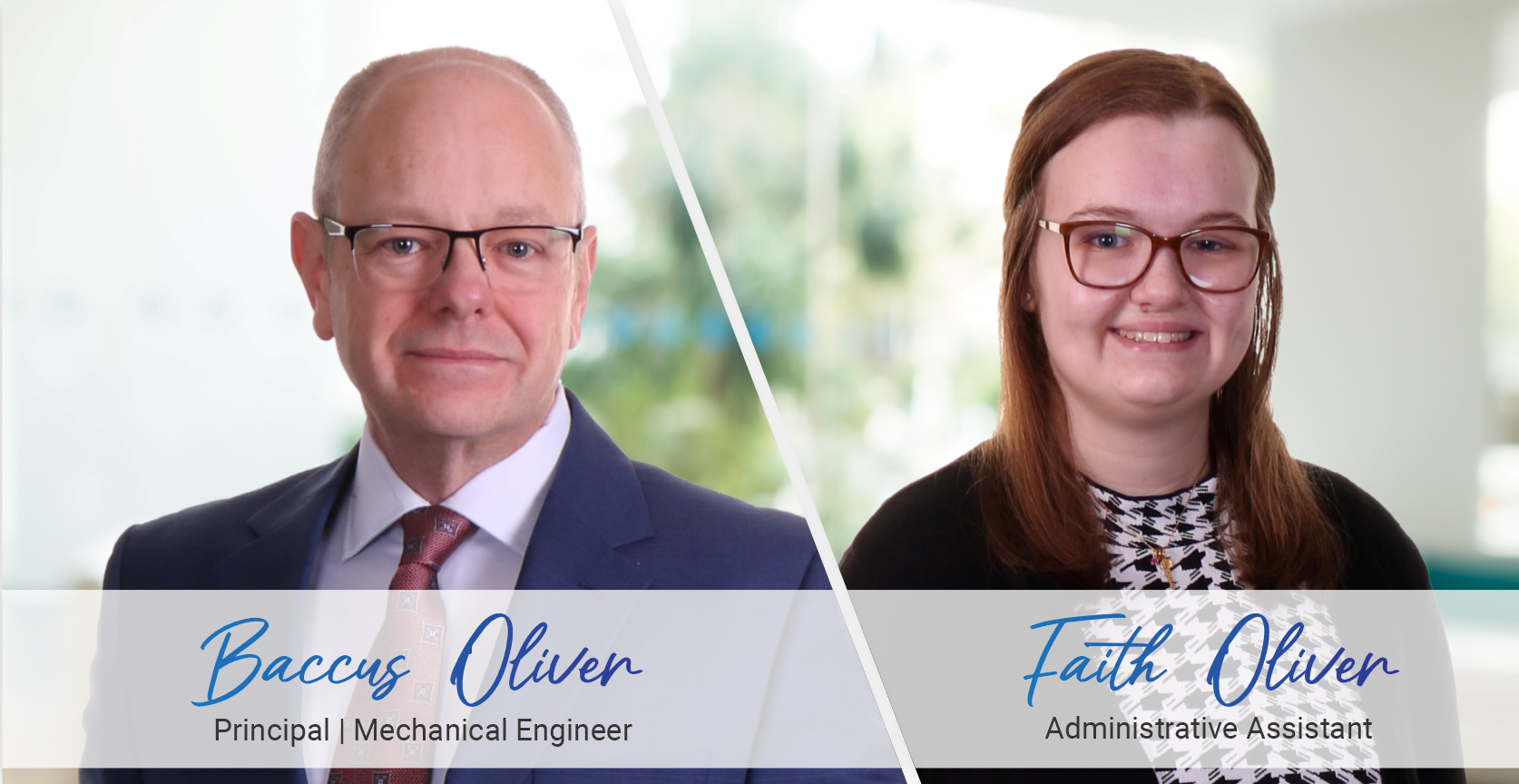 Baccus is a voice we hear often around here. He's a member in the ownership of our Marcum Engineering side, and a key member of the entire firm.
"I act as Principal and oversee the operations for Marcum Engineering."
It was with big shoes to fill that Faith came aboard, but Faith figured she'd do her own thing. "I am a part-time Administrative Assistant. I enjoy getting to help with a variety of tasks including preparing reports, organizing files, and assisting with our wellness program."
She'll leave the engineering and operational management to her father, at least for now! Yet, Faith illustrates an important component to the BFW/Marcum culture, one we've touched on in the past. It isn't just about engineering over here. Administration and Human Resources are an integral part of employee morale and overall health and happiness. Without people like Faith, we wouldn't have the motivation.
It's Tough Letting Go
Baccus admits that, despite his confidence in his daughter (her name is Faith, after all,) he couldn't help but be a dad when she joined the firm. "At first, I was apprehensive.  But I realized Faith has more than enough ability to do most anything.  More importantly, she would do outstanding work and help the companies."
Faith still remembers her early years watching her father look over important projects. "I remember, when I was 6, my first 'job' was to 'help' my dad by stamping drawings over the weekend."
Yet, she's surprised that she's now sharing an office with him. "Even though I grew up coming here my whole life, I never thought I'd be working here. It is absolutely an exciting and full-circle opportunity for me to be working at BFW/Marcum. A lot of my coworkers watched me grow up throughout the years, so it's really fun getting to develop new relationships with them and help with their projects now."
A Steppingstone
For Faith, being a part-timer is a mere steppingstone on her career journey. Baccus explains to her that as soon as she needs to, feel free to pull the ripcord! "Faith is temporary as she progresses to medical school.  I routinely tell her she can quit anytime she needs for the best of her career path."
Faith's advice to her father? Something he might be familiar with. "'Make it a great day.' 😉 It's something Dad used to tell me every morning before school and now I've finally realized how important it is. I know we can all have some difficult days at work, but remembering to remain positive and work your hardest will control how you feel and create an impact on those around you."
Brad & Geoff – Father & Son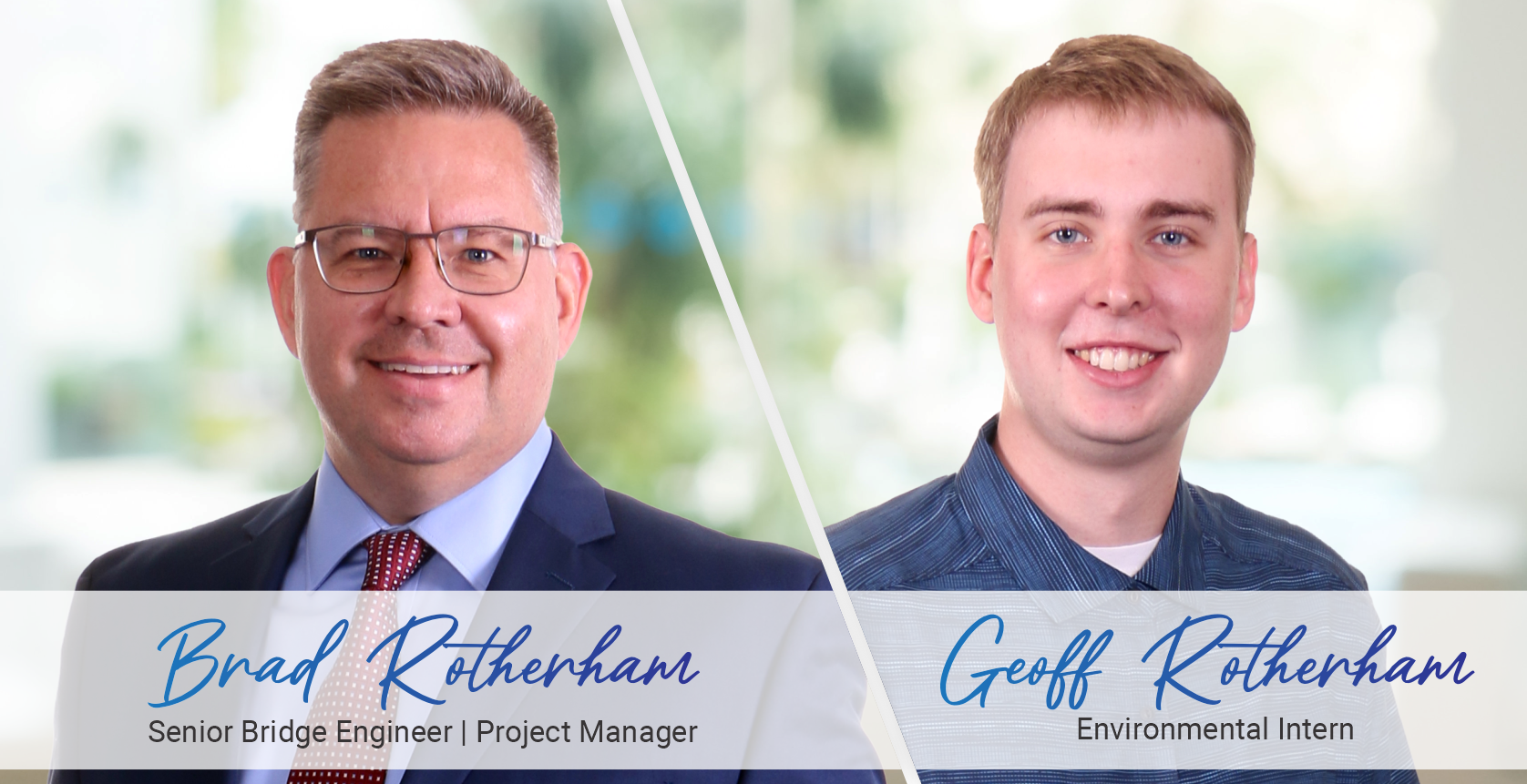 Brad and his son Geoff overlap in many ways. They both have an interest in how systems work. Yet, they've found an interest in different industries.
Brad has been at engineering for a while. So much so that he's more involved in running things these days. "I manage the BFW Office located in Springfield, IL. I am also our Senior Transportation Bridge Engineer where I focus on the planning and design of transportation structures/bridges."
Geoff has just started his journey and has found a place in our environmental division, but not as an engineer. "I am an environmental intern working under Susannah Campbell. However, I've been doing a little bit of everything this summer. Currently, my job involves doing field work and helping to organize the data/information when we return to the office."
Similar but Different
"Geoffrey is actually not pursuing engineer, although he is following in my steps as a guy that likes to observe things closely and figure out how they work. He is currently a natural Resources and environmental science major.
His area of concentration is fish, wildlife, and conservation biology. When he finally settled in this area, I was extremely happy for him. He has found a career path that perfectly suits his interests and personality. At the time of his decision, it meant an additional year of school to complete the required biology, ecology, and mathematics courses. I was pleased to see that the additional work and demanding coursework did not discourage him."
Geoff was inspired early on by the outdoors. So much so that he's driven to make it a part of his career. "I chose this field in part due to a vacation out to Yellowstone and camping trips my dad took me on when I was younger. While the journeys didn't always go according to plan due to storms, angry raccoons, or me getting eaten alive by bugs, they made me realize that I enjoyed spending time outdoors and wanted to do that as a career."
Do You Know You Know?
"I have always asked our children 'Do you know you know, or do you think you know?' It's meant to challenge them to question their assumptions." Brad explains.
As for everything else in life, he has some simple advice. "My wife and I have always told him to consider his faith first, to work hard, and do his best no matter what the task is before him. Never be afraid to ask questions."
Geoff, on the other hand, has only some extremely practical advice for his father. "Remember to walk Bert (my dog) twice a day while I'm gone."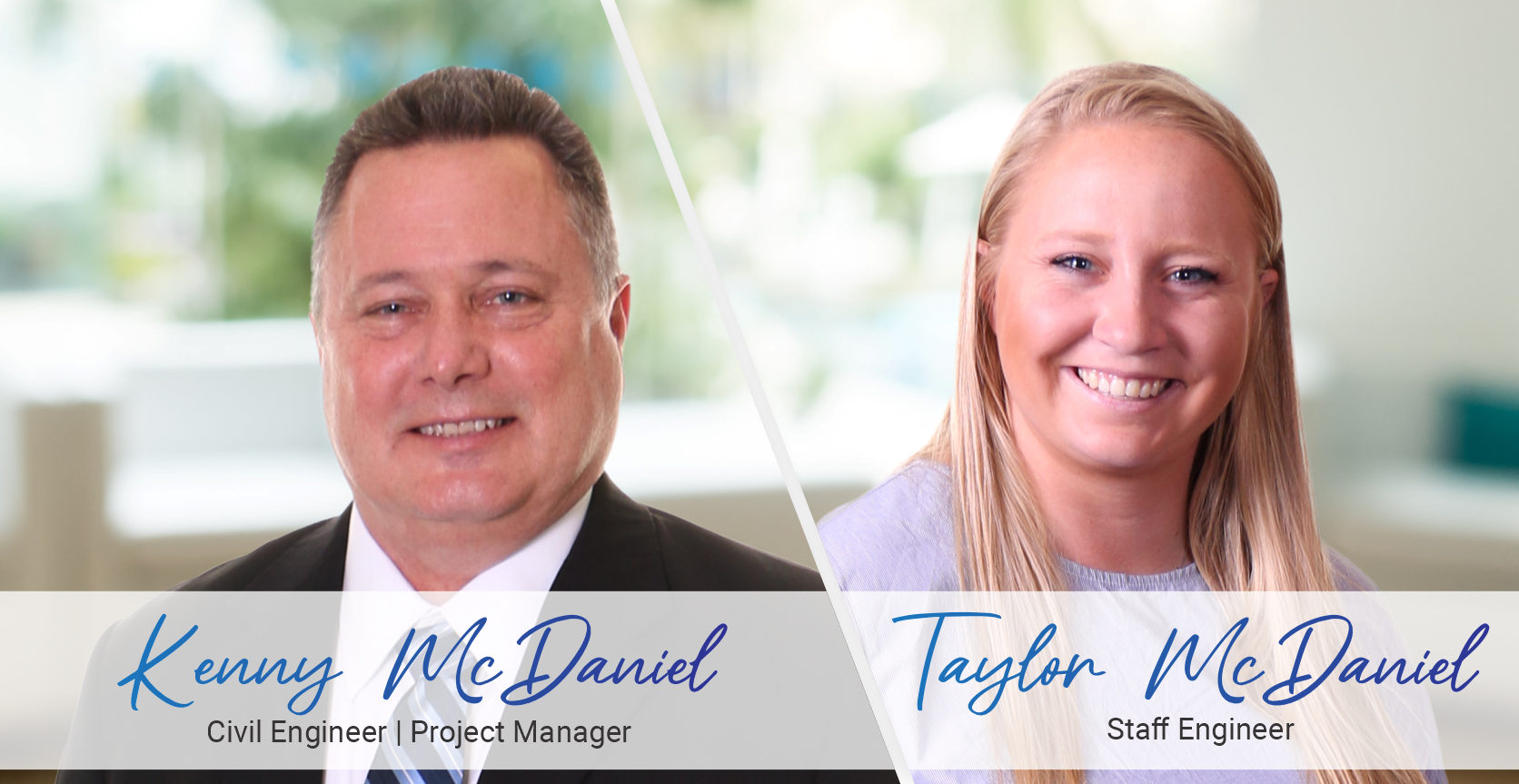 Come hell or high water—that's the kind of adherence to perseverance you need to be a Senior Project Manager, or a staff engineer focused on hydraulics studies. The high water part? Sometimes that's literal.
It just so happens that Kenny and his daughter are both of these. Kenny's the manager. "I am leader of the civil department and Senior Project Manager for BFW."
Taylor's pulling up her sleeves (and pant legs) as a staff engineer. "I work in the Marion, IL office as a staff engineer in the transportation department. I primarily work on hydraulic studies for bridge/culverts on various projects in Illinois, Missouri, Indiana, and Kentucky."
A Pursuit to Help Others
Kenny knew that whatever her career path, Taylor would choose something that helped her community. "I'm proud that she was willing to take on the challenging curriculum and daily work challenges to follow.
 She has always liked to be challenged and investigated fields that her work would help others, choosing engineering is a place where she can do both."
Taylor began her education in nursing but found that she wanted more of a challenge while still doing good. "While in college, I wanted to change from nursing to something else. As I talked more with my dad, engineering sounded interesting. Honestly, it was the best decision I made. My family always said I would make a good engineer. Looking back, I'm not 100% sure they meant that as a compliment (ha.)"
Make the Work Fun, but Take a Break
Kenny has some sage advice for Taylor. "I'd tell her, 'Don't go into Consulting." Ha, just kidding.  The truth is you should work where you are happy, challenged, and like the people you are around. A good day at work shouldn't feel like a job at all."
Kenny's right. Wherever you end up, make sure you're having fun. Taylor counters this advice for her father. No matter how fun work is, don't forget to stop and smell the roses.
"Take a break, take a walk, and turn your phone off every once in a while!"
She's right, you know. Work should fill you with joy, but there's more to life than your 9 to 5. However, the truth is we spend a lot of time in the office. That's precisely why we must treat each other as family, especially when we're not related by blood. If you aren't doing meaningful work with meaningful people, then what are you doing?
We're a big family here, both in a literal sense, but in the figurative one as well. We think that's why we've shared so much success over the decades. We treat each other well, through thick and thin, and we look out for one another. The work comes second to the people—that's the way it should be.