He's worked for the client, heck, he was the client. Jim Codell III, Business Development, is our newest team member. Even so, he's led a long and storied career in the transportation and engineering world. His penchant for business development (otherwise known as being good people) can be attributed to his expertise, nuance, intuition, and aim to please.
Jim is no stranger to BFW/Marcum. He was, nearly 25 years ago, one of our biggest clients. Without further ado, we'd like to introduce Jim.
Retirement Isn't What It's Cracked Up to Be
You might wonder, why an 81-year-old that doesn't have to work takes on a new full-time role in business development. Jim has a simple answer. "I like people—I like the whole kissing babies thing. Besides, how much hunting and fishing can a guy do? I just turned 81 last week. I think seeing and mingling with people keeps me moving. Working has always been a passion, not a paycheck.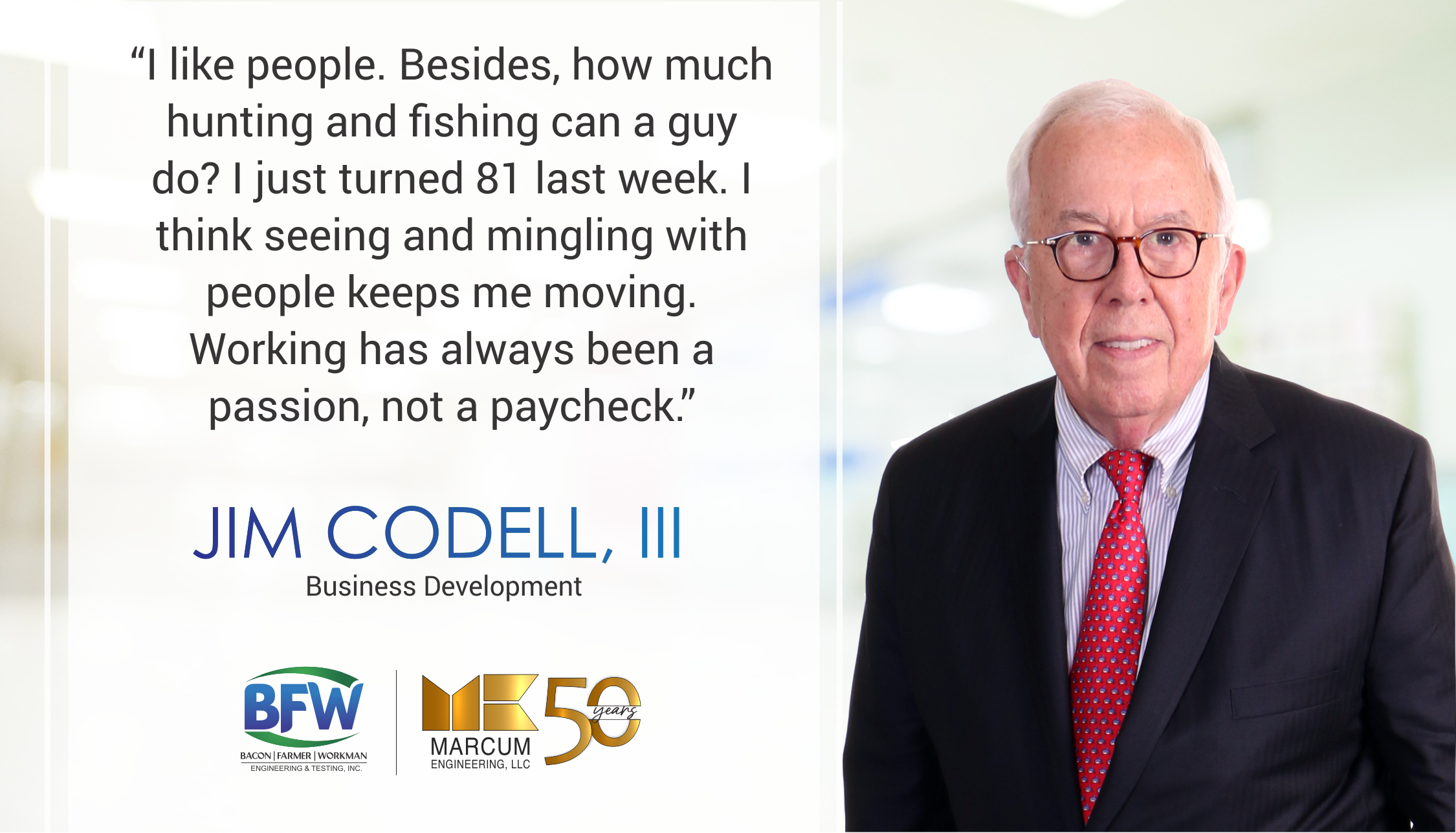 Work gives me an excuse to travel and meet people. I've always worked without compromise—working the way I do never gives me a chance to sit around and wonder when I'll stop."
A Long Friendship
"I've known Mark Workman for over 25 years," explains Jim. "I was Secretary of Transportation of the Kentucky Transportation Cabinet when BFW, led by Mark and Chris Farmer, signed their first contract with a transportation cabinet. We became fast friends and never lost touch.
I'd been working with another firm for nearly 20 years when Mark tapped me on the shoulder. He asked me if I was interested in joining BFW as part of their business development efforts.
Quite frankly, I told him thank you but no in so many words. It wasn't until last February that I started to come around to the idea and I reached out and told Mark I was interested. He asked me to start the next day. I had to laugh and tell him to hold his horses and that it'd be more like 5-6 weeks because I needed to get my ducks in a row at my current firm.
Well, here I am, and I couldn't be happier."
A Key to the City
"I don't want to say that I've done it all, but I've done a lot. I've been the guy whose blood, sweat, and tears get it done through my work with the railroads. I've been the manager—the leadership, even. Most importantly, I've been on the other side as a client with my work for various state transportation agencies. When Mark first met me, I was the Secretary of the Transportation Department of Kentucky.
I've also been president of Kentucky (KAHC), Southeastern (SASHTO), Mid-American (MAASTO), and American (AASHTO) Associations of State Highway Officials. Now, I wouldn't say the door is always open with these regions—they don't run that way. However, I have a key to the lock. I know the right people, and they know what I and BFW/Marcum represent."
Jim Intends to Hit the Ground Running
"I was hired for business development. As far as I know, that means I was hired to do that meet people and kiss babies thing I mentioned earlier. The hunting and fishing will have to wait, or at the very least, be relegated to the weekend.
I intend to bolster our business development efforts in Kentucky. There are 12 district offices in this state and I'm pretty sure I have a connection in every single one of them. However, I understand just how much BFW/Marcum has cornered the Kentucky market, so I plan to use my skills to expand outward into a few other states.
I'll be knocking on doors in Illinois, Tennessee, and Missouri as well. However, we're active and doing well in those regions, too. One door I want to open is Arkansas. I have friends over there that would be highly interested in the kind of quality work that BFW/Marcum is known for.
To be perfectly honest, I think it was only a matter of time before BFW and I partnered beyond the usual client/firm relationship we've had over the years. It feels good to work with a company you know well and have pride in. I'm happy to share my expertise, experience, and intuition with these people."