In order to remain the top choice in our field, we put continuous consideration into how we work. We'd be nowhere without our tools. In this day and age, manpower can only get you so far. We embrace technology; we understand that sophisticated tools make us more precise and efficient. Our use of technology shapes our work in many ways—on the ground, in the sky, and through the cloud. Truthfully, we love talking to our customers about the unique tools we use, and why they're important to the good work we do at BFW/MELLC.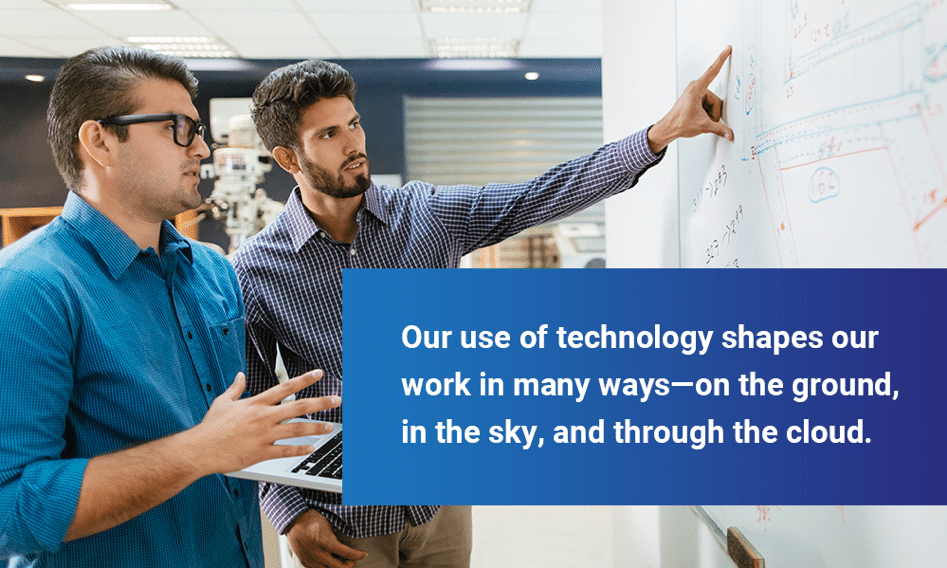 LiDAR, or Light Detection & Ranging
LiDAR isn't anything new—in fact, the technology was first used in the 1960s. Simply put, LiDAR is any geospatial measurement device that emits and tracks a laser. By measuring the time for a LiDAR device's signal (the laser) to return to its source, scientists found they were able to accurately calculate the distance of objects and thereby measure them accurately from afar. LiDAR first came into popular use by meteorologists in the 1970s. Today, LiDAR is found in everything from handheld devices you can buy at Home Depot to driverless vehicle technology the likes of which is used by Google and Uber.
At BFW/MELLC, we use LiDAR for geospatial and industrial purposes. We own Faro Focus Static Scanners, which are full-fledged 3D scanners that provide extremely accurate measurements, and a vehicle-mounted Trimble MX2 scanner, which have precise geo-referenced positioning and rugged high-performance laser scanning allowing us to capture data on any mobile platform.
The vehicle-mounted device allows us to scan uneven highway pavement at a rate of up to 20 miles per day, typically at 50% of cost using conventional methods. The use of LiDAR gives us the ability to convey this information directly to our engineers with almost no delay. This also allows us to provide our client a dataset that can be incorporated into design plans in a time frame not previously attainable with conventional methods.
Not only is LiDAR fast and accurate—it's much safer than deploying a conventional survey team that has to stand on the side of the highway. In short, we're able to drive along the highway, map the terrain, and relay detailed information of the highway to our engineers for in-depth structural analysis and planning.
Fixed-Wing Drones
Commercial drones are quickly becoming tremendous tools for the construction and engineering industry for those who invest in the technology. We deploy Delair UX11 and DJI Matrice 210 drones for the purposes of inspections and aerial images. However, these are not the drones you can buy off the shelf—they're much larger, extremely robust, and have flight times of over an hour.
Our flexible drone platforms are so versatile that we're always discovering new applications for our clients. Ryan McDowell, one of our Professional Land Surveyors and a FAA licensed Remote Pilot, has a story about how unconventionally useful drone technology is in our industry.
"For one of our clients, we used our drones to create an aerial map of their property that was being inundated with floodwaters. Once the data was collected and processed we created a Google Earth KML file that allowed the client to see how their property was being affected by the floodwaters. Moreover, with the digital data that was collected with the drones, we created a digital surface model that created a topographic contour map of their property which allowed the clients, with a click of a button to see the number of assets that would be flooded at a single foot interval. This has given them a great deal of information for them to use in preparation for the next flood."
With drones, you can capture tremendous amounts of data. Utilizing the right tools to interpret that data, you can gain much greater insight with much less manpower.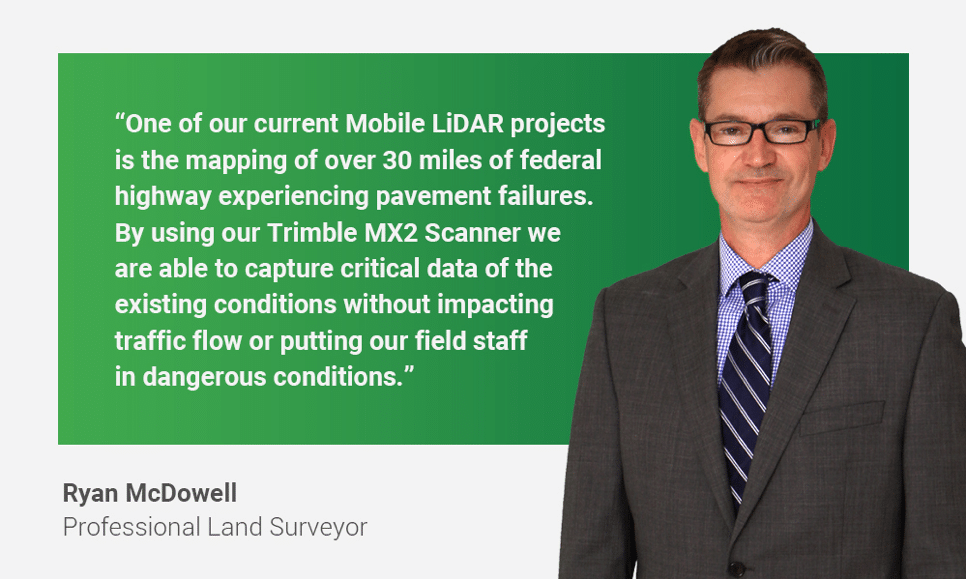 BIM (Building Information Modeling)
BIM is an intelligent 3D-modeling process that gives collaborative freedom to managing the planning, designing, construction, and overall management of buildings and infrastructure. We specifically use BIM to collaborate among our various engineering disciplines in real-time. For instance, our mechanical team can see a support beam placed in real-time by our structural team and avoid a conflict with a building's ductwork while still in the drafting stages—these are the types of problems that can be overlooked without the proper amount of collaborative oversight. BIM allows us to be strategic, efficient, and innovative by removing much of the stop-and-go work that encapsulates the planning stage.
Although we're a geographically dispersed company, we've been able to use BIM 360 and Autodesk to work instantly and in real-time with each other. This has allowed us to open many two-way communications with our teams that were once impossible. Because our workflow happens in the cloud and in real-time, all of our offices can work together simultaneously. Previously, we kept many of our projects contained to one office due to the complications that arose from fragmenting our workflow. With BIM, we're connected to each other like never before.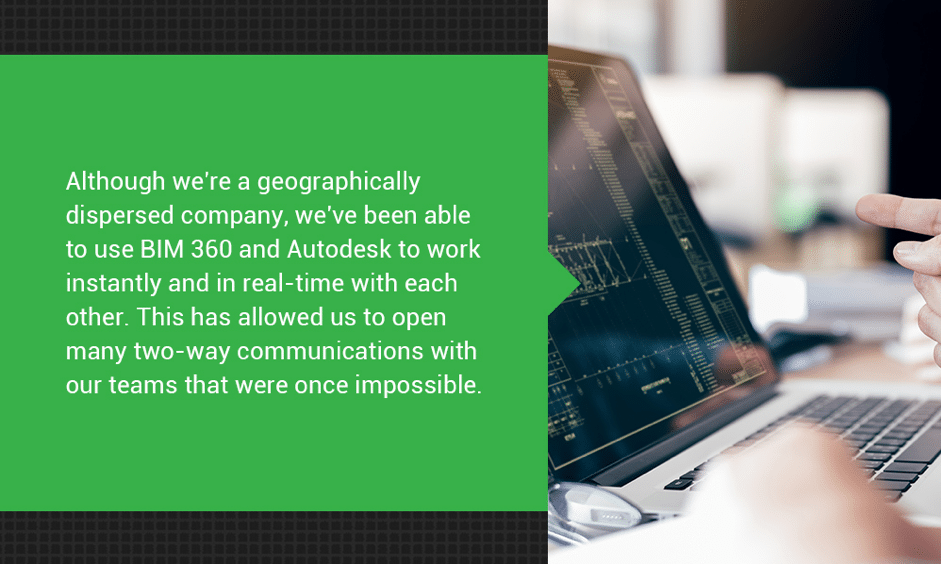 ProjectWise
ProjectWise is another way of collaborating via the cloud. ProjectWise allows us to no longer rely on physical hardware to store our data. With ProjectWise's data recovery features, it's nearly impossible for us to lose any of our data. Furthermore, it allows all of our offices to work on the same files without any conflicts. No one wants their previous work overwritten, and ProjectWise provides a clear avenue of shared workflow that avoids those classic pitfalls.
We have design teams spread across nine offices that often work on the same projects and design files. ProjectWise uses a "check out check in" process with files stored in it to prevent file conflicts that often occur. We can classify design files with a status throughout the design process which in turn can be monitored by Project Managers to maintain schedules. To be able to point all of our design teams to one location for access to their files has been exciting. Scott, our IT Systems Administrator, was the biggest advocate for getting us on board with ProjectWise:
"Our transportation team has been able to collaborate with our partner design firms on projects simply and easily by providing seamless access to design files through ProjectWise.
We evaluated competitors' offerings but none of them were apples to apples. ProjectWise affords us the ability to add unique project information that is indexed and searchable.  Our civil design team can refer back to a similar past project by searching for keywords, just like on any search engine. This has allowed us to easily review past work in order to lay the groundwork for future similar projects."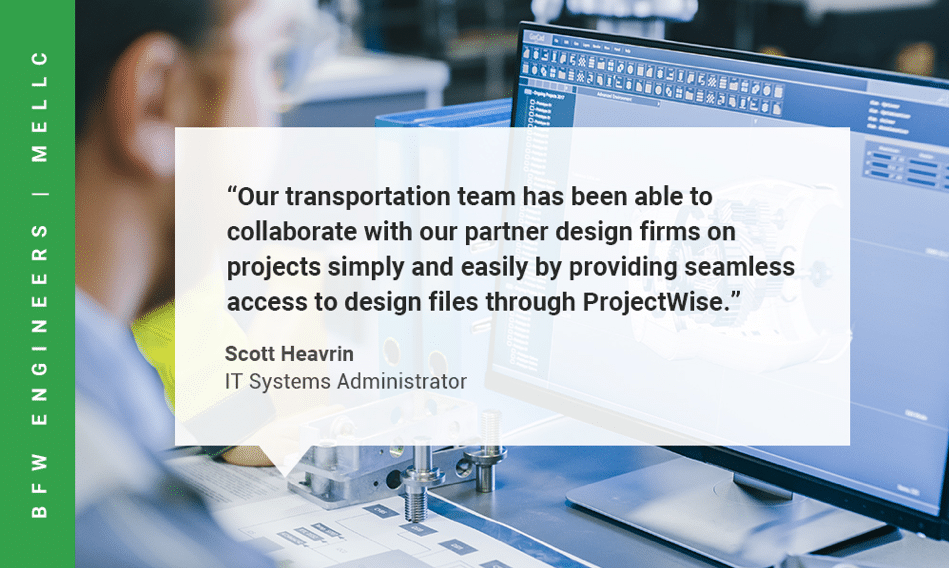 Our Tools Bring Out the Best in Us
We're hard workers, but we're also innovators. We're always eager to do more with what we have and we have the best people in place already. We've found, through the years, that the right balance of human intuition and machine-driven accuracy gets us the best results every time. At the very least, we've found our use of technology makes us more accurate, safer, and better at collaborating among ourselves and with our clients. Our tools bring out the best in us—they let us work together and push the ceiling even higher when it comes to quality and customer experience.