The Important Art of Designing a Landscape

A lot goes into any of our engineering projects. Engineering is about both the design and the planning of that design; it goes without saying the industry is a creative one but simultaneously one that is deeply rooted in pragmatism. Even though our field is highly creative, that doesn't do much to thwart an engineer's reputation as an individual who might be more interested in the construction of the frame of the Mona Lisa rather than the skillfulness of the painting itself. Yet, it's true—engineers are detail-oriented strategists who love to deconstruct an idea to find its bottom line. That's one of the many challenges of the job!
However, a true engineer is someone that manages to balance their admiration for the frame and the painting. At BFW/Marcum, we're believers in finding an equilibrium between ingenuity and artistry. There is no better example of that than landscape architecture.
The Unification of Art & Engineering
We asked our Landscape Architect, Jonathan Perkins, to define what he thinks landscape architecture is.
"Landscape architecture, in my opinion, is actually tricky to define – it is such a diverse field.  Some LA's are designers, some are planners, some become lawyers and some just want to mow grass.
All of these seem to fit under the definition provided by our national organization, ASLA:
Landscape architects analyze, plan, design, manage and nurture both manmade and natural environments. Landscape architects have a significant impact on communities and quality of life.
They design parks, campuses, streetscapes, trails, plazas, and other projects that help define a community.
I chose the route of a designer, planner, and plantsman and within an engineering firm I play a unique role – not only am I the former but I am also an interpreter of sorts. My background allows me to have a general grasp of what architects, engineers, landscapers, arborists, and land planners are trying to accomplish on a given project. I often have the ability to enhance what my engineering colleagues are producing. LA's typically have a different spin on site design and attempt to consider a design's effect to a site from the standpoint of environmental impact, impact on its surroundings, and of course, aesthetics in addition to the site's function alone."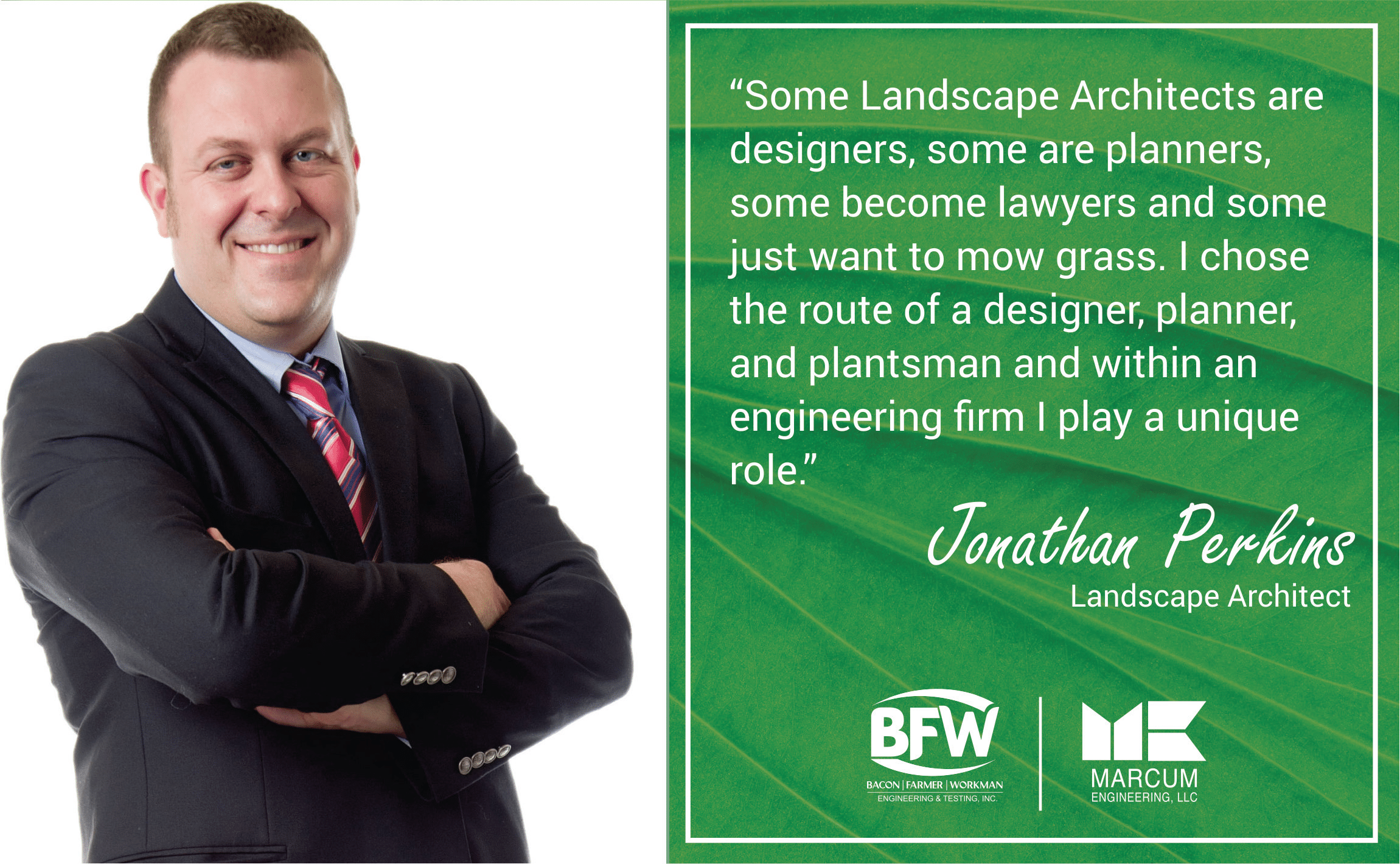 How We Do Landscape Architecture
Thanks to Jonathan, we have an expansive list of landscape architecture capabilities that we do in-house:
Landscape Planning & Design
Native Landscape Design
Sustainable Design
LEED® Accredited Professional
ISA Certified Arborist
Pre-Construction Building Site Selection
Tree Planting Master Planning and Consulting
Streetscape & Street Tree Planning & Design
Park & Recreation Multi-Use Trail/Healthway Design
Pavement Design – Walkways, Parking, Plazas, Patios
Recreational Space Planning & Design
Development/Growth planning for Businesses, Parks, Religious Institutions, and Residential Properties
Tree Inventories & Assessments
Construction Mitigation & Tree Protection Planning
Tree Maintenance Recommendations
Wayfinding & Interpretive Signage Design
Providing a Different Perspective
As Jonathan mentioned earlier, one of the most important roles a landscape architect plays in the engineering and design process is in their unique perspective. They are integral to out-of-the-box thinking and, often, get everyone out of their own heads to see the overall planning stage from another angle—this helps us think critically about the decisions we make. Jonathan enjoys shaking projects up with his unique take.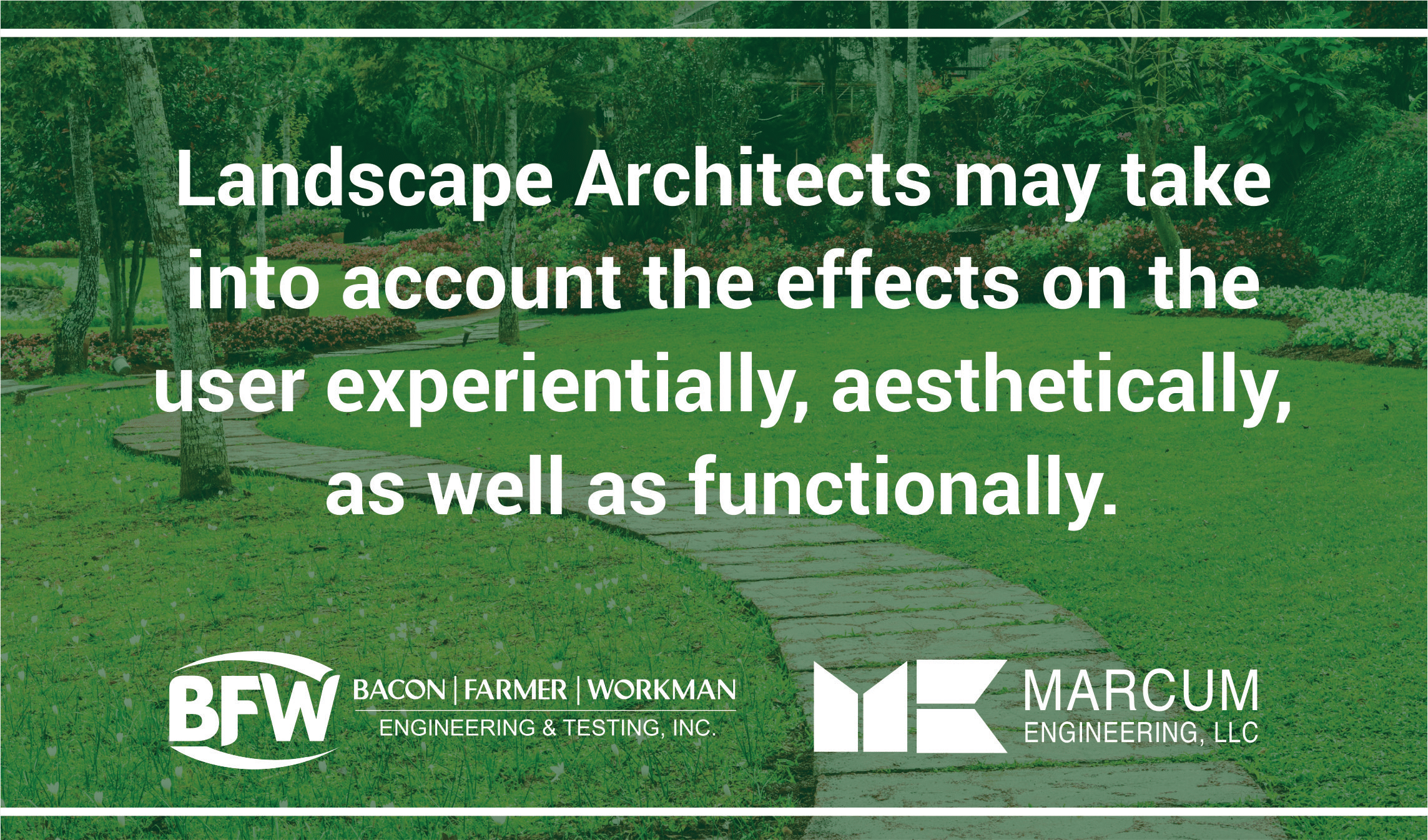 "As I mentioned a moment ago, landscape architects can enhance and provide a different perspective to a civil engineering project. An engineer may approach a new site design project from the perspective of how to solve the client's problem in the most precise and pragmatic fashion whereas a landscape architect may approach the same site with a different pair of eyes.
Landscape Architects may take into account the effects on the user experientially, aesthetically, as well as functionally.  Very often the user experience of the site is important, such as:  How do you feel when you are using the project?  Is it comfortable?  Do you feel safe?  Is it attractive and appropriately scaled?  Does the design place the user on a narrow sidewalk pressed between a busy road and a 60-foot-tall concrete wall void of any character? Or are you placing trees and other "human-scale" vertical elements between the user, the road, and the wall so they don't feel so overwhelmed and uncomfortable by the scale of the wall or their proximity to the edge of the road?"
These are the kinds of questions that make our community feel not only safe but full of pride for their public spaces. Without landscape design, we'd have a much more utilitarian approach to much of the public resources we use every single day.
Landscape Design from A to Z
We asked Jonathan to go over the basic components of approaching a civil engineering project from his perspective. He broke it down for us in stages:
Typically, a client must have a vision of their own and a desire to work with a designer to make it happen.
They will then contract with the landscape architect or team of designers, often including engineers and architects, to help them achieve their vision.
The design team will then provide guidance and conceptual designs that are intended to meet the goals/objectives of the client.
The client then reviews and gives input on the designs and releases the team to create a master plan.
At this point, the client then takes the master plan on to the next phase – construction documents or they wait until they have the funding to design/construct the project(s) at a later date in keeping with the master plan.
Jonathan's role in this process is to look at the objectives being met and asking the question, "can we do this in a friendlier way while still retaining the basic tenets of the project, such as budget, time, and client satisfaction?"
LA Doesn't Just Fix Problems—it Finds Organic Solutions
Jonathan wanted to be sure to explain that he's not simply a problem solver.  There is a time and a place for strict pragmatism in a design and a time and a place for taking a step back and thinking up alternative solutions -that's Jonathan's primary goal.  That's how he pitches his expertise to clients as well.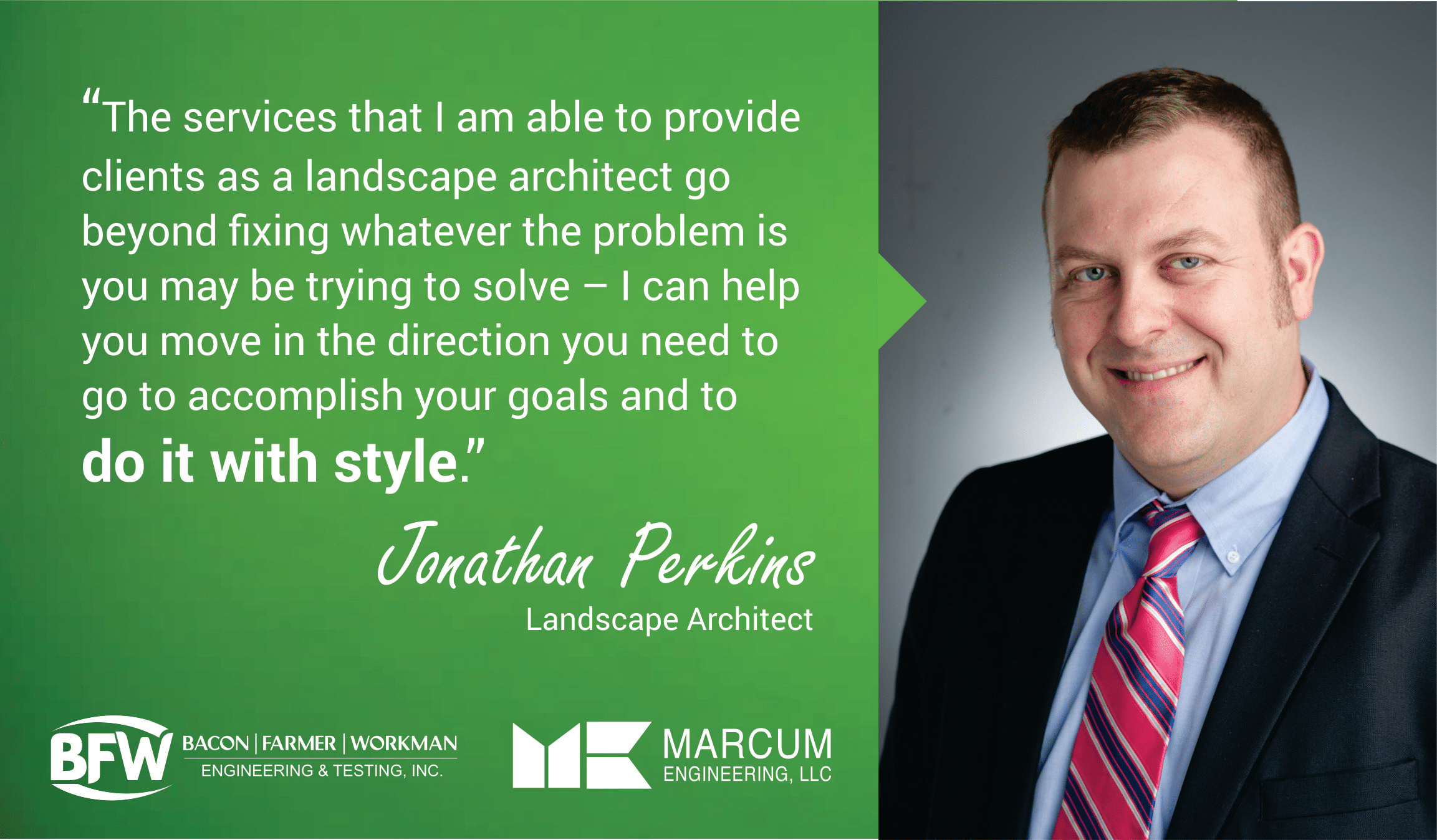 "The services that I am able to provide clients as a landscape architect go beyond fixing whatever the problem is you may be trying to solve – I can help you move in the direction you need to go to accomplish your goals and to do it with style.
I don't just provide you the quick fix you may think you need but work hand-in-hand with you to provide attractive and functional alternatives that will exceed your needs.  With a team of engineers at my side, I can accomplish nearly every site design goal that you may have whether it be designing a park playground, a trail system, signage system, or parking lot."