Driving the Innovation That'll Get Us Back to Normal

Sadly, the days where you could simply walk into a public building are gone, at least for the time being. The "new normal" adhered to by most of the United States is that of social distancing and avoidance of public spaces.
With those restrictions, comes a once-unheard of reality—both public and private buildings are either carefully controlled or altogether shut down. At this point, while we may be growing weary, we are well past the shock that came with this upheaval. Yet, now more than ever, we're keen on what the future holds and even more eager to get back to "normal". At BFW/Marcum, we're doing our best to help.
Body Temperature Detection Cameras Can Help Us Get Back on Our Feet
As an engineering firm, we've had our hands in the implementation of body temperature cameras under many different applications. In many settings, they are a necessity to strictly control a sterile environment. However, they are more relevant today than ever and for a brand new reason.
You might have heard in the news the steps nations like South Korea has taken to respond to their own viral threat. Namely, they've enlisted the help of body temperature cameras, which are strategically placed at the primary egress of buildings to check the temperature of individuals going in or out.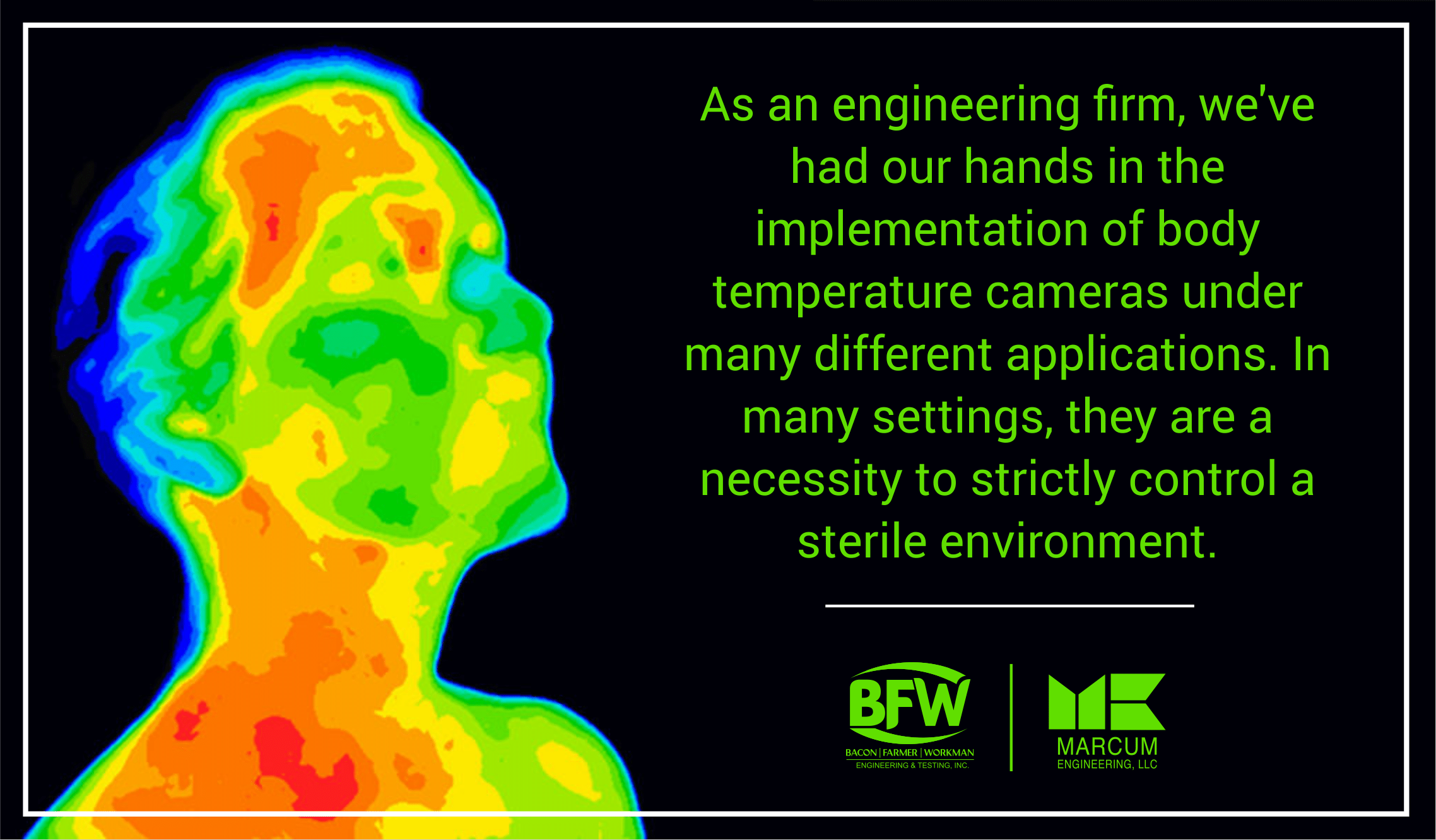 This technology, paired with the multitude of other proactive systems in place, has helped nations like South Korea minimize the impact the virus has had on their country. It sounds like science fiction and, at the same time, you probably wondered why this isn't being done in the United States. We can say that it is! Our firm has a thorough understanding of the technology and we'll help you implement it.
We Use the InVid Body Temperature Detection Network Camera
The InVid temperature camera is a networked, sophisticated camera that can detect the body temperatures of up to 16 individuals per second.  
Josh Freeman, PLC/HMI Programmer/Project Systems Coordinator, is the person at BFW/Marcum with the greatest understanding of this technology as well as its practical application in the fight to get our country back to normal.
"Being able to monitor body temperature with a camera as people are entering a building can be the first line of defense against potential contamination inside a publicly shared space. When you can single out an individual with a fever, and send them home, you have potentially stopped the spread of illness or virus to the rest of the employees."
Moreover, you're not simply protecting a workforce, you're providing crucial forensic data that can be read, extrapolated, and used to better trace the virus on a national scale. To put it simply, if we had more of these cameras out in the world, we'd have a timelier, more sophisticated response to this virus.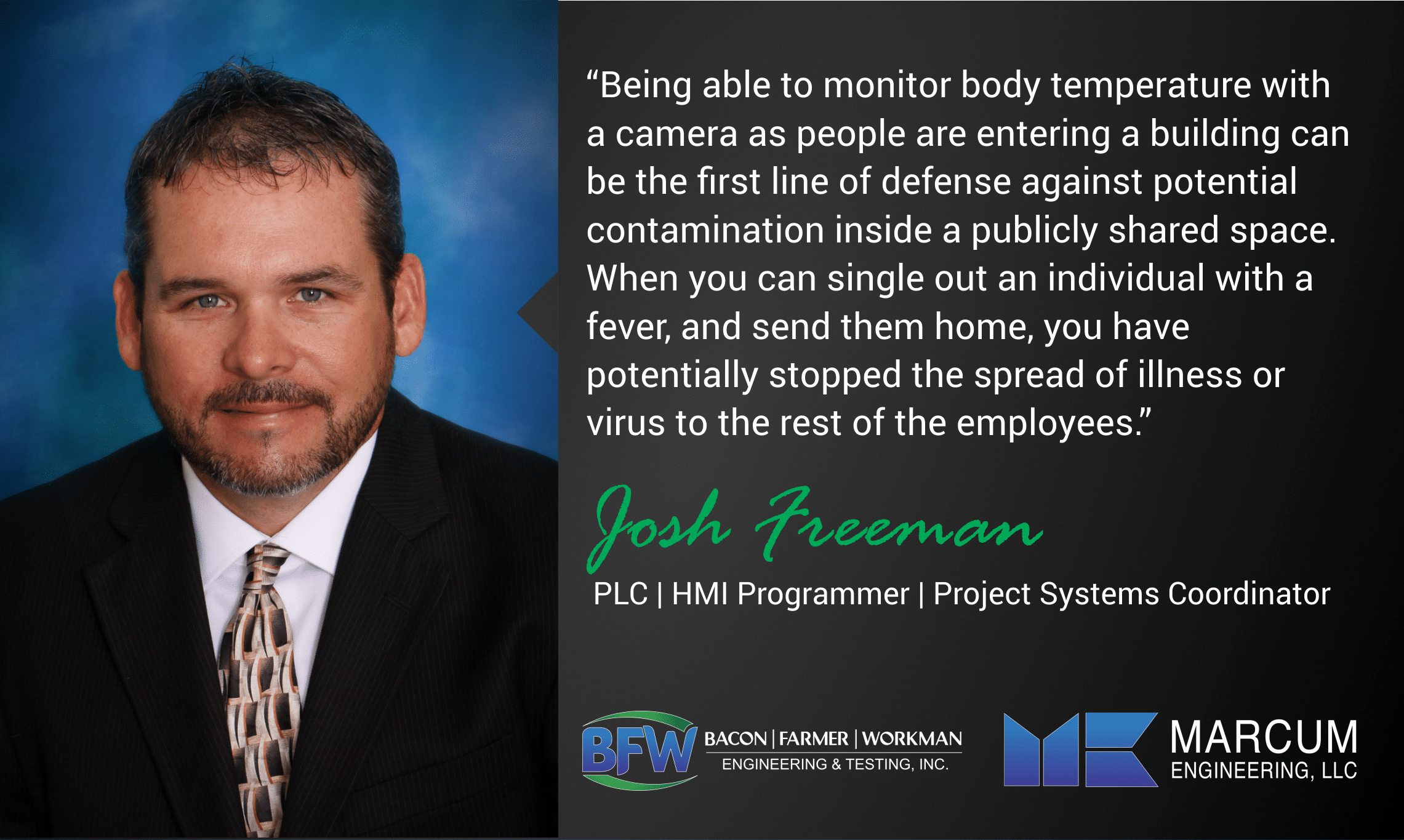 We've already implemented this technology and can speak on behalf of its efficacy. While it's not a total solution, it's one piece of the puzzle. Josh further explains the real-world examples of this temperature monitoring technology.
"A few outdoor applications we've helped install consist of having employees walk through an empty shipping container or tent-like structure with the camera and calibrator set up inside. We have also implemented audible and visual alarms when a high temperature is detected."
Getting Back to Normal Has to be Done Safely; We're Here to Help
It's normal to feel anxious about settling back into a normal way of life—we're all in the same boat. However, it's important to make sure we do it safely. Temperature monitoring cameras are a great first step and one that is non-invasive to the public.
Our firm is finding that our role in this crisis is as community leaders, problem solvers, and helpers. We're happy to use our expertise to help get things back to how they used to be—back when you could enter the grocery store, the library, or your place of employment without a second thought.
Fred Rogers said it best when speaking about a crisis or upheaval. His words resonate with us as much now as they always have. We can only hope to be a small part of what he is referencing.
"When I was a boy and I would see scary things in the news, my mother would say to me, look for the helpers. You will always find people who are helping."
At BFW/Marcum, that's all we're trying to do these days. Help in the only way we can—as the big picture thinkers, the problem solvers, and the drivers of innovation. With technology like the InVid camera, we're eager to be a part of the solution to this global problem. Moreover, we're happy to be a proactive part of our local community's efforts to just get back to normal.