Value is What We Deliver

We can discuss the topic of value indefinitely. It's one of those seemingly simple concepts that, once unraveled, has no clear end. It's both objective and relative in how it's measured, which makes it all the more complicated to maintain. However, the challenge of delivering value is our greatest focus at the firm. Ultimately, it's where all of our resources go and it's where we find our success.
How We Define Value
We asked a handful of our leadership what value meant to them to help paint a broader picture of the term.
Mark Workman, Executive Vice President/Principal
"Everybody and every firm define value differently. However, for me, when I look around at our team I feel that at BFW/Marcum, we view value as being at the center of who we are at our core.
We want to bring the best ideas and discover the best solutions as a team. We want to live up to our commitments and always do the right thing, we always want to improve on and create an exceptional experience with outstanding results."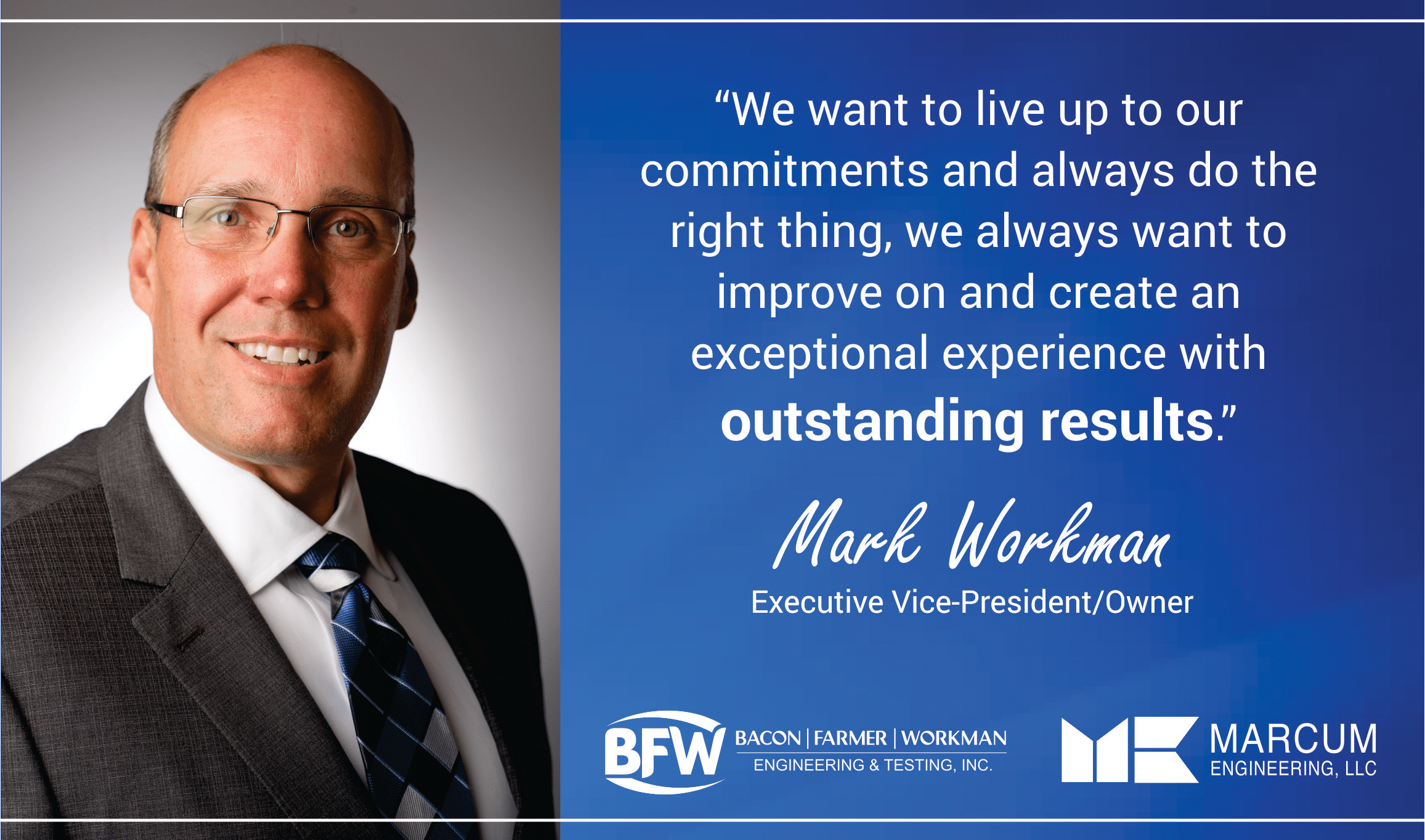 John Negangard, Senior Transportation Engineer/Project Manager
"As a consultant firm in the engineering world, we are hired by the client to deliver studies and/or plans to help make the most cost-effective decisions and designs that are the most aesthetically pleasing and ones that satisfy the needs of the overall intentions of the planned improvement.
This is the overall value of our delivery that all clients usually desire.  The components in a high-value delivery usually involve the following:
Listening carefully to the client in the initial meeting to understand fully the services desired by our firm
Make suggestions/recommendations in the initial engineering scope of work to fulfill the client's expectations
Meet regularly with the client as studies and/or plans are developed to make sure we are on proper track to satisfy the client's needs
Adjust as necessary for the client – the client always knows the true value of our services
Work efficiently as possible to deliver a quality product at a low cost
Use the most experienced staff in our firm to perform quality reviews/comments at the proper times as studies and/or plans are developed
Make sure final submittals are complete, accurate, and on-time to meet the client's needs
Follow up with the client later, to make sure the client is totally satisfied and if there are any suggestions on improvements
Save and share improvement recommendations from the client with others in our firm to be utilized in future engineering services
Constantly work on improving quality and stay up with the latest technological advances in technology for design and construction
Mike McGregor, Transportation Engineer/Project Manager
"I define value as providing your client with more than what they envisioned, sooner than they expected, while charging less than they imagined.
Value is two parts listening to your client, one part applying your expertise, one part personal pride in your work and your firm, and three parts genuine care for your client's interests and the users of your designs."
As you can see, there is an intrinsic understanding of what value is yet plenty of room for individual interpretation. Both purview and perspective come together to create a sense of value in our firm that transcends a simple definition. Instead, it's deeply entwined within our projects, hard to put your finger on, but obvious in its presence.
Our Best Feedback is Our Clients' Continued Support
Feedback is necessary for success, no matter your industry or expertise. After all, vacuums are sterile and lifeless environments. Working without the complexity of critical thought and feedback means never truly understanding the quality of what you're achieving. That means both your high and low moments are ones you can learn from and even take satisfaction in. We asked Mark, John, and Mike to discuss some of those moments.
Mark Workman
"Positive feedback isn't always spoken out loud. Over the years, we've had numerous accolades from individual clients, from our peers, and winning awards. Yet, some of the best feedback we can get is in the act of being rehired by a client. Clients have choices and to be consistently rehired by the same client is the best feedback anyone could have and we are consistently rehired over and over again year in and year out.
On the other hand, we're also aware of when we are not rehired. When that happens, we always ask what we can do better in the future and we take the debriefing and turn the lessons learned into actions."
John Negangard
"I take feedback from our clients' responses. So, good feedback to me is when a set of plans you create is executed with very few changes.
When we get a lot of feedback sent back in the form of revisions, I take that to heart. That's when we take a hard look at our quality review process"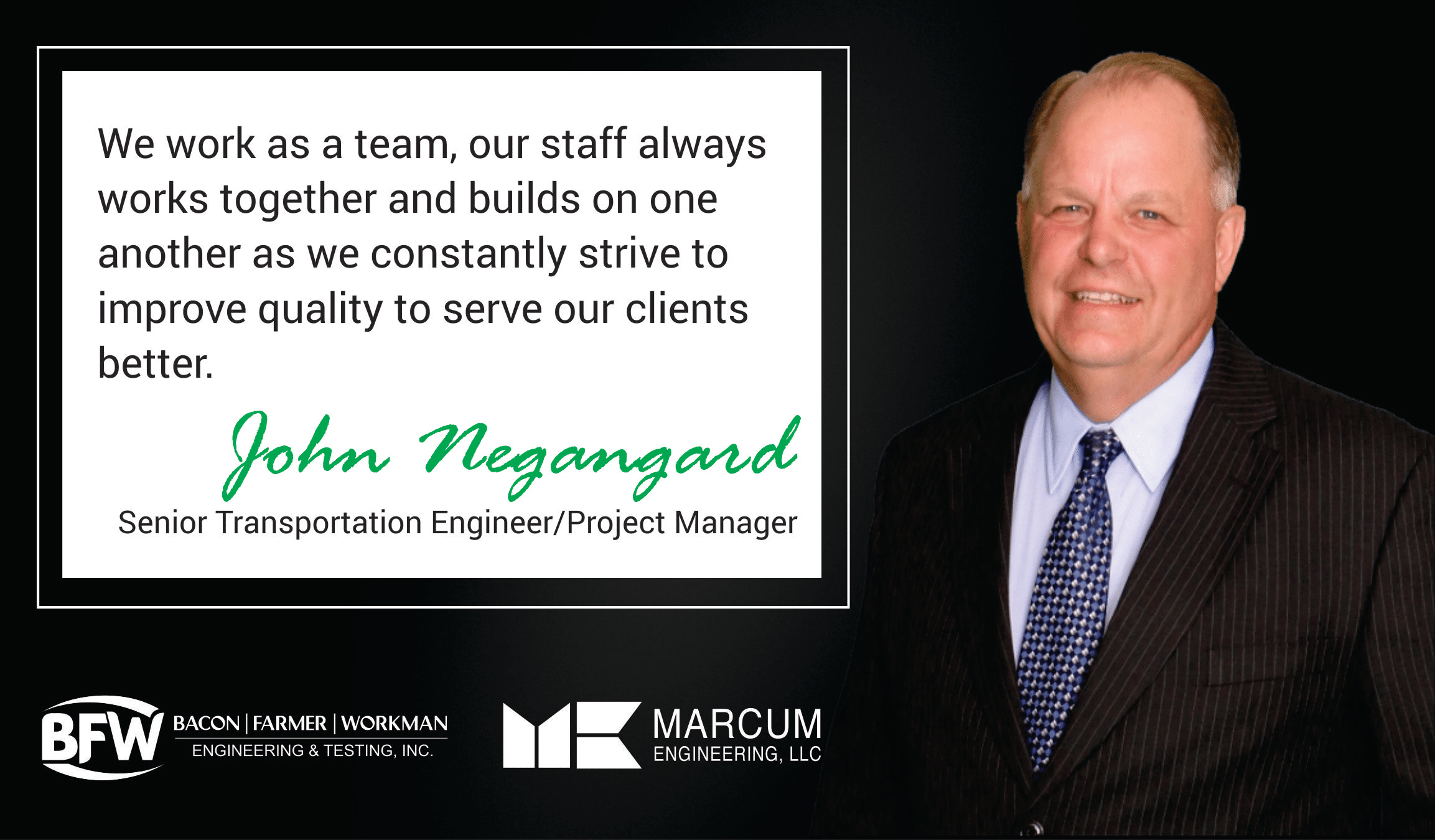 Mike McGregor
"Any feedback we get back that is good means we did something so well that the client felt the need to tell us. Often no news is good news. However, the simplest feedback is the kind that makes me feel the best—stuff like we were pleasant to work with and we were always accessible. It might be small praise but it means a lot.
The piece of critical feedback I heard most was that we were too regional of a firm. Since then, we have worked hard to expand our geographical and disciplinary presence. BFW/Marcum's growth in multiple states through strategic hires over the past few years is an unmistakable sign that we are more than a regional firm and that we are one with a bright and diverse future."
It's Important that We Stay On Top
Success is hard-won and easy to lose if you decide to rest of your laurels. With that said, we asked Mark, John, and Mike what they thought they were doing better than other firms—the kinds of practices that will make BFW/Marcum a credible name in engineering for decades to come.
Mark Workman
"I personally feel it is our approachability and clean responsive communication that gives us our distinction as a leading firm. We pride ourselves in providing both insight and performance. We feel we are raising the bar every day through innovation, investment, and always evolving to be a better version of ourselves."
John Negangard
"With years of experience in the engineering field – both as a Planning and Design Engineer and also as a client of the public sector that supervised engineering firms, the following are areas where BFW excels over other engineering firms:
We aren't arrogant in any way but are confident in the engineering work we perform.
We understand that we aren't alone in this industry, and our clients can go elsewhere if we let them
We carefully listen to our clients' needs at initial meetings and through regular follow up; phone calls, emails, and personal meetings
We make sure the client feels empowered throughout the entire engineering process
We stay up-to-date with the latest in technology – both in understanding latest construction methods to design for and in utilizing the latest survey and computer programs to be able to complete engineering work more efficiently at a lower overall cost to the client
We deliver ahead of schedule and exceed the client's expectations
We work as a team. Our staff always work together and build on one another as we constantly strive to improve quality to serve our clients better.
We take quality control and quality assurance seriously. We have developed QA/QC check sheets over the years and are constantly updating to serve our clients better.
We take the time to follow up with our clients after a project is complete to see if there are areas of improvement needed by our firm.
We truly care about our clients, the community, and the environment. We give back to our community as we continue to be successful as a firm in life overall.
Mike McGregor
"We are hungrier than our competition. In the footsteps of our leadership, we work harder at learning our clients' needs, market to our strengths, improve upon any weaknesses, and strive to deliver value-added results to our clients within their desired parameters."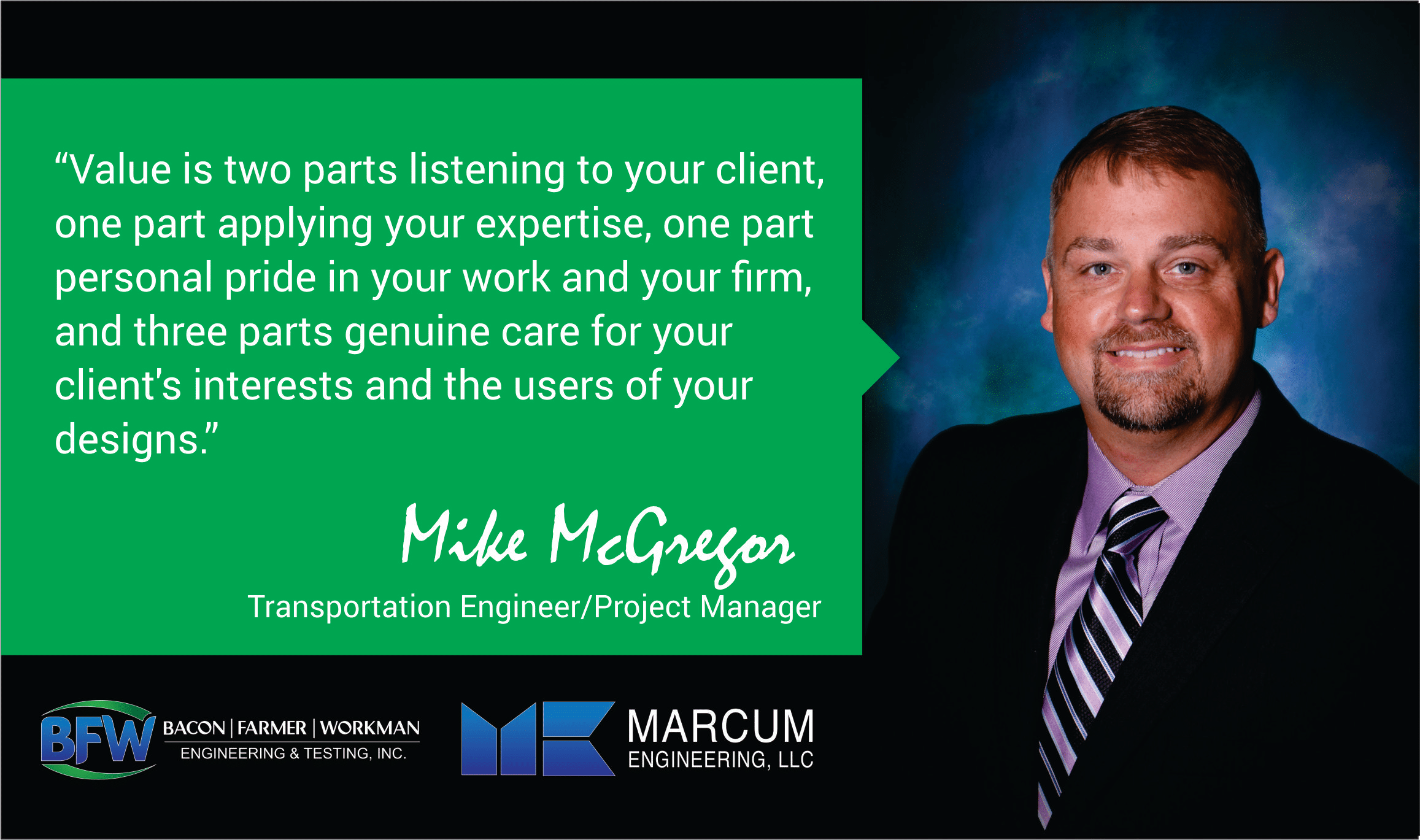 Value is More than the Bottom Dollar
Define value in any way that you want. But even in its simplest form, long-term value is not about the bottom line. The relationship between value and the dollar is a complicated one and finding an equilibrium between the two is a constant challenge. We asked our leadership to discuss how they envisioned the dynamic between value and budget.
Mark Workman
"We will most likely not be the least expensive choice in the industry—that's not a bad thing because most clients still see us as the best choice. Why are we the best choice? It is our passionate pursuit of excellence.
Our client's vision is our vision and we will stop at nothing to exceed our clients' expectations. Yet our pursuit of value is not just about our clients. It's also about the employee experience at the firm and we are committed to enhancing the employee experience, which provides an even better client experience.
Both the client and employee experience go hand-in-hand. You cannot have one without the other in my opinion."
John Negangard
"BFW/Marcum has experienced staff that has completed numerous engineering projects. We know the number of hours it takes to complete a quality product efficiently. We may not always be the lowest bid, but in the end, we would usually be the firm resulting in the lowest overall cost to the client.
We do not cut corners in delivering a quality engineering product. In many cases, extra upfront dollars spent on engineering result in overall cost-savings during construction. Construction costs and engineering costs are usually at a 10:1 ratio, so often it may be beneficial to spend a little more on engineering to save more on construction."
Mike McGregor
"Our firm is the best choice because we know what the client desires for its customers because we have captured the project scope by listening to our clients rather than dictating to them. We have expertise in a wide spectrum of skill sets that will give our client a more profound, all-encompassing investment that does much more than our competition."
As a firm, we value these different perspectives. As the adage goes, "beauty is in the eye of the beholder." So, too, is value. While there is intrinsic value in everything we do at BFW/Marcum, there is also a personal sense of value to every single thing our engineers touch, large or small. Collectively, these impressions become the value that we deliver to our clients.