Hitting the Ground Running: Creating a Scalable "Tele-Workflow" for Our Whole Firm

We saw the writing on the wall as early as January. Some of us, namely our IT Manager, Scott Heavrin, was even seeing it in December. As engineers, we're used to forecasting and we can spot a potential obstacle a mile away. When you're in the engineering industry long enough, every detail matters and hurdles, even when they're still specks on the horizon, have a certain telltale shape to them.
When it came time to seriously consider converting our workforce to telework, we were neither surprised nor without a plan. However, our biggest hurdle was implementing that plan on a company-wide scale. How exactly did we develop a "one-size-fits-all" telework strategy for a firm as diverse as ours? Like anything we do, we start small, smooth the edges, and then scale it.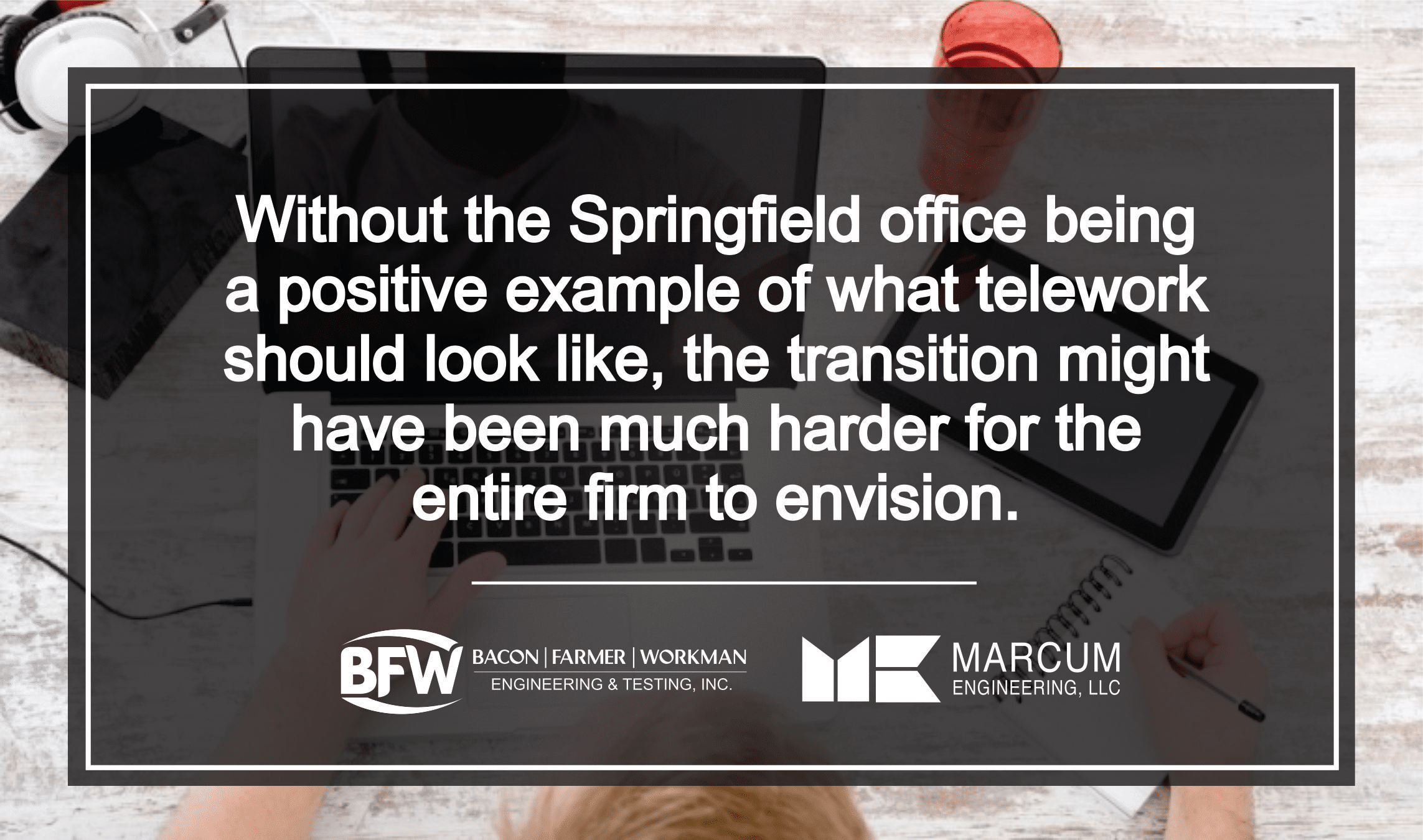 For Most of Our Firm, it's Business as (Almost) Usual
Our Springfield, Illinois office was the first BFW/Marcum office to start teleworking. They were the perfect way to start small, smooth the edges, and identify the challenges without affecting our entire operation. We asked both Brad Rotherham, Senior Bridge Engineer/Project Manager and Frederick Mensah, Structural/Bridge Engineer how being the first of our firm to convert felt.
Fred reflects on how privileged it is to even have a career that lets him stay at home during these trying times.
"I feel privileged to be working from home at a time where many people cannot work due to the global COVID-19 pandemic. Working from home has been a great experience. I can perform my tasks comfortably at home. The only downside for me is not seeing my colleagues like I used to. I miss our friendship, jokes, and occasional lunch together."
Brad says it's business as (almost) usual.
"My setup at home is very similar to and feels like my setup at the Springfield office. I have ample desk space and my dual-monitor setup. Everything is accessible as if I was sitting at my desk at work.
In terms of how I do my job, there is not a lot of difference. I am okay about working from home for periods, although it is nice to get back to the office to connect with people again and provide a little home/work separation."
Micro & Macro; Creating a Tele-Workflow That Suits Everyone
We asked both Brad and Fred to describe the days leading up to the switch to telework and how it all unfolded. The news of the world was stressful enough; the added stress of figuring out how to continue work could have bad consequences if it didn't go smoothly. Luckily, we had the help of our IT Manager, Scott Heavrin, who had the technological know-how to begin the transition.
It seems like a year ago, but Brad remembers when he got the call from Scott that he was to begin working from home.
"The transition to telework began with Scott. His preparation made telework possible. When he initially set up our office work stations/computers, everything was established to be accessed remotely; network drives, files, programs, and even our people. Also, and very importantly, our workstations were provided with the appropriate accessories, software to facilitate communication, and the transference of ideas to work electronically between employees.
Even from day 1, we could easily do the following:
Communicate with others one-on-one or in groups through digital chats, emails, and video or audio meetings
Visually share our desktops remotely with other employees (this dramatically enhances the ability to communicate with someone remotely when trying to explain or show someone what you are talking about)
Electronically provide and transmit comments, edits or markups (no paper, red ink pen, and scanner required)
Share folders or email links to folders to get people the files and information they need quickly.
Having the capability to do something is one thing, but being able to use it is something else entirely. Fortunately, we dedicated ourselves to learning and using the software and computer accessories provided to us. This meant embracing new ways of doing things and breaking away from the simpler philosophy of that's how I always have done it. Building our comfort level with the software has eased the transition to telework. It takes a great mind like Scott's and a fluid and cooperative spirit from everyone else."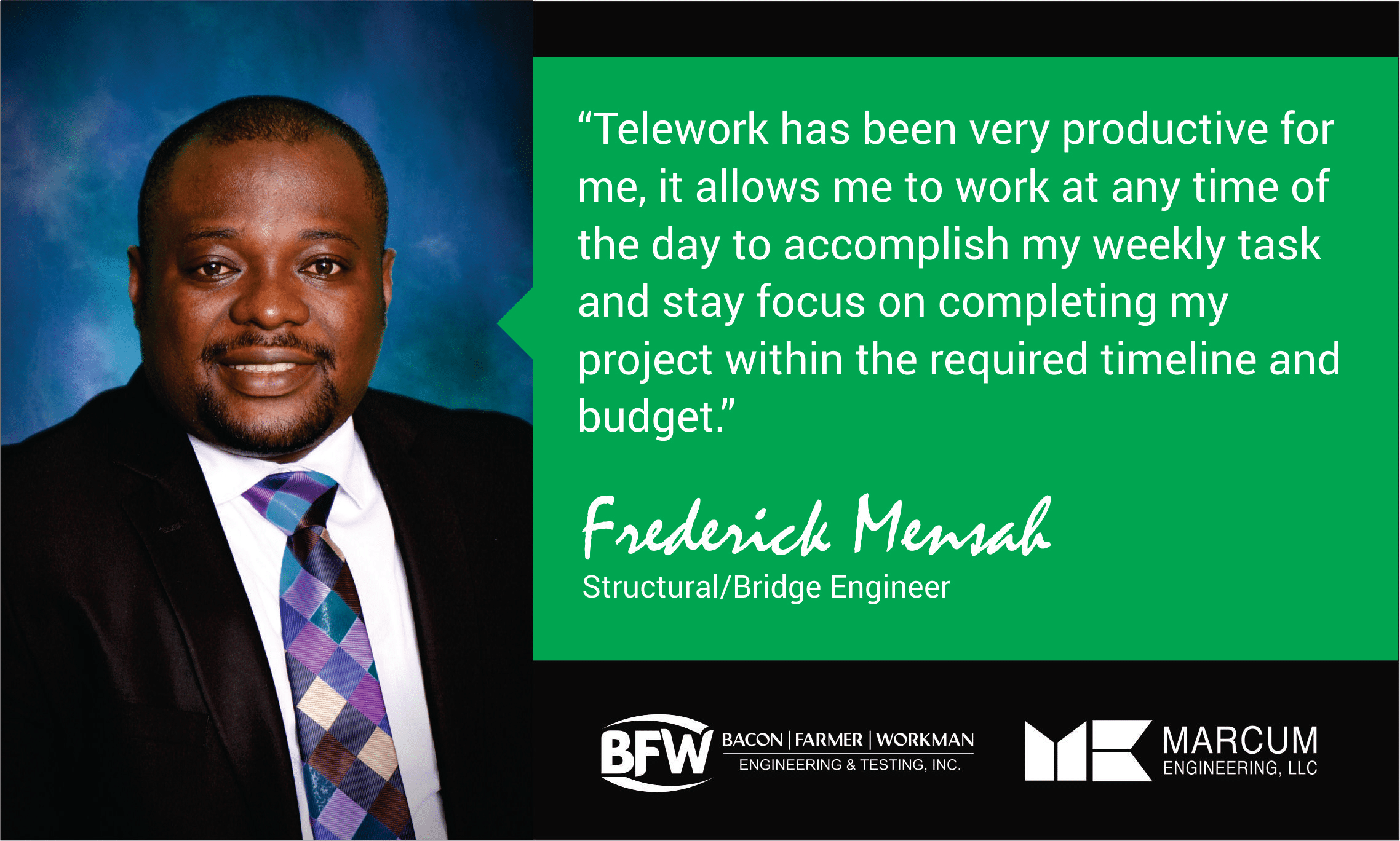 Fred further breaks the new "tele-workflow" down into an outline of brand new challenges—some he'd never thought he'd face as an engineer that simply took his office workstation for granted.
"Our set up was to connect to our office computer using Splashtop software but none of that did me any good if I couldn't replicate my office setup and so, the great odyssey to thrive at home began.
I had a laptop but was so used to working with dual monitors.
I tried to buy monitors but were out of stock in Springfield and an online order would take two weeks to deliver.
Luckily for me, there were two idle monitors in our office which Brad, my supervisor allowed me to take home.
With the monitors secured, the next challenge was obtaining HDMI cables for connecting the monitors to the laptop but unfortunately, most shops in Springfield were out of stock for IT supplies.
Fortunately, Brad had one at home and brought it to my house.
The laptop had only one HDMI input slots, however, I needed two slots to connect the two monitors.
After visiting almost all shops in Springfield, I finally got USB to HDMI adaptor which was ideal for my workstation set up.
With the last piece of the puzzle secured, the set up for my telework station was perfectly nailed. "Great job Fred" was what I said to myself. With excitement, I took a picture and sent to Brad.
The last thing I did was to buy special locks for my new office to keep my two-year-old daughter away."
As the Dust Settles, Productivity Increases
One of the greatest questions you ask, as leadership, when faced with moving your workforce to a work-at-home setup is, what will happen to productivity? We had those same questions—telework at such a scale was untested. Luckily, we received a quick and surprising consensus from our team.
Fred feels like the ability to free himself from his usual work hours has afforded him even more productivity than he had previously.
"Surprisingly, telework has been very productive for me. The timeline for my current project is very tight and requires working beyond the mandatory 40 hours per week. It was sometimes difficult to work extra hours due to other commitments before working from home. Telework allows me to work at any time of the day to accomplish my weekly task and stay focus on completing my project within the required timeline and budget."
Brad agrees and says the reputation that telework gets is unfounded.
"There may be a tendency to think more meetings are required amid a telework arrangement since you are physically seeing people less or not at all. In the end, I believe you engage with your colleagues the same amount but just in different ways.
Instead of walking to your coworker's desk to discuss something, you call using an app or phone and share screens to clarify or answers questions"
While the way you interact with your coworkers might have changed, your engagement with them isn't at all limited. Both Brad and Fred have found that their comfort with their digital resources is expanding rapidly.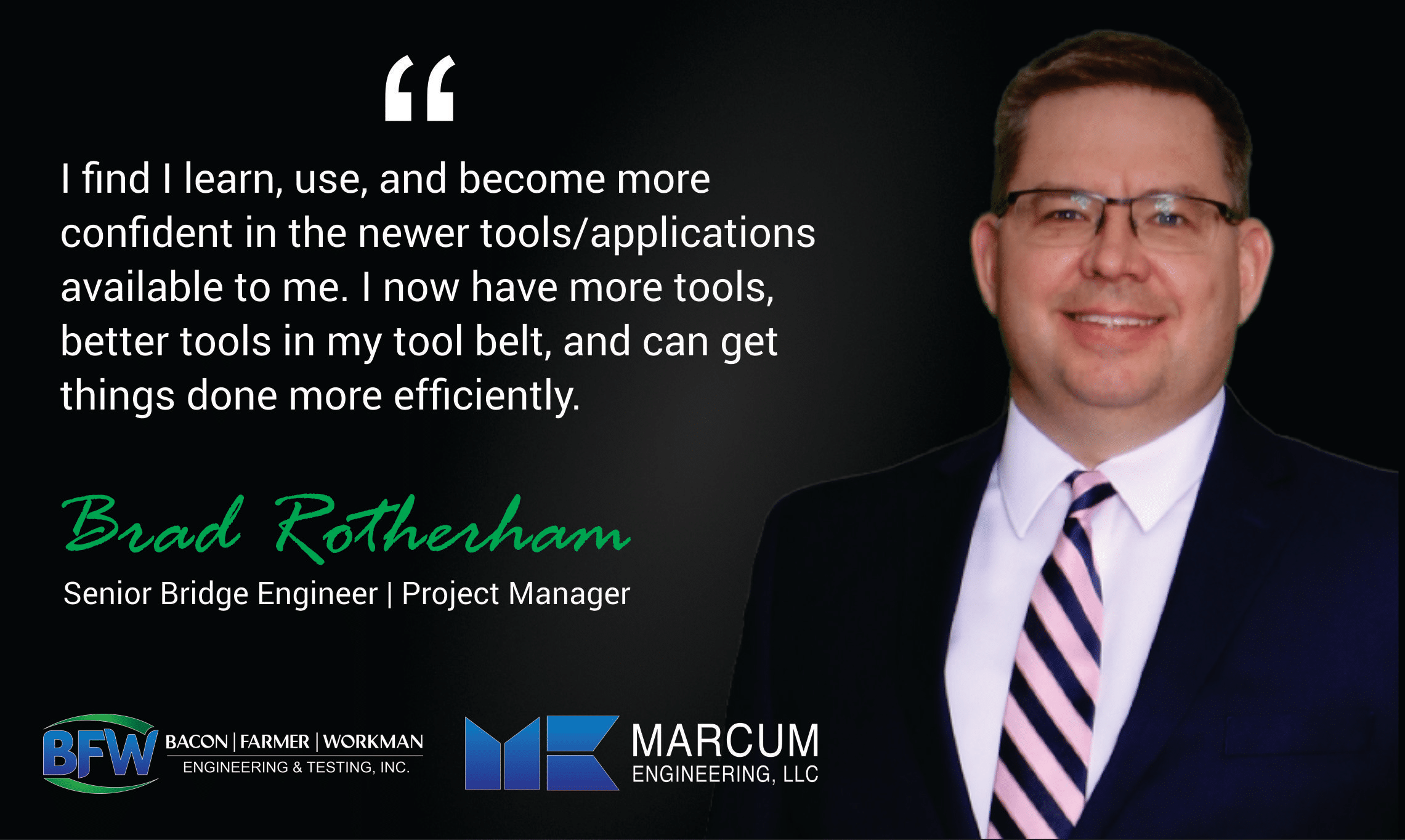 Brad, for one, is happy to be expanding his tool kit.
"I find I learn, use, and become more confident in the newer tools/applications available to me. I now have more tools, better tools in my tool belt, and can get things done more efficiently."
It seems, being forced to telework is making us a savvier, more engaged workforce than ever before. Once we saw how incredible the transition to home was for our Springfield team, it made it that much easier to give the go-ahead for the rest of the firm.
The rest is history—we can proudly say that our entire team is working at 100% capacity from the comfort of their home offices. We can thank the technology we have access to for giving us the resources to interact with each other from afar but, in the end, the ingenuity and perseverance of our team is what made this possible. Yet, without the Springfield office being a positive example of what telework should look like, the transition might have been much harder for the entire firm to envision.
As always, starting small allows you to fine-tune the details. From there, scale is no longer your enemy.
Working from Home Brings a New Adversary: The Toddler
Of course, working from home isn't without its new challenges. For most of us, we're finding a brand new adversary. No longer do we fear the loud chewer from two desks away, or the longwinded conversationalist. No—our new opponent is a much smaller, more cunning. It's the toddler, the defeater of doors-without-locks and the skilled crasher of video conferences. Fred is well-versed these days in fighting this foe.
"I have a two-year-old daughter who once barged into a phone call with my supervisor. No shame at all.
These days, I find that I must sneak to the bathroom during my working hours to avoid her detection lest I remind her of my presence in the house.
She also loves to police the door of my new office and where she yells, WHERE IS MY DADDY?"
You know, it might have seemed like a nightmare three months ago to have your toddler crash a meeting. However, these days, we're taking all of the levity we can get.