Project in Focus: HVAC at Farmington Elementary School – Mayfield, Kentucky – Graves County

We have a lot of irons in the fire at any given time here at BFW/Marcum. However, we find it's nice to take a moment once in a while to really dig into what we've accomplished over the years. Engineering firms are known for looking ahead, so it might also be surprising to learn that we look back as well.
Looking at past projects is a means of looking to the future. After all, think of the professional athlete that reviews their past performances on video. Only then can you see what you did exceedingly well and what could use some improvement. We asked Bryan Atkins, Mechanical Engineer/Project Manager, to take us through one of his recent projects, one dear to him, that took place at Farmington Elementary School.
We Were Tasked with Increasing Comfort & Efficiency
It's always flattering when you're asked by a public school to spearhead a project. They are some of our favorite clients. Not only are the projects extremely satisfying, but they're the kind of projects that directly benefit our community. We don't know about you, but we can remember the days of early June, still weeks away from the last day of school, when the heat of summer was in full force. Back in the day, HVAC systems were a luxury, especially for students! Needless to say, it was hard to concentrate sitting at your desk in a stifling classroom in the middle of a Kentucky summer day.
Luckily, our kids don't have it as bad. That's precisely why the Graves County School Board reached out to us for a project at Farmington Elementary School (FES).  Bryan explains it best.
"The Graves County School Board tapped us for an important HVAC renovation project at FES. We would be designing their new HVAC system to markedly increase the comfort, efficiency, and control of their heating and cooling."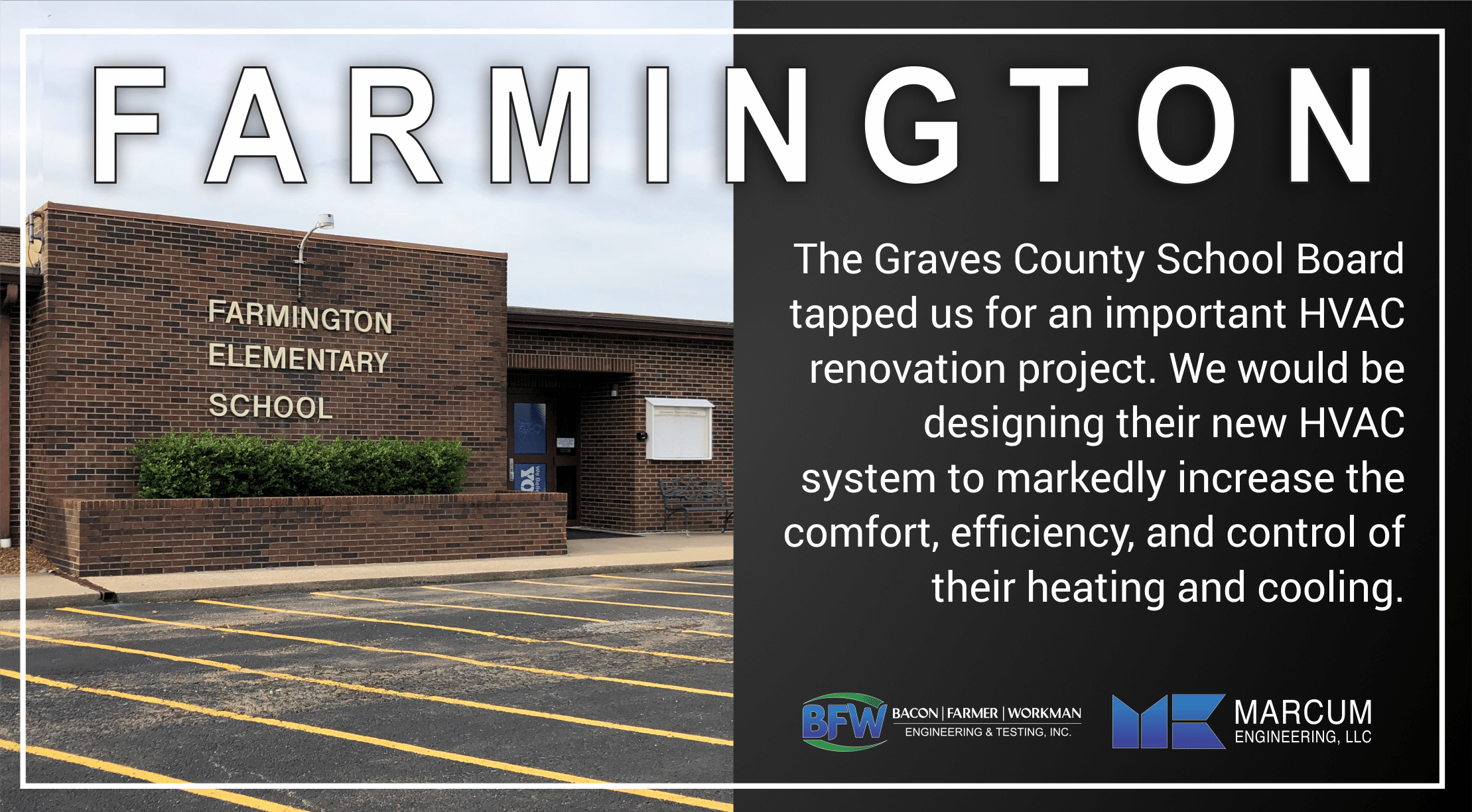 The School Board was concerned about increased energy bills because they are financially responsible.  We reviewed several systems options and more specifically looked at systems the district has and are familiar with.  Currently they have two schools (Fancy Farm Elementary and Sedalia Elementary) that are geothermal water source heat pumps and two schools (Central Elementary and Symsonia Elementary) that are boiler/tower water source heat pump.
All four of these schools have similar layouts so comparison of the utility bills would be apples to apples.  The energy usage of the geothermal schools was significantly less.  This made it an easy decision for the School Board to select a system that has a slightly higher first cost but would pay for itself in the long run with lower utility and maintenance costs.
Many people are shocked to find out that it's more expensive in the long-term to maintain an antiquated HVAC system than it would be to completely replace it with one that satisfies contemporary efficiency standards. The energy waste of those old systems is immense—back when they were installed, the cost of energy was much lower than it is today. Beyond the financial cost, there is also an environmental one. BFW/Marcum was happy to help FES modernize its heating and cooling system.
Public School Projects are a Welcome Challenge
Some jobs have very few limitations on time, beyond the normal business hours that many teams would keep their crew on-site. However, public schools cannot be interrupted. An HVAC renovation would be too disruptive to the students. Bryan welcomes the constraints of these kinds of jobs.
"Budgets for public school projects are always tight and they have to be done during the summer when staff and students are out of the building. Because of this, there is a very short window to get things done."
We Went One Step at a Time with Our Eyes on the Whole Picture
Any good engineer understands the paradox of progress—you take things one step at a time but with one eye on the ground and the other on the horizon. You can't singularly focus on either one—you need to be able to understand each step and the whole picture simultaneously. Bryan breaks down the process of revamping FES's HVAC system.
"To start, you need to have complete knowledge of the HVAC systems available so you can effortlessly convey that knowledge to the client. They'll have a strict list of requirements on their end that you need to fully understand as well. It's never about installing the biggest or best system—you need to find the one that matches their parameters exactly.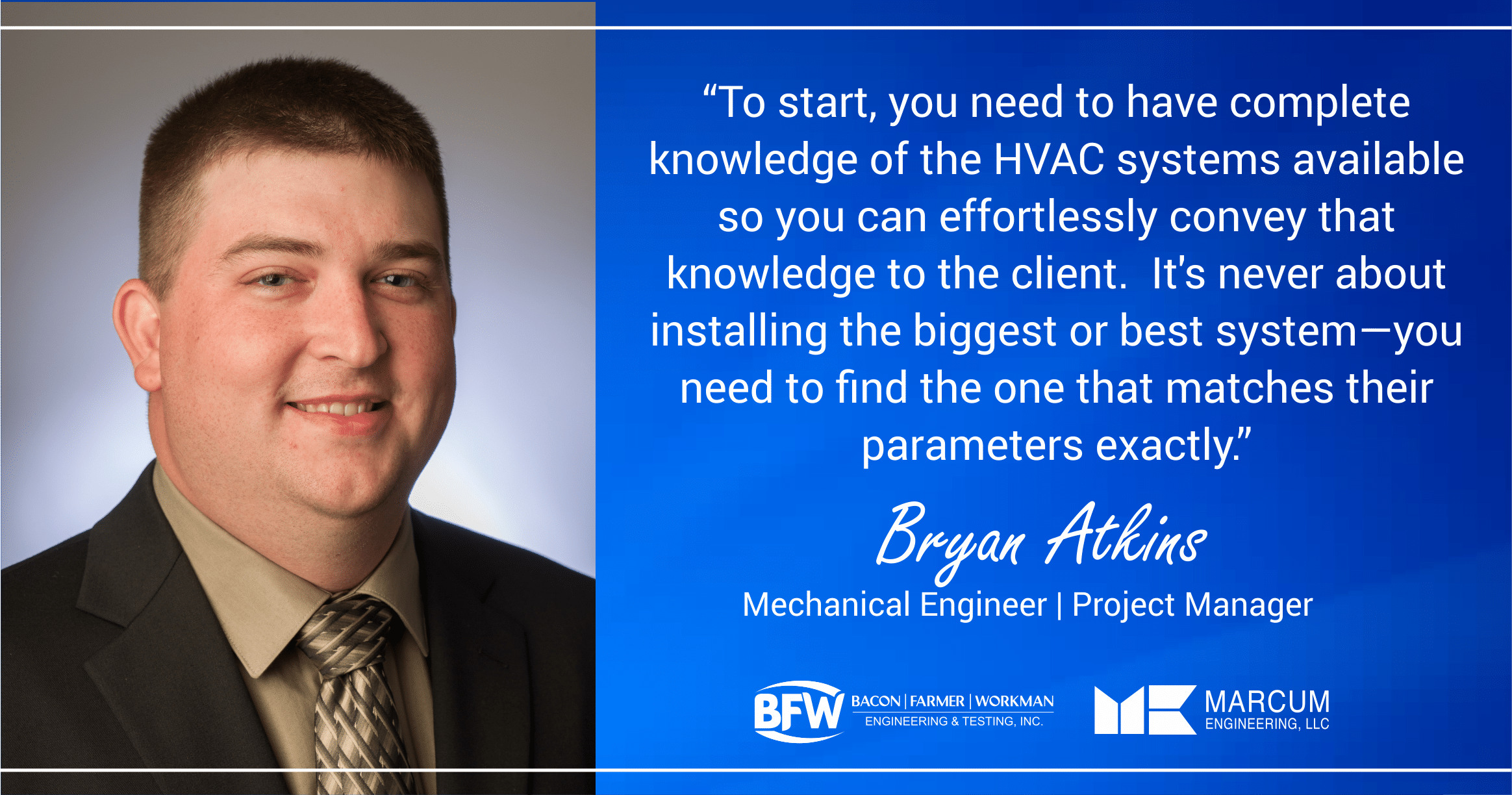 At the same time, we discussed the project timeline. The last thing you want to do is show up early or stay too late. You need to understand when the school can safely allow construction crew's indoors.   Any work of this variety is both loud and messy, so you also need to ensure you have time to clean up before the school year starts.
Through these discussions, you should also be nailing down the budget. Not only do you need to understand your client's budget but you need to understand how to stay within it. Simply having a figure in your head doesn't cut it. How do you stay within that figure? How do you quantify material goods, labor, and all of the other components that drive cost?
Lastly, once work has started, site visits are extremely important. We need to double, triple, and quadruple check everything to ensure that everything will fit inside the space allowance. You'd be surprised how many curve balls can get thrown at you, especially when you're sure of something down to the tenth of an inch. However, if you catch it early, then you have time to find a solution."
As you can see, Bryan understands the importance of agonizing over details while still appreciating the big picture. In engineering, we sweat the small stuff and the big stuff!
Our Best Work Happens in Our Communities
The FES project was especially pertinent to Bryan and he was proud to work on it.
"I'm actually from Fancy Farm and both Fancy Farm and Farmington are in Graves County, so I have a personal connection to FES. I love working on local projects, this one included. It's a great feeling knowing that we are improving the quality of life of our friends, neighbors, and their kids.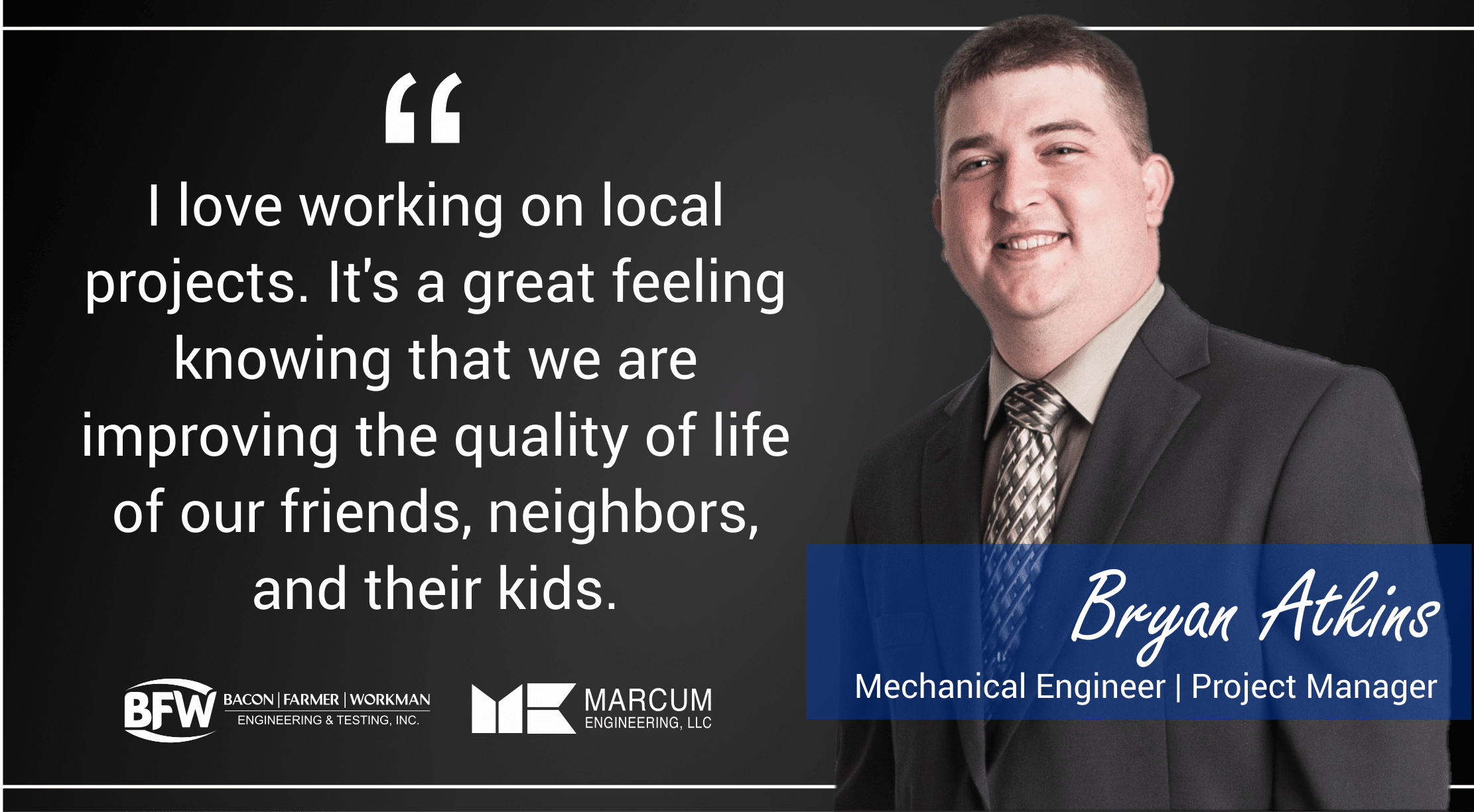 I think it's a real challenge when you work on something so close to home. You have a personal investment in it and want it to go perfectly. When you're close to a project, every bump can sting, and there will be bumps along the way. However, I've long learned to appreciate the whole thing, bumps and all."