Together We're Strong Part 1: Our Murray, KY Office

When you ask our Executive Vice President, Mark Workman, to summarize our Murray office he doesn't mince his words. "WOW! What a great group of people! That's what I think of the Murray office." Yet, we think it's equally important to tell our audience what makes our offices unique and how they manage to work together so well.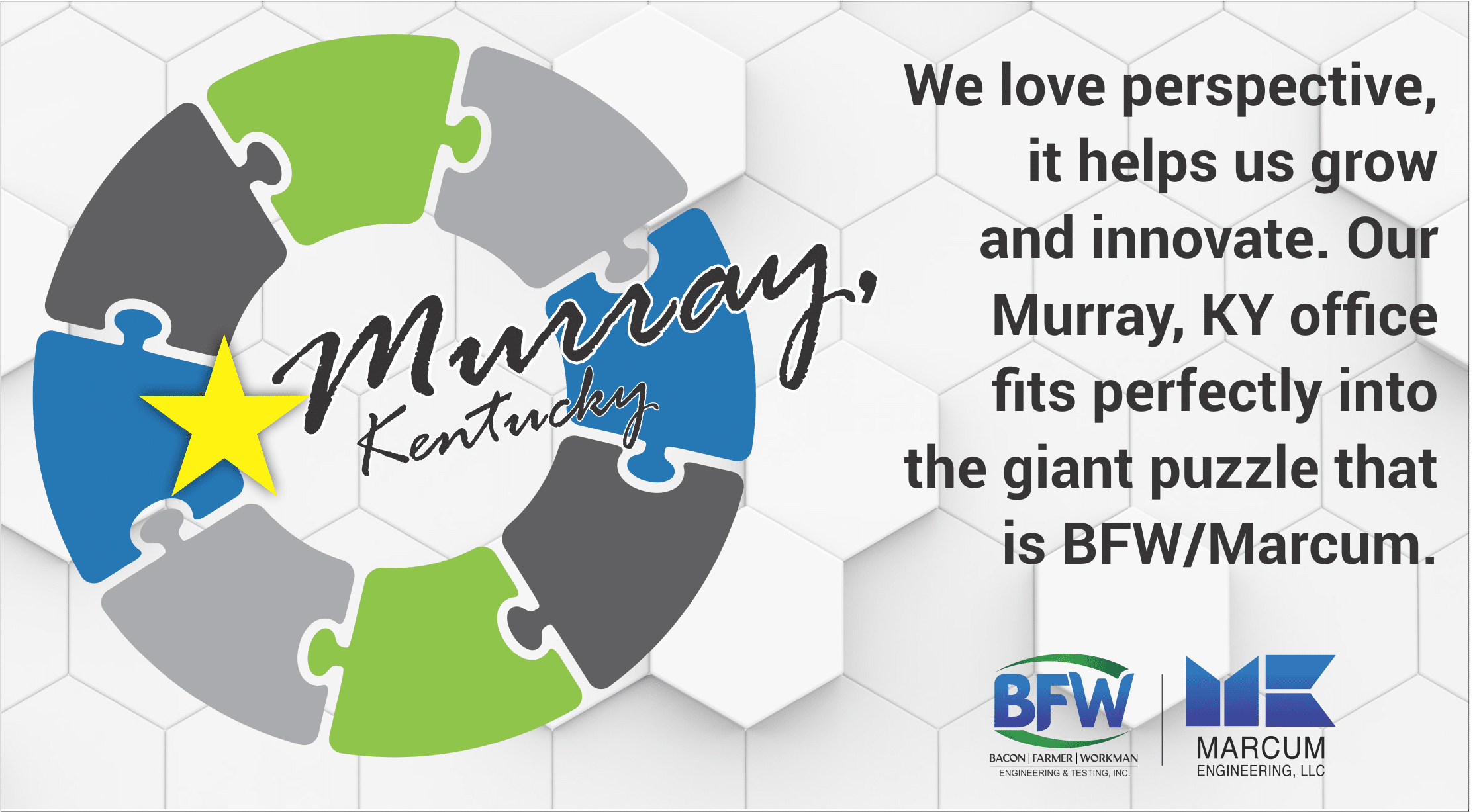 At BFW/Marcum, we love perspective. It helps us grow and gives us more innovative ideas. This is a fundamental principle of our firm's culture, so you can see it in every corner of our business. Our Murray, KY office fits perfectly into the giant puzzle that is BFW/Marcum. With that said, we'd like to tell you why.
Our Expertise is Different; Our Approach is Consistent
We asked Bobby Deitz, Project Manager of our Murray office what unique skillset his office brought to the bigger picture that is BFW/Marcum.
"We are the people you call about anything related to site development. This includes commercial developments primarily sites of 1 to 2 acres, residential and commercial subdivisions up to 50 acres, and water and sewer main extensions."
Bobby further explained how much he depends on the rest of the firm and how much the rest of the firm depends on him.  "We work closely with the Paducah office in a big way. They have their expertise, which we will defer to when that kind of stuff pops up and vice versa".
We don't compete or work against each other. Instead, we play to our strengths. Mark is proud of the way our offices collaborate so effortlessly.
"Each office is treated as part of the overall BFW/Marcum team and is viewed as the same as the main corporate office in Paducah. No single office is more important than another and it takes all of us to accomplish our mission and exceed our clients' and communities' expectations.
Consistency is the term the team hears a lot from me and it is also related to our culture. We strive for each office to be represented equally. We also want each office to appear to have the same look and feel so that when you walk in each one you feel the same sense of pride and comradery as you do the others."
To put it simply, we all have our wheelhouses! Over the years, our inter-office collaboration has deepened to the point where we intuitively know what work to share and with whom. It's a great system.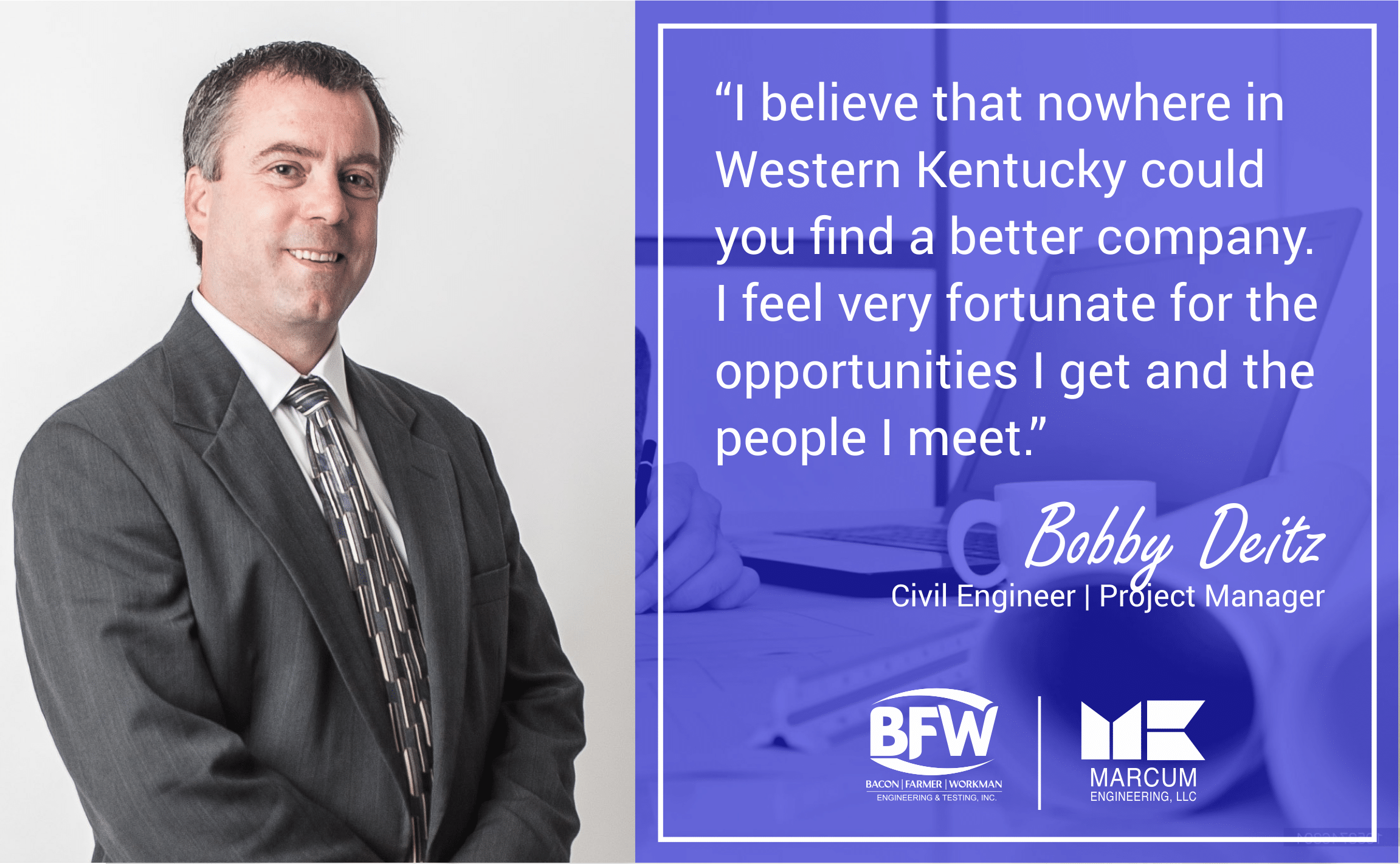 We All Have One Thing in Common: A Focus on Our Communities
Communities can be big or small but whatever we do, we do it intending to make things better than how they were when we started. No matter the office, our commitment to our communities is a vein that runs through our entire firm. After all, without our roots, we'd have nothing to keep us standing. We asked Bobby what projects he's most proud of, projects that directly impacted Murray.
"There are almost too many great community-focused projects to list, so I'll give you my favorites.
Stormwater system improvements – the improvements we made to Murray's stormwater drainage systems have alleviated frequent flooding to streets and properties
Sewer treatment facility upgrades – the city is nearing completion of a sewer treatment facility expansion and upgrade in which we performed the site stormwater and site grading/paving improvements. This renovation has expanded the plant capacity and made upgrades to the system that will benefit Murray for decades to come.
Sidewalk and Street– we worked with the city to replace and add sidewalks to downtown and residential areas that were in disrepair or currently do not have any sidewalks. We have also been involved with upgrading/modifying streets downtown. Both has increased walkability drastically, making the community healthier and giving nearby businesses much-needed foot traffic
Water main replacements – some of the water mains in Murray were in dire need of replacement. We worked with the city to revamp deteriorating water mains, which improved water pressure and flow to areas suffering from frequent breaks and or low pressures."
Site Development Project – we have provided engineering on numerous hotels, restaurants, banking and retail establishments. These types of developments allow the residents to have choices and opportunities to enjoy these services in their own community.
Industrial Park – BFW has been and continues to be an integral part of the Murray West Industrial Park. There is no better feeling than knowing yours and many others efforts are helping to provide jobs in the same community live and work.
As much as we love our projects, helping the community isn't always about building things. It's also about building people. We're proud to hire from our communities. We think the pride our engineers have in their work naturally extends to the places they live, so it makes sense to hire locally. Bobby welcomes anyone from his town with open arms.
"I believe that nowhere in Western Kentucky could you find a better company as it relates to salary, benefits, and overall satisfaction of an employer as BFW/Marcum. I feel very fortunate for the opportunities I get and the people I meet."
Home is Where the Heart is
Mark has a special relationship with Murray and is especially proud that one of our offices has grown from where his roots are.
"The Murray office is very close to my heart as I am from Murray, went to Murray State University (Go Racers!) and started my career at the City of Murray working under then-City Administrator Tommy Marshall and Mayor Bill Cherry.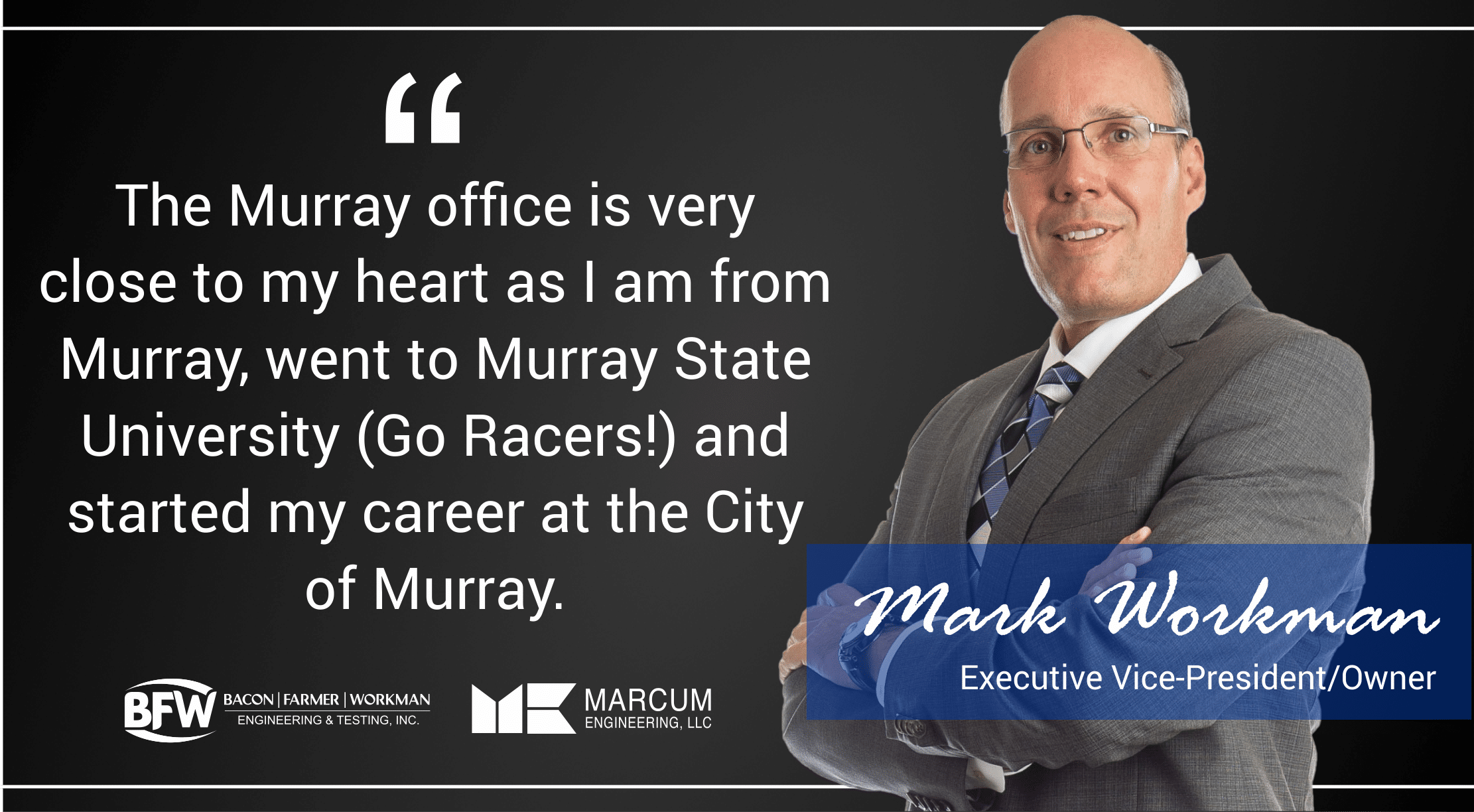 Bobby and his team have the same philosophy that everyone in the BFW/Marcum family has towards our clients and it is our job to make the client look good and find solutions for their projects. They take the same approach as all BFW/Marcum offices do by exceeding client expectations and enhancing our communities.  I for one am very proud to be in a position to put back into the community that has given me so much including my start as a professional."
We work together so that we can be represented equally and fairly. While each office has its flavor, there's still a commitment to the basic tenets we all represent at BFW/Marcum; community, employee experience, a rich culture, deep collaboration, and strong attention to detail. Bobby and everyone else in our Murray office works tirelessly to be an integral part of that mission.