Together We're Strong Part 2: Our Marion, IL Office

Our Marion, Illinois office is a true collaboration. It's our most recent example of the BFW and the Marcum players working together in tandem to create something that's not just cohesive, but better than anything the two separate entities could achieve independently.
When we refer to our firm as BFW/Marcum we really mean it. Our Marion office proves that. It's a joining of disciplines and firms to maximize our service capabilities.
Marcum & Marion: A Different Way of Thinking
Logan Overturf, Mechanical Engineer, is under our Marcum umbrella and just recently moved to our Marion office to bring that element to their team. We asked him what unique qualities the Marcum thought process has introduced to Marion. He's quick to remind us that the two sides are inseparable from each other. It's BFW/Marcum, not one or the other. At the Marion office, they work seamlessly. Yet, if Logan was to define what, historically, the Marcum wheelhouse is, he still has a lot to say.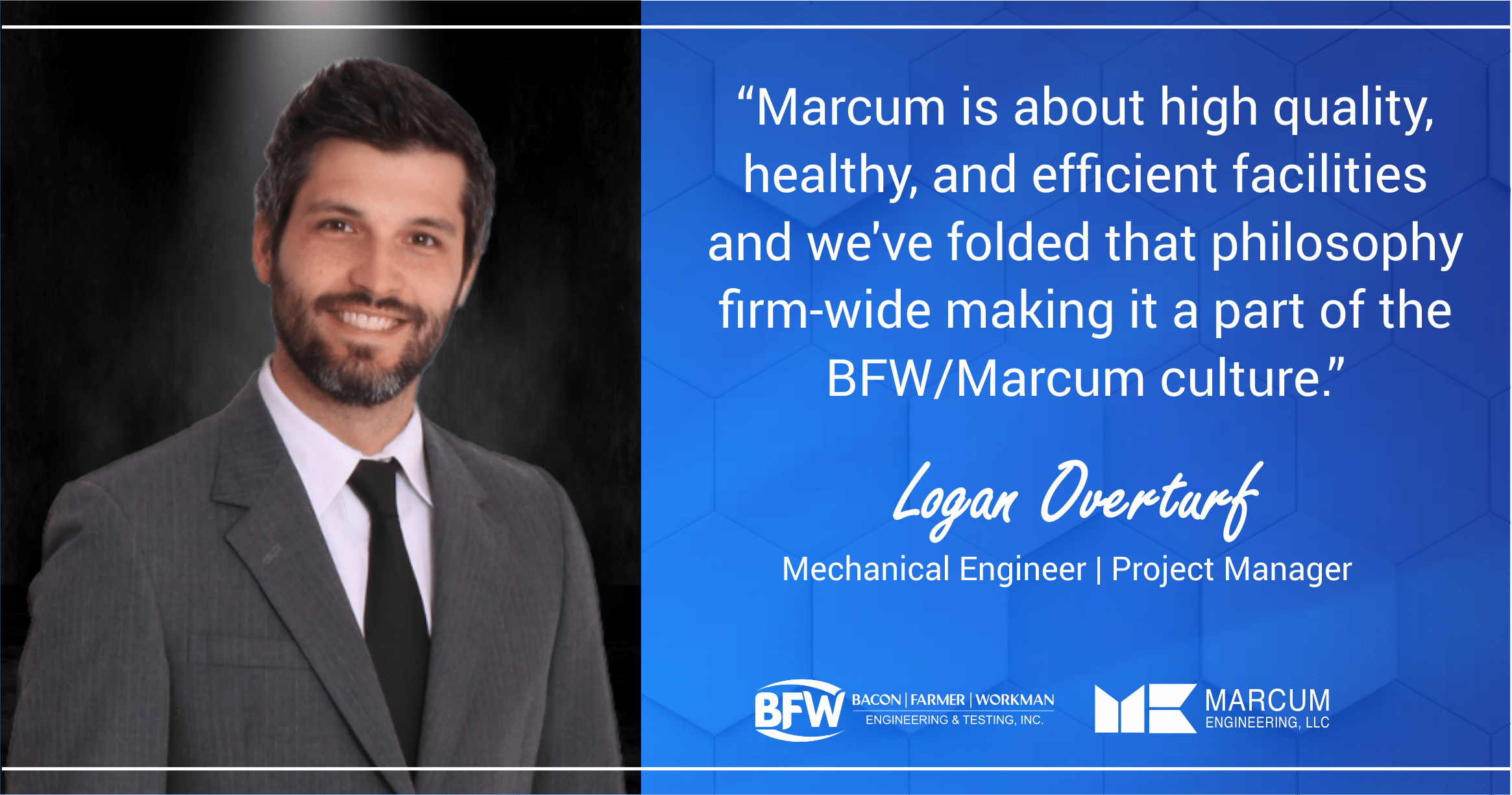 "Marcum is about high quality, healthy, and efficient facilities and we've folded that philosophy firm-wide making it a part of the BFW/Marcum culture.
Going back to Marcum; my boss, Baccus Oliver, talks about buildings like they are living beings and he's not wrong. You have the skeleton (the foundation and structure), the skin (architecture), the circulatory system and digestive systems (HVAC and plumbing), the nervous system (electrical), and the surroundings (civil).
It's eye-opening to think of buildings this way as it forces you to realize that without any one of these parts, the building could not properly function in the same way that our bodies could not properly function without any of those parts."
"Our office also allows Marcum to have more of a presence in Southern Illinois. It cuts an hour of travel time for site visits, progress meetings, and design team meetings with the clients we have in the area."
Structurally Sound
Another staple of our Marion office is Chris Whiting, Senior Structural Engineer. We asked him what brought him to BFW in the first place.
"In 2006, I was hired by BFW to do the structural design of the Crounse building in Paducah.  They had more work than they could do at the time, so that is why they subcontracted the project to me.  They valued the quality of the work that I did on that project which led to us having discussions about me coming on board at BFW full time."
Chris Whiting's team at Marion are structural professionals, giving us an extremely important skill set­­ further away from our Paducah headquarters.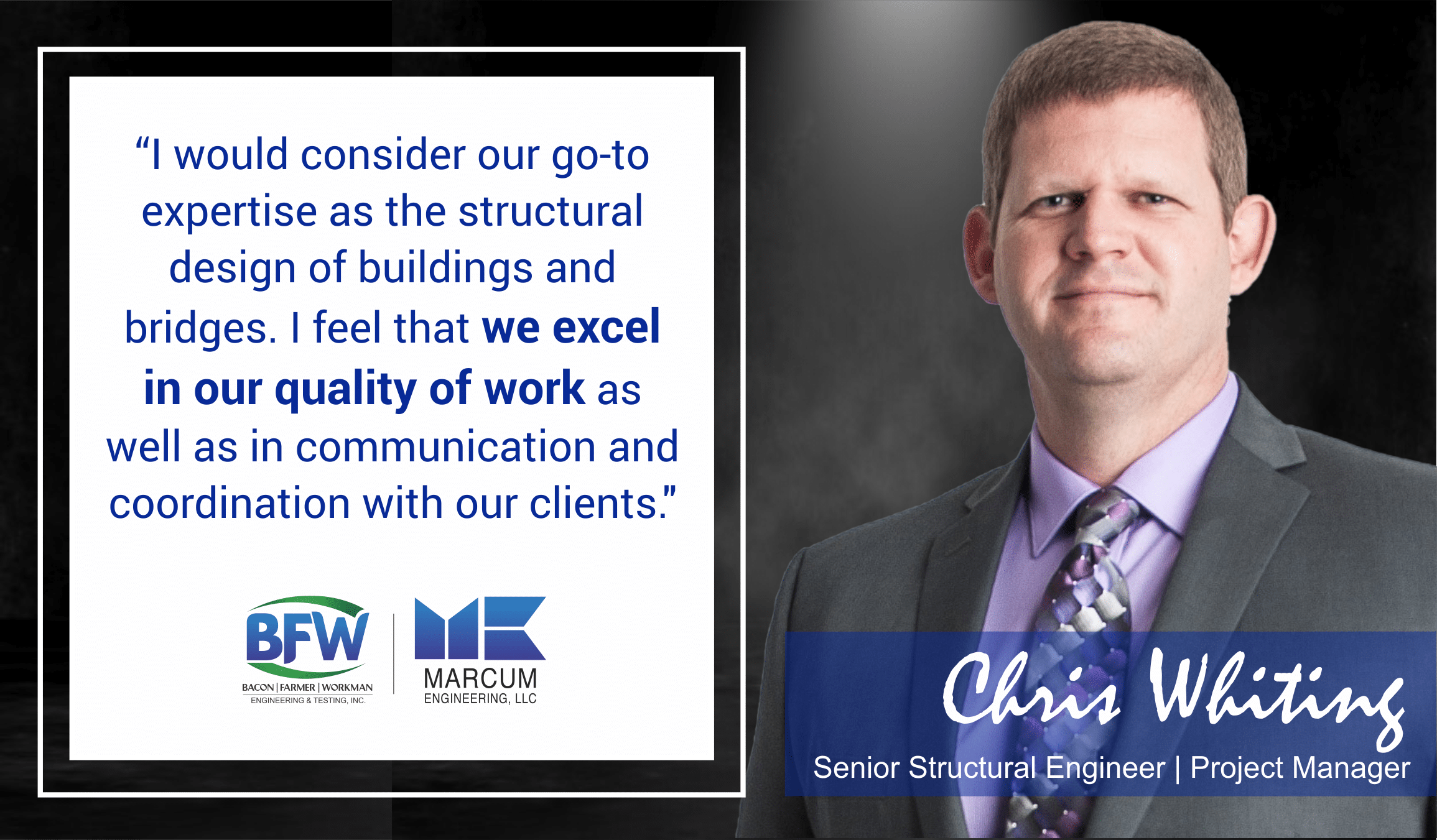 "I would consider our go-to expertise as the structural design of buildings and bridges. I feel that we excel in our quality of work as well as in communication and coordination with our clients."
Having a solid team of structural, mechanical, electrical, and plumbing experts to cover Southern Illinois and offer a unique perspective from our main office is priceless.
Serving Our Community On the Job & Off
At BFW/Marcum, we naturally gravitate towards the type of people that value their community. It makes sense that the kind of work we do on-the-job reflects the same kind of work we do at home. Our community is what's most important to us; supporting it, revitalizing it, and fortifying it at every opportunity is what gives our lives meaning.
We asked Logan what he's worked on as part of Marcum's mechanical engineering efforts.
"I have had the pleasure of working on some fun and challenging projects including the Bluford High School addition in Bluford, Illinois; the Mt. Vernon High School Operations Center addition in Mt. Vernon, Illinois; the Paducah City Hall restoration in Paducah, Kentucky; the Marshall County High School renovation in Benton, Kentucky; and of course many others! I love working on public buildings that I know my friends and family will walk through.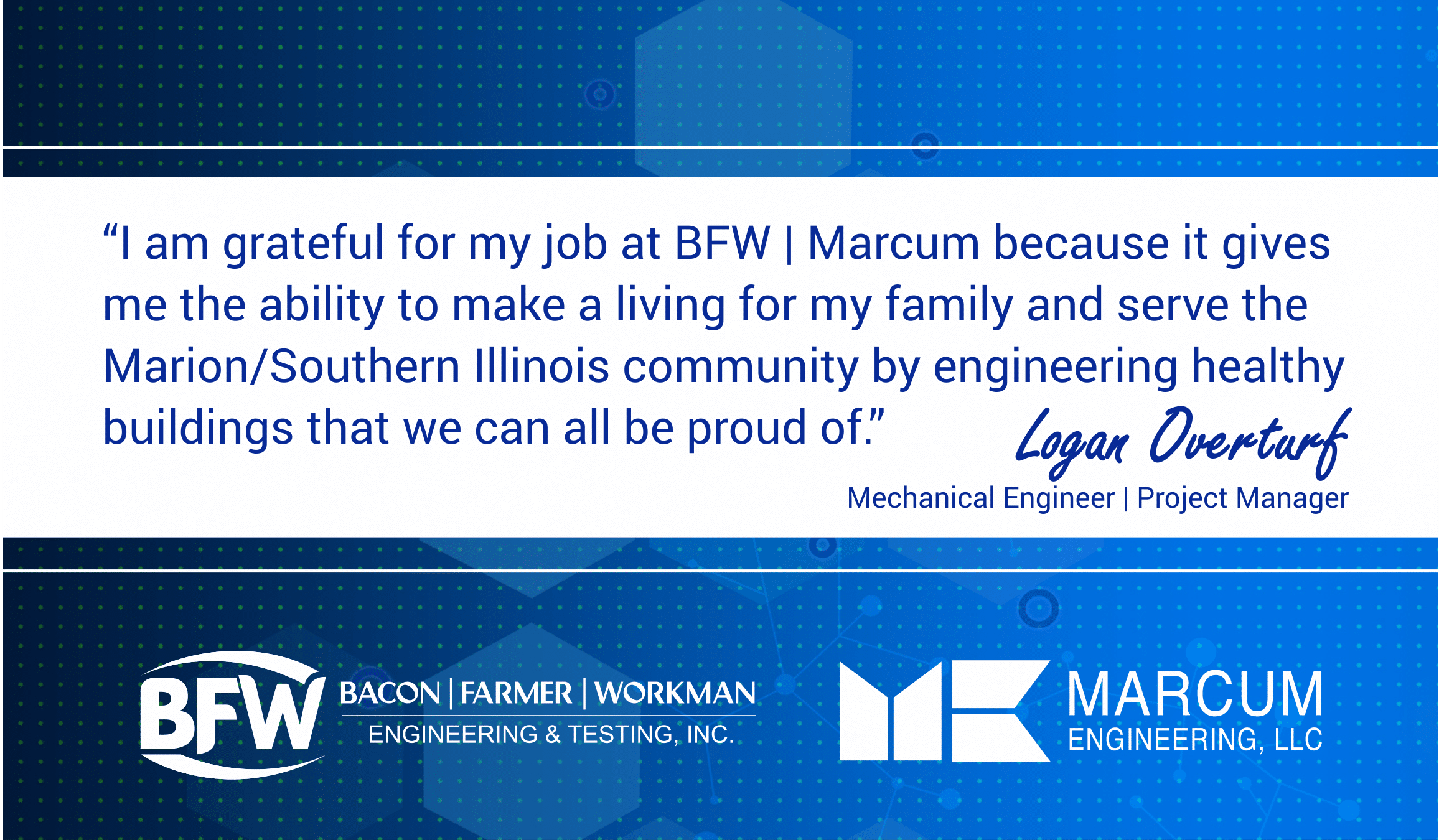 At home, I am involved at church where I am a volunteer youth leader on Sundays and Wednesdays. My family takes part in many of the community fundraisers and community fun days (not so much in 2020 of course…). I am grateful for my job at BFW/Marcum because it gives me the ability to make a living for my family and allows me to serve the Marion/Southern Illinois community by engineering healthy buildings that we can all be proud of. I take a lot of pride in seeing my community grow and improve and I'm honored to be a part of it."
Chris is involved in the community on and off the clock as well. "Our office provided the structural engineering for the Hub Recreation Center in Marion.  This was a large project for the city that has had a positive impact on the community as a whole.  We also sponsor some local events such as 5k runs." While the Hub is not our only project in Marion, it is a showcase project that also affords us the opportunity to be involved in community-based activities such as the 5k runs Chris mentioned. To put it simply, we are proud of the impact we have on our community both in the projects we complete and the services they provide for our friends, neighbors, and family.
Our Marion Office: Proximity & Perspective
Our Marion office gives us proximity and perspective. We serve a large region; the more coverage we get, the happier our clients will be. Yet, beyond that, we value the pockets of perspective that having multiple offices affords us.