Phase III Engineering: Why it Matters at Every Level

We've talked about Phase III engineering in the past; explaining what it is and why it matters. However, we wanted to revisit the topic under a broader context while introducing a new employee who will be expanding our Phase III efforts even further.
As we've said before, Phase III is the "follow-through". It's the lasting impression you leave a client. Yet, depending on the agency or client you're working with, it looks different each time. Not everyone needs the same support, so it's our job as a firm specializing in Phase III to figure it out.
We're Expanding Our Phase III Team
We'd like to introduce Greg Smothers, Project Manager/Phase III Manager who is coming onboard with over 35 years of experience in transportation engineering under the Illinois Department of Transportation (IDOT) and as a County Engineer. He is excited to join BFW/Marcum after collaborating with the firm many times.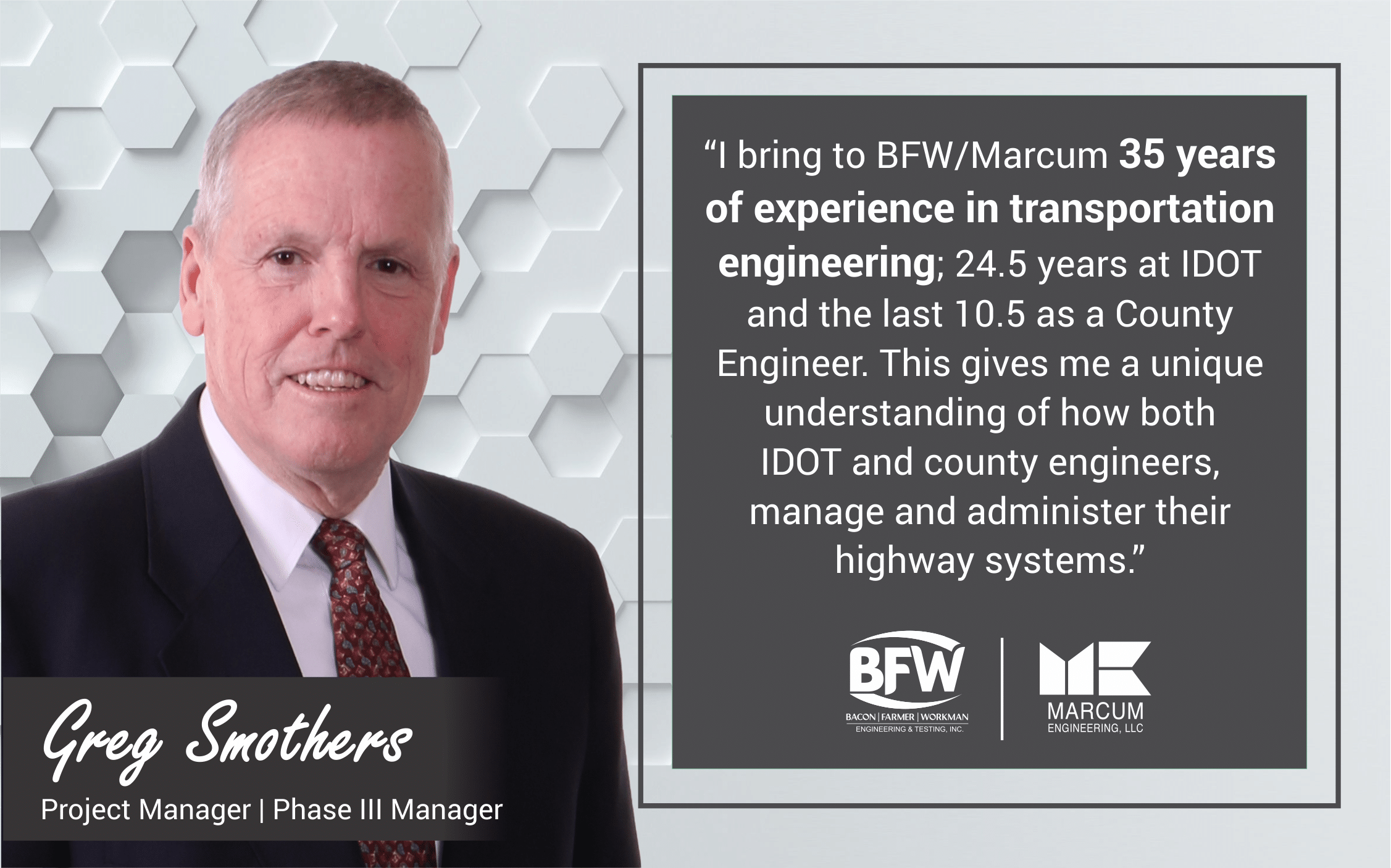 "I bring to BFW/Marcum 35 years of experience in transportation engineering; 24.5 years at IDOT and the last 10.5 as a County Engineer.
I have served in a variety of roles ranging from; construction inspection, design, geometric design, materials inspection, as well as many years supervising operations functions as well as the construction/materials side of things. I believe I bring a unique understanding of how both IDOT and county engineers, manage and administer their highway systems.
I enjoy working in the industry and believe I will be able to help this company in managing projects; their Phase III work as well as finding new opportunities for continued growth."
Big, Small, or In-between; We Do It Right
Greg understands Phase III better than most. He's also no stranger to county-level work. "Phase III at the county level looks much the same as at the state level with all the things you would expect; construction inspection, materials inspection, and contract administration on contracts involving bridge replacements, pavement rehabilitation, intersection upgrades, etc.
However, county work can be more difficult than at the state level simply because of shortfalls in staffing and other resources where you have to draw on your experience to see your way through those challenges."
Whether an agency is big or small, it's up to us to fill in the gaps with our expertise. We aren't just engineers; we're facilitators. We make sure things are done right regardless the number of resources at hand.
Not only do we have Greg Smothers, but we also have another Greg working in Phase III. Greg Mishler, Resident Engineer/Project Manager, has been at the forefront of our Phase III work and has boiled down his definition of Phase III engineering into a few simple requirements, which he thinks works almost universally across agencies.
"To me, Phase III engineering is all about understanding what it takes to keep a project moving forward and how to ensure its success after-the-fact. That means knowing how to communicate with stakeholders and representing the agency you're working with, the contractors doing the work, the landowner, the public, and anyone else that the project touches. To put it simply, successful Phase III means you're the facilitator, the mediator, and the advocate all rolled into one. That's the only way to do it right."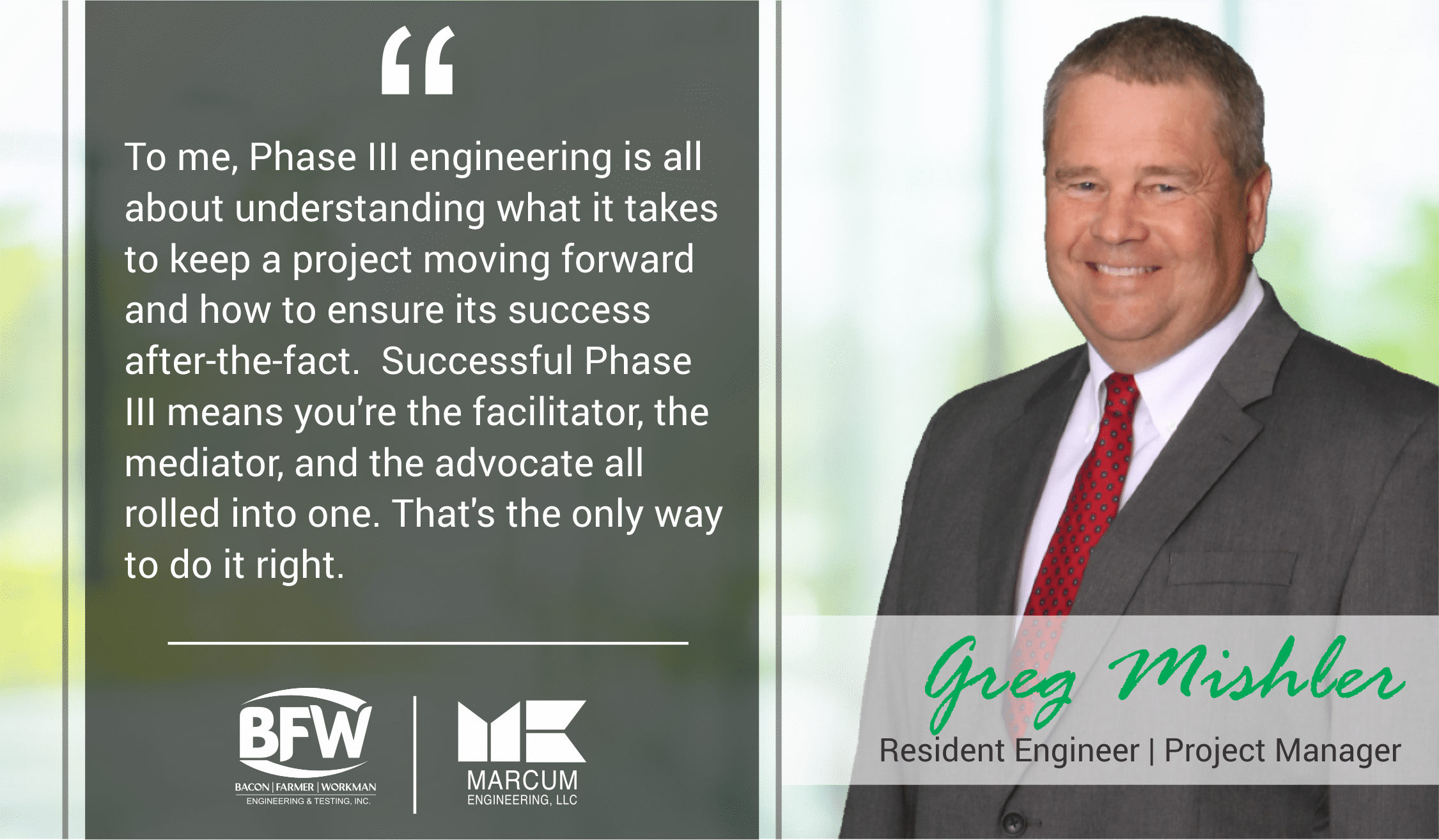 Building & Embracing Talents Keeps Us in Front
Much of our success as a firm is because we keep our eyes and ears open. Even when we're busy (we're always busy) we're looking out for people that we think would fit with our culture and bring a new perspective to the firm. That's exactly how we found Greg Smothers.
"I have been familiar with BFW/Marcum for many years. They were doing preliminary engineering for IDOT for many years while I was still there. My wife worked at BFW/Marcum as a highway designer for many years as well.
Over that time, I was able to get to know Mark Workman and understand the kind of firm they are. BFW/Marcum is a multi-discipline firm capable of doing a broad spectrum of engineering work in several states in the Midwest. They have so much to offer to potential clients."
We're proud that our employees see us that way. When we're not building upon the expertise we already have, we embrace and hire expertise when we see it. However, it's one thing to want a person like Greg Smothers on our team but it wouldn't matter if we weren't the kind of firm that Greg wanted to be a part of.
The Last Impression Makes the Biggest Impression
With engineering, it's not the journey or the destination. We do things differently than most. It's the journey and the destination, each step you take, and where you find yourself in the end. If you missed just one of those components, then you're in trouble.
In-house Phase III engineering ensures you paint by the numbers. It lines it all up to ensure success but also works with the client to build and sustain their confidence in your work. It ensures your last impression is a culmination of every success you've had on the project. We asked Greg Smothers why he thought Phase III was so important to the success of a project.
"Building relationships is so important in this industry. Striving to ensure all aspects of projects are attended to is key to continuing to develop and build upon the things clients are wanting to achieve.
I think anytime you can insure for clients that projects are built according to plan/specification, that quality products and materials are used, that contracts are administered properly, that projects come in within the scope and costs estimated, and that you maintained good communications with the client throughout the job you can walk away knowing you served them well."
That's just it; good engineering is about walking away knowing you did everything right. Most of all, you want your client to know it, too.