Together We're Strong Part 4: Our Cape Girardeau, MO Office

In 1956, with the help of President Dwight D. Eisenhower, the "Federal Aid Highway Act" was passed. What this led to was something we now mostly take for granted; a series of connected highways all across the United States, which we refer to as "interstate".
With this massive venture toward efficient transportation came the need for regular highway maintenance. Our Cape Girardeau office is no stranger to this need. After all, their specialty is in transportation engineering. Part of their day-to-day operation is in the regular upkeep, renovation, and design of the highways and interstates that President Eisenhower made possible all those years ago.
Paving the Way for Better Infrastructure
Barry Horst, Transportation Engineer/Project Manager, is a proponent of safe travel. He understands more than most the importance of maintaining our nation's highways and transportation infrastructure.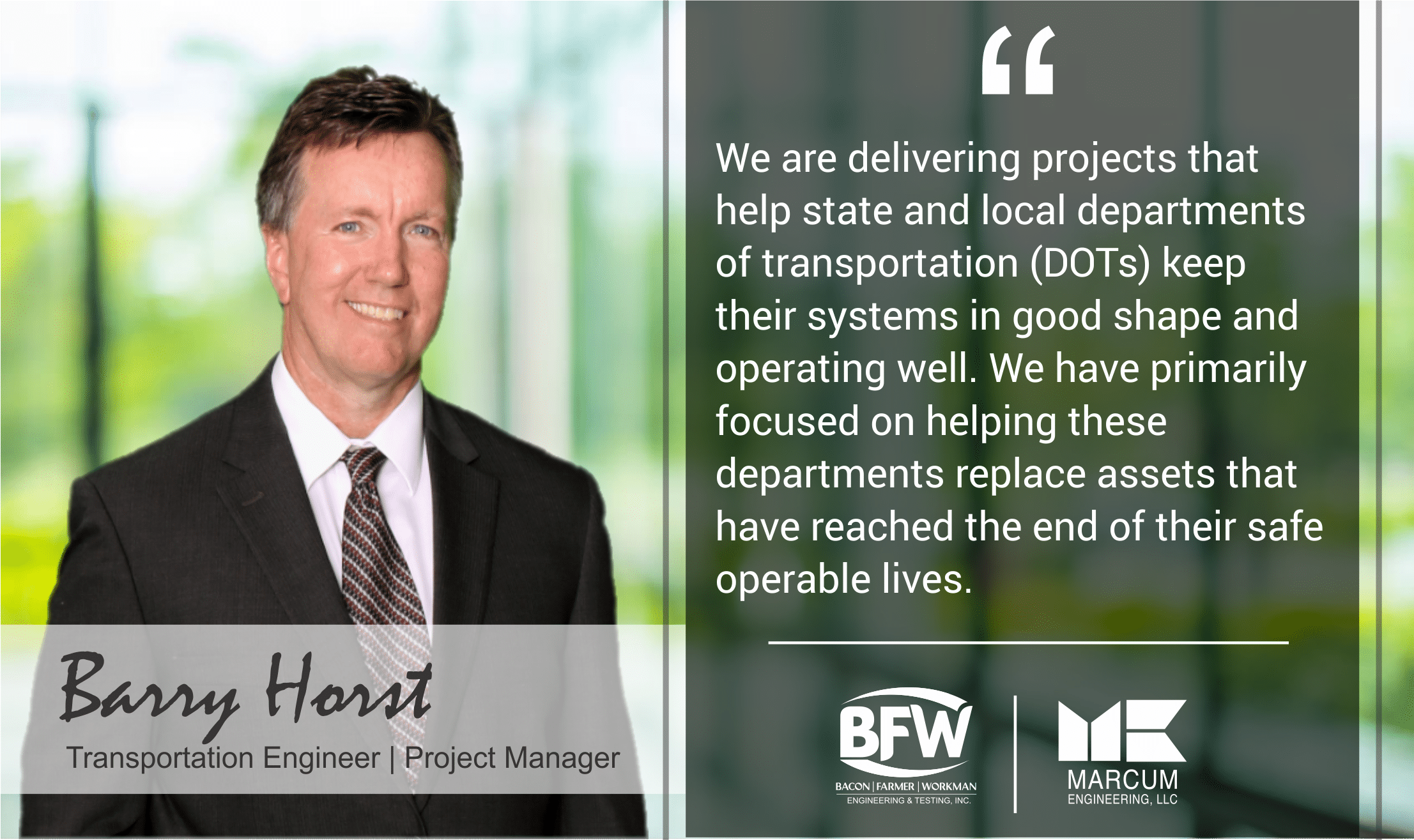 "We are delivering projects that help state and local departments of transportation (DOTs) keep their systems in good shape and operating well. We have primarily focused on helping these departments replace assets that have reached the end of their safe operable lives. These assets include bridges and box culverts carrying roadways over streams, railroads, and other roadways. We have also assisted these departments with engineering services to rehabilitate pavement surfaces.
We are just beginning to help the Missouri Department of Transportation (MoDOT) with a project; we are working with them to design a corridor upgrade along US-67 south of Poplar Bluff, Missouri that will expand the existing two-lane highway to a divided four-lane highway meeting interstate requirements.
Our team is part of a partnership with two other firms (Crawford, Murphy and Tilly and EFK-Moen) that will deliver design services to upgrade 10 miles of two-lane US-67 to four lanes as part of the effort to convert this corridor to I-57 between Sikeston, Missouri and Little Rock, Arkansas."
We're proud that our Cape Girardeau office isn't just reinvigorating our roads but enhancing them to decrease congestion, thereby getting everyone where they need to go faster while making their commute even safer than it was previously.
As Transportation Demands Increase, So Does the Size of the Cape Girardeau Office
We recently brought Eric Koenig, Staff Engineer, into our Cape Girardeau office. As our involvement in MoDOT deepens we find that the demands of the office do, too. We asked Eric how it felt to be part of such an exciting part of our firm's growth.
"I am excited to be a part of the new office. It is refreshing to be able to be involved in all aspects of a transportation engineering project. I love the challenge of learning new skills on-the-go while being asked to offer my perspective.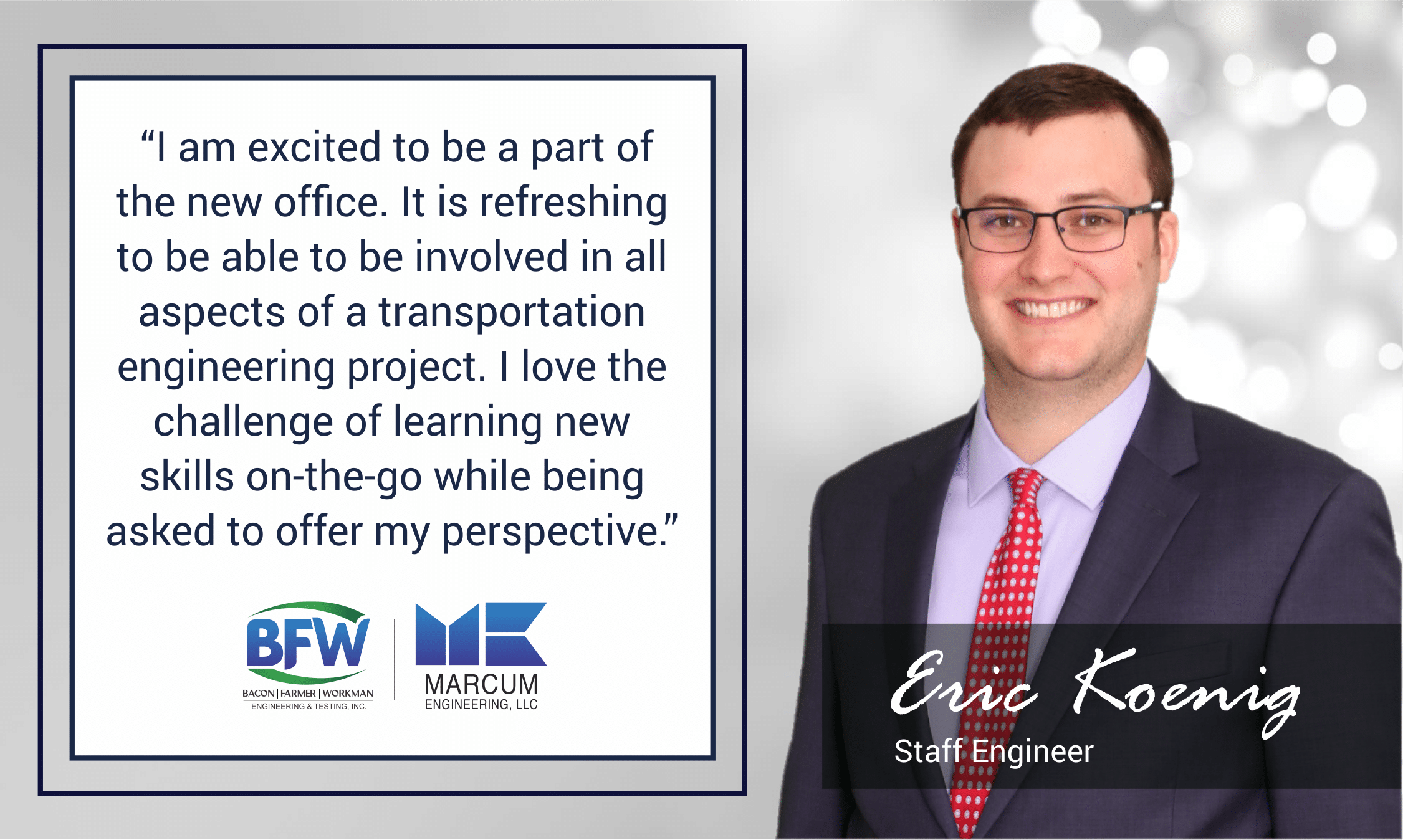 The team here in Cape Girardeau is exceptional. Everyone I have worked with shares the same values and goals; do the right thing and design for the future."
Not Just Engineers; Missouri Natives that Know the State
Barry's not just an engineer, he's native to the area along with Eric. Together, they have a lifelong appreciation of Missouri's transportation infrastructure. They're happy to be part of its evolution.
"Fortunately, both Eric and I are from this area, which gives us a good sense of what's going on and things to be looking out for. We have interacted regularly and frequently with local businesses, property owners, and of course city and county governments. The thing we try to stress is the customer service aspect of our work. There are other highly capable options these folks can turn to for their project needs.
We strive to exceed customer expectations on everything we do, whether it's project delivery or helping connect people with the people who have the kind of expertise they're seeking. As an example, a gentleman called asking about pavement and drainage issues they were experiencing with a subdivision built just outside of city limits. The subdivision residents are responsible for all roadway maintenance and obviously have a limited budget for improvements. With a couple of hours of discussion, we were able to give them affordable options for keeping their roadways and drainage features functional and in good shape."
When you have a stake in the community you're working for, you don't just do the work, you own it. Both Barry and Eric have a respect and understanding of Missouri's infrastructure.
Onward & Upwards
Barry is excited about the future of the Cape Girardeau office. They have an immense bank of knowledge to pull from thanks to the collaborative power of the rest of the BFW/Marcum offices. Not to mention, they have their work cut out for them; there's no end in sight.
"In a few years, we plan to continue growing our capabilities and offerings to potential clients. If we didn't, we'd be missing out on many opportunities that we can already see on the horizon with MoDOT and other organizations in need of transportation planning and design.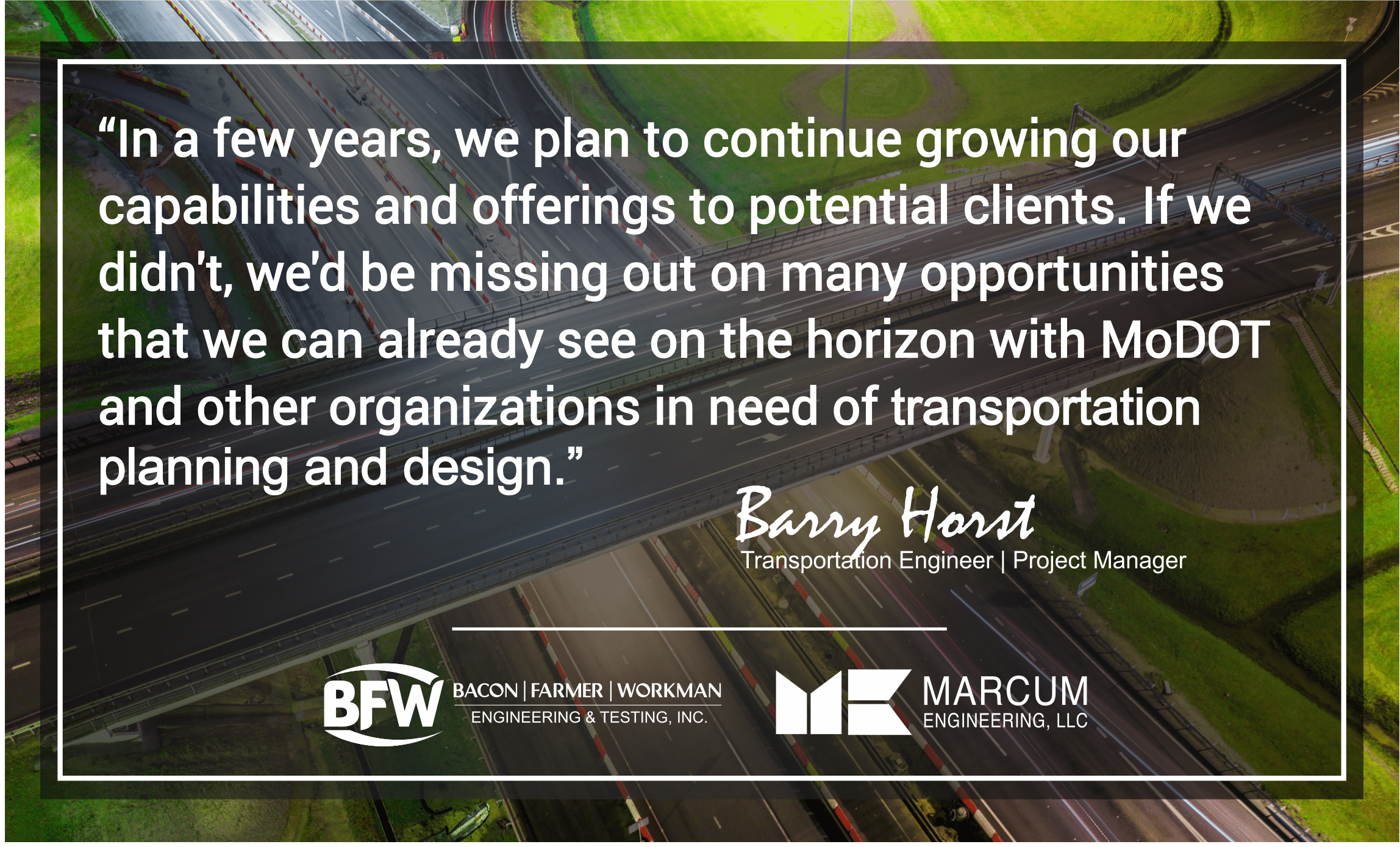 Just one example of our growth will include the addition of a survey capability in our office to help us become more self-reliant in that respect. In addition, we will be growing our staff to include a civil site design specialist to provide local development companies the services they need to expand their operations and to begin new operations in southeast Missouri."
With a Little Help from My Friends
Barry goes on to explain how important BFW/Marcum's culture of teamwork is to the entire operation. You can always hire more people, but you can't get the work done without teamwork. He is forever grateful for the firm's collaborative spirit.
"Being part of a new satellite office is exciting and at times daunting. We have great support from our main office in Paducah, KY and work very closely with the Marion, IL and Lexington, KY offices. It's our responsibility to do business development and grow the BFW brand in Missouri. We use our past contacts as well as knocking on as many doors as possible to build the relationships necessary to establish BFW in Missouri.
We're a new addition to the BFW/Marcum family so we're a relatively lean operation right now. There are sometimes questions regarding our ability to deliver the services potential clients are looking for. That is where the collaboration with the Paducah, KY, Marion, IL, and Lexington, KY comes into play. From a technical standpoint, the combined efforts of employees in these three offices allow us to tackle any challenge a state DOT can throw our way.
I can't stress the benefit of the help these offices provide.  When we find ourselves needing help, a simple phone call is all it takes to meet deadlines, deal with technological challenges, or gain some insight into projects we are pursuing."
We think Barry has it right. Creating more offices doesn't mean you can do more work. You need to be able to work together, trust one another, and have as much of an appreciation for the expertise of your coworkers as you do your own. Taking the time to have this understanding is what makes our offices function as a whole. We're excited about what Cape Girardeau has in store for the future.